About City Chic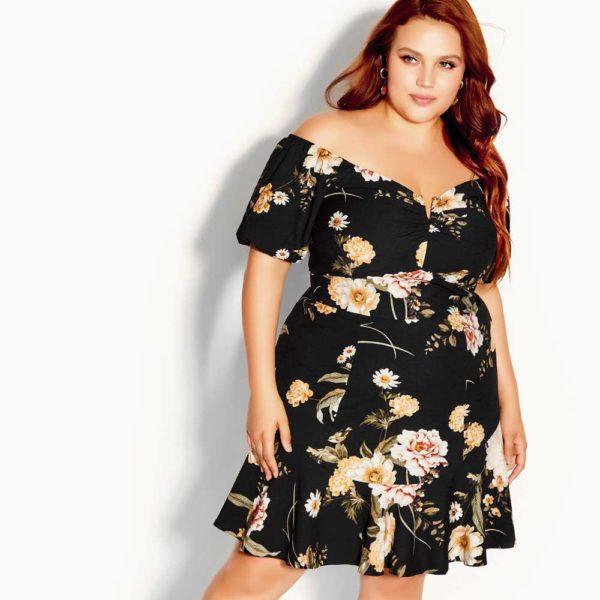 City Chic enables you to dress stylishly, no matter your dress size. Designed for plus-sized women, this clothing brand is nothing short of sexy, glamour, and femininity. Its collection boasts a large selection of dresses, tops, jeans, tops, and shoes. They're also home to a few select companies, including Avenue and Fox & Royal.
City Chic's inspiring company mission has earned them a sizable following online. Its Instagram account showcases a total of 62.3k. On top of that, they also have a large audience on Facebook and Twitter as well.
If you're looking for a way to spice up your wardrobe, perhaps it's time to pay this brand a visit. Keep reading, as this City Chic review will provide a comprehensive view of the company, its products, customer ratings, promotions, and more to help you decide if they're worth checking out.
Overview of City Chic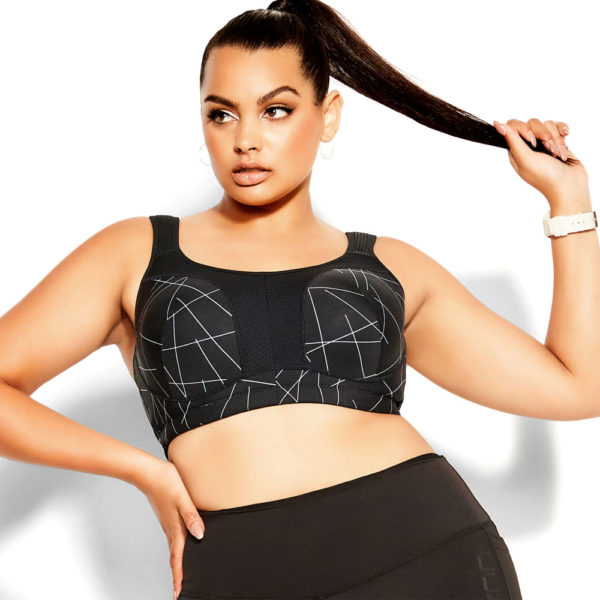 Clothing isn't made for mannequins. Contrary to popular belief, garments should be designed for real people, which must accommodate all shapes and sizes. Unfortunately, most fashion brands stay true to measurements 0 through 6. It's honestly disappointing, given that some women are desperately searching for stylish picks that don't compromise on fit.
City Chic, on the other hand, works to fill this veritable gap in women's clothing. Designed for plus-sized customers, this Sydney-based brand offers fashionable apparel for sizes 12 to 24.
The company was founded by Gary Perlstein and Ian Miller and now is led by acting CEO Phil Ryan. Since its debut in 1999, City Chic has grown from a humble boutique in Australia to the talk of the town. Today they own 200+ locations worldwide.
Before we get into this City Chic review, let's go over some highlights:
Highlights
A broad selection of plus-sized clothing to choose from
Offers a wide range of dress sizes and bra cups
Affordably priced
Provides Afterpay and Klarna as an alternative payment option
Free shipping on orders $100 or more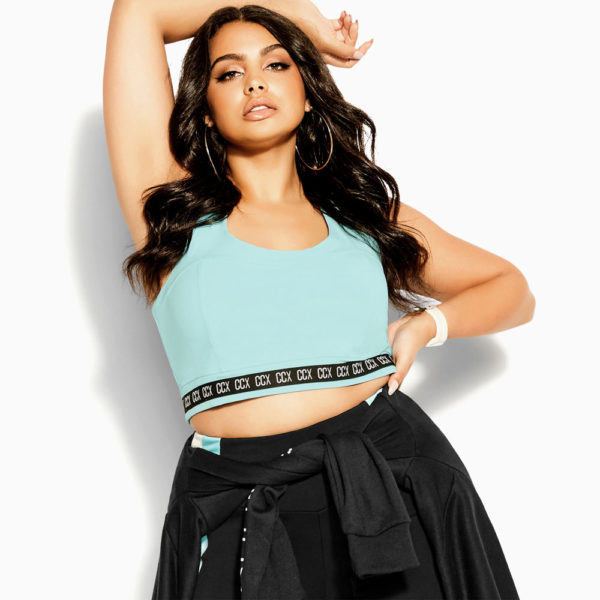 Beauty knows no dress size. In sad news, most attribute this mindset as unrealistic positive thinking. Fashion brands are partly to blame, as they usually design clothing in limited measurements.
Fortunately, companies have no choice but to listen to customer demands, as today—we're seeing an upsurge in plus-sized clothing retailers. And with this movement, City Chic is considered a popular favorite by many.
Designed for women, City Chic works to induce confidence and female empowerment through its inclusive collection. Customers can find a broad selection of trendy clothing, including evening dresses, casual tops, sexy lingerie, and denim jeans.
Unless you're well familiar with this brand, this City Chic review will provide an introduction into what they've got. We'll feature a few of the company's top-selling picks for readers to compare. Let's get started.
City Chic Dresses Review
I swear, nothing feels more feminine and freeing than a dress. Luckily for you, City Chic is home to dozens of stylish skirts and gowns. They even have wedding dresses for future brides in the making.
From work-appropriate minis to date night gowns, this City Chic review will spotlight a few of our favs within the brand's dresses section.
City Chic Cocktail Love Pleat Dress Review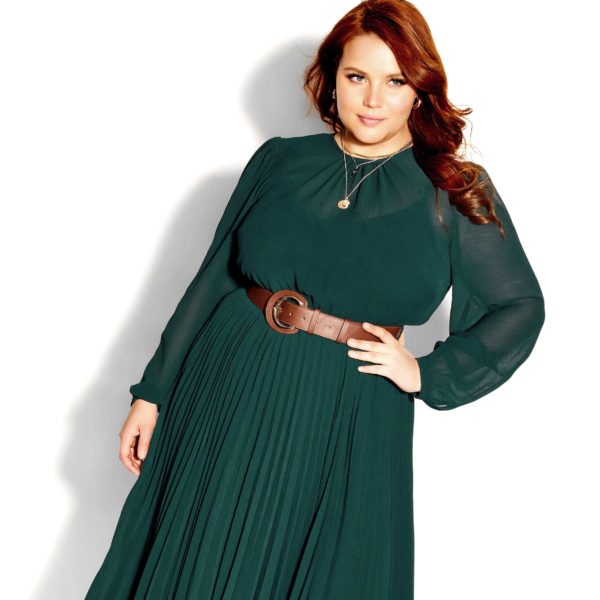 I'm getting some serious mother of the bride vibes from the Cocktail Love Pleat Dress from City Chic. That's not to say that it's tacky in any way—instead, it's harboring major Eleanor Young energy from Crazy Rich Asians.
This jade-green gown features an accordian skirt, a crew neckline, and puffed long sleeves for added drama. Best paired with extravagant jewelry and a cinched in belt, you can definitely look like a high-balling socialite fit for any occasion.
This City Chic cocktail dress is made out of sheer mesh overlay. Don't worry; it also comes with lining to help keep things decent. Initially priced at $139, the Cocktail Love Pleat Dress is currently at a bargain for $57.
City Chic Casual Sweet Fling Dress Review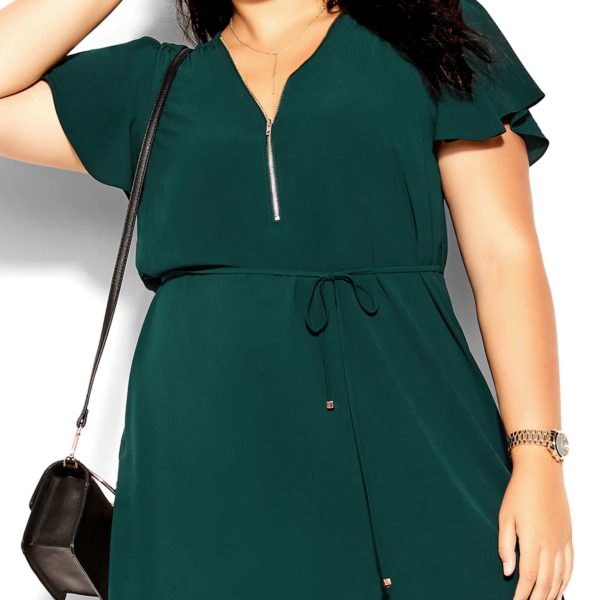 The Casual Sweet Fling Dress practically screams "getting off tennis practice at 8 and having brunch with besties at 2." This laid-back number comes with a zip up enclosure, a ribbon for waist cinching, and short sleeves. Offered in 5 alternating colors, this off-day beauty can make for a great errand dress. It's also simple enough to be styled extravagantly as well.
If you're looking for styling tips, this City Chic review suggests heeled ankle booties and a leather jacket for a late August ensemble. Best of all, the $89 Casual Sweet Fling Dress is priced at a reasonable $36.
City Chic Date Night Desire Maxi Dress Review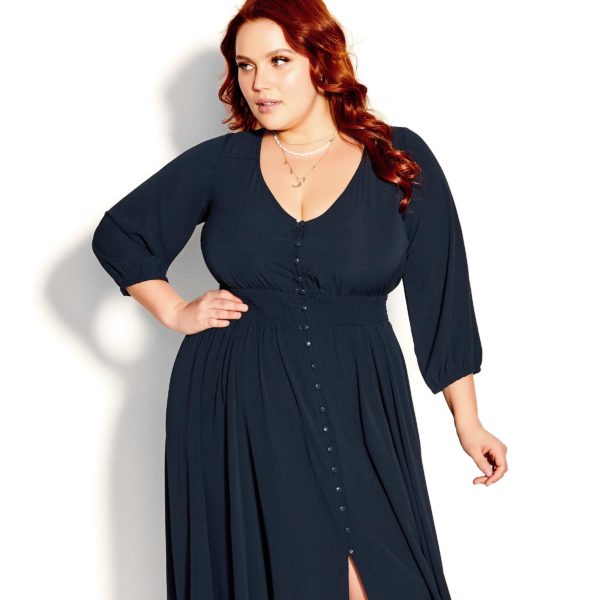 City Chic Date Night Desire Maxi Dress
The best type of gown embodies a certain fantasy. For instance, the Date Night Desire Maxi Dress entails images of late autumn, Victorian-style mansions, lots of books, and afternoon tea. In short, it's quite a romantic look.
This stunning gown features a v-neckline, a shirred waistband and a dainty button enclosure from top to bottom. It also comes with a sultry side slit as a 'wink wink, nudge nudge.'
While it's offered in toffee brown, this City Chic review suggests that you opt for navy instead. It's subtle, blackish hue can easily match with dozens of things in your closet, including a warmly knit cardigan and a pair of oxford heels. Estimated to originally retail $119, the Date Night Desire Maxi Dress is on sale for just $48.
City Chic Formal & Occasion Glimmer Nights Maxi Dress Review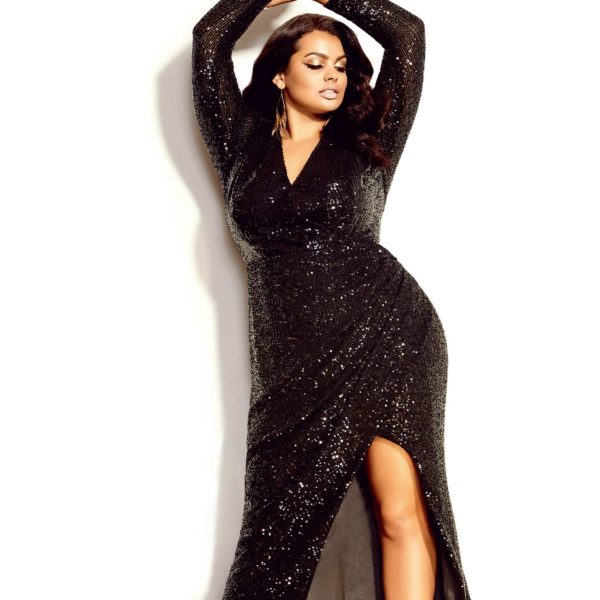 If you love to harbor attention, the Formal & Occasion Glimmer Nights Maxi Dress can help ensure that the spotlight stays on you.
This sequin-y dress is practically begging to be worn at a New Year's Eve party, as it's glamorous and flamboyant enough to pair with fireworks, glitter streamers, and sparkling champagne. It comes with a major side slit, a deep v-neckline, and long sleeves to keep things 'conservative.'
If you're worried about the sequins, don't sweat it. This evening gown is lined with soft satin to help prevent any scratching. Best paired with stiletto heels and a clutch bag, make a dramatic entrance with the Formal & Occasion Glimmer Nights Maxi Dress. Unfortunately, this number is currently sold on City Chic's website.
City Chic Evening Gown Eternal Shimmer Maxi Dress Review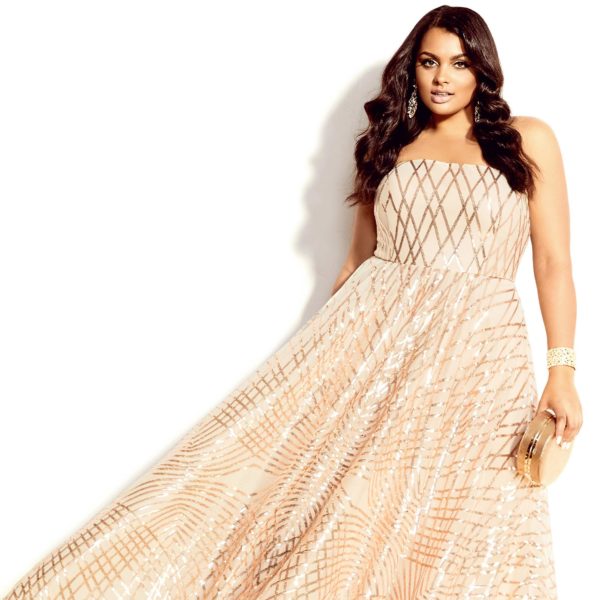 Speaking of New Year's Eve parties, the Evening Gown Eternal Shimmer Maxi Dress can also make a big statement at your next champagne get-together. This romantic gown showcases an interlocking pattern of lined sequins across the bust and skirt.
Offered as a strapless number, this beauty can definitely show off them collarbones and decolletage. Just don't forget to add a necklace and a pair of chandelier earrings for good measure.
If it's far from the winter holidays, I'm sure that the Evening Gown Eternal Shimmer Maxi Dress can make for an excellent prom or quinceanera ensemble. Initially priced at $449, this gorgeous gown can all be yours for the decent price of $180.
City Chic Luxe Glimmer Nights Maxi Dress Review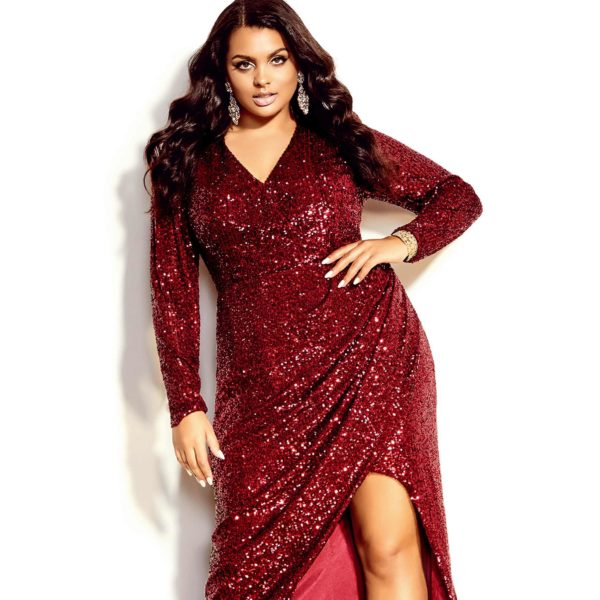 If black isn't your thing, the Luxe Glimmer Nights Maxi Dress comes in stunning ruby red. Honestly, it reminds me of a dressed-up version of Dorothy from the Wizard of Oz. This elegant gown is made entirely out of satin lining and sequins. For added drama, it features a gathered side skirt that's definitely red-carpet appropriate.
Cut in a high-low hem, we suggest pairing the $249 Luxe Glimmer Nights Maxi Dress with gold-toned heels and blown-out hair for that classic, old-Hollywood kind of look. Fortunately for customers, this evening ensemble only retails for $100.
City Chic Workwear Pleated Crop Dress Review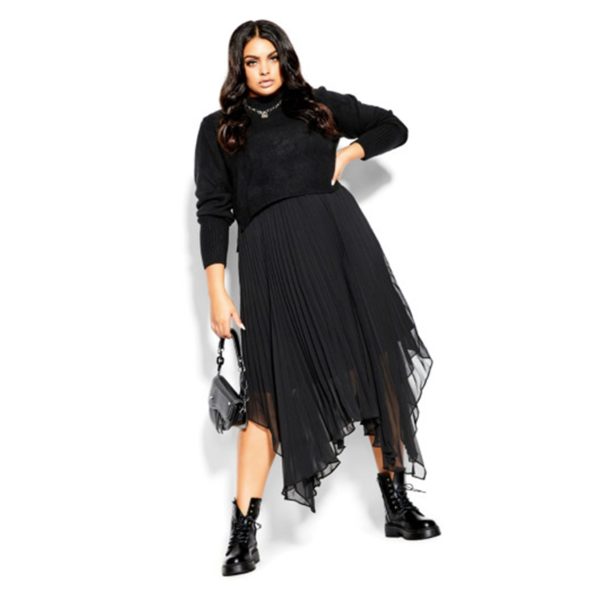 The Workwear Pleated Crop Dress is basically the clothing version of "office at 10 and Hot Topic shopping trip at 4." Almost grunge-inspired in aesthetic, this alternative number showcases an asymmetrical hem, an accordion skirt, and a dramatic scooped neckline.
It also comes with a matching long sleeve to help complete this somber but sultry look. I'm 100% sure Morticia Adams would die for this outfit.
If you're looking to go complete grunge, we suggest a black leather jacket and silver-toned jewelry to really drive this look home. Best paired with combat boots, the $169 Workwear Pleated Crop Dress is currently at a bargain for $68.
City Chic Wedding Guest English Garden Dress Review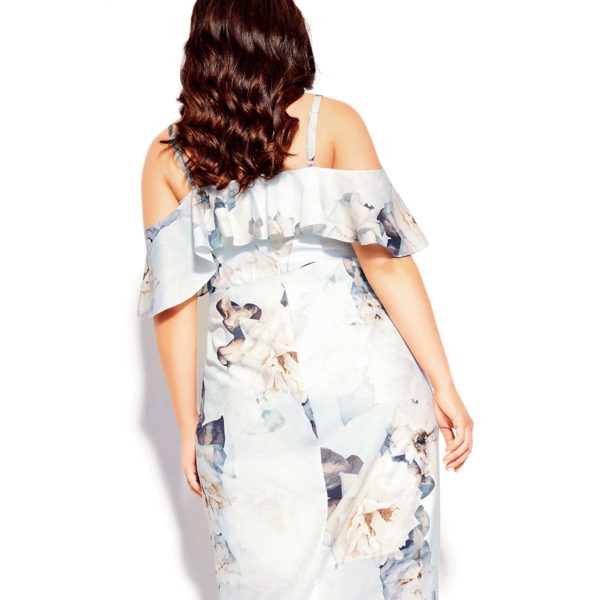 Here comes the guest; she looks the best. The Wedding Guest English Garden Dress is suited for any spring-themed ceremony due to its elegant silhouette and romantic color palette. Designed for the warm season, this body-con beauty features an off-shoulder ruffle, a fitted waist, and an interesting scoop-skirt detail to help elongate the legs.
With an ensemble this flattering, it only makes sense to pair the Wedding Guest English Garden Dress with strappy heels and simple jewelry. Regarding price, this gown is offered at $68 instead of its $169 markup.
Who Is City Chic For?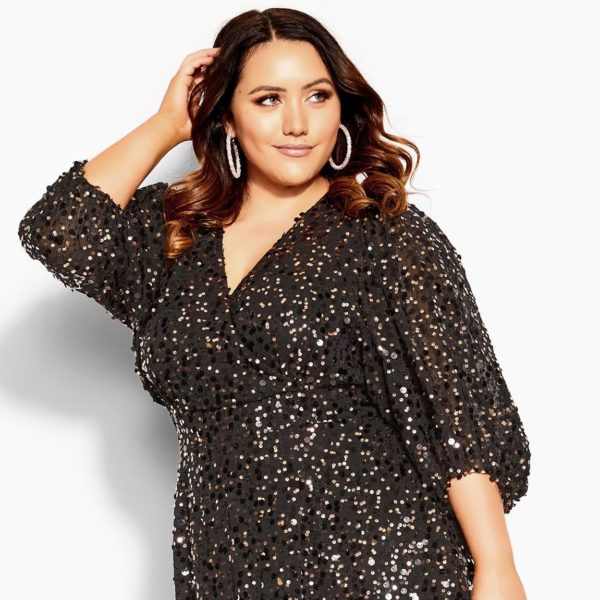 If you've skipped ahead on this City Chic review, we can share that this clothing shop is meant for plus-sized customers. As the brand's motto suggests, they offer sizes 12 to 24.
Trendsetters can find a broad selection of casual and fancy clothing. Best of all, most garments are widely affordable, as some City Chic dresses can retail as low as $36.
Comparison: City Chic vs Suzy Shier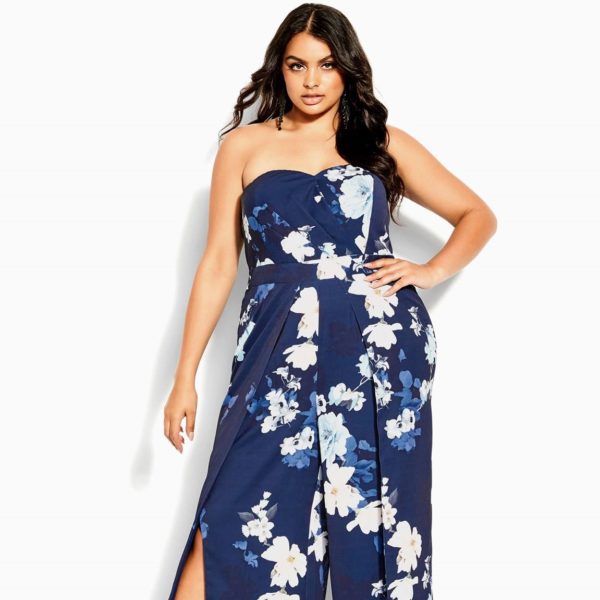 In fortunate news, City Chic isn't the only plus-sized clothing shop out there. Brands like Suzy Shier are also known for their inclusive collection.
With that in mind, how does our company compare to its competition? Of course, the best way to answer this question is to gather some salient points for each of these two retailers. Let's dive in:
City Chic:
Know for its wide selection of plus-sized women's wear since 1999
Caters to plus-sized customers and those on a budget
Sells dresses, tops, jeans, lingerie, shoes, and more
Prices range from $16 to $180 
No claims about sustainability or ethical labor
Free shipping on orders $100 or more with a 90-day return policy
Suzy Shier 
Known for its contemporary women's wear (also has a plus-sized women's section). Been around since 1966
Caters to work-appropriate clothing
Sells dresses, blouses, jumpsuits, blazers, tops, bottoms, and more
Prices range from $7 to $90 
No claims about sustainability or ethical manufacturing
Free shipping on orders $99 with a 30-day return policy
Obviously, these two brands widely differ in size range and product cost. For instance, City Chic can be your go-to destination for affordable plus-size clothing. On the other hand, those on the smaller side when it comes to measurements may find Suzy Shier as a suitable option.
City Chic Reviews: What Do Customers Think?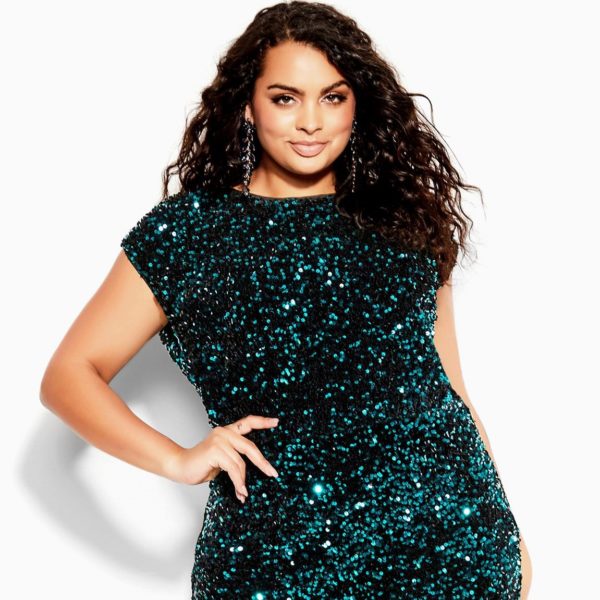 Despite the brand's following of over 62.3k on Instagram, it seems that City Chic is relatively unknown when it comes to customer feedback. Because of this, we may not be able to paint an accurate depiction of the company as a whole.
For more in-depth feedback, we looked at websites such as Trustpilot, ProductReview, and Amazon. So far, the consensus is quite mixed. Some buyers loved the quality, fit, and style of their clothing while others noted issues with customer service and delivery. For now, we'll feature a few positive comments for readers to compare:
Trustpilot: 52 reviews with 1.6/5 stars 
ProductReview: 180 reviews with 2.8/5 stars 
Amazon for the Women's Plus Size Victoria Dress: 20 ratings with 3.3/5 stars 
"First let me say I LOVE this dress! It's beautiful & it has pockets. I must have gotten 1,000 compliments the night I wore it everywhere I went – although a few people thought it was a black top with a skirt because of the design," one Amazon customer wrote for the Women's Plus Size Victoria Dress.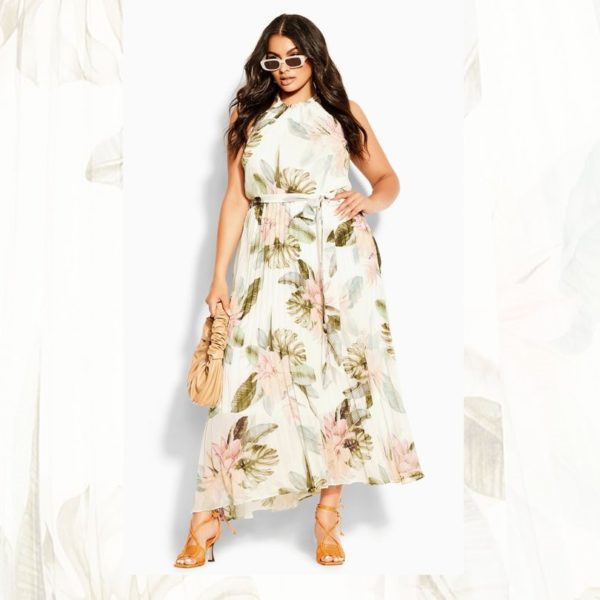 "I was so happy with my online order from City Chic," one user shared on ProductReview. "The site was easy to use, check out was easy and they have Afterpay. I've looked everywhere for bras as I am an odd size apparently and they are difficult to find. But City Chic had a huge size range."
Some independent bloggers, such as Sarah Jane Reign, also left a favorable review of City Chic clothing. According to the author, "The dresses move really well. Everything stays in place, which is a must for me. Sizing is consistent across all three dresses, too."
So, what's our general consensus? Is it worth giving this plus-size clothing brand a try? Stay tuned to find out.
Is City Chic Worth It?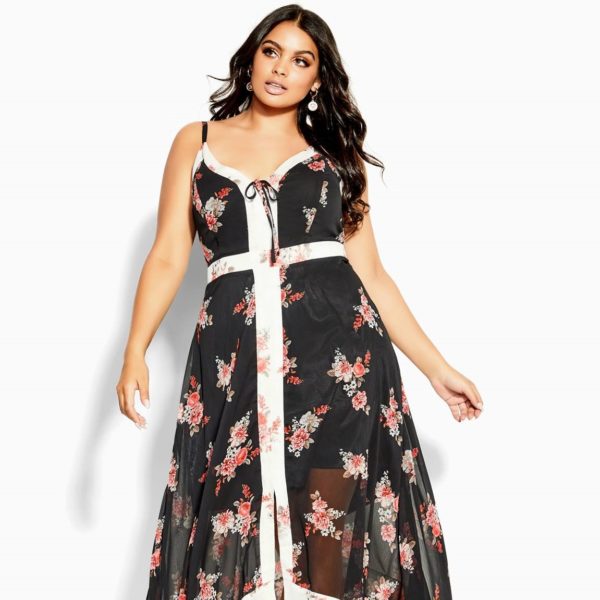 As we mentioned before, our consensus with City Chic is quite mixed when it comes to customer service. That being said, City Chic excels in style and design—which is arguably a vital asset to have if you're a fashion retailer.
In a positive light, City Chic is unquestionably inclusive in its clothing collection. It's always nice to see a brand that caters to larger dress sizes since all women deserve to feel beautiful. In conclusion, this City Chic generally recommends that you check them out.
City Chic Promotions & Discounts
This City Chic review found out that they have a sale outlet in which select designs are at a discounted price. They also have a refer-a-friend program where customers can receive $20 for every successful referral.
In addition, buyers can sign up for the brand's rewards membership. By joining in, users can accumulate points to gain access to exclusive deals and perks.