You might be an expert at what you do, but when it comes to running your own ecommerce store there's likely going to be some aspects of building your business that you're not great at. Graphic design is one of those things for many business owners. Luckily, with a service like Creative Market, you can manage all of the design demands for your business easily and professionally without having any formal graphic design training. If you're interested in creating beautiful ads, images, logos and more for your business then let's jump into this Creative Market review to learn more about what Creative Market offers to help you do that.
What Creative Market Does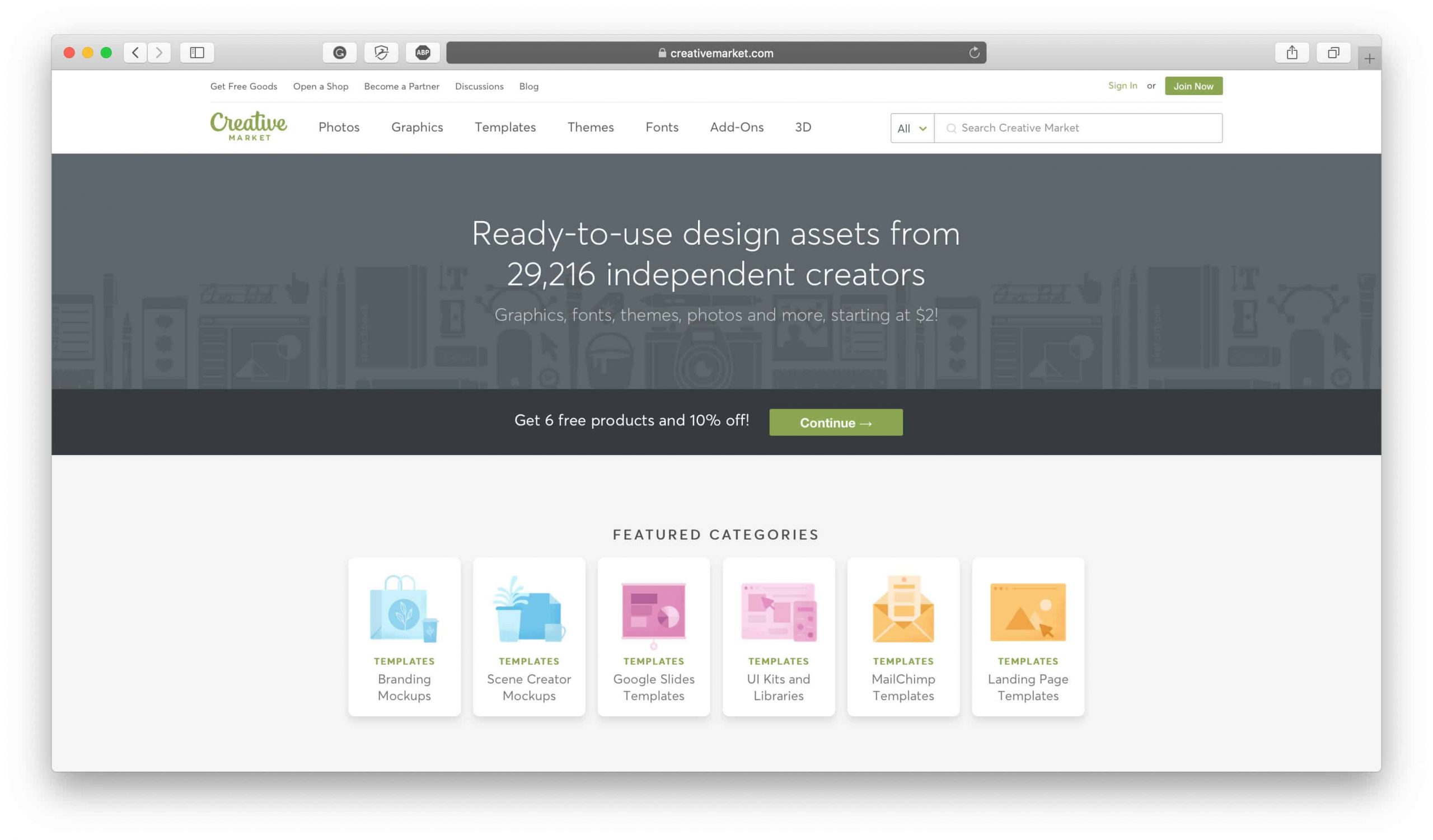 Creative Market is an online marketplace that provides design content in a variety of different categories including photos, graphics, templates, themes, fonts and more that are created by independent makers. With Creative Market you can purchase pre-made design assets that you can apply directly to your website, or you can purchase design assets such as fonts or icons that you can then add to other designs and customize further.
Creative Market essentially gives you the pieces and parts you need to create your own design assets for your business whether it be an image for a blog post, an outline for a business card or a template for a logo. They also provide pre-made design assets that are ready to use without further customization such as logos, fonts, and graphics.
They focus on making graphic design assets and tools simple to use and accessible for individuals with no graphic design experience or training while still providing high quality, useful and beautiful products. They inspire, encourage and teach their audience through blog posts and discussions to help non-professionals learn new skills, refine their abilities and make the most out of the products they offer. When building your brand, creating great looking brand assets can be difficult, but with Creative Market you can use their content to help you build functional and beautiful designs without having any prior knowledge or fancy software.
They're truly a one-stop-shop for high-quality, professionally created design assets that can be used to improve your website's appearance or your brand's visual assets.
Why Use Creative Market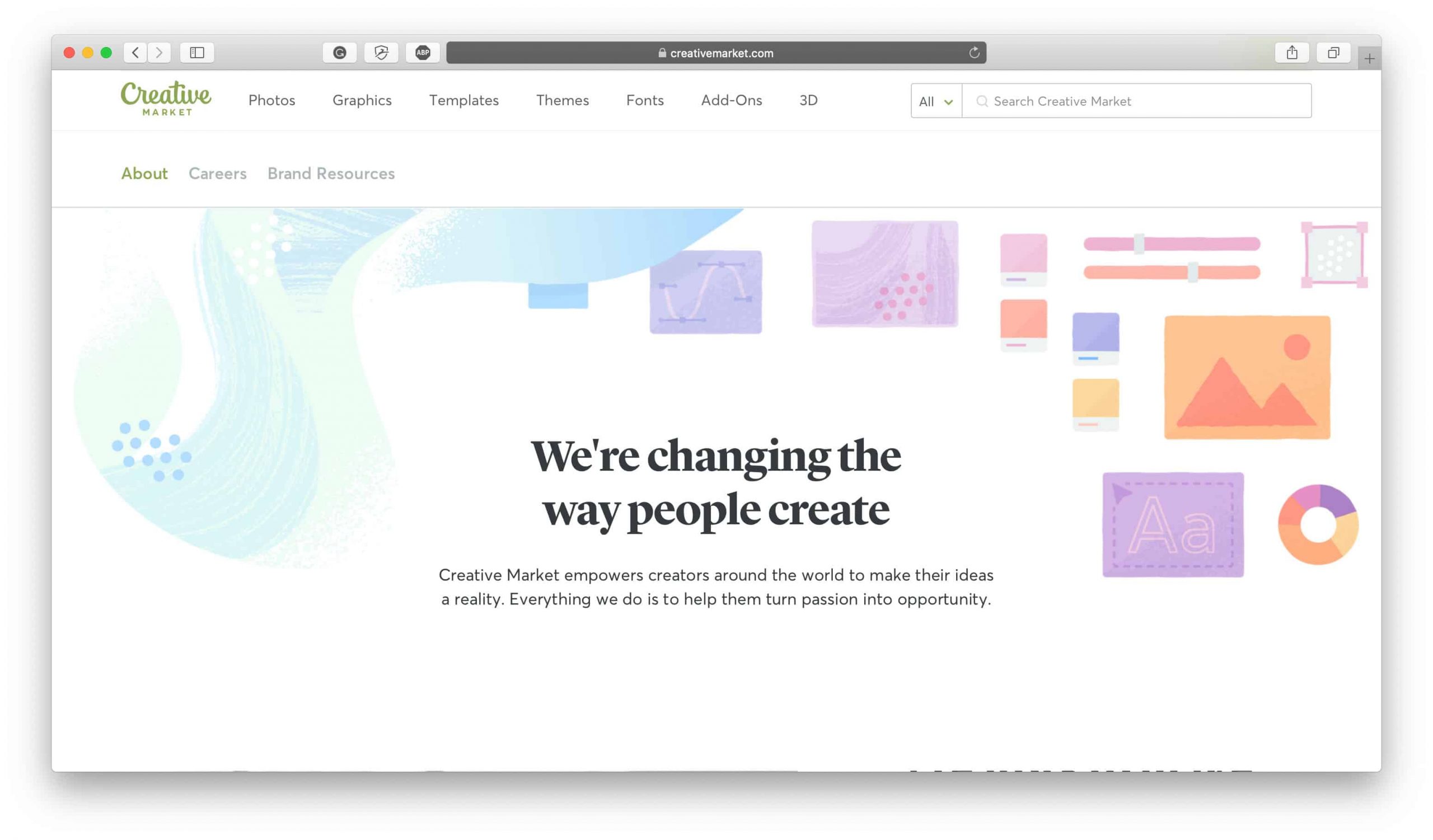 Creative Market provides a massive selection of digital design assets that are ready to use and available immediately. All the work on offer is high quality, produced by independent creators and sold at a fair price. They have a large selection of digital products ranging from photos, icons, illustrations, logo templates, business card templates, Photoshop actions, WordPress themes, fonts and much more. If you're looking for any kind of digital design assets there's likely a variety of options available on Creative Market, and you'll be able to purchase and use them immediately without waiting for a designer to finish them up.
Besides the design assets they offer, Creative Market is a community of like-minded people. Their blog is full of informative articles covering everything from creative design ideas to tips on how to grow your business. They focus on making Creative Market a hub for design resources and information as well as assets. If you want to learn more about design for online businesses, check out their blog.
Creative Market also offers bundle deals, discounts, and free assets weekly to help businesses on a bootstrapped budget make use of what they offer. To get access to 6 free products every week just sign up to their email list or check out their Free Goods of the Week page, for discounted products check out what they have on offer on their Discounts page, and stay tuned to their home page for access to bundle deals worth upwards of $1, 000 for usually less than $40.
What Creative Market Offers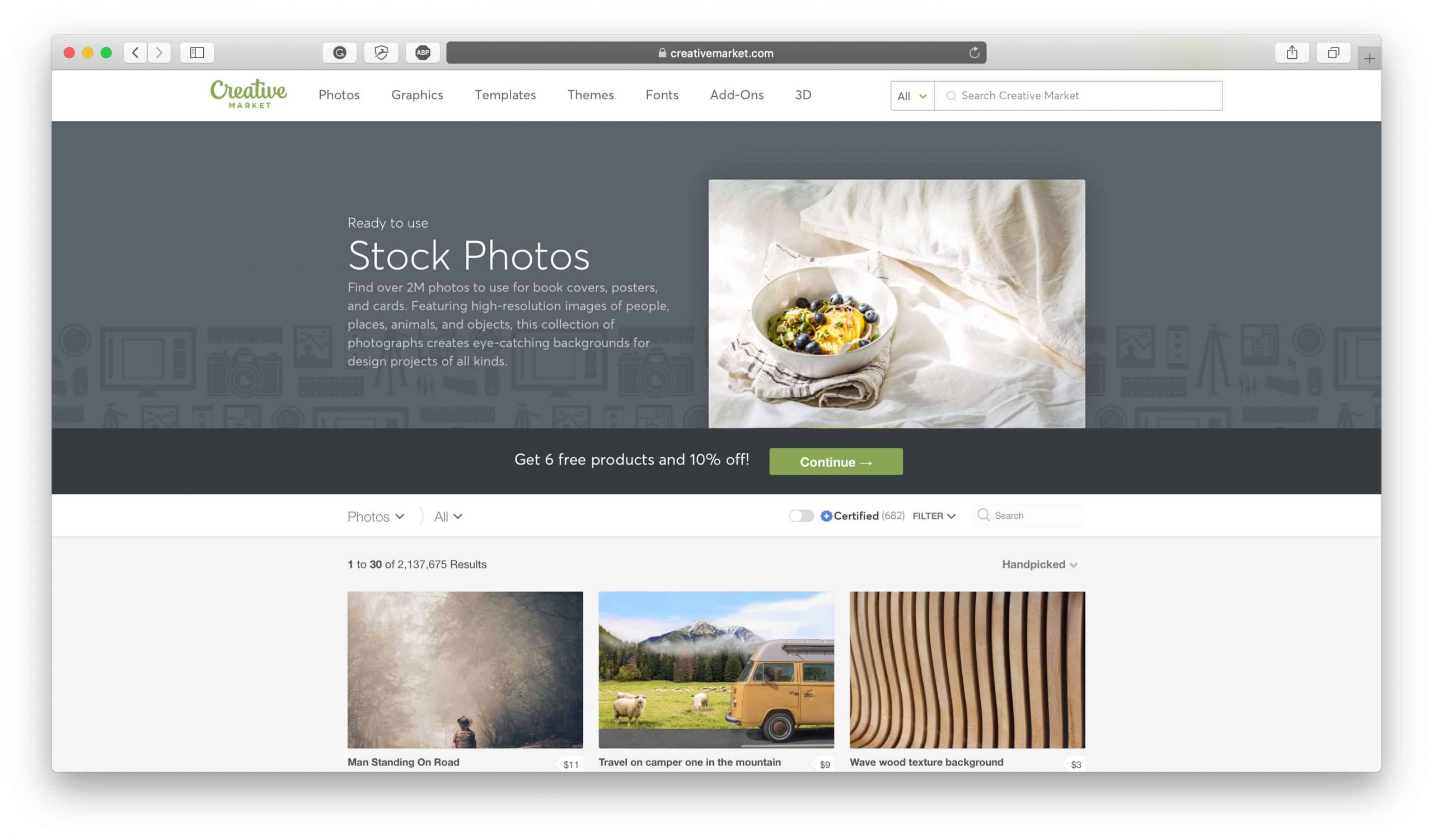 It would probably be easier to write about what they don't offer because the selection is virtually endless. There are over 300, 000 designs to choose from in their graphics category alone. There is every form of graphics available, listed under handy sub-categories like icons, illustrations, product mockups and much more. There are graphics for all kinds of web pages, t-shirt designs, and mixed bundles.
When it comes to photographs, there are over 1 million royalty free photos from independent photographers. From as little as $2 you can get a professional photograph that has been taken by an expert. There are more than 15 categories in the photograph tab, ranging from abstract to architecture to sports to technology – the list goes on and on. With a selection of quality original photos like this, you're bound to find the perfect image for your needs.
Finding a creative and original template is made extra easy with a great list of categories among the almost 90, 000 available templates. If you're looking for a business card or email template, you're going to find it on their site. The list goes on – logos, magazines, stationery, and website templates, all designed by independent creators.
Themes are always important when you're creating a website, so naturally, they offer some spectacular products in this department. Over 6, 000 themes are available and all the major platforms like Joomla and WordPress are covered. To set your website apart from the mundane and commonplace, there are highly creative and innovative themes for every type of site. Best of all, you won't be paying a fortune for a highly professional and polished look for your website.
Nothing gives your work an individual identity like a customized font. With over 15, 000 fonts and symbols to choose from, you can get really creative with any design project. Anyone would think that you've employed a high-end design company to develop your material when you use customized fonts like these.
When you really want to start getting creative with graphics and animations, a quality add-on is a brilliant tool. You can choose from over 7, 000 add-ons that will give you the creative edge and produce a truly unique and breathtaking original artwork. Easy to use add-ons can help anyone create a highly professional product. So if you want to stretch the boundaries of your creativity, this would be the way to do it.
The site also has 3D models that have been developed by independent creators; Animals, architecture, furniture, you name it. High-quality 3D graphics that can be used for any number of projects are ready to be downloaded and used.
Who Creative Market is For
Creative Market is for anyone who wants beautiful design assets for their website without having to hire professional designers. When it comes to running your own ecommerce business there are a variety of situations where you'll be required to provide design content whether it be for ad campaigns, email newsletters, blog post images, product mockups, logos, business cards, etc. In these situations you'll have two options: create it yourself or hire an expert to do it for you. If you're like most entrepreneurs, you'll be starting off with a bootstrapped budget and making your design assets yourself.
If this is the case for you, then you're in luck. Creating design assets yourself is a completely viable option, whether you're working on a bootstrapped budget or not, as it's a low cost and convenient way to manage all the design demands your business will be faced with. Not only that but having the ability to customize your own design content, make adjustments to existing content or having the ability to tweak the look and feel of your design assets is an extremely advantageous skill to have, as it will make it easy for you to adapt and change your website as you see fit without having to rely on an out-of-house designer.
If you're on a budget, interested in creating your own design assets, not interested in outsourcing design work to a professional or just want the flexibility of managing your business' design content yourself, then Creative Market is for you.
Creative Market's Features & Services
Creative Market offers a variety of different design assets that can be used for different purposes depending on what you're looking to add to your online business. Make use of one or two of their design assets, take advantage of their full product offering, use a few assets in conjunction with one another or simply read through their blog posts to learn more about design; no matter what there's something for everyone and every skill level. They offer:
PHOTOS
If you're looking for beautiful, effective and professional quality images to use for your website whether it be as lifestyle images, blog post images, or even if you need images to use in your email newsletters or advertising campaigns, Creative Market offers a wide variety of photos in categories such as animals, architecture, beauty & fashion, business, health, food & drink, nature, sports and more.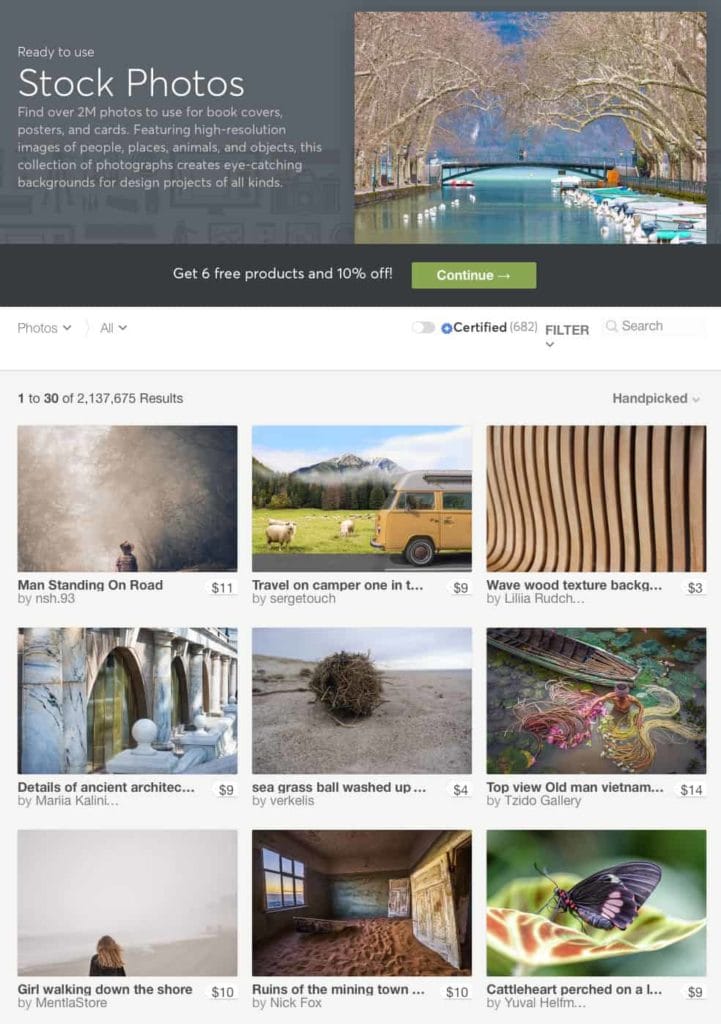 GRAPHICS
Creative Market offers a massive selection of graphics that include icons, illustrations, patterns, textures and product mockups that can be used to easily create mockups for your t-shirt business or clothing line. You can use any of the graphics on their own or in conjunction with other design assets to create professional content for your website, social media or email newsletters.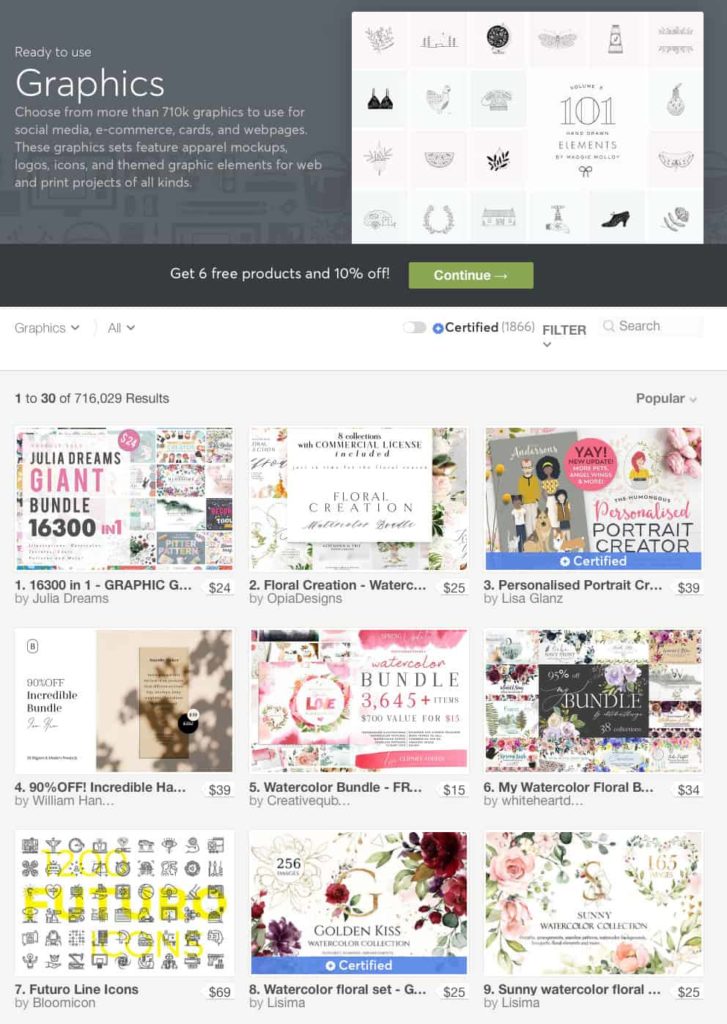 TEMPLATES
Use Creative Market's templates to design business cards, PowerPoint presentations, infographics, webpages, logos, Instagram templates and more, to create visually captivating content no matter what you use it for. If you're interested in really honing in on your brand's visual assets so they speak a clear and united message to your audience across all your platforms, use the branding bundles offered in this category to help you build a beautiful and cohesive brand.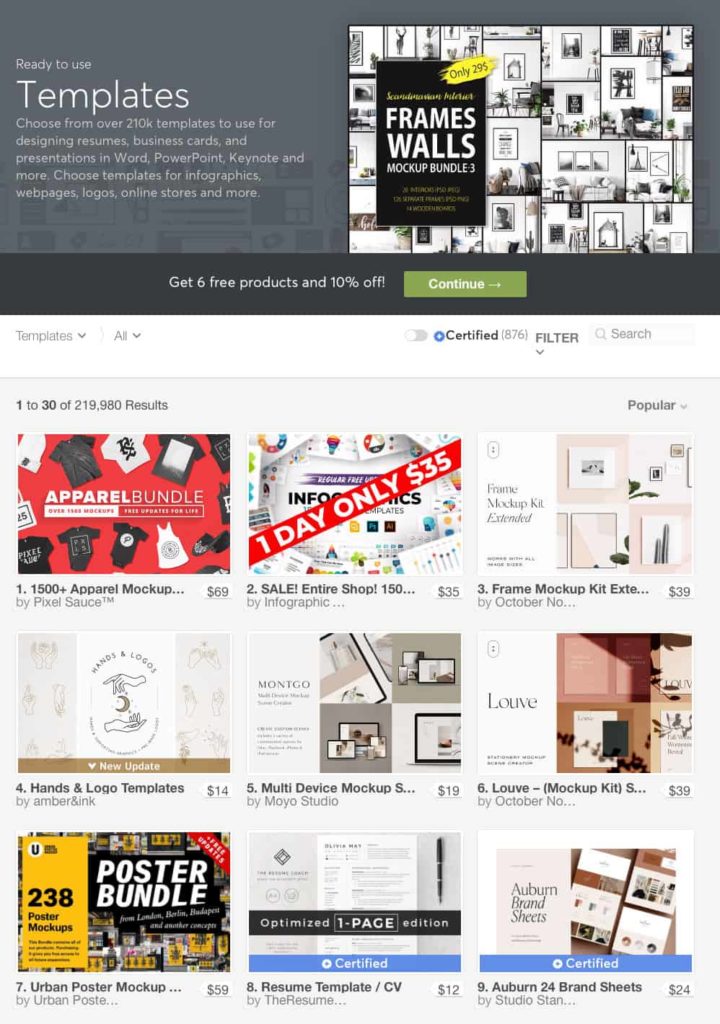 THEMES
Whether you're looking for help to build a beautiful and functional website, landing page or blog, make use of Creative Market's themes to help you create your vision. With thousands of options to choose from these themes can help you create an online space that showcases your brand's best features whether it be your images, your copy, your products or your blog posts.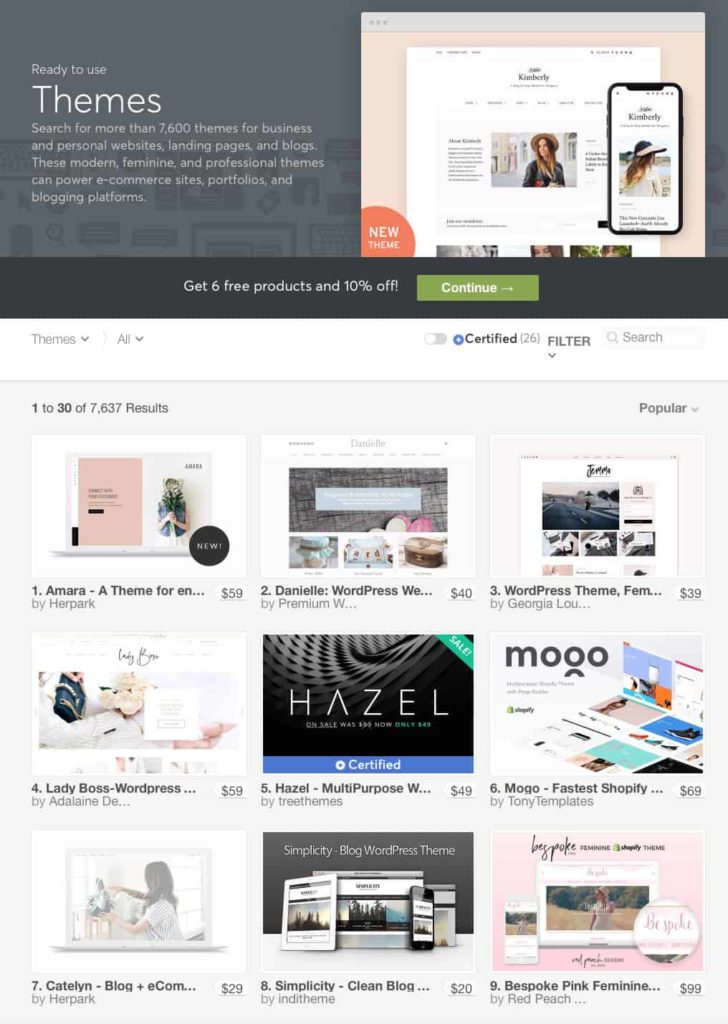 FONTS
There's no excuse to use generic, mismatched or non-compelling fonts for your brand's online persona with the massive selection of fonts that Creative Market provides. Whether you're looking for something minimal and simple, fun and playful, bold and bright or soft and subdued, there are over 15,000 fonts to choose from to help you create the right tone for your brand.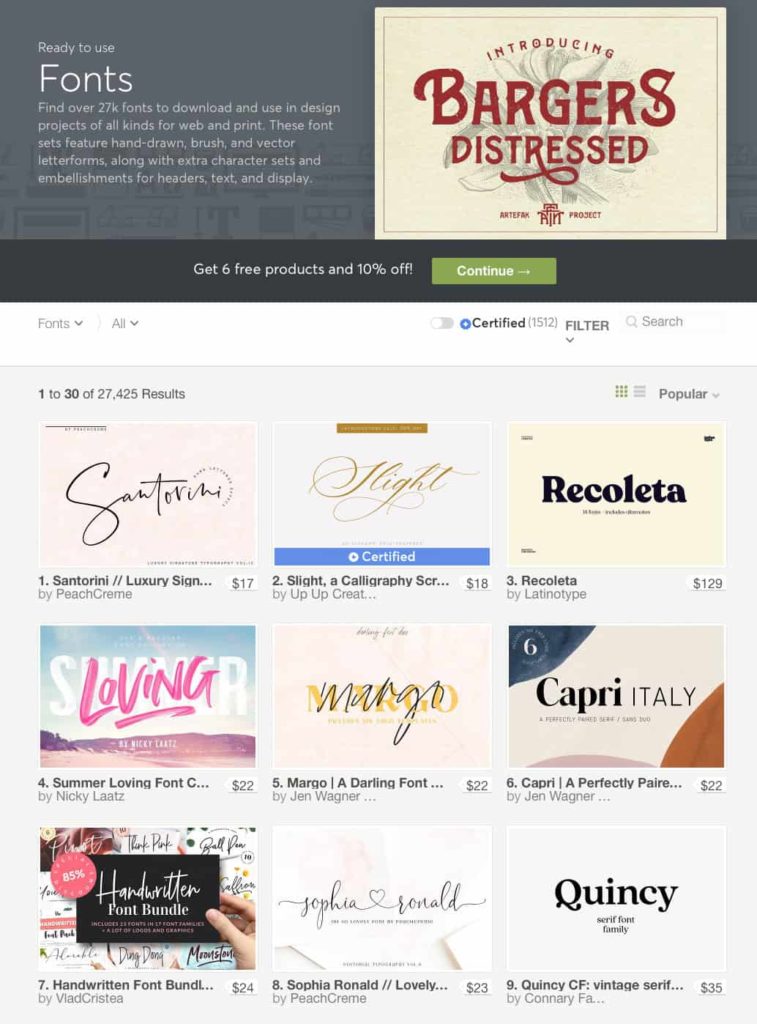 ADOBE COMPATIBLE ASSETS
Use special effects to touch up photos, add visual interest or enhance your design assets by using presets, actions, brushes, layer styles, and retouching kits to take your design assets to the next level. Creative Market's Add-Ons are compatible with Adobe Creative Cloud programs.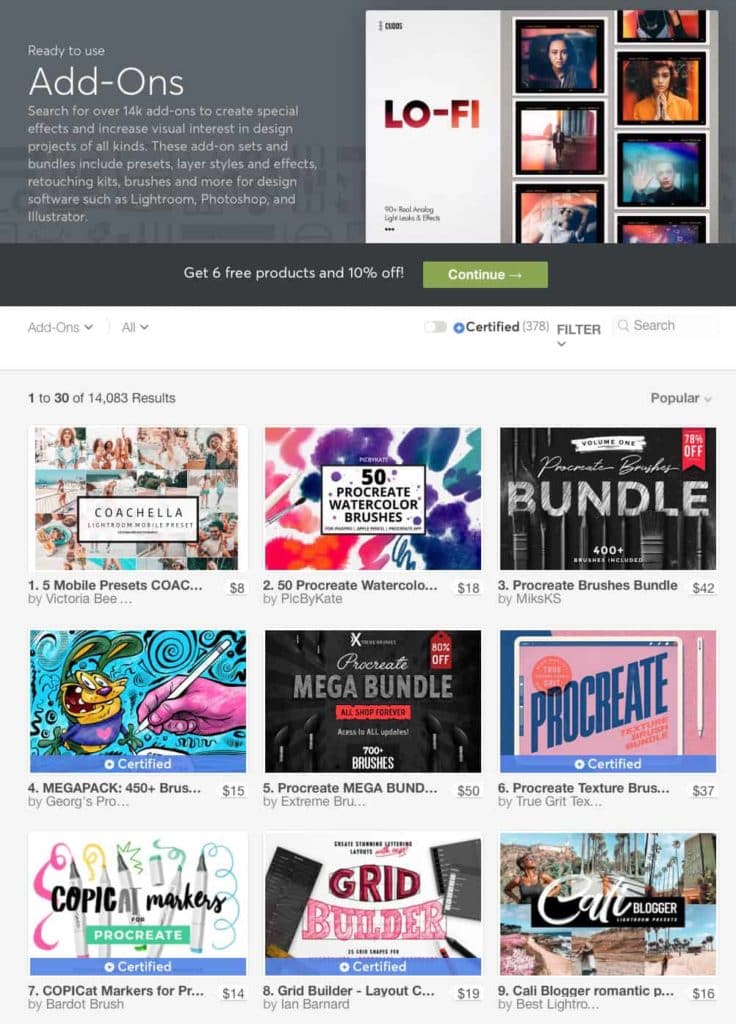 FREE ASSETS
Creative Market offers free, discounted or bundled assets every week, which they announce through their email newsletter or their Free Goods page, so if you're interested in scoring beautiful, effective and professional design assets for free then it's worth your while to keep an eye out for what's new each week.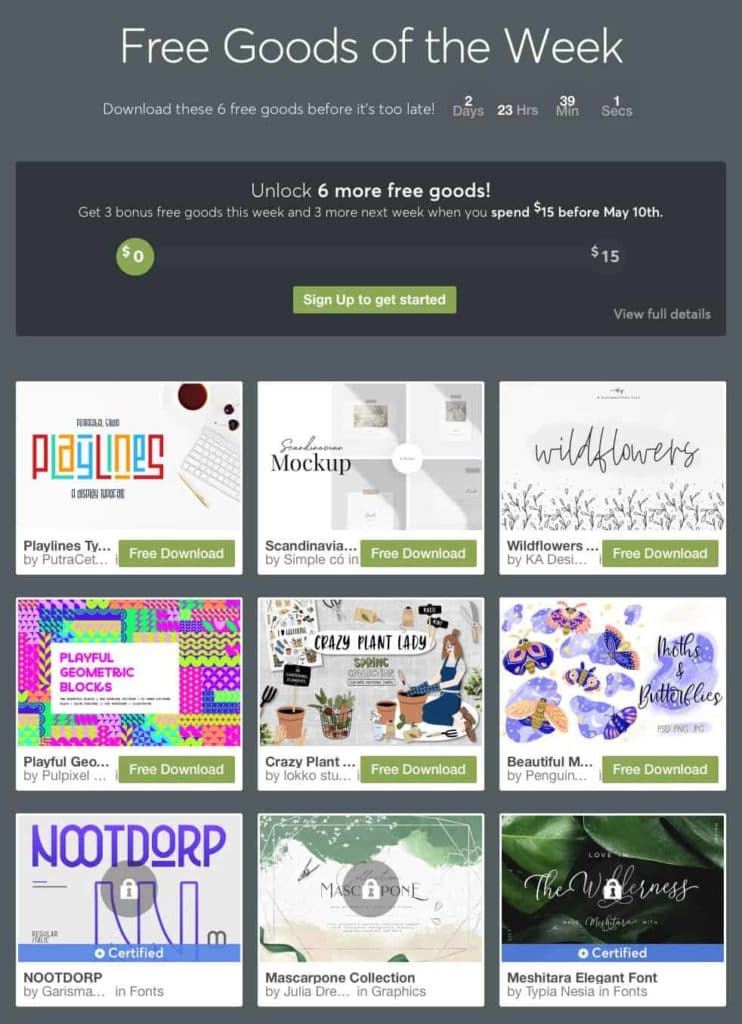 BLOG & DISCUSSIONS
Not only does Creative Market provide valuable design assets, but they also work to foster their community by facilitating discussions and providing valuable blog posts with inspirational design related articles and ideas. Whether you need a how-to tutorial to help you complete a certain project, some inspiration for your website or brand, helpful design tips and tricks or roundups of their best design assets, then their blog is a good place to start.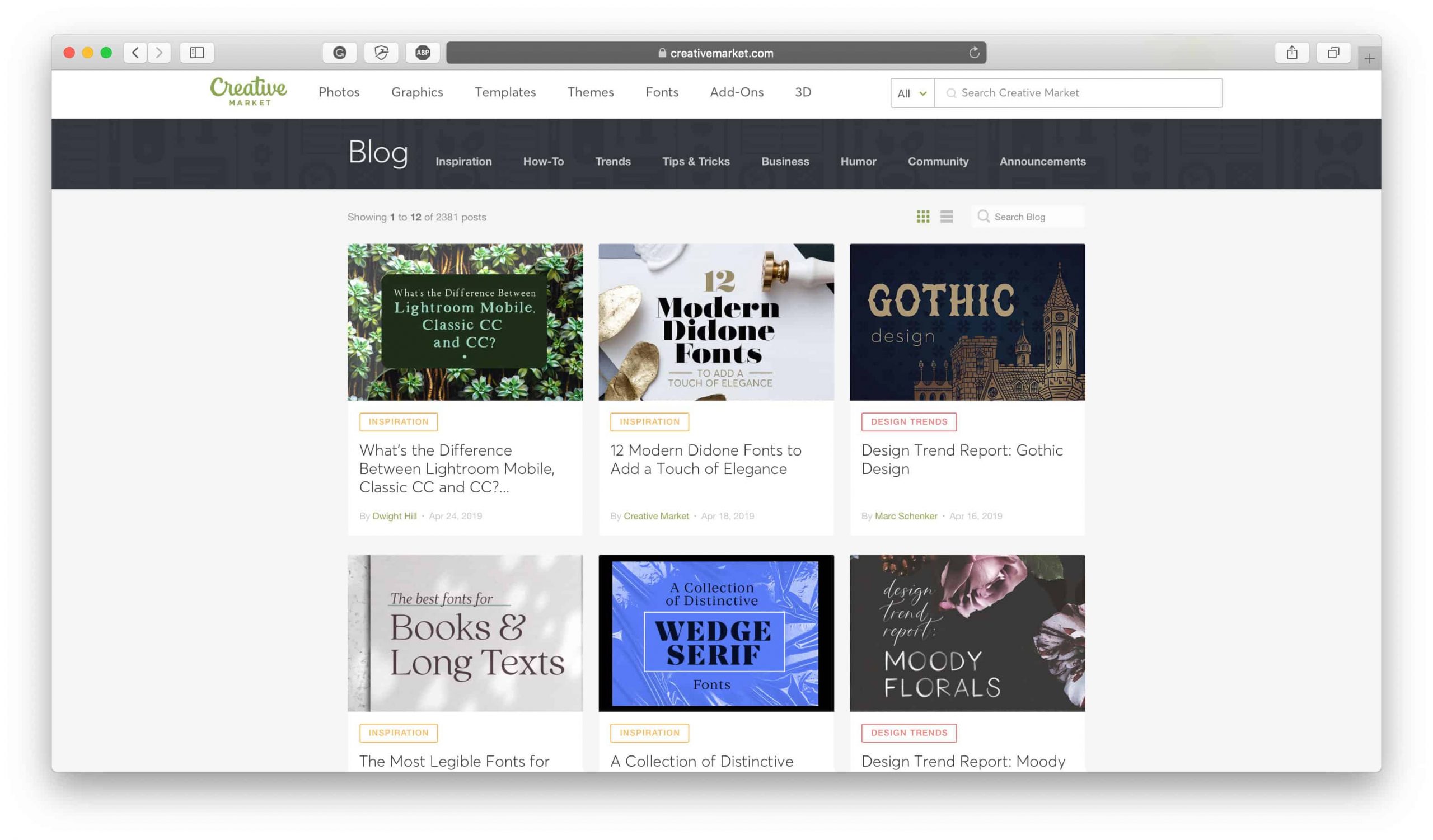 Pros & Cons
Creative Market's main advantage is that they offer a huge selection of design content that's ready to be used as is or easy to customize. With such a large selection of products, there's something to fit every website's aesthetic, and with a positive community of independent creators, there's new content constantly available on the site.
The main drawbacks to Creative Market revolve around pricing and licensing. While they offer free, discounted and bundled goods regularly, all other products come at a price, although most products are less expensive than a professional graphic designer would charge. In terms of licenses if you're using any Creative Market assets for your business ensure that you purchase the correct license in order to use assets for that purpose.
PROS
Huge variety of graphic design assets
Professional, high-quality design assets
Created by independent makers
A curated selection of free assets every week
Competitive and fair pricing
Interact with the community via the discussions page
Up-to-date blog tutorials, roundups of the best assets & inspiration
New products added regularly
CONS
Besides the curated selection of free assets weekly, all other assets must be purchased
When purchasing products the purchaser agrees to the licensing terms of the asset, which dictates how and when the product can be used and distributed.
Some products such as logo templates, actions, brushes, etc. require the use of editing software such as Adobe Photoshop, Lightroom and Illustrator to be used or customized.
Pricing & Licenses
PRICING
Aside from the weekly selection of free design assets, all of the content on Creative Market is only accessible once paid for which includes all images, themes, fonts, graphics, etc. While this may be a drawback for entrepreneurs on a tight budget, the prices are still likely to be way less than a designer would charge to create the same product.
If pricing is a major consideration for you, take advantage of the weekly offers, check out their discounts page and purchase assets in bundles. Often times it's possible to buy a few packages of assets as one bundle which can provide you with lots of design content at one reasonable price. It's also useful to remember that you have the ability to use and customize the assets you purchase, so when you buy and download them you can use them over and over as you please. With some clever tweaks and adjustments, you can ensure you get your money's worth.
LICENSES
When purchasing assets from Creative Market it's important to take note of the license requirements for each asset before you purchase it. Licenses dictate how and when the design assets can be used such as whether or not they can be printed on products you're going to sell or whether they can be used for personal or commercial use. If you're intending to use any of the design assets on Creative Market for products you plan to sell, ensure that you purchase the correct license that allows you to use the asset for your intended purpose. For all licensing information check out Creative Market's License FAQ page.
Conclusion
CreativeMarket is a fantastic resource for entrepreneurs on a budget who want fantastic graphic design content for their website, ad campaigns, email newsletters, blog posts and website without the professional price tag. With their huge selection of images, graphics, templates, fonts and more, there's plenty of choices so you can find the exact style you're looking for, no matter what project you're working on. Take advantage of their community discussions and blog posts for additional help and tutorials and ensure that you adhere to the license requirements of the assets you purchase. You may not be an expert at graphic design, but with the help of Creative Market, you can make it look like you are.