Expedia is a well-known third-party booking platform with mixed reviews online. Find out whether the platform is worth your time in this discourse.
It's no news that third-party travel booking sites are gaining immense popularity among avid travelers in the past few years. Whether it's the accessibility of digital bookings or the cheap price offerings, online bookings now make up one of the largest shares of the tourism industry revenue.
What's better than getting to visit the destination of your dreams at the cheapest price possible while confirming the booking through your fingertips?
One of the most popular platforms in this regard has to be Expedia.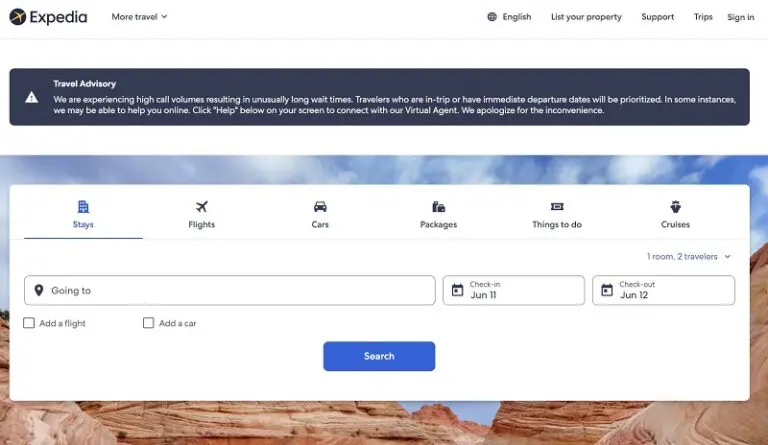 Although the website is relatively new compared to giants like Booking.com and TripAdvisor, it has made a name for itself in the industry. However, you will find both praises and horror stories about the website through customer reviews when you search online.
So, is Expedia booking legit?
Read through this article to find out is Expedia trustworthy to plan your next vacation or not.
What is Expedia?
Expedia is a third-party travel booking service founded by Microsoft in 2001. The company has many partners and subsidiaries that allow it to facilitate cheap bookings for its users.

It started out as a modest flight booking service and slowly grew into a full-fledged online vacation planning portal. Today, it is one of the most high-rated sites on Trustpilot and Better Business Bureau.
You can find everything you need to book for your vacation, including flights, hotels, and even car rentals at your destination.
Besides that, you can customize your search by entering different preferences and exceptional facilities.
How to Use Expedia?
What attracts avid vacationers to sites like Expedia is the impeccable ease of use. All you have to do is log into the website and start the booking process.
The landing page design is highly intuitive. You'll find a search bar right in front of you where you can specify your location, destination, and travel date. After that, just click on the search button to get the cheapest flights available.
Similarly, you can navigate to dedicated search pages for hotels, car rentals, and complete vacation packages according to your preference. If you wish to personalize your search, you can click the filter icon and include additional facilities like extra baggage or complimentary breakfast in case of accommodation.
Once you choose the flight or hotel you want to book, the website itself will give you a booking link to follow for further confirmation.
The best part is the transparency provided by the platform. Before you complete your booking, you can check out verified guest reviews or go through high-resolution images to finalize your decision.
However, if you have been through Expedia reviews before, you probably know that it has been accused of pressure selling techniques in the last few years.
Nevertheless, the company has gone through an investigation by the competition and agreed to conduct more transparent offerings and transactions.
But, is Expedia a trustworthy site for frequent travelers and family vacationers? Read the following section to find out.
Who is Expedia for?
Before I get on with the discussion to conclude is Expedia trustworthy or not, you should know whether it is fit for you.
Mainly, the website aims to make travel booking easy for users.
So, if you're a frequent vacationer traveling to exotic destinations with family or a businessman traveling for work, Expedia can make life significantly easier for you.
Apart from the cheap listings, Expedia has a reward program and beneficial coupons, which you can collect over time and receive amazing discounts.
This means, that if you plan to travel more than twice a year and stay loyal to the site, Expedia is definitely for you.
Furthermore, Expedia is a few traveling websites that let users make their payments in multiple currencies, even Bitcoin.
To make payments even more accessible, Expedia provides personalized credit cards to frequent users that don't charge any transaction fee.
Ultimately, Expedia is an excellent option for frequent travelers and vacationers. It is possible to get a good deal even if you're planning a one-time trip, but in this case, you'll have to conduct thorough research across the internet to make sure you're getting the best price.
Key Features of Expedia
If the above section makes you want to give Expedia a try, you'll want to know is Expedia trustworthy for flights and is Expedia legit for hotels?
In this section, I have evaluated each facility provided by the website to help you make an informed decision.
Expedia Flights
Expedia is most commonly used and well-known for its flight booking options. Mainly because the website has a massive database of flights to hundreds of destinations worldwide, you can get the cheapest flights with your choice of facilities within a few clicks.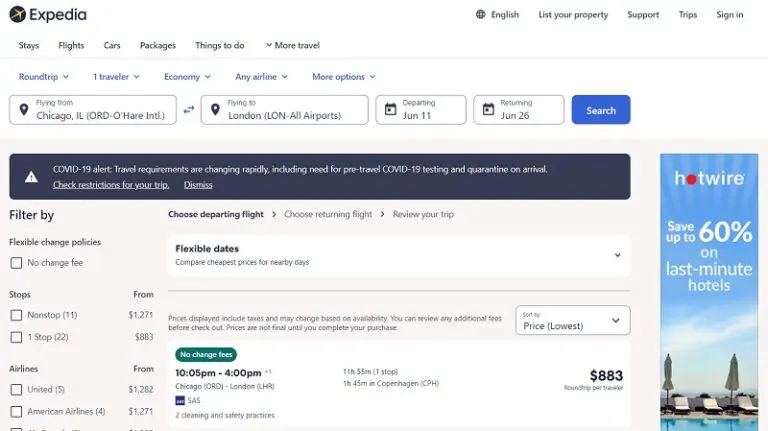 Another attractive aspect of Expedia flight bookings is the Price Match Guarantee. This means the platform ensures that you get the lowest price for the flight of your choice and get refunded in the case of fluctuations.
But is Expedia legit for flights when it comes to price guarantees? You see, you will have to pay anywhere from $5-30 for every ticket if you opt for the Price Match Guarantee.
On the plus side, you can claim the fluctuations in your itinerary up until six hours before your flight. This way, whenever the price of your booked itinerary goes down, you will get refunded through Expedia for the price difference.
It is a risk because prices may not go down or go higher, but you can receive good benefits from the website if they considerably drop.
Expedia Hotels
Attributing its immense popularity, Expedia has hundreds of hotel partners across the world. Besides that, the website also lets property owners list their properties as accommodation.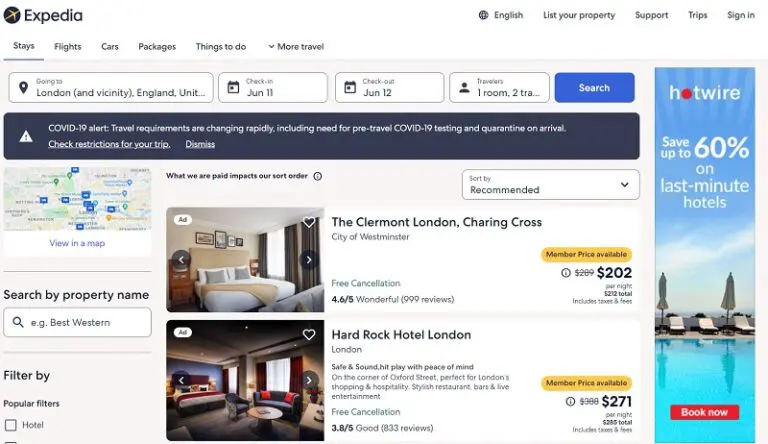 All combined, these options make up around 28,000 available accommodations on Expedia.
With the plethora of options available, it is easy to wonder is Expedia trustworthy while booking your accommodation. However, the most reliable aspect of Expedia hotel bookings is legit guest reviews.
Along with the complete details and pictures of each option, you can check the experiences of verified guests who have stayed there before you. This way, you can judge the accommodation and see if the price is worth it or not.
Similarly, if you are an upgraded member of the Expedia community, the website gives you the Best Price Guarantee for hotels. This means you will receive a $50 compensation from the website if you find the same hotel room for a lower price within 24 hours of booking.
Expedia Car Rentals
Now that you have been through the flight and hotel booking facilities, it is time to discuss if Expedia car rental is legit.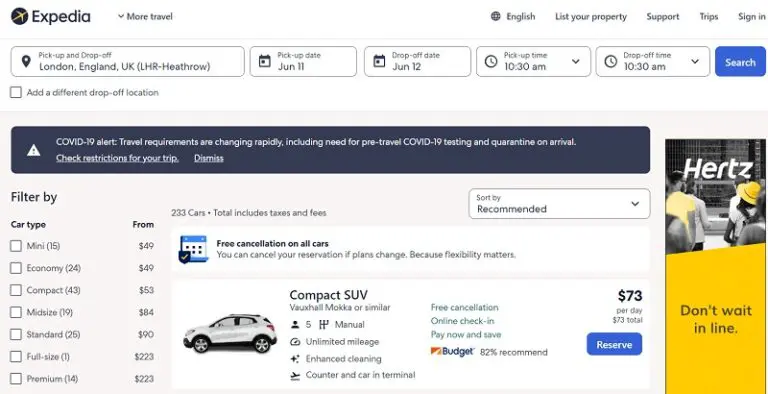 First of all, the car rental service on Expedia is only available for US citizens. If you plan to travel domestically, you can book a car to take you around your destination from the website before you land.
Just like the hotel and flight booking services, Expedia car rentals offer a plethora of choices. You can choose anything from compact vehicles to full-size luxurious rides, convertibles, and even vans.
All you have to do is specify your pick-up and drop-off options with your contact details and book a ride for your next vacation. Once you land at your destination, the ride will pick you up and take you to famous landmarks or your lodgings according to your preference.
Rewards Program
If you become a frequent user of Expedia, the website rewards you with statuses and points, which you can convert into discounts on further bookings.
The question is, is Expedia trustworthy enough to provide beneficial loyalty programs?
Its rewards program is arranged into three levels, blue, silver, and gold. These statuses will get you special treatment such as extra drinks or lounge privileges on your flights and in your hotels and award you with points for every booking.
Similarly, you can earn points and upgrade your status by purchasing specific accommodations, flights, and vacation packages. After that, you can use your points to get direct discounts or purchase coupons to use during your flight or hotel stay.
However, you will have to spend thousands on the website to earn hundreds of worth of rewards, which might seem insignificant to infrequent travelers.
Pros of Expedia
Now that you have a clear idea about the various aspects of Expedia, you probably know whether it is worth your trust or not. To give you a clear picture, I have listed down its main benefits at a glance.
Cheaper Bookings
If you're asking is Expedia trustworthy, there is no doubt that it provides cheap booking options. According to Expedia's claims, you can save around 43% on Expedia bookings compared to conventional travel agents.
Accessible Payment Plans
The best part is that you don't have to pay your entire amount while booking. Instead, Expedia lets you pay for your bookings in monthly installments leading up to your vacation.
This makes it easier for people traveling on a tight budget to plan the vacation of their dreams.
Trip Insurance
Expedia is easily a one-stop shop for all your traveling needs. Apart from flights and accommodation, you can purchase insurance for trip cancellations as an Expedia member and get your trip covered.
Make sure to read the insurance policy carefully before signing up. However, it covers all the essential aspects like flight cancellation, hotel booking protection, car rental insurance, and package protection.
Most importantly, all insurance plans are covered by the Transamerica Casualty Insurance Company, making them reliable.
Last-Minute Bookings
If you're a spontaneous traveler who doesn't like to plan your vacation months, Expedia has the ultimate options for you.
You can get the cheapest flight and hotel deals and book them as late as 14 days before your trip.
Cons of Expedia
On the other hand, there are some drawbacks to using Expedia which you should know if you're wondering is Expedia trustworthy. I have compiled the main turn-offs of the website in this list to give you an honest representation.
Shady Cancellation Policies
While all other operations on the Expedia website are significantly easy, it is quite difficult to cancel your booking.
If you cancel your booking within 24 hours of confirmation, you won't have to pay any fee to the website. However, if you cross the time limit, you will have to pay a cancellation fee if you haven't purchased insurance from the platform.
But money isn't the only concern. Once you cross the 24-hour threshold, you will have to meet hotel or flight cancellation deadlines and cancellation fee making, which isn't always mentioned beforehand.
Website Ads
While using the Expedia website, a significant turn-off was the insane amount of ads on the platform. These ads add to the hassle of navigating the overcrowded website and make it challenging to tell legit deals from fake ones.
Inefficient Customer Support
When you're booking your entire vacation with a single website, you will need some one-on-one support at some point. Unfortunately, user reviews show that Expedia customer support responses are pretty delayed.
Customer Complaints
There are many customer complaints regarding Expedia user experience on the internet. Luckily, most of them revolve around the lagging customer service rather than problems regarding flight and hotel bookings.
Is it Safe to Book Through Expedia?
Yes, it is absolutely safe to book through Expedia. In fact, Expedia is one of the most trusted travel booking websites out there. Millions of people use Expedia every year to book their flights, hotels, and other travel arrangements, and there have never been any major safety concerns.
Expedia is a huge company with a very solid reputation, so you can rest assured that your booking will be in good hands.
Plus, if you do ever have any problems with your booking, Expedia has a 24/7 customer support team that will be happy to help you out. So go ahead and book your next vacation through Expedia – you'll be in good hands!
How Trustworthy Is Expedia?
In concluding this discourse, it is time to answer the ultimate question, is Expedia trustworthy?
After evaluating all its features and the pros and cons, it is evident that Expedia is trustworthy and, therefore, worth a try.
But remember, there is a certain amount of risk involved whenever you conduct travel bookings online. That is why there are some aspects you should keep in mind while booking hotels and flights through Expedia.
Firstly, always conduct your due diligence regarding flight details and accommodation sites. Secondly, keep your booking confirmation and travel details saved to claim your refund in case of a mishap.
And lastly, beware of scam emails and advertisements from such websites. If you stay clear of the shady aspects, you can use the website safely for your benefit.