With several work jackets in our Helly Hansen workwear range, we thought it might be a good idea to provide you with some further insight into our 5 best sellers.
All clothing within the Helly Hansen jackets range is designed to perform flawlessly and fit with maximum comfort and complete flexibility.
Ultimately, to let you get on with the job at hand.
These highly functional, protective, and waterproof jackets are perfect for working outdoors in a range of different environments.
1. HELLY HANSEN ALTA JACKET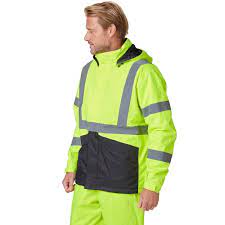 This high vis contrasting colour jacket has not only reflective bands but also two front pockets with flaps, ID card loops, tail drops, and more.
The jacket is also completely waterproof, breathable, and ideal for workers who require certified high-vis clothing.
Mesh-lined for extra comfort, and with the option to layer up, the Helly Tech Protection used in the Alta jackets helps to keep you dry even under the harshest conditions.
It also comes with push-button adjustments at the cuffs and is available in orange/charcoal and yellow/charcoal.
Durable and lightweight the Alta offers you everything by keeping things simple.
2. HELLY HANSENBRUGGE JACKET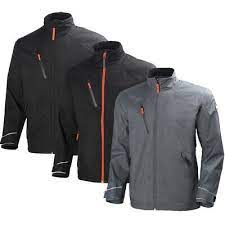 Stylish, yet practical, the Brugge jacket is casual while still providing the protective quality of keeping you dry in all conditions.
With the option of zip-in fleece jacket or vest, the Brugge is most certainly versatile all year round.
The water-resistant fabric and the Helly Tech Technology included in the design means the fabric is waterproof, windproof, and breathable.
You'll also find brushed tricot in the neck for comfort as well as the cuffs using Velcro for ease. The drawcord adjustment at the hem allows for greater flexibility and movement, and the reflective elements help to increase safety levels.
With taped seams, pockets galore and a centre zipper with back plackets, the Brugge also comes in a range of different colours, and there is also a zipper for entry inside the garment, for all logo applications.
3. HELLY HANSEN POTSDAM JACKET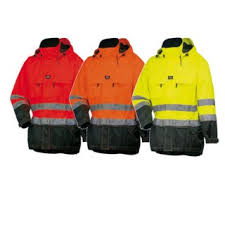 This is by far one of our more popular Helly Hansen waterproof jackets. Offering complete protection and warmth against all elements, the fully taped construction of the coat also comes with a detachable hood. A hood which is designed to be used with helmets, making it perfect for those working on construction sites, oil rigs, etc.
Providing an extremely comfortable fit, the Potsdam is made to last.
With zip ventilation under the arms, a mobile phone pocket positioned at the right of the chest, as well as elastic cuffs with Velcro adjustment – this jacket is designed to work with you, not restrict you in any way.
Completely waterproof and breathable, this particular HH jacket also has entry inside garment for logo applications, an extended back for improved comfort and fit, as well as the option of additional zip-in jackets if required.
4. HELLY HANSEN LEON JACKET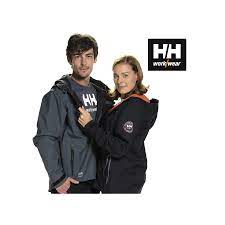 One of our best-selling softshell jackets, the Leon by Helly Hansen has been designed specifically for tradespeople. However, you will also find this jacket used as a corporate identity jacket in many sectors, showing its flexibility and versatility.
This softshell, fleece-lined coat makes Leon comfortable and warm, as well as suitable for all weather conditions.
Water repellent, with a front zipper and inner placket, you'll also find two front pockets with water repellent zippers, and a drawcord adjustment at the hem, with a button-up option for safety.
The back is slightly extended, adding to its style and class, and it also spawns no shoulder seams and Velcro adjustable cuffs, offering maximum comfort.
5. HELLY HANSEN CHELSEA JACKET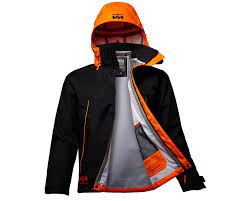 For all bulkier in appearance, the Chelsea jacket is reinforced with 100% Cordura fabric, with extra insulation at the shoulders, all added for increased protection.
This high-end shell jacket is ideal for all tradespeople working outside in any weather conditions.
With reflective elements for safety on sites and brushed microfleece inside collar and cuffs, the Chelsea jacket keeps you dry and warm on all occasions.
Durable, reliable, and with pockets suitable for everything, this coat offers it all.
With expansion added to the back for increased freedom of movement and push-button adjustment at each side of the waist, this jacket prevents cold winds and rain from getting through while remaining highly breathable.