Southwest Airlines is the world's largest low-cost carrier, and it's no wonder they're so popular. Southwest offers some extremely low fares with the addition of standard perks like free checked bags, inflight refreshments, and award winning customer service.
Want to know a bit more? In this post we're answering questions such as: What types of fares are there on Southwest Airlines? How does Southwest's boarding process work? What is the Southwest Companion Pass? Do I have to pay for bags on Southwest? And much more…
Basic Info
Airline: Southwest Airlines
Alliance: none
Category: (World's Largest) Low-Cost Airline
Frequent Flyer Program: Rapid Rewards®
Tag Line: "Low fares. Nothing to hide."
About/Mission Statement: The mission of Southwest Airlines is: dedication to the highest quality of customer service delivered with a sense of warmth, friendliness, individual pride, and company spirit. Southwest Airlines' purpose is to connect people to what's important in their lives through friendly, reliable, and low-cost air travel. (source)
Fleet: 735
Main Hub: Dallas, Love Field
Daily Departures: >4,000
Destinations: 101 (U.S., Puerto Rico, Mexico, Central America, & the Bahamas)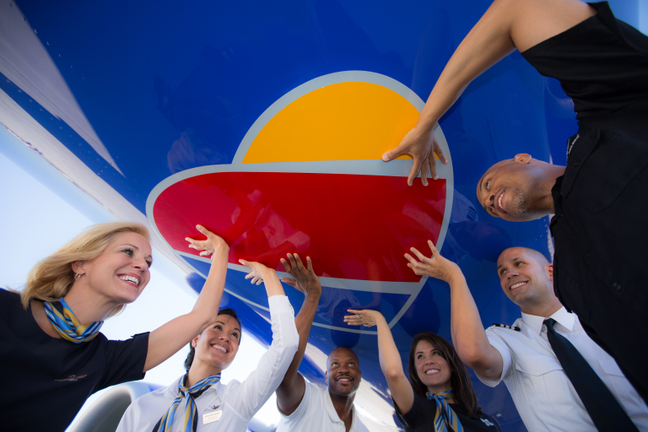 Ticketing Options
Southwest Airlines is technically considered a Low-Cost Airline, but they do things a little differently than their low-cost competitors.
Southwest still offers a cheap basic fare. But unlike other carriers that give you just a bare bones seat and one personal item for that price, Southwest includes some great perks. They also offer 2 additional fare rates with varying inclusions, for a total of 3 basic ticketing options:
Wanna Get Away
Anytime
Business Select
What's the difference?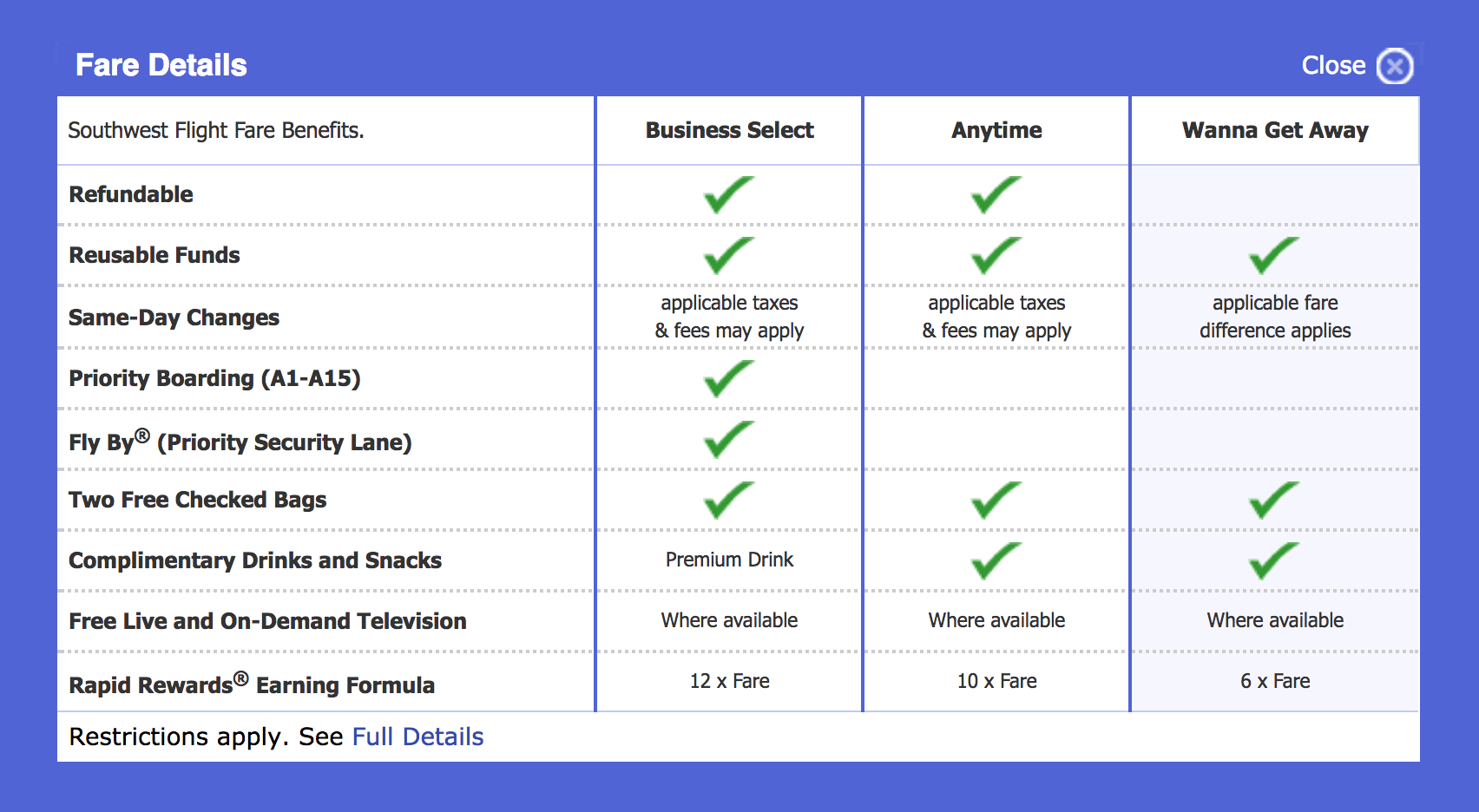 Wanna Get Away: As you can see above, Wanna Get Away is Southwest's basic fare. It includes 2 free checked bags, complimentary drinks and snacks, a 6x fare earnings rate for Rapid Rewards members, and the option of reusable funds.
What are Reusable Funds?
While your fare is technically nonrefundable, if you must miss your flight, the fare can be applied toward future travel on Southwest Airlines (for the originally ticketed passenger only). This means the cost you paid for your ticket will remain in your Southwest account for a certain amount of time.
Southwest does state that if a passenger fails to apply the funds within the eligibility period, the entire amount of the fare (+taxes, fees, etc.) will be forfeited.
Anytime: The Anytime fare is very similar to Wanna Get Away, but it is refundable and kicks up the Rapid Rewards fare earnings to 10x.
Something to note: if you want to fly standby, this cannot be done with Wanna Get Away; passengers must have (or upgrade to) an Anytime or Business Select fare.
Business Select: With Business Select, passengers get all the perks of Wanna Get Away, a refundable option, and some additional benefits including priority boarding, priority security lanes, a premium (alcoholic) beverage, and 12x fare earnings.
Southwest also offers a Senior Fare. This fare is only available to passengers 65 years of age or older (must present a valid I.D.) and is actually refundable.
Direct Sales: Lastly, while Southwest Airlines is an extremely popular carrier, you won't find their fares listed via metasearch engines or online travel agency sites (Expedia, Orbitz, Kayak, Google Flights, etc). That's because as a rule, Southwest Airlines only sells directly to the consumer. In fact, Southwest actually prohibits any automatic device, program, or algorithm from monitoring their fares.
Earning Southwest Airlines Points
There are a number of ways to earn plenty of Southwest Airlines points, but the quickest way to earn (by far) is through credit card sign-ups (these cards are great for Southwest Airlines flyers!)
The good thing is there are a couple great options to choose from. Plus, extra points can always be tacked on via category bonuses, shopping, dining out, traveling, car rentals, partner hotels, etc.
Our favorite is the Chase Sapphire Preferred® Card which earns Chase Ultimate Rewards and has a few special earning opportunities, such as 5x points on travel purchased through Chase Ultimate Rewards, 3x points on dining, and 2x points on all other travel purchases.
The kicker is those points can be transferred directly to your Southwest Airlines account, at a ratio of 1:1 – so it's basically a much faster way of earning points than using a Southwest Airlines card which doesn't have great bonus categories.
An added benefits of Chase Ultimate Rewards is that they can also be transferred to many other airline partners, giving you lot of options for using your points. In contrast, Southwest doesn't have any airline partners, and so the points you earn for your Rapid Rewards membership are only redeemable on Southwest flights. This is why we like Chase Ultimate Rewards!
For more information on earning SWA Rapid Rewards points, check out our article on earning a stack of Southwest points without even flying!
Southwest Companion Pass
If you and the same friend/partner/spouse/child fly Southwest a lot, the Companion Pass can slice your costs in half. In fact, in the points and miles world, the Companion Pass is pretty well known!
For those not yet in the know, The Companion Pass is a Southwest Airlines benefit that allows a customer to choose 1 person to fly with them basically for free (taxes and fees apply), every time they purchase a ticket or redeem points for a flight.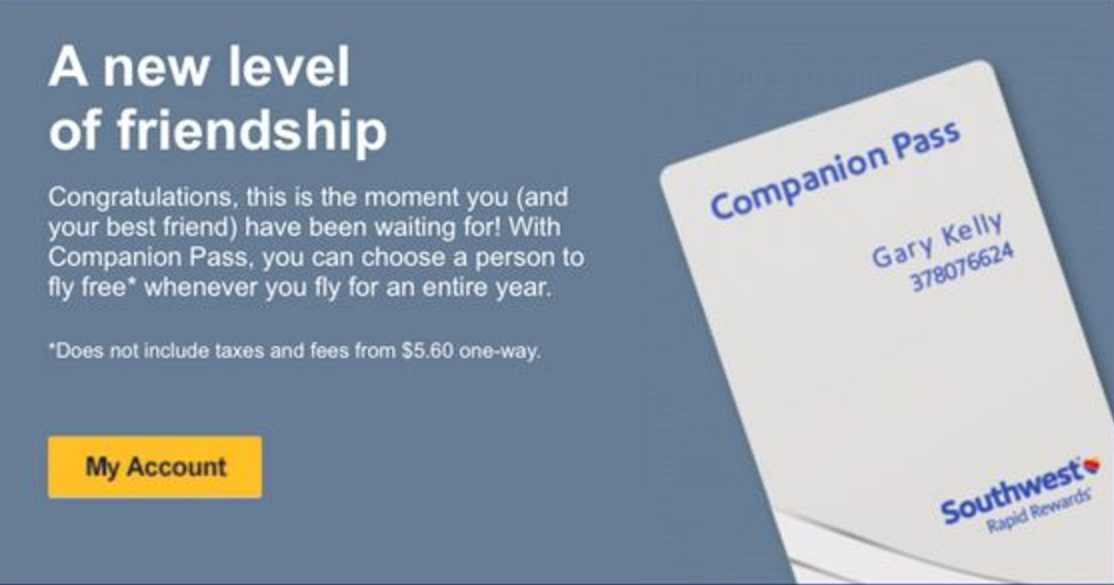 Earning the Companion Pass can be achieved in 2 ways:
Fly 100 qualifying one-way flights
Earn 125,000 qualifying points
(No prizes for guessing which option most points geeks cash-in on! )
The great thing about the companion pass is that it's valid not only for the remainder of the year in which you earn it…but for the following full calendar year as well.
Yep, if you have a sneaky scheme up your sleeve to get your pass in January, you can benefit for almost 24 months! (That's a lot of free flights.)
"Qualifying Points": Keep in mind the required 125,000 points must be "eligible points." This means that points transferred from other programs or accounts (e.g., Chase Ultimate Rewards) will not count toward earning a Companion Pass.
So how does one earn eligible points?
Make purchases with a Southwest Rapid Rewards® Plus or Southwest Rapid Rewards® Premier Credit Card
Shop through the Southwest Rapid Rewards Shopping Portal
Utilize the Southwest Dining Rewards
Participating with Southwest's Home & Lifestyle Partners
As per Southwest's Rapid Rewards terms and conditions, the following types of points do NOT qualify:
"Purchased points, points transferred between Members, points converted from hotel and car loyalty programs, and e-Rewards, Valued Opinions, and Diners Club, points earned from Rapid Rewards program enrollment, tier bonus points, flight bonus points, and Partner bonus points (excluding bonus points earned on the Rapid Rewards Credit Cards from Chase) do not qualify as Companion Pass qualifying points."
Other Tier Statuses: You can learn more about other benefits like A-List and A-List Preferred Status here.
Southwest Baggage & Other Fees/Add-Ons
Okay, okay…you got us. Southwest doesn't really have a lot of baggage fees or extra fees/add-ons. That's what makes their base price so great!
Southwest Airlines' baggage policies and inflight inclusions are certainly some of the most clear-cut out there, and passengers are generally stoked about it.
Baggage Fees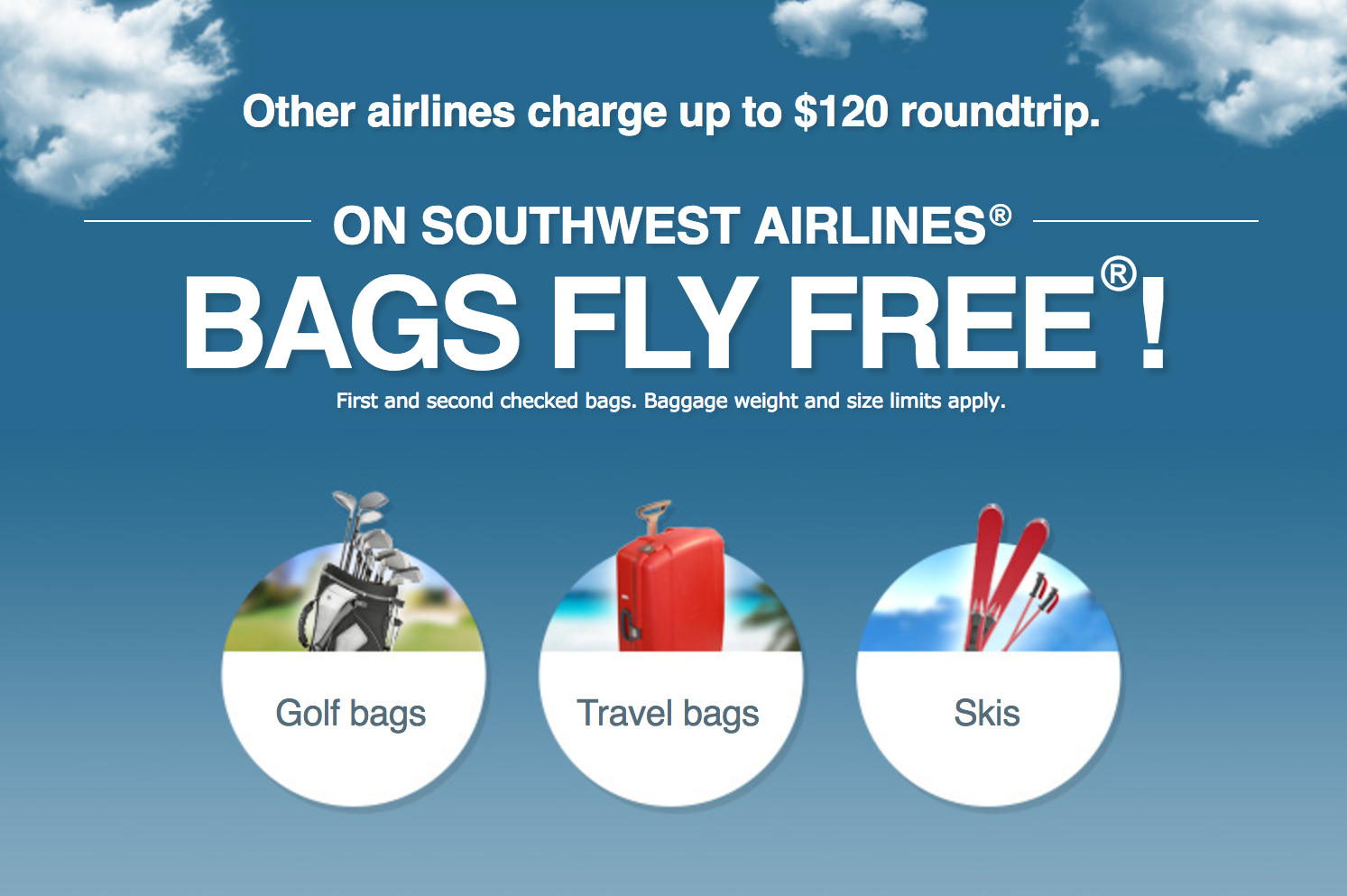 With your base ticket price, travelers get a personal item, carry-on, AND 2 FREE CHECKED BAGS. Any additional bags after that are $75.
Southwest does have size and weight limits that passengers should be aware of:
Personal Item: 18.5″ x 8.5 x 13.5″, weight undisclosed
Carry-On: 10″ x 16″ x 24″, weight undisclosed
Checked Bag: max linear dimensions 62″, max weight 50lbs
Overweight Checked Bag: $75
Oversized Checked Bag: $75
How simple is that?
Plus, some special sporting items fly free (subject to certain restrictions)! Here's what Southwest says:
"Any of the items listed below may be checked in substitution of one piece of the free Checked Baggage allowance for each Passenger at no charge on a one-item-for-one-bag basis. If the item of sporting equipment exceeds 50 pounds in weight or 62 inches in size (outside length plus height plus width), excess weight and size charges may apply."
Archery equipment
Baseball/softball equipment
Boogie/knee board
Bowling bag
Bicycles
Hard-sided bicycle box falling within 62″/50lb limits
Fishing rod & tackle box
Limited to 91″ in length, 3″ diameter
Counts as 1 item even if packed separately
Golf bag
Hard-sided golf bag
Excess size charges waived; excess weight charges may apply
Hockey/lacrosse sticks
Up to 2 bags allowed to count as 1 item, even if packed separately
Kiteboard
Knives, dress sabers, swords
Checked bags only
Parachutes
Carry-on or checked bag
May not be worn in flight
Scuba equipment
Air tanks must be empty
Skateboard
Carry-on or checked
Snow ski equipment
Up to 2 bags (1 set of equipment) allowed to count as 1 item, even if packed separately
Excess size charges waived; excess weight charges may apply
Water ski equipment
Excess size charges waived; excess weight charges may apply
Other Fees & Add-Ons
As you'll see below, Southwest does a pretty great job of keeping extra fees to a minimum. That's part of the reason so many customers are so pleased with the airline! They're giving basic fares at a low price, yet still providing a good overall product.
Change Fee: $0 (difference in fare applies)
Cancellation Fee: $0
Phone Reservation Fee: $0
EarlyBird Check-In®: $15-$25 (per one-way flight) depending on the length of the flight and the popularity of early bird check-in on the route in question
*gives you automatic check-in before the traditional self-check-in period, allowing for a better/earlier boarding position. Read on below to see why this matters…
Upgraded Boarding: $30-$50 per customer, per segment
Unaccompanied Minor: $50
Pet Fee: $95
Inflight Amenities: see below
How to Avoid Paying Excess Southwest Fees & Expenses
Even though you get to check 2 bags for free with Southwest, some travelers need to transport more (or oversized) luggage.
However, by using the right credit card, you can have these fees reimbursed! This perk would also include fees for inflight purchases, "early bird" access, and more. See below:
Capital One VentureOne Rewards Credit Card – This no annual fee card comes with a 20,000 bonus mile offer after spending $500 in the first 3 months. When you use your card for travel purchases (e.g. baggage fees), use your miles to pay off all, or part of, your statement balance! We've highlighted 30+ benefits of the card.
Capital One Venture Rewards Credit Card – The "big brother" card to the VentureOne with a 60,000 bonus miles when you spend $3,000 on purchases in the first 3 months. This card is full of benefits and perks and you can redeem your miles on travel (flights, hotels, even paying for baggage fees etc) or transfer your miles to over 15+ travel loyalty programs.
Capital One Venture X Rewards Credit Card – The newest card in the Capital One lineup with a welcome offer of 75,000 bonus miles after spending $4,000 on purchases within the first 3 months from account opening. Not only does the card come with up to $300 in statement credits when booking through Capital One Travel, you'll also get get 10,000 bonus miles (equal to $100 towards travel) every year, starting on your first anniversary.
Earn unlimited 10x miles on hotels and rental cars booked through Capital One Travel and 5x miles on flights booked through Capital One Travel, plus unlimited 2x miles on all other purchases.
Southwest Boarding Process
This isn't a typical section in our airline reviews, but Southwest Airlines does things a little differently when it comes to boarding.
Southwest doesn't assign seats. Seat choice is up to each individual customer, and it's based on the boarding position/number you receive at check-in and what's left when you board the plane. Once a passenger boards the plane, he/she is free to sit in any available seat.
How are boarding numbers assigned?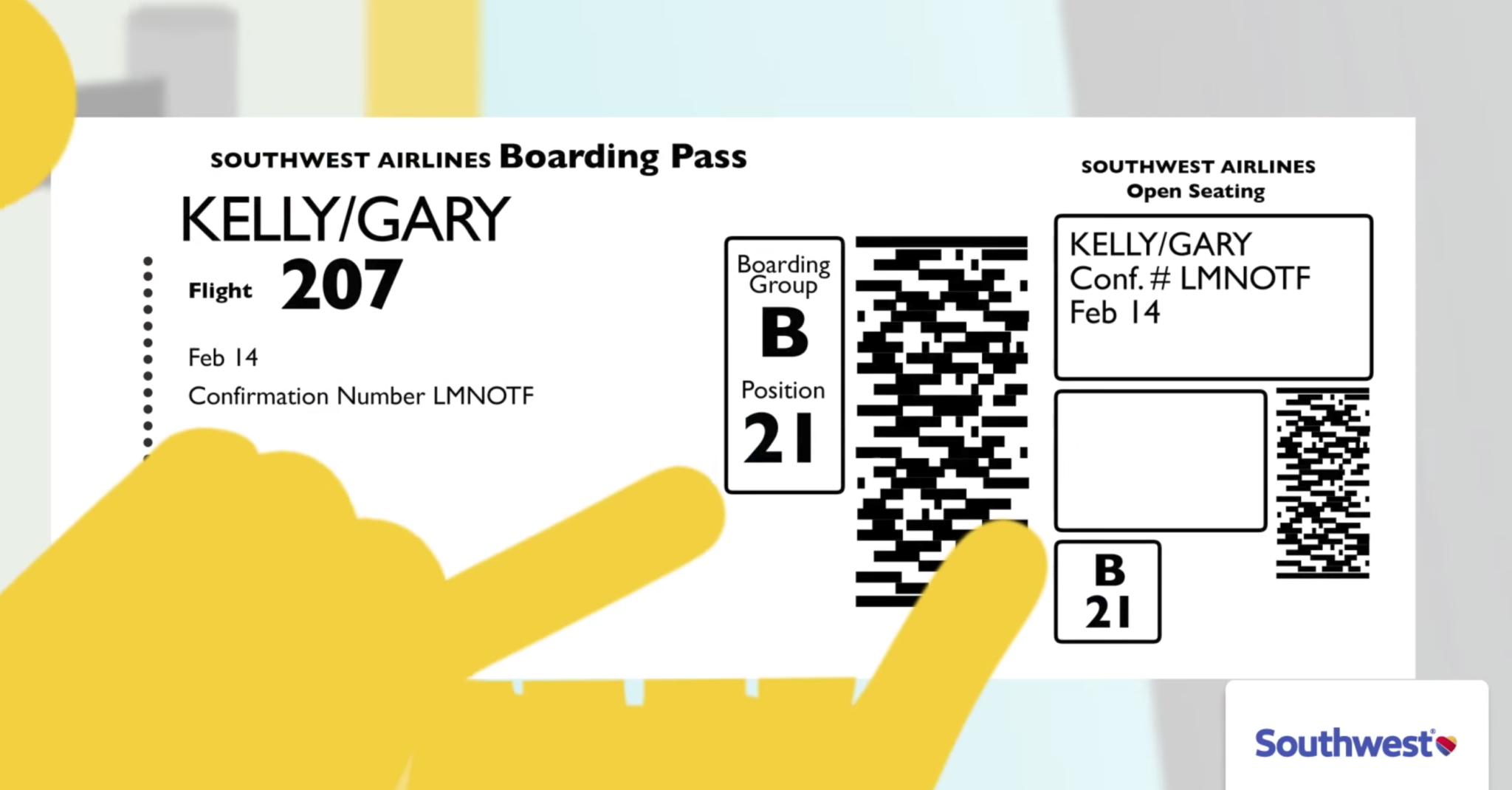 Southwest assigns a Boarding Group (A, B, or C) and a Boarding Position (1-60).
The available boarding positions are distributed on a first come, first served basis depending on how early you check in. Since general check in doesn't open until 24 hours before boarding, it's in your best interest to check in as close as possible to that 24-hour opening.
That being said, positions A1-A15 (the first to board other than pre-board passengers) are reserved for Business Select customers. This does not mean A16 is always the 16th person to board, as there may not be 15 people on the flight who have purchased a Business Select fare.
If all of the Business Select fares have not been sold, other passengers may have the option of upgrading their position to the A1-A15 section for $30, $40, or $50 per segment, depending on the itinerary. This can be done with a gate attendant before the boarding process begins.
The best positions following A1-A15 are usually assigned to A-List Preferred/A-List Members and those passengers who have purchased EarlyBird Check-In®. Southwest states that these distinctions in and of themselves do not guarantee an A boarding position, but they do ensure that you will receive the earliest position available.
Family boarding is available and applies to families traveling with children 6 years of age or younger. Family boarding takes place just before B Group boarding.
So, how do I board the plane?
Boarding a Southwest fight is similar to other airlines in that boarding groups are called by a gate attendant.
When your specific boarding group is called (you'll find your position on your boarding pass), you stand by the respective numbered columns at the gate.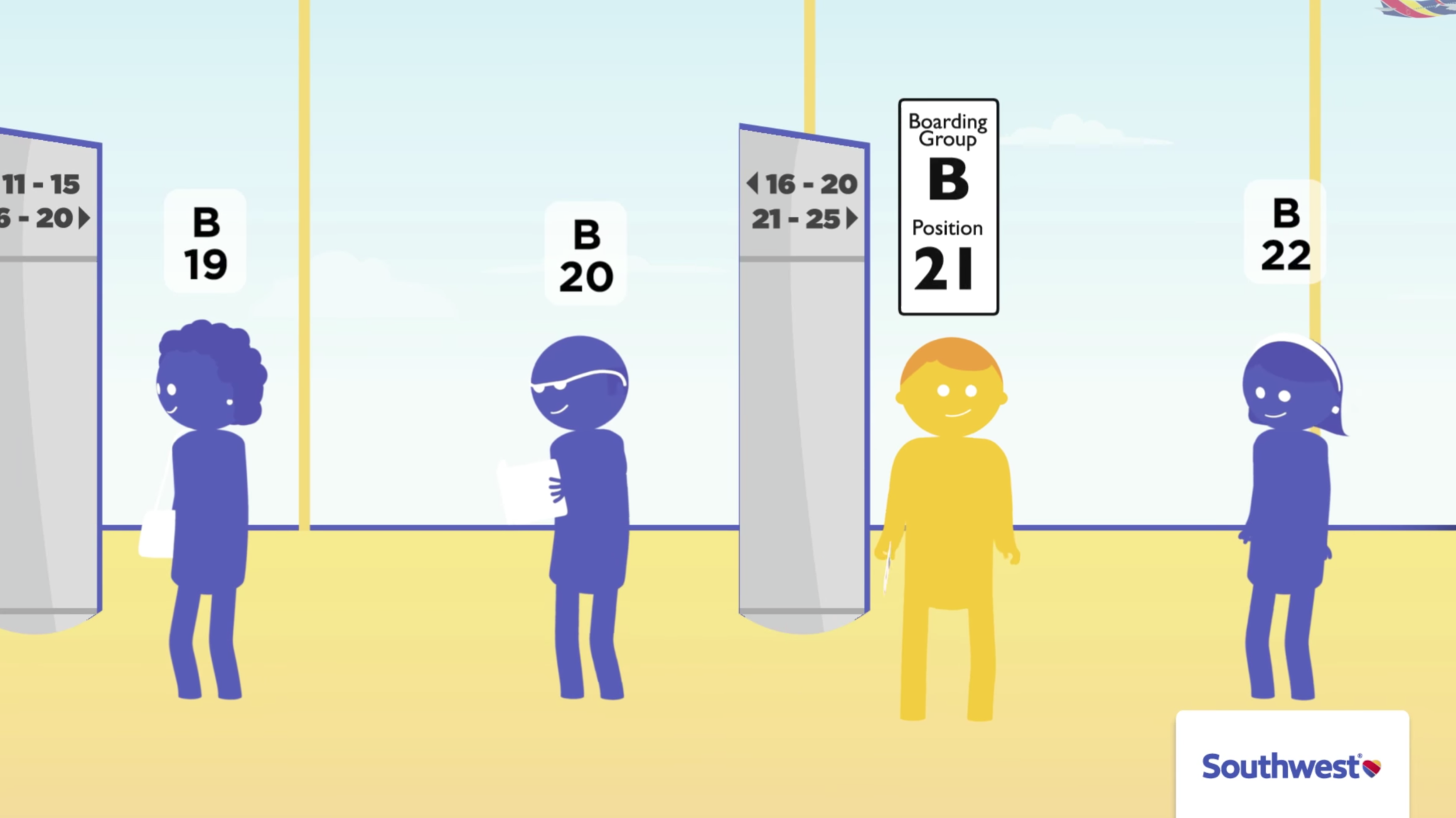 This is where things can get a bit uncomfortable. The space between the columns isn't as roomy as the image above leads you to believe. While some passengers comfortably slot themselves into the correct spot, others seem to forget how to form a dignified and correct numerical line!
You'll find many passengers peering over your shoulder at your boarding number to be sure you're in the right place, or asking you outright what your number is so they can confirm if they are in front of or behind you. It's kind of like lining up alphabetically in 1st grade (so to speak), and some people just don't get it.
If you're a seasoned Southwest passenger, you get used to this.
What if I'm traveling with someone in a different boarding group?
When boarding, the individual with the higher boarding position is welcome to wait back with the passenger carrying the lower boarding position, but it doesn't work the other way around. Basically, just because your friend or family member is A and you're B, doesn't mean you get to board in A group with them.
Once the gate attendant welcomes your group aboard, they scan your boarding pass and you board the plane. Then, simply choose any open seat you wish.
At times you'll see someone who has placed a purse or carry-on on a seat next to them, in theory "saving" the seat for someone they're traveling with. Technically, Southwest discourages this behavior but doesn't necessarily police it. In general, it's likely best to stay away from that seat unless you want a disgruntled neighbor for the rest of the flight.
If you're still a bit confused, visit the Southwest Boarding FAQ here.
Southwest Seat Specs & Inflight Amenities
If Southwest offers such low fares, can the flight even be comfortable? The answer is yes,most definitely.
Seat Specs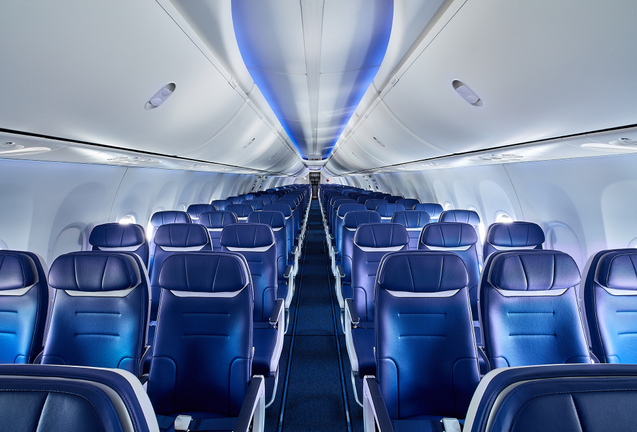 In terms of seat specs and overall comfort, Southwest does well. They operate exclusively with Boeing 737 aircraft — a narrow body jet with a single aisle. Seats will differ ever so slightly depending on the plane you're on.
Even so, with an average pitch length of 31″-33″, a slight recline on most seats, and a full tray table, they pretty much rank right at the top of the low-cost economy seat list. Heck, they even rank above average when it comes to industry-wide economy pitch measurements!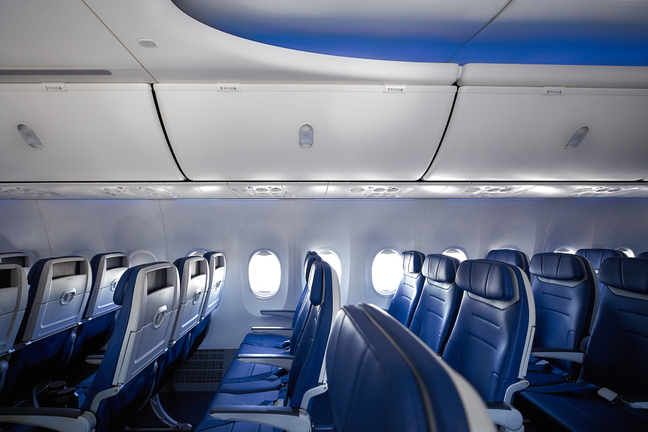 Additionally, the newer models have slimmer seats with a smaller armrest, giving customers a larger width — 17.8″ to be exact. (Supposedly, this is the largest in economy seating of any carrier.)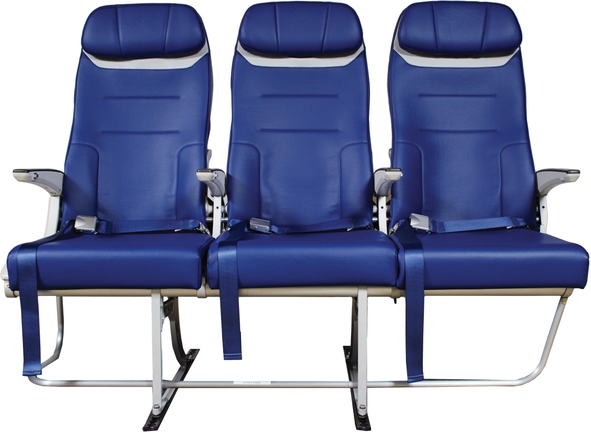 Since seats are on a first come first serve basis, there aren't special business class types of seats for sale. If you board early and/or you're lucky, you can sit at the bulkhead or in an exit row with a bit of extra legroom.
Inflight Amenities
Yep, Southwest is a low-cost airline that provides low fares but still includes some great inflight perks.
Refreshments: Southwest Airlines provides a selection of complimentary juices, soft drinks, coffee, tea, and water. They also pass a small snack, usually pretzels or peanuts of some sort.
Beverages: Southwest has recently (3/1/18) increased the prices of their alcoholicbeverages; these still come in slightly under cost vs competitors.
Premium Beverages: $3
Standard Beer (Miller Lite, Dos Equis): $6
Premium Beer (Fat Tire, Lagunitas, Leinenkugel): $7
Wine: $6
Liquor: $7
Entertainment: Passengers may use their personal devices (in flight-safe mode) for the following:
Inflight Entertainment Portal: FREE flight tracker, arrival/connecting gate info, games, and access to southwest.com
Live TV: $0 (for a limited time)
Wi-Fi: $8 per day per device
Movies: $0
Messaging: $2 per day per device
NFL RedZone: $4 per day in season
For more information, check out our Guide to Southwest Airlines Wifi & In-Flight Entertainment.
Customer Satisfaction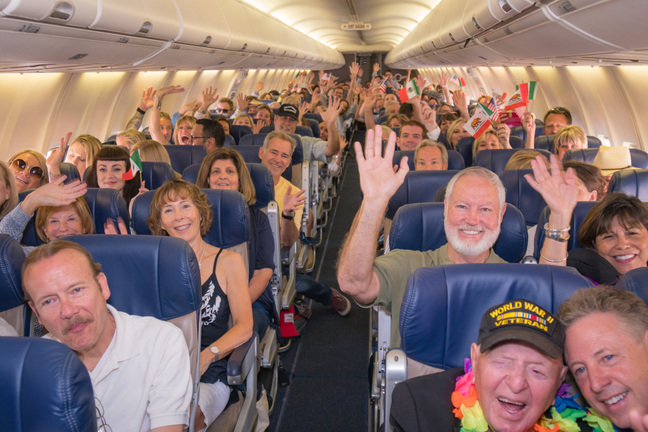 Southwest customer satisfaction numbers are hard to beat. In fact, Southwest Airlines has been #1 in the DOT Consumer Satisfaction Ranking for 22 of the last 26 years. That's pretty unbelievable.
Consumer Rankings, Ratings, Etc.
ACSI Rating (American Customer Satisfaction Index): 80% (2nd of 12 largest U.S. carriers for 12-month period ending March 2017)
AQR (Airline Quality Rating): 6th of 12 largest U.S. carriers
Kayak Customer Rating: 8.4/10 avg (of 5,217 reviews)
Skytrax Customer Rating: 6/10 (of 610 reviews)
TripAdvisor Airline Review Rating: 4.5/5 avg (of 14,534 reviews)
Recent Awards
Here are just a few of Southwest Airlines' recent awards:
Highest Ranking Low-Cost Carrier – J.D. Power 2017 North America Airline Satisfaction Study
Named A Best Employer – Forbes 2017 List
Reader's Pick, Best Frequent Flyer Program (U.S.) – Smarter Travel
Best Customer Service, 5th Consecutive Year – 2017 Freddie Awards
Program of the Year (Rapid Rewards®), Best Loyalty Credit Card, Best Airline
Redemption Ability – 2017 Freddie Awards
Domestic Carrier of the Year, 8th Consecutive Year – Airforwarders Association
100 Best Corporate Citizens List – Corporate Responsibility Magazine, 2017
Most Valuable Employer for Military – Recruit Military, 2017
World's Best Low-Cost Airlines, Top 20 List – Skytrax World Airline Awards 2017
Performance
While Southwest consistently ranks #1 in DOT's Consumer Satisfaction rankings, they do seem to have some issues with "on-time performance" (OTP). As demonstrated in the complaints by category above, over 30% of Southwest Airlines' complaints are related to flight problems like cancellations, delays or misconnections.
The DOT August 2017 Air Travel Consumer report ranks Southwest 7/12 for OTP. Specifically, Southwest flights arrived on time 78.9% of the time (calculated from reporting airports for the 12 months ending June 2017). The most chronically delayed routes appear to be EWR>DEN, EWR>MDW, MDW>EWR, and MDW>LGA.
In June alone, Southwest flights were on time just 73.32% of the time. Of the 26.68% remaining flights, the largest delay issue was related to late arriving aircraft at 12.9%. Air-carrier delays (i.e. the cause of the cancellation or delay was due to circumstances within the airline's control) made up 6.87% and National Aviation Systems delays made up 4.86%. The remaining small percentage was due to extreme weather or security delays.
Final Thoughts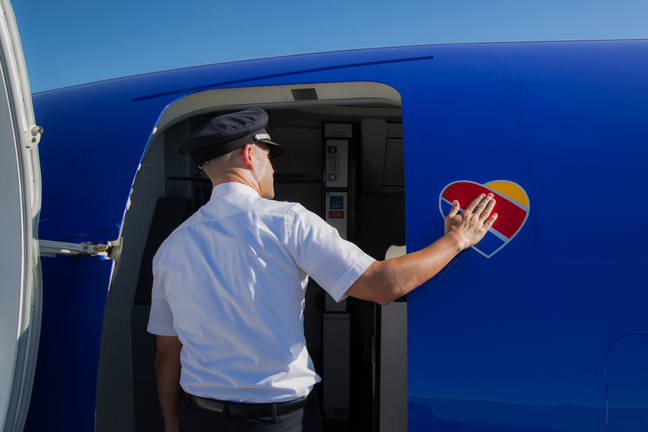 At Upgraded Points, we feel you really can't go wrong with Southwest Airlines.
You may experience some delays and run a small chance of dealing with mishandled baggage, but on the whole, Southwest is at the top of the low-cost carrier game. They're even consistently outranking most regional and international legacy carriers.
If you're looking for an airline that provides cheap fares, top customer service, perks like a couple free checked bags, inflight refreshments, and a comfortable ride, Southwest is the one for you!