About Wolf and Shepherd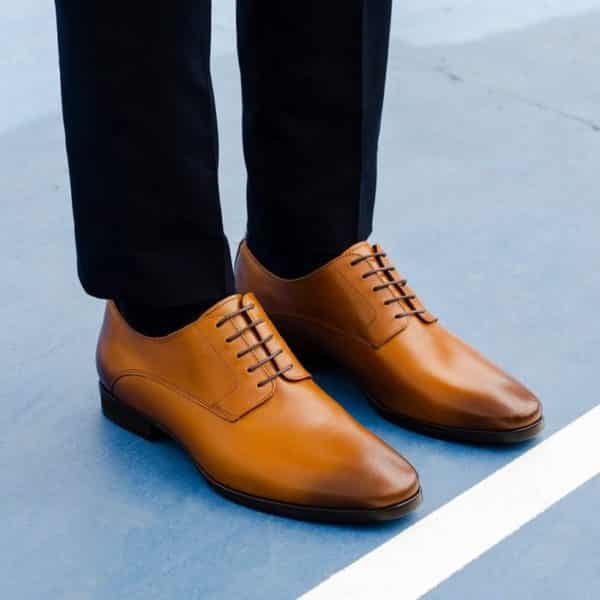 Wolf and Shepherd is a modern footwear brand that specializes in men's dress shoes. Their mission is clear and simple – deliver a line of luxury shoes that are stylish and comfortable for any lifestyle. Although their focus is on dress shoes, their collection also includes a line of sneakers and accessories.
The following Wolf and Shepherd Shoes Review will guide you through an informative and honest look at the brand's company and products to ensure you make the right purchase decision.
Overview of Wolf and Shepherd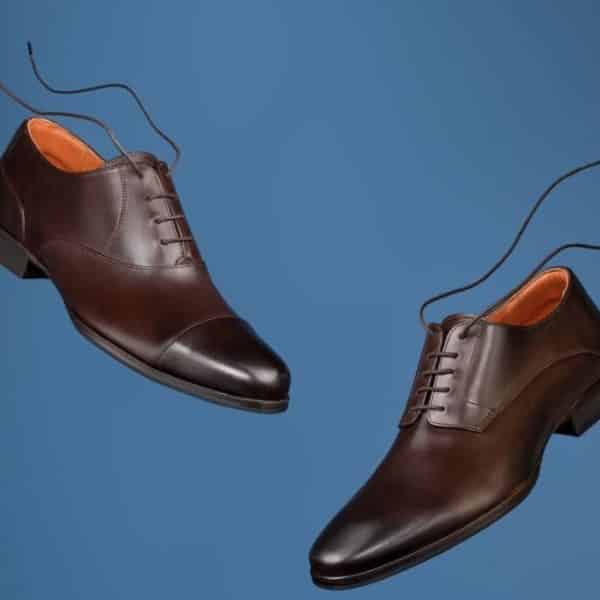 Let's cut to the chase. Every man's closet needs a fancy pair of dress shoes. If you're reading this, then chances are that you're looking to invest in a pair. Whether for your work attire; a special occasion; or your everyday getup, the problem is that we often choose style over comfort. Something I'm certainly guilty of.
This is where the beauty of Wolf and Shepherd comes in. We finally get all the comfort and style in a single pair. Whether you'll be dancing at a wedding; sprinting to work; or staying late at the office, Wolf and Shepherd's shoes are functional, comfortable, and look beautifully professional. Their dress shoes have already got me saying, "I'm never taking these off", and you can expect to say the same.
Wolf and Shepherd was founded by Justin Schneider in 2014. His personal experience as a former athlete, as well as a designer for Adidas, allowed him to be an expert in the footwear industry. He then seized the opportunity to create high-performing dress shoes that delivered sneaker-level comfort. Seriously, why has no one thought of this sooner?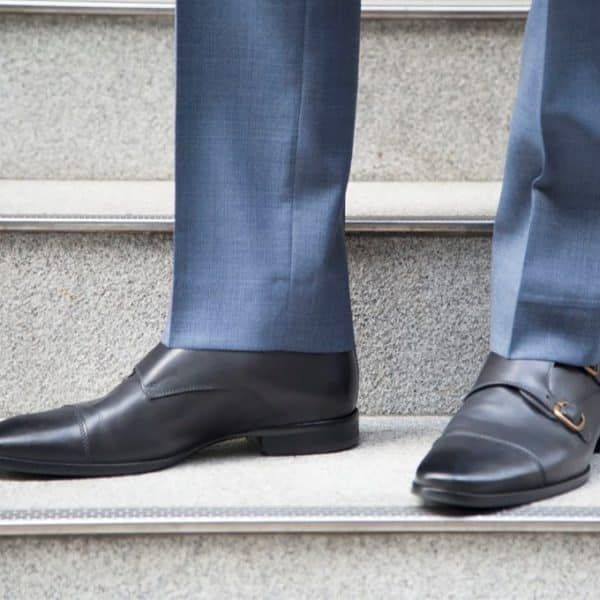 The secret behind the brand's innovate idea is the combination of American comfort technology and having artisans handcraft the shoes in Portugal. The result is a premium, classy, and contemporary pair of dress shoes that's been praised by the likes of Forbes, GQ, Business Insider, Sports Illustrated, and now yours truly.
So, what's the catch? Well, for such high-quality dress shoes, the price tag does run a little higher than the average pair found in generic retail stores. However, I've got great news for you. If you're iffy about the price; Wolf and Shepherd conveniently allows for three, interest-free, installment payments.
Check out the rest of our Wolf and Shepherd Shoes Review for a breakdown on the features and benefits of their products. Below, you'll find the pros and cons of the brand that summarizes its core values:
Pros
Designed in Los Angeles; handcrafted in Portugal
American comfort technology for sneaker-level comfort
Use of premium fabrics and materials from Europe
Online size chart available
Recognized and praised by critics (GQ, Forbes, Business Insider, etc.)
The option for an interest-free, installment payment plan
Steve Nash as the official brand ambassador – how legendary is that?
Cons
Expensive compared to other products from generic retail stores
Limited quantity of shoes and sizes
Where Are Wolf and Shepherd Products Made?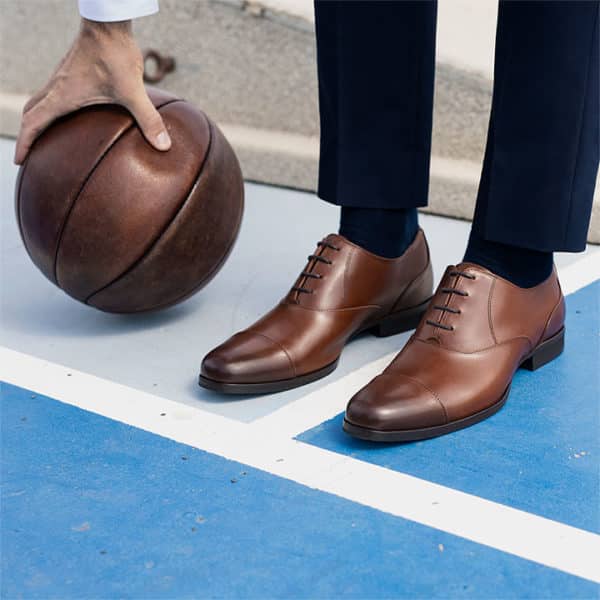 So, where and how's it all made? As I've mentioned earlier in the Wolf and Shepherd Shoes Review, the unique comfort technology was designed and developed in the U.S. The fabrics and materials are then procured in Europe. And lastly, the final product is fully assembled by artisans in Porto, Portugal.
Now, you're probably wondering if it's really all necessary, or if the exhausting process makes any comparable difference in the dress shoes. The answer is yes, without a doubt. You can take my word for it when I say that athletic comfort in a pair of dress shoes is a necessity; and perfection demands only the best.
If you're still wondering why Wolf and Shepherd are sourced in Europe with American technology; here's a simple list of reasons, and general specifications, to be found in all their shoes:
Italian calfskin and sheepskin lining for the unimaginably soft and genuine feel
Full-grain leather finished with vegetable oil for durability and a water-resistant coating
Painted and stained by hand for protection and a detailed look
Running shoe technology that delivers maximum flexibility, comfort, and performance
It's a great feeling when you know that every pair is individually made with immaculate detail and craftsmanship, just for you.
Wolf and Shepherd Dress Shoes Review
Senna Wingtip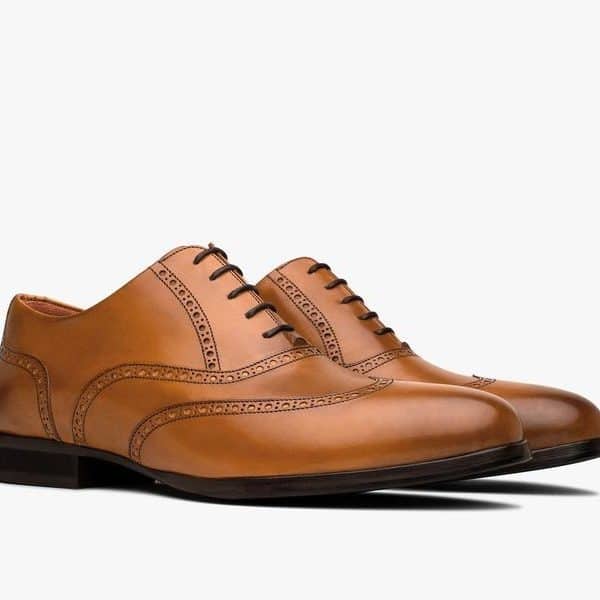 I've never been a huge fan of the wingtip pattern; mainly because it seemed to overpower the overall aesthetic of the shoes. But with that said, trying the Senna Wingtip lace-ups have definitely changed my mind. Wolf and Shepherd's take on the classic dress shoes have gone above and beyond my expectations.
The Senna Wingtip dress shoes offer a modern look and a sophisticated feel through its sleek pattern and darkened edges. I especially love the honey color which gives the style a whole new layer of texture and appeal.
I very much enjoy the Italian calfskin leather; sheepskin lining; and support memory foam for unbeatable comfort. Perfect for the smart or contemporary outfit, Senna Wingtip were designed to be worn everyday and have you standing out. These beautiful pieces are available in an array of colors and are currently priced at $345.
Gunner Driver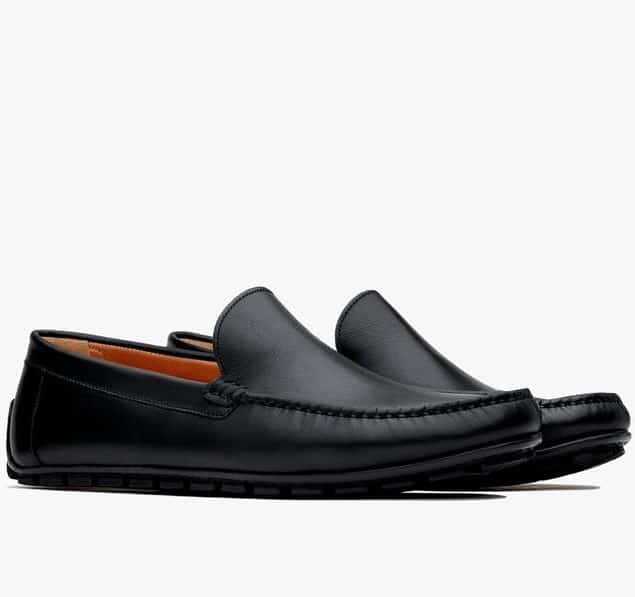 Loafers are must-haves in every closet. I'm especially fond of the style for its versatility to work with any look I'm going for. Whether I'm aiming for modern-casual or dapper and professional, Wolf and Shepherd's rendition of the classic moccasin does exactly what I want it to do.
The Gunner Driver is trendy, stylish, and looks as beautiful as they feel; and they have me walking on clouds. The detailed stitching and the simple aesthetic work wonders with all my outfits. The suede edition is my personal favorite as it offers more character and personality to my attire.
Speaking of suede, the loafers feature a water-resistant coating and rubber outsoles for the best durability and comfort. The Gunner Driver is perfect for all conditions, making it an impeccable choice for any day. The Gunner Drivers are available in an assortment of colors and are currently priced at $205.
Gambit Double-Monk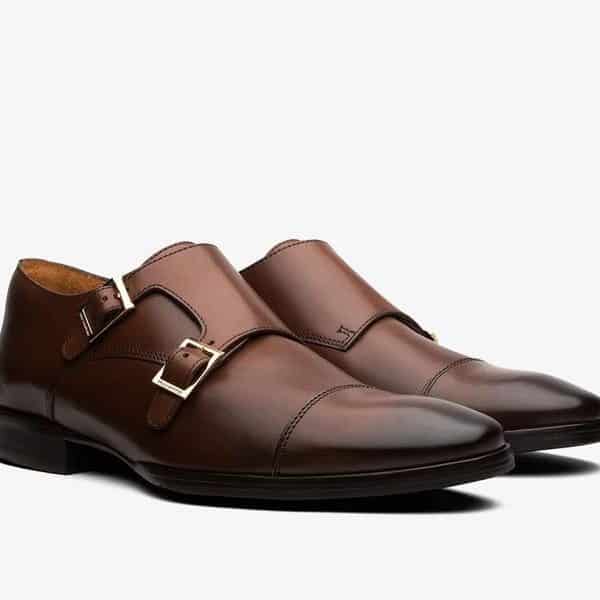 Monk straps are a classy approach for the polished look. The Gambit Double-Monk is Wolf and Shepherd's take on the dress shoes, and it doesn't disappoint. The best thing I love about them is the creative flare that it adds to any attire.
The Gambit Double-Monk delivers an elegant and sleek aesthetic with its twin buckled closure feature. The color tones are also playful, rich, and smooth to complement any style. I love how nifty they are for keeping the same shoes on between different outfits. Bonus points for being so versatile.
The dress shoes offer thermal rubber soles and a foam heel which makes them super comfy and adaptable to your feet. The design also includes a resoleable forefoot and heel meaning your investment in the dress shoes will last even longer. The Gambit Double-Monk is available in various colors and are currently priced at $365.
Bannister Derby Patent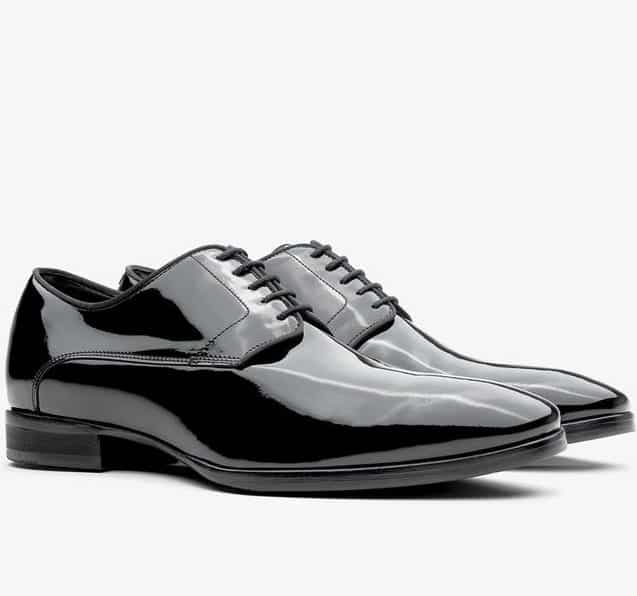 When looking to purchase a pair of dress shoes, black-tie occasions aren't necessarily the first thing to come to mind. But, from my experience, it's always best to be prepared. The occasions may arise more often than you think. Wolf and Shepherd's Bannister Derby Patent does just the trick and gets you dressed for the part while looking flawless.
The Bannister Derby Patent gleams with its sleek patent leather ensuring you shine at every opportunity. I love the charming, classy, and glistening style of the dress shoes which have given me no problem when trying to make a good impression.
The black-tie dress shoes are made with 100% calfskin leather upper; leather soles with rubber traction; and a memory foam footbed which makes the comfort level unheard of. Just because you need to mingle and be on your best behavior doesn't mean your feet can't be comfortable and look fabulous. The stunning collection are currently priced at $365.
Wolf and Shepherd Shoes Review
Glider Sneakers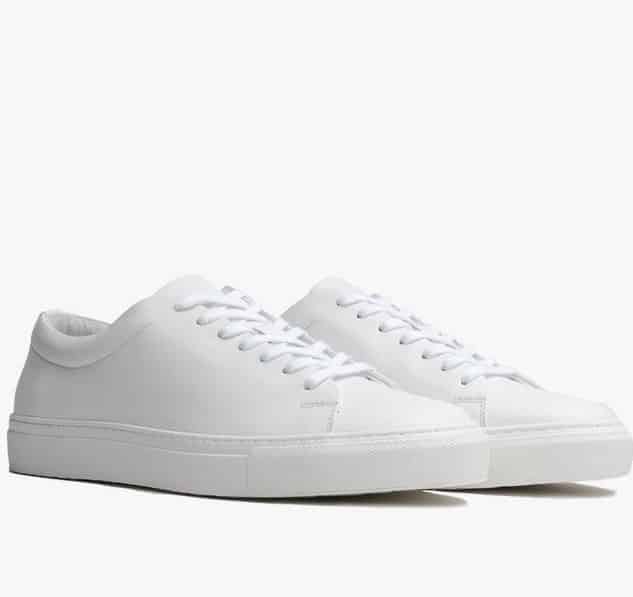 When it comes to sneakers, in most cases, I'm always for the pair with a minimalistic design. I've always enjoyed a clean and simple aesthetic that works best with the rest of my closet. Wolf and Shepherd's Glider Sneakers delivers everything I could ask for in a modern, dress-casual style.
Out of the all the available colors, my attention was immediately drawn to the Glider Sneakers in smoke. The shade of grey is a perfect balance between white and black but stands out well on its own. The tone proved to be an impeccable choice when I paired it with a suit, dark jeans, and even my favorite shorts.
The Glider Sneakers were made for an active lifestyle by incorporating the appeal of dress shoes into a pair of sneakers. Using premium Italian leather and memory foam cushioning, it's flexible and durable. Even after a test run, the shoes held their end and my feet felt superb. The all-in-one Glider Sneakers are currently priced at $225.
SwiftKnit Derby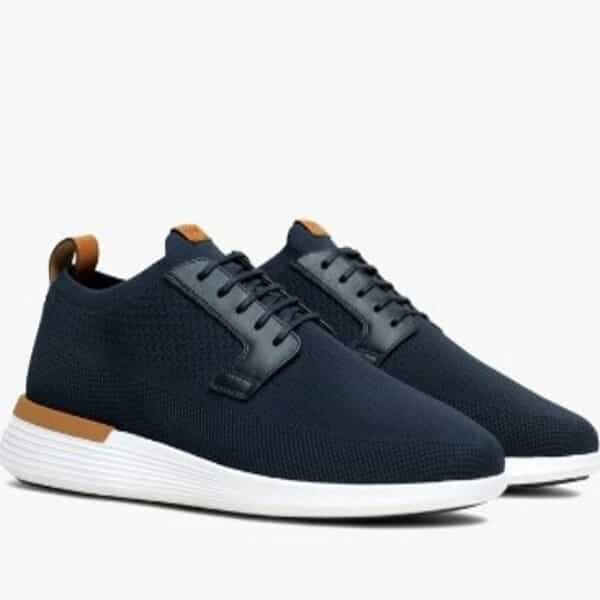 Whether hiking, taking a trip to the cottage, or running errands for a day, versatile and comfortable shoes are a valuable asset. Wolf and Shepherd's SwiftKnit Derby has the classic style of a day shoe but has a few added touches that make them a unique, everyday addition to my closet.
Made with stretch knit material and a zoned knit upper, these SwiftKnit Derby shoes hug your feet for all-day comfort that is durable enough to last. The removable FlatForm memory foam in the footbed also provides added arch support during long walks or even a day on the town.
These shoes also provide you with the added security of premium leather, a high-density midsole, and a thermal rubber outsole so they can stay your go-to shoe for years to come. Coming in 8 colors, the SwiftKnit Derby comes at the price of $195.
Wolf and Shepherd Sizes
Shoe sizes can become a whirlwind of problems and I've had my fair share. Sizes differ between brands and styles and it's no surprise that it can become a headache. It can get even worse when you've ordered a pair online, only to find out that you got the wrong size.
Fortunately, this Wolf and Shepherd Shoes Review is here to help you so you can be prepared and avoid any hassles. Below is a quick rundown on the brands' sizes and services:
Wolf and Shepherd deliver an array of sizes from 6 to 15
The brand recommends that you select your normal U.S. dress shoes size
Their entire collection comes in the standard D width
Glider Sneakers do run a little tighter, so a half-size up is in your best interest
Gunner Drivers and Ringer Loafers run a bit wide, so a half-size down is in your best interest
Closer Cap Toe dress shoes are available in EE (wide) sizes
Other lines with larger widths include the Senna Wingtips and Breakaway Boots
If you're still unsure, then feel free to click here to see their online size chart for full details. You can also refer to the end of the Wolf and Shepherd Review for the brand's contact information to ask your questions.
Where to Buy Wolf and Shepherd Products?
Retail
The good news is that Wolf and Shepherd do have their own flagship store and headquarters, as well as their products carried by other retailers. The bad news, on the other hand, is that their physical retailers are only found in the U.S. (unless you're from the U.S., in which case you've got nothing to worry about). You can click here to view their online retail locator.
Online
Absolutely. Their entire product line, with full access to their collection and sizes, are available online.
Is Wolf and Shepherd Products Available on Amazon?
Unfortunately, no. I've searched and came empty-handed. Currently, Wolf and Shepherd products are exclusively available at participating retailers and through their online website.
Wolf and Shepherd Coupons & Discounts
To help you save even more on your purchase orders, the following coupon and discount codes are currently available for use for Wolf and Shepherd products:
Wolf and Shepherd currently offers free shipping and returns on all online orders through their website
Wolf and Shepherd currently offers Lace-Up shoes starting at $189 on select items on their website
Wolf and Shepherd currently offers Slip-On shoes starting at $195 on select items on their website