Casetify is a tech gear brand that specializes in making trendy phone cases and accessories. Their products are geared towards Apple and Android models. Casetify collaborates with many well known franchises such as Pokémon, NASA and Hello Kitty, and celebrities like Kylie Jenner and Gigi Hadid have been spotted sporting their cases.
This Casetify cases review will take an in-depth look at their brand and its products, customer ratings, promotions, and more, to help you decide if their products are worth the buy.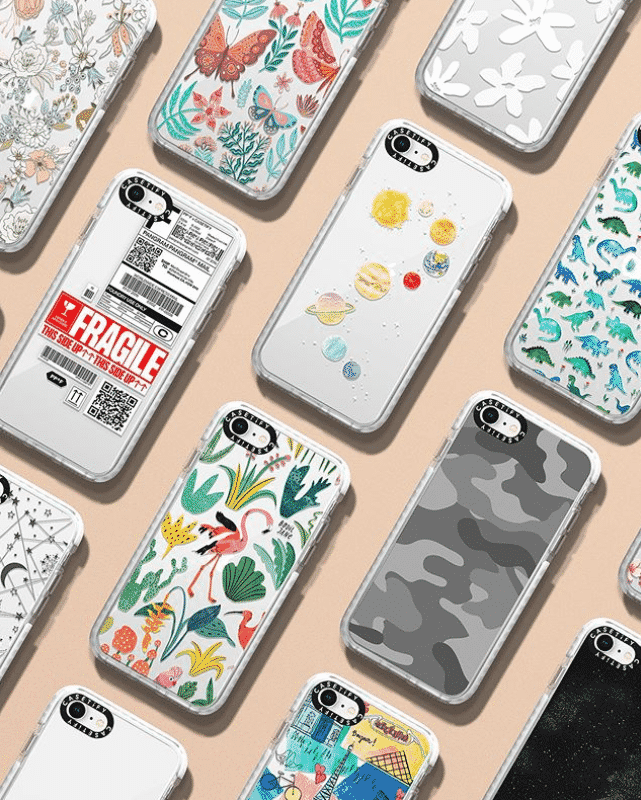 Overview of Casetify
In the age of Instagram, it's all about aesthetic. This is what founders Ronald Yeung and Wesley Ng had in mind when they created Casetify in 2011. The Hong Kong based brand started out as a simple idea: making customers' Instagram photos into their own personalized phone cases.
Yeung and Ng later rebranded their company to not only implement Instagram photos, but to encompass a multitude of fashionable and trendy designs on their tech gear. Casetify's mission is to spread self expression, which shows in their vibrantly colored and beautifully patterned case designs. The company is slowly building traction, as Casetify is the fastest growing global tech accessories brand, reaching 1 in 7 millenials.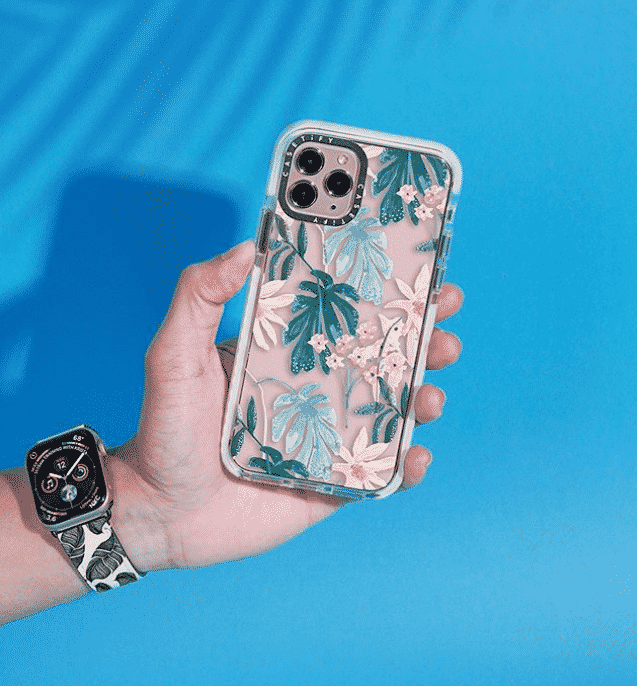 With their headquarters located in the star studded land of Los Angeles, California, it's no wonder that their phone cases have been worn and inspired by a few celebrities. Are Casetify cases good? We'll separate quality and hype to answer that question.
Check out the highlights of this Casetify cases review:
Pros
Various trendy phone cases designs to choose from
Gives customers an option to customize their own phone covers
All models are designed to protect phones from damage
Cons
Pricier than an average phone case
A few customer reviews report the cases being bulky
Some customers report that their cases did not protect their phone from damage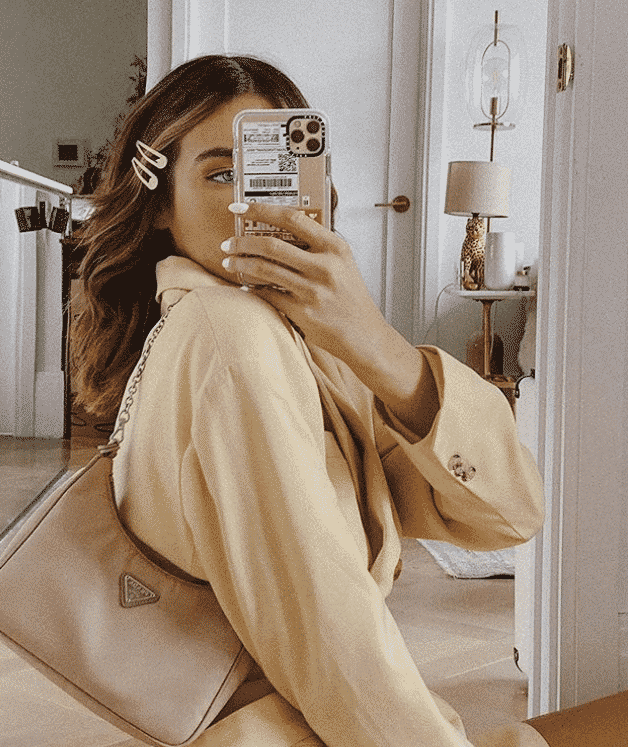 From the clear, transparent case to vintage floral, Casetify designs are far from boring. All of their products are eye catching, fashionable, and most importantly, Instagrammable. Not only do they look great, but they can withstand a hit. Their impact cases are designed with a two-layer construction of qitech™ material, and it is 6.6 ft drop test approved.
Casetify sells custom phone cases, Airpod cases, Apple watch bands, tech gadgets, and cases for iPads and MacBooks. This Casetify cases review showcases some of their popular phone cases:
Casetify Custom Monogram Ultra Impact Case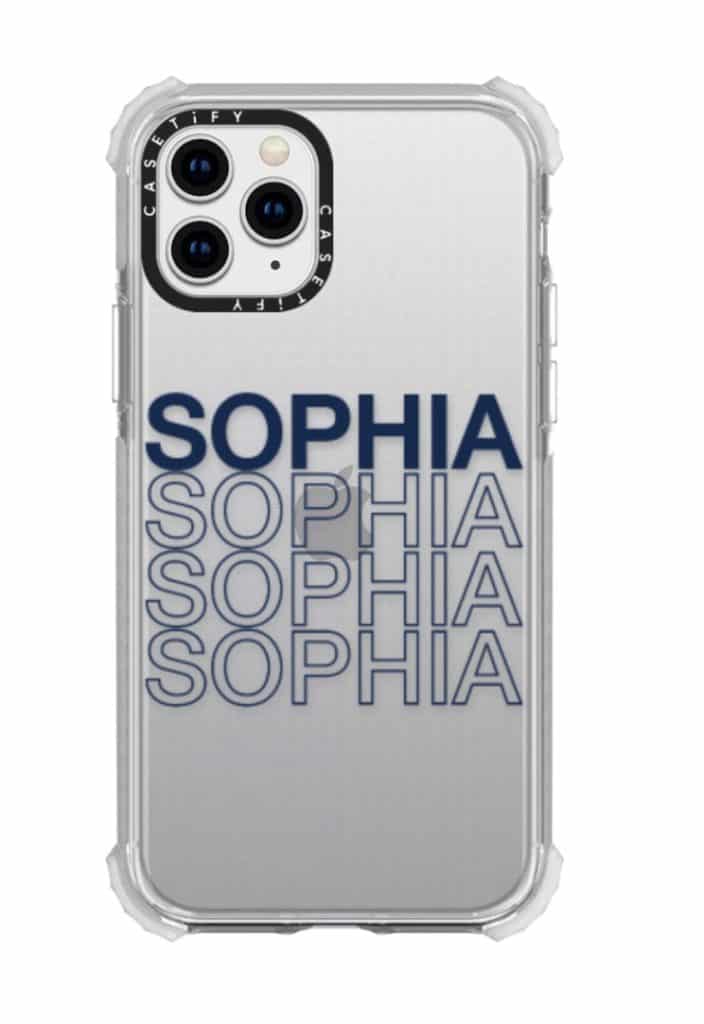 The classic clear case is an iPhone must have. There's no shame in going back to the basics, but you want some coverup to prevent the risk of scratches. But let's be real, the clear case can come off as boring, and nobody cites it as the most protective case for your phone. Introducing the Custom Monogram Case where you can have the best of both worlds.
You can have anything written on this clear case, which makes it a perfect candidate for a thoughtful gift. The Custom Monogram Case text is entirely customizable in terms of design and color. Your chosen text can display in white, cream, yellow, brown, pink, purple, red, blue, green, blue, black or gray; with a complimentary drop shadow for some extra visual contrast. Customers can choose how the text will look on the phone case, ranging from a patterned diagonal design, stacked in four columns, just the single text, or featuring vertical stripes.
The Custom Monogram Case comes in different protective casings such as the impact case, the ultra impact case or a sophisticated leather case. Depending on the phone model and the protective cases, you can expect to pay as much as $55. This monogram ultra case specifically retails for $54, but you can currently get it discounted for $45.
Casetify Custom Marble iPhone Case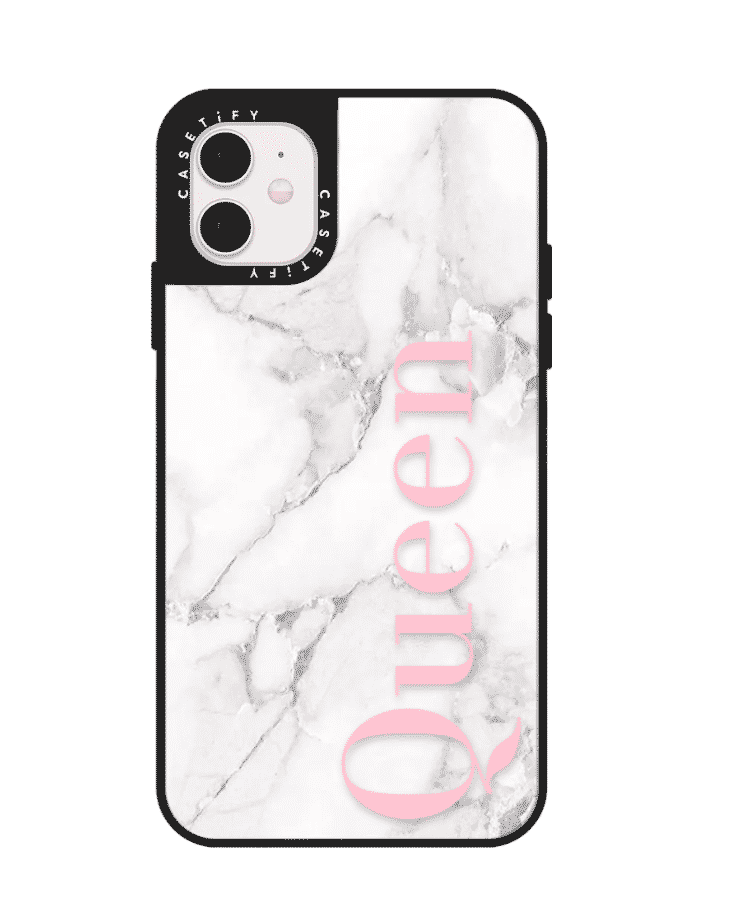 Nothing quite spells class and elegance like marble. The Custom Marble iPhone Case takes a spin off this sophisticated and stylish design by adding your own customizable twist. Customers can choose to embellish their marble phone cases with a chosen text, ranging in cursive, the Vogue font, or the standard block font. You can let everyone know you're royalty by writing 'Queen' in Vogue in either white, black, blue, pink, orange, gold or any of the hues listed for their custom marble iPhone case.
And every queen needs security, but for phones I mean protective cases. The Custom Marble iPhone Case is available in the grip case, impact case, and the ultra impact case. This Casetify cases review has found out that the price for this snazzy little case depends on the phone model you have. But for the iPhone 11, you can buy sophistication and class for $40.
Casetify Vintage Floral Watercolor Case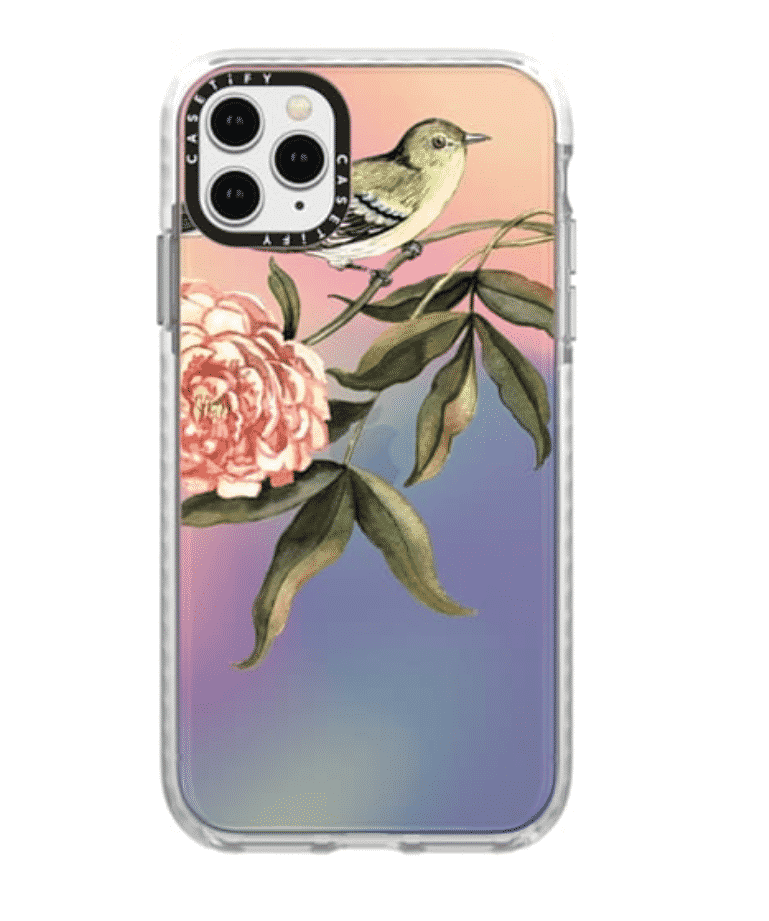 If you listen to Lana Del Ray, tend to plants in your garden or love 50's fashion, the Vintage Floral Watercolor Case is right up your alley. Showcasing a cute little sparrow on top of a gorgeous pink peony, this springtime case. Customers can choose a background for the design, ranging from a subtle peach to a modern iridescent pattern. They can decide whether they want their phone cover background to be colored or on just the sides of the case.
If you really want something with more glam to contrast the delicate nature of the sparrow and flower design, try their neon sand liquid case or their glitter case. You can even pick out the color for the glitter or neon sand. For basic protection, this vintage floral watercolor case also comes in a grip case, an impact case and an ultra impact case. The price for this Vintage Floral Watercolor Case varies depending on the iPhone model. But for something this customizable, you're getting a steal for $49 if you have an iPhone 11 Pro Max.
Casetify Custom Glow in the Dark Glitter Case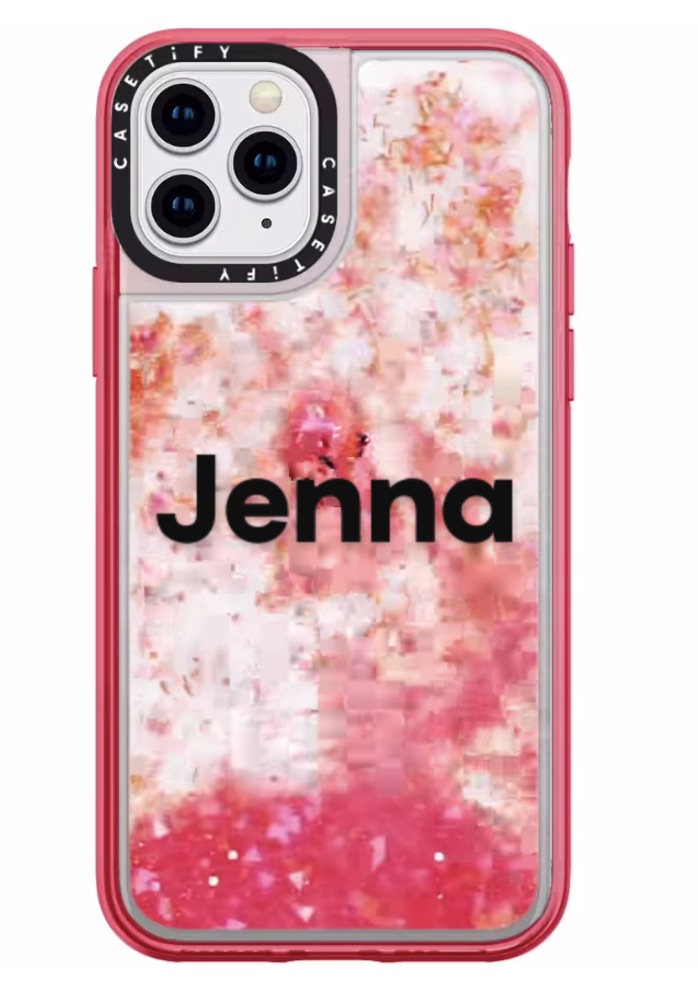 When I look at the Custom Glow in the Dark Glitter Case, I picture neon lights in the midnight city, wild rave parties, and the girl who's always the life of the party. What I'm trying to say is that this case is perfect for those outgoing, city life types.
If you want a phone case that will demand attention, the Custom Glow in the Dark Glitter Case is on point. Nobody is going to miss a bright, glittery, glow in the dark phone. And if they do, hey, at least you won't lose your phone in a pitch black room. Customers can pick from a variety of fonts and colors such as pink, purple, blue, yellow and even rainbow.
The Custom Glow in the Dark Glitter Case will differ depending on the iPhone model, but it rings in at $45 for the iPhone 11 Pro. Note that this is a regular case, and not an impact case.
Casetify Black Cat Florals Case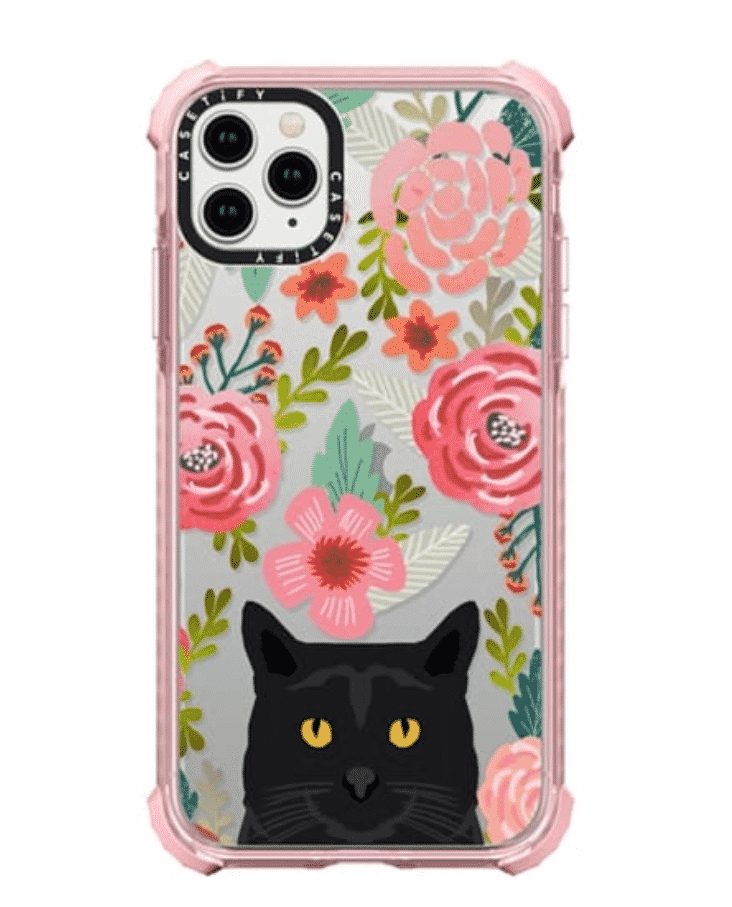 There are two types of cat lovers: the ones that just love their cats, and then there's the ones that really love their cats. If everything you own is cat themed, it's about time that you show your true colors with something like this Black Cat Florals Case. Featuring an adorable black cat atop a floral backdrop, customers can choose a complimentary color for the lining of their phone case, ranging from white, black, pink, and green.
If basic colors aren't your thing and you really want to emphasize your love of cats, go for the glitter or neon sand liquid case. You can get this feline design with a grip case, impact case, or ultra impact case. This pur-fect Black Cat Florals Case retails for $49 for the iPhone 11 Pro Max (regular case), and is available in a multitude of other models.
Casetify Chocolate Labrador Case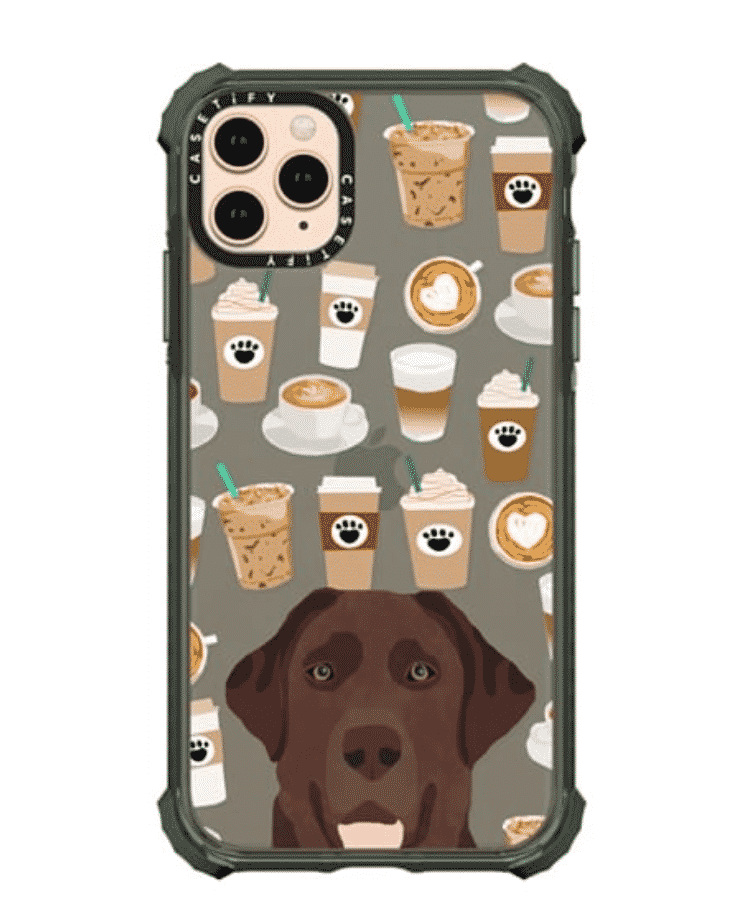 I love dogs, you love dogs. Case in point, the Chocolate Labrador Case. This cute and charming design showcases a smiling chocolate labrador pup in front of some Starbucks inspired drinks. If you don't have a lab, Casetify offers phone cases featuring other dog breeds such as the French bulldog, corgis and Chihuahuas, which makes it a perfect gift for your dog owning, Starbs-loving friends.
For this puppuccino inspired phone case, customers can get it as a grip case, an impact case, an ultra impact case, a glitter case or a neon liquid sand case. Look out for the price tag, as the cost for this case depends on what kind of phone model you have. Get the Chocolate Labrador Case at a discounted price for $55 instead of it's original price of $65 for the iPhone 11 Pro Max.
Casetify Cases Reviews: What Do Customers Think?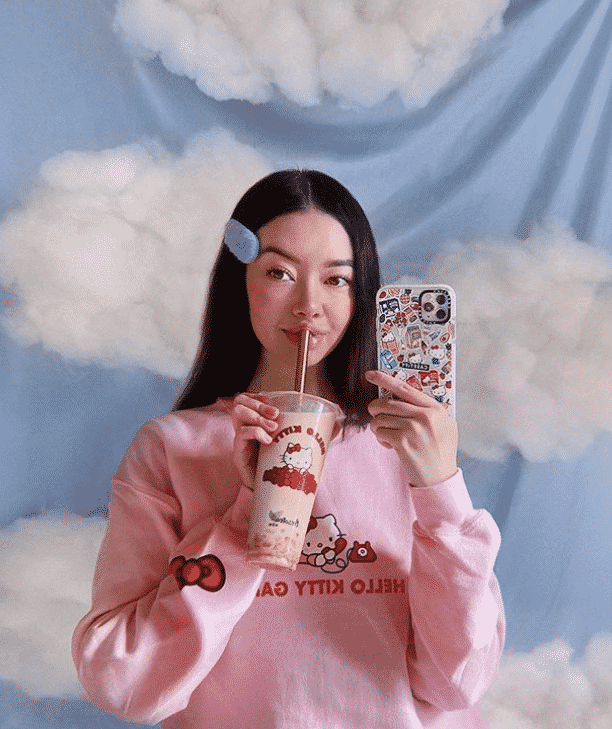 For this Casetify cases review, I've found that there are rave reviews for this tech gear brand. Trustpilot gives it a 4.1/5 star rating while Amazon shows a 3.4/5 rating. The general consensus with Casetify's phone cases is how trendy and beautiful their designs are. "I love your products and they are sooo aesthetic!! I will definitely recommend you on my instagram," Stella Pysllaki, a Trustpilot reviewer, said.
However, Casetify cases reviews are very different according to the Better Business Bureau. Some customers noted that the protective elements integrated in the phone cases aren't protective at all. Some reported their phones shattering after putting on their Casetify cases when they've dropped it, more specifically, cases for the iPhone XS Max and the iPhone 8 Plus. There were issues with customer service as well, as some customers dealt with long wait times for responses, or not being able to return or replace a damaged iPhone case.
Are Casetify Cases Worth It?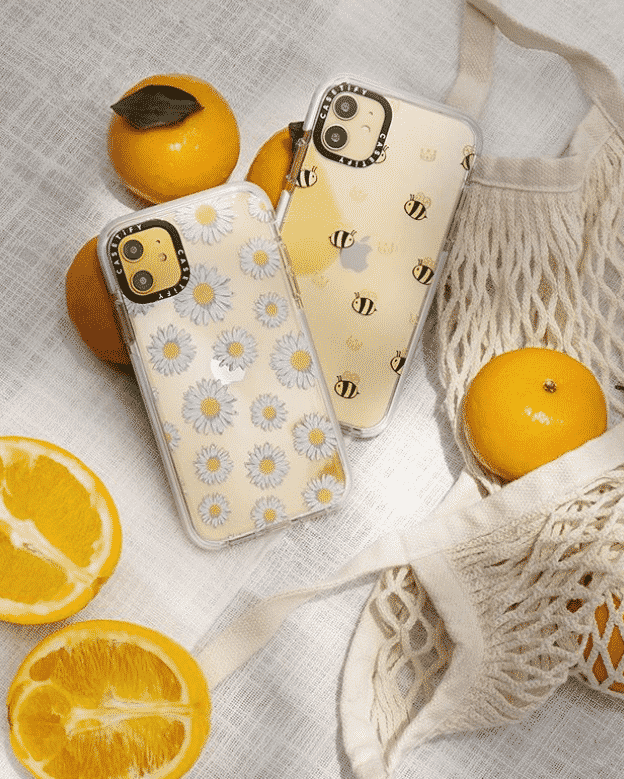 I've come across a lot of boring iPhone cases. I'm only given two options: ugly but protective or pretty but unprotected. It's a relief to know that companies like Casetify don't sacrifice function over fashion. Casetify gives its customers free rein in terms of customizability and design. You can literally design the iPhone case of your dreams, and the best part is- your design can be one of a kind.
Casetify prides itself in integrating protective technology to shield your iPhone from any kind of damage. Taking account of the reviews customers left on the Better Business Bureau, I wouldn't rely on the fact that your phone will survive the harshest of drops and scratches with Casetify's products. But if you're in the market for a decently durable and fashionable phone case, this Casetify case review gives a thumbs up for this company.
Casetify Promotions & Discounts
This Casetify cases review found a few ways that customers can save through their website. Some of their iPhone cases, such as the Casetify Chocolate Labrador Case or their Custom Monogram Ultra Impact Case, are currently sold at a discounted price. It all depends on the model of the phone as well as the type of casing used. For instance, customers can save up to $10 by choosing a select model.
Casetify has a Give $10 Get $10 Referral Program where customers and their referred friends can both receive $10 in store credits as long as they meet the required conditions listed on Casetify.com.
Casetify also has a sale category, where some phone cases are 40% for a limited amount of time. In terms of a Casetify promo code and a Casetify discount code, I haven't come across any.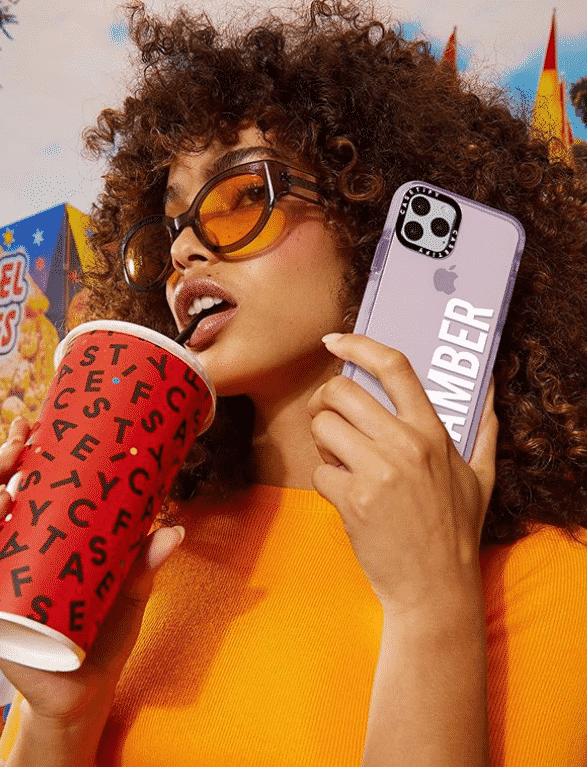 Where to Buy Casetify
This Casetify cases review found multiple sources that customers can purchase the brand's products from:
Through Casetify.com
Retail partners such as Nordstrom, Revolve, Shopbop, Anthropologie, AT&T
Casetify Amazon
Best Buy
Wal-Mart
FAQ
Casetify Sizes
For phone cases, Casetify is compatible with:
For Airpods, Casetify carries models for Airpods Case and Airpods Pro Case. For Apple Watch bands, the company's designs are available for Apple Watch Series 5 and original Series 1, Series 2, Series 3 and Series 4, Apple Watch sizes 38mm, 40mm, 42mm and 44mm. For IPad cases, Casetify exclusively sells designs for the 10.5 inch iPad air. For Macbook Cases, the brand only sells covers for the Macbook Pro 13-inch.
Casetify Shipping Policy
This Casetify cases review found out that the company has international shipping. They aim to get orders dispatched out of their facility within 1-3 business days. For US orders, it will take approximately 6-12 business days to deliver. For international orders, it will take 5-23 business days for delivery.
Casetify also offers expedited shipping. Orders will be shipped using various delivery services. In terms of delivery times, expedited shipping will have a duration of 3-5 business days. Orders will be delivered at your door, but with the DHL Express Worldwide option for expedited shipping, customers will have options on how their package is delivered, shown through the FAQ page on Casetify.com.
The company also includes free shipping for orders above $35 after discount. Some countries may charge tax duties and related Customs fees for the imports. The cost is not covered in payments customers make to Casetify.
Casetify Return Policy
For Casetify returns, the company requires customers to take pictures of their defective orders and to contact them right away. When returning items, customers must email them with a reason of return within 10 days of receiving their order. Returns without prior communication with the company will not be accepted.
In terms of customized products, Casetify states that "returns on customized item(s) for reasons other than Casetify's error will be subject to a 50% processing fee on the refund amount."
If customers choose the cash on delivery as the payment method, only return for exchange or store credits is allowed. Otherwise, Casetify returns will be refunded through the original form of payment. Shipping and express fees are non-refundable as well as items on the archive collection, outlet and sale.
Contact Casetify
For inquiries that weren't addressed in this Casetify cases review, you can contact the team through:
Filling out a form on their FAQ page
Direct message via Instagram, Facebook or Twitter
Email at hello@casetify.com