It's been more than a decade since Groupon burst on the scene as a way to score deep discounts on everything from fine dining to car detailing. It quickly developed a legion of devoted followers, but many of those fans quickly discovered there were catches that made it difficult to redeem deal vouchers.
"They only had so many slots a day to use the coupon," explains Laura Jones of Lawrenceburg, Indiana. She's talking about a photo package she purchased from Groupon for use on vacation, only to discover it was nearly impossible to schedule a session.
Disillusioned customers like Jones stopped buying from Groupon rather than jump through hoops to redeem vouchers. However, the online marketplace has since revamped how it does business, now offering goods as well as services and promising that even expired vouchers retain their purchase value.
Those changes have helped bring customers like Jones back into the fold. While she notes there have been some delays in shipping during the previous year because of the COVID-19 pandemic, she is once again a happy – and regular – Groupon customer.
Whether you are a new or returning Groupon shopper, here's what you need to know about how the company does business today.
What Is Groupon?
Launched in 2008, Groupon originally offered a single deal per day. To activate the deal, a certain number of people would have to buy in. These daily deals were available for 24 hours, and early offers included two-for-one pizzas and 50% off at local retailers. Once a deal was activated, anyone who purchased it would receive a voucher that could be redeemed later.
Those group-activated deals are a thing of the past. Instead, Groupon now offers vouchers for discounted goods and services that can be purchased at any time with no minimum number of buyers required.
How Does Groupon Work?
Before you start buying deals on Groupon, take a moment to understand the ins and outs of the site. Here's what you need to know about Groupon: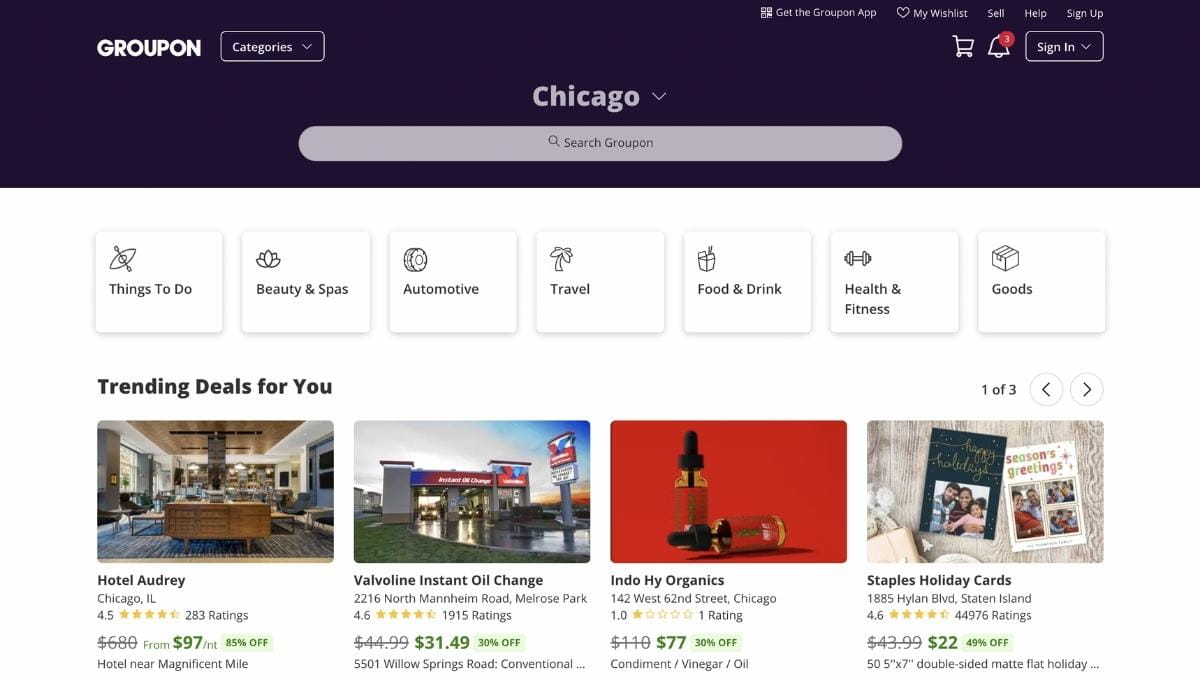 Both goods and services are sold on Groupon.
You can find the following and more on the site:
Customers can still search for offers by location, but many of the deals are available to shoppers regardless of where they live. "Groupon has prioritized, like most email marketers, volume over optimization and simplicity over customization," says Jonathan Treiber, co-founder and CEO of RevTrax, which provides offer management solutions.
Read Reviews
If you buy goods on Groupon, check the reviews to see whether other customers believe the item is represented accurately on the website. As for services, watch for red flags that could indicate a fraudulent deal, such as no reviews or very few purchases.
Also check the company's website and social media accounts to confirm it matches the details on Groupon. If it seems too good to be true, contact the business directly to confirm they posted the offer. If you find yourself on the receiving end of counterfeit goods or a fake voucher, contact Groupon immediately.
Understand the Fine Print
Don't buy any deal vouchers until you've reviewed the redemption requirements. "Every deal has limitations in terms of when its promotional value expires and what the deal can and cannot be used toward," says Kelly Goldsmith, associate professor of marketing at Vanderbilt University's Owen Graduate School of Management. "It may be associated with a minimum spend at the vendor, and not all vendors within a chain may accept the Groupon."
Other fine print details include additional fees and charges, restrictions for new customers only or access to a limited menu or selection of products when redeeming a Groupon voucher. Some Groupon deals may only be used on specific days.
Be sure to check the refund and cancellation policy, too. If you are on vacation and purchase a Groupon for a weather-dependent activity, like whale watching, what happens if the company cancels? If you don't live in the area, you may not be able to reschedule, so make sure you can get a full refund.
Not All Deals Are Created Equal
At its start, it wasn't unusual to see deals on Groupon for 70% off retail prices. Nowadays, you might find 35% off a haircut or 10% off a car wash. Deeper discounts may be found on travel packages and physical goods.
However, be aware of inflated retail prices. Just because something is listed on Groupon at a substantial discount doesn't make it a good deal. Customers still need to do their research, compare prices and read reviews to ensure they are spending their money wisely.
Promo Codes and Cash-Back Sites Offer Additional Savings
Customers can save even more by using promo or coupon codes when ordering from Groupon. Though not always available, these codes can be found on free deal aggregators such as Slickdeals, DealCatcher or the browser extension Honey. A typical coupon may take 20% to 30% off the price of select Groupon purchases.
"One of the things I like about Groupon is that it participates with (cash-back and rewards companies)," Jones says. Companies like Rakuten and Swagbucks offers up to 8% cash back for purchases its members make on Groupon. The free sites also offers their own coupons for additional savings.
Payment Options Can Vary by Deal
While Groupon accepts all major credit cards and PayPal for purchases on its site, vendors may have different payment requirements when it comes time to redeem a voucher. For instance, not all merchants accept American Express cards. However, this information should be included on the deal page and is one more reason to read the fine print.
If you buy a deal redeemable at the warehouse club Costco, be aware that it only accepts Visa credit cards. Some restaurants offering deals through the Groupon+ program may have other limitations such as restricting the use of non-reloadable prepaid cards and requiring debit cards be run as credit to qualify for cash back.
Is Groupon Legit for Businesses?
While Groupon is a legitimate way to market goods and services, the site might not make sense for all businesses.
"When a vendor runs a Groupon (discount) that has small to zero margins, the vendor is taking on a lot of risk," Goldsmith says. "He tells himself all of the sacrifice will be worth it because surely they will reap the downstream rewards of these customers … coming back and paying full price later." However, the reality is that Groupon users may not turn into repeat customers but will rather move on to the next company offering a good deal.
Despite that, businesses may find it worthwhile to tap into the vast marketing potential of Groupon. The downside, Treiber says, is that merchants don't currently have much influence over how their deal is distributed and promoted by the online marketplace.
Still, larger companies with bigger budgets may find Groupon a useful venue to drive sales. Savvy consumers who read reviews and watch for the deals they offer will undoubtedly benefit, too.
There was a time when "bargain hunting" meant physically beelining to a store's clearance rack, visiting thrift shops, or spending weekends on the local garage sale circuit. Those days are long gone, and Groupon deserves a disproportionate share of the credit.
Groupon debuted in the late 2000s. Its original iteration was a social coupon clearinghouse that promised to drive new customers to mainly locally owned restaurants and retailers. It appealed to budget-conscious consumers who loved trying new things – if the price was right. Early Groupon users paid upfront for quantity- and time-limited coupons promising discounts of 30%, 50%, or more, then redeemed them with merchants at their convenience during the several weeks the coupons were active.
Today's Groupon is bigger and better. Local deals remain a core component of the experience. But over the years, Groupon has released many new features that collectively appeal to a broader, more sophisticated audience than Groupon 1.0's penny-pinching diners and shoppers.
Now, Groupon users can:
Groupon doesn't have a monopoly on digital bargain hunting, of course. Discount travel booking engines are ubiquitous. Scoring retail coupon codes requires nothing more than a simple Google search. And verified ticket resale marketplaces often undercut Groupon Live – the platform's ticketing feature – on price and availability.
But with no membership required and no financial obligation unless you buy something, Groupon is a low-stakes shopping aid every frugal consumer should keep in reserve.
Key Features
Groupon has a variety of features and value-added perks.
Before purchasing with Groupon, review each deal type's refund policy and Groupon's general customer-satisfaction guarantee. If you're dissatisfied with your purchase or unable to complete a Groupon-aided transaction, you have recourse in some cases.
Local Deals
Groupon Local Deals are location-based. To see relevant results, set your city or region. Most merchants are independently owned or part of local chains, but you'll find recognizable regional and national brands too.
Local Deal discounts vary widely, typically ranging from less than 25% to well over 50%. Some are buy-one-get-one-free or buy-one-get-50%-off deals. Others simply discount full price by a set percentage.
Discounts sometimes increase with quantity. A restaurant might offer 30% off dinner for two and 40% off dinner for four, for example. In all cases, Groupon users pay upfront for the voucher and redeem for discounts on qualifying purchases.
Most Local Deal discounts are limited-time offers that disappear from the Groupon website and app when the merchant chooses not to renew. With few exceptions, all expire at a predetermined future date, though Local Deal vouchers always retain their face value. If you buy a $100-off voucher for $50, it's worth $100 through its expiration date and $50 after that. So if you're not willing to pay full price for a particular product or experience, be sure to redeem your voucher before it expires. Otherwise, you'll pay more than you'd like.
Deals of the Day
Groupon Deals of the Day are product- or vendor-specific flash sales that typically last 24 hours or less.
Deals of the Day sometimes overlap with Local Deals; you'll see many of the same merchants and products in both places. Deals of the Day include other deal types, particularly Groupon Goods (more on them below). Often, the only difference between a Deal of the Day item and the same item available in another section is a temporary one-day discount on top of the discounted price.
Goods
Groupon Goods is a digital marketplace for consumer goods, including clothing, electronics, home goods, personal accessories, beauty products, and kids stuff. The layout and user experience bear more than a passing resemblance to eBay, only without the auction option and with fewer product categories.
Groupon Goods are always discounted. But because discounts often apply to vague manufacturer-suggested retail prices most retailers would undercut anyway, figuring out the exact savings on any given item is difficult.
Groupon Goods customers purchase and pay for products on the spot. Shipping options range from one to three days (and sometimes more). Things like product category, weight, and distance impact shipping rates.
Getaways
Groupon Getaways is Groupon's travel feature. Although it's not a full-spectrum travel booking engine or aggregator like Expedia or Priceline, Getaways has an impressive selection of lodging, car, and air-inclusive travel package deals.
Getaways discounts regularly exceed 30% of the advertised price or rate – often significantly for low-travel season. Search by destination (general region or specific "top destinations") or interest ("last minute," "under $99," "family fun," "international"), or browse headline deals in your home region.
Airfare is a glaring Getaways omission. Getaways doesn't offer any airfare deals outside its air-inclusive travel packages and tours.
Live
Groupon Live is Groupon's live events ticketing feature. Don't mistake it for a full-spectrum ticket resale marketplace like StubHub. Local events are Groupon Live's bread and butter, and it doesn't feature every big-ticket event happening in every city.
That said, it's a fine place to find tickets for major sporting events at or below retail value. If you're a professional sports fan without season tickets, Groupon Live is worth checking before you buy directly from the team.
Free Coupons
Groupon Coupons is a vast database of brand- and retailer-specific digital coupons and coupon codes offered at no out-of-pocket cost to the user. Virtually all are valid for online purchases with sponsor brands and retailers – no need to print a physical coupon or download an e-voucher. Some coupons and coupon codes are exclusive to Groupon, but many are available elsewhere.
Groupon's Coupons feature offers a partial workaround for Groupon Getaways' lack of airfare-only deals. Groupon regularly promotes coupons and coupon codes from third-party travel booking platforms, like CheapOair.
Movies
Groupon Movies, also advertised as Groupon Cinema, isn't an independent Groupon feature. It's formally an extension of Local Deals and has comparable discounts. The best deals usually involve multi-ticket packages, sometimes in odd lots; three- and five-ticket packages are common. Still, there are worse cheap date ideas.
Groupon Select
Groupon Select is a paid membership program that promises deeper, member-exclusive savings on publicly available deals and free shipping on Groupon Goods purchases, among other incentives – all for a monthly fee around $5. Subject to change, highlights include:
Mobile App
Groupon's Android and iPhone mobile apps give you access to all the Groupon features you see online in a small-screen-friendly package. Use it to redeem Local Deals vouchers digitally with real-world merchants without having to keep track of a bunch of paper vouchers.
Groupon Gifts
Groupon sells gift cards redeemable for purchases on the Groupon website and app. Unless otherwise noted, you can use gift card balances to fund any item available for sale on Groupon.
Gift Shop
Groupon's Gift Shop lets users select Groupon Goods items and other products as gifts for designated recipients. Click the "Gift Shop" tab to see gift-eligible merchandise and deals in your area, then click "Give as a Gift" in the listing when you're ready to buy.
Advantages
There are many reasons Groupon is worth your time.
Vast Array of Discounts and Deals. As a whole, Groupon is rife with opportunities to pay less than full price on everyday and not-so-everyday products, services, and experiences. No matter where you live, Groupon puts thousands of deals at your fingertips, many of which don't require in-person redemption. The platform has come a long way from the days of hit-or-miss restaurant and retail couponing.
Groupon Select Offers Good Value for Regular Users. Groupon Select's monthly membership fee is a good investment for users who can swing at least one significant Groupon purchase per month. Groupon Goods buyers make out particularly well if they're Groupon Select members thanks to its generous free shipping allowance.
Lots of Convenient Coupon Codes. Once upon a time, Groupon revolved around coupons you had to redeem in person. With Groupon Coupons, you get the same great savings on online purchases.
Tons of Direct Buying Opportunities Through Groupon Goods. Groupon Goods can't match e-commerce behemoths like Amazon or eBay on quantity and variety. But don't sell it short. You can find a lot of cool stuff there, often at steep discounts to pricing at vendor websites and brick-and-mortar stores.
Rare Travel Deals for Those With Flexible Schedules. Groupon Getaways is an excellent resource for travelers who aren't brand-loyal and don't mind tailoring their travel windows to the best available deals. With lots of independently owned hotels and resorts in its portfolio, Getaways is also great for users looking to get off the beaten path and discover places they might miss by relying exclusively on a co-branded hotel rewards credit card.
Expired Vouchers Are Still Worth Face Value. You can always redeem expired Local Deals vouchers for face value. In other words, you'll never lose money on a Local Deal, even when you wait too long to redeem.
Final Word
Groupon is a free website and app that delivers thousands of different discounts and deals every month. Unless you prefer to pay full price for goods, services, and experiences, Groupon is worth bookmarking, downloading, and checking regularly.
Whether Groupon Select is worth the cost of membership is a separate question. I don't use Groupon enough to pay a recurring monthGroupon Select doesn't cost a fortune, and though new members must lock in for a multimonth period, one Groupon Select deal per month is usually enough to oly fee, but your calculus may be different. ffset the membership fee.
Even if you don't see the value in Groupon Select, you can't go wrong adding Groupon to your roster of couponing resources. It's sure to make your life a little richer and your wallet a little fatter.