Cotton On has seriously piqued my curiosity for a while now. As someone whose wardrobe leans verrrrry casual, their mostly jeans-, graphic tee- and loungewear-centric aesthetic speaks right to my soul. Combined with denim that seems to be substantial in its construction, claims of ethical and environmental responsibility (activewear made from coffee grounds??), and a super-accessible price point, I had to know: what's the real deal with Cotton On?
So I ordered a haul — they do offer free returns, after all — to find out for myself: What is Cotton On's sustainability story? How does the quality compare to the price point? And what the heck is the deal with the sizing?
The reviews for almost every piece are annoyingly — maybe even suspiciously? — vague on this front. The denim is Misses sizing, with a size range from 0-14, but most styles seem to start at 2 and top out at 10 or 12 — with the models most often wearing a size 6. I found it all thoroughly confusing. (Note: they do have a plus-size line called Curve that spans sizes 16-24, but there aren't many styles that overlap both the straight and plus-size collections.)
Oh, and when it really comes down to it, Cotton On's models most definitely skew young, so am I just…too…uhhh, old for this stuff?
In the end, I took the easy route and avoided all that Misses sizing entirely, opting to dive headfirst into the Cotton On world of activewear and loungewear. Below, an honest review of just that. (And coming soon: all things denim — I promise.)
Let's go.
Cotton On Love You A Latte Line:
Activewear Made From Recycled Coffee Grounds
I intended to review Cotton On first and foremost for the denim, and then I caught wind of the Love You A Latte line of sustainable activewear made from recycled coffee grounds aaaand was immediately distracted. One, because it just sounds cool. (More on that in a minute.) Two because this dotty pattern sang to me big time. Which is perplexing as all hell because Chris claimed it was "creepy," and yet I'm as trypophobic as they come (I mean…almost debilitatingly sensitive), and this doesn't trigger me in the least. It's cute, friends. Real cute.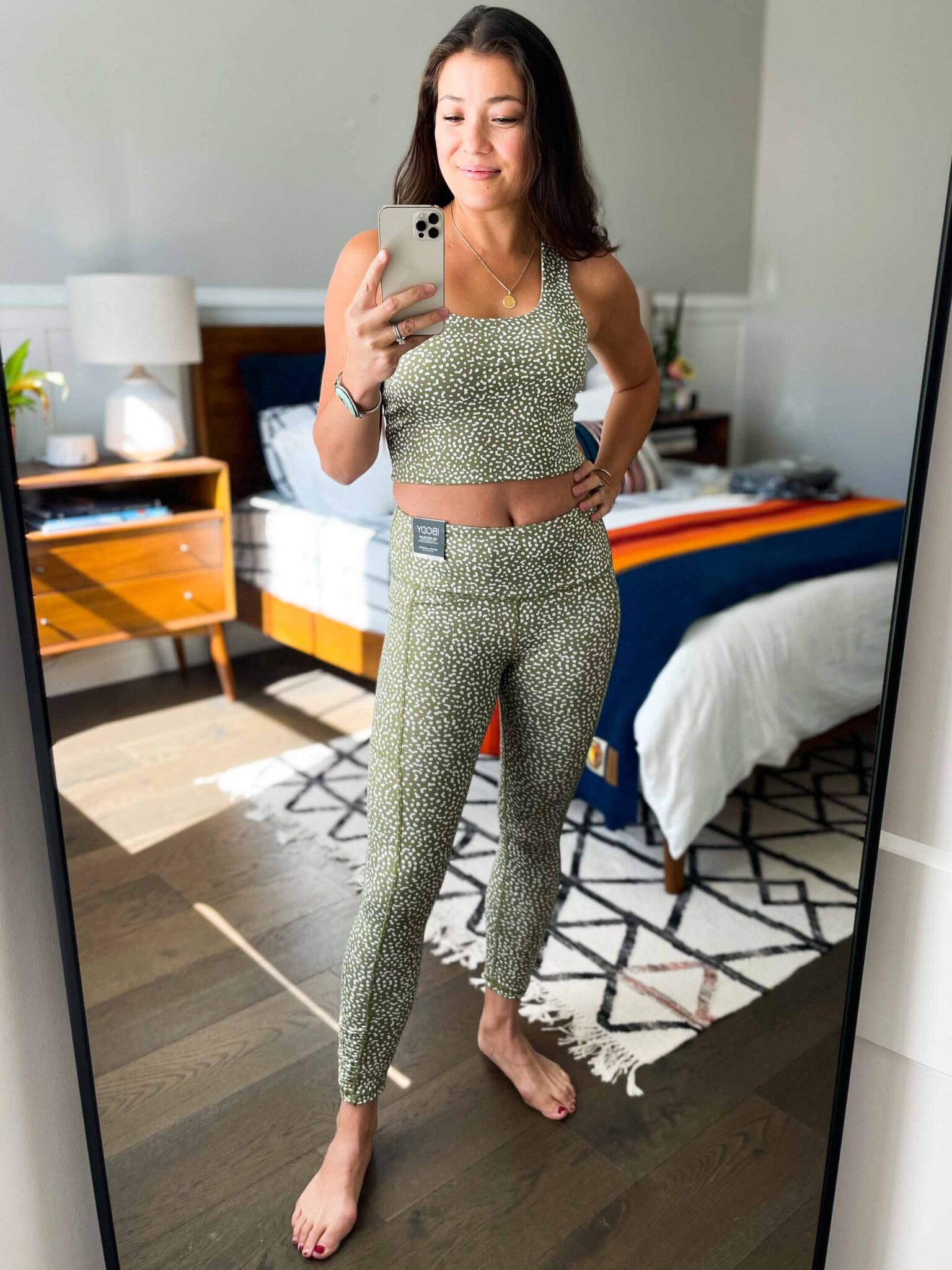 As for those recycled coffee grounds, apparently they result in a fabric that's fast-drying, odor-absorbing and UV reflecting. All good things! But what about production? According to the Cotton On website, the recycled coffee grounds are processed in a "high-temperature, high-pressure environment to make yarn" which is then woven into various fabrics. (Read more — albeit not much more — about it here; shop the full Love You A Latte collection here.)
Now, to me, "high-temperature, high-pressure" automatically sounds potentially energy intensive, so I dug in a little, and other clothing manufacturers who tout the same recycled fibers specify that their activewear is made in a low temperature environment that reduces CO2 emissions. Hmmmm.
I envision just a specific number of offices are delivering these textures, so Cotton On is either working with a seller that really utilizes a lesser exposed, more energy-escalated creation strategy – orrrrrrr Cotton On's texture is made utilizing a similar low-temperature process and their publicist fouled up. Since Patagonia, North Face and a small bunch of different organizations famous for their supportability models are additionally utilizing reused espresso ground textures in a portion of their articles of clothing, I will assume the best about Cotton On and go with the last option. Which I truly trust is the situation, since there's a ton to like about these pieces – particularly at the cost.
COTTON ON LOVE YOU A LATTE REVERSIBLE VESTLETTE & LOVE YOU A LATTE 7/8 ACTIVE TIGHTS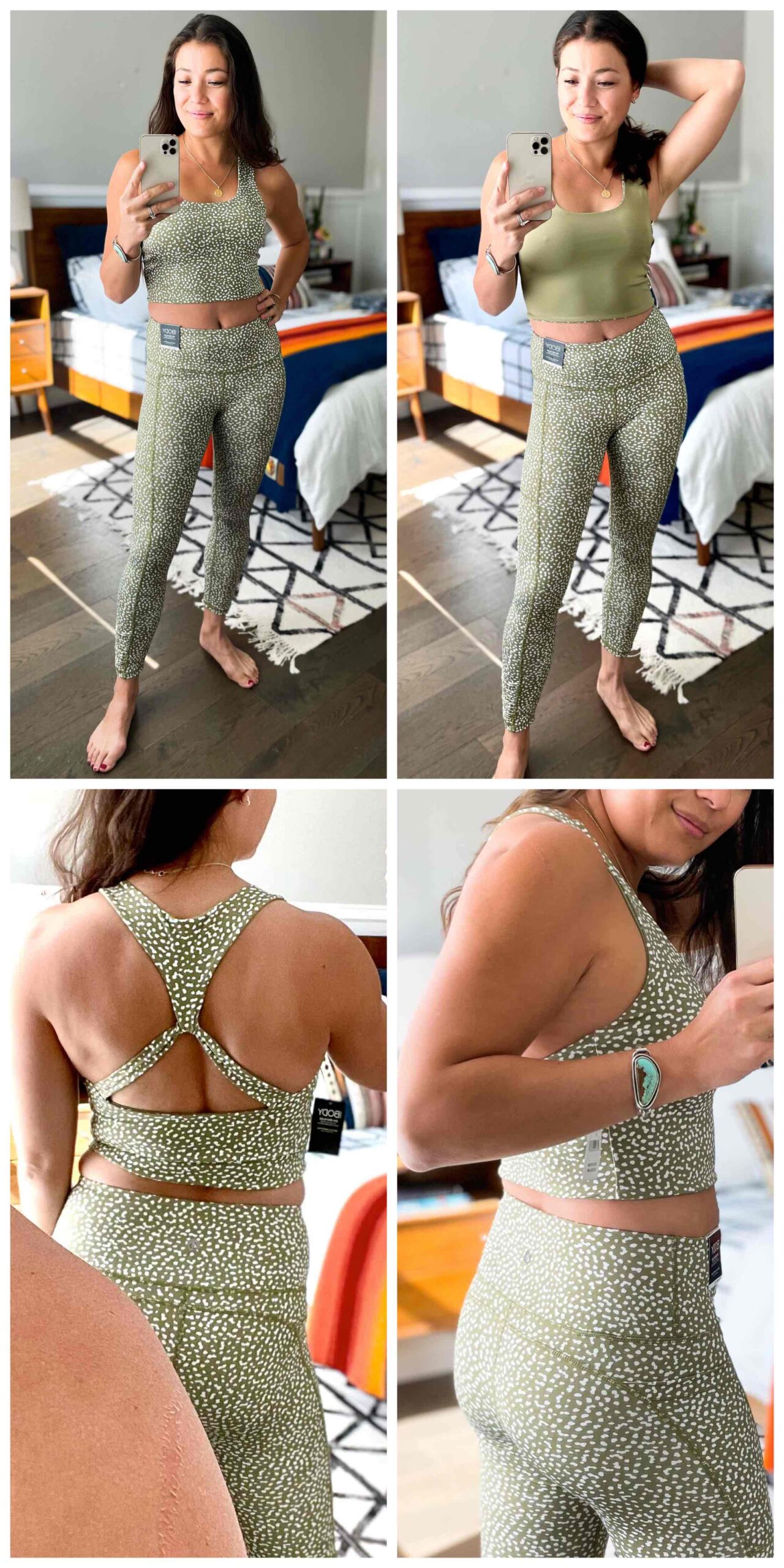 Key Takeaways: At full price, these Love You A Latte 7/8 Active Tights retail for $34.99, the Love You A Latte Reversible Veslette — hi, new favorite word — retails for $19.99. (As I write this, they're on sale for $15 and $10, respectively.) Are they the same luxe quality as Athleta, Lululemon or even Zella? No. The fabric isn't quite as thick or compressive, but it is performance-oriented (assuming all that coffee talk is the real deal) and the features feel like a serious value add. I love the ruching at the ankles on the leggings (my photos don't do it justice, but you can see it better here), and I do appreciate the pockets — and the contouring seams, especially around the booty, are pretty damn good.
My absolute favorite feature, though, is the reversible vestlette. I adore an activewear top that has an added "pretty" feature, so getting twice the wear of out of this one with the feminine racerback detail makes me all sorts of happy. (More colors here, but I'm not confident the style with a back pocket fits the same as the style with side pockets; see below for details.)
Sizing: I'm 5'5″ with a thicker waist, ample booty and athletic thighs, and wear a 25/26 or an XS/S in most bottoms. Up top I'm a 34C with strong shoulders and also waver between an XS/S. Per reviews (which were very vague but still mostly consistent), I bought both pieces in a size Small — the higher end of my normal size range — and found them to fit as expected.
COTTON ON LOVE YOU A LATTE RUCHED VESTLET & LOVE YOU A LATTE 7/8 TIGHTS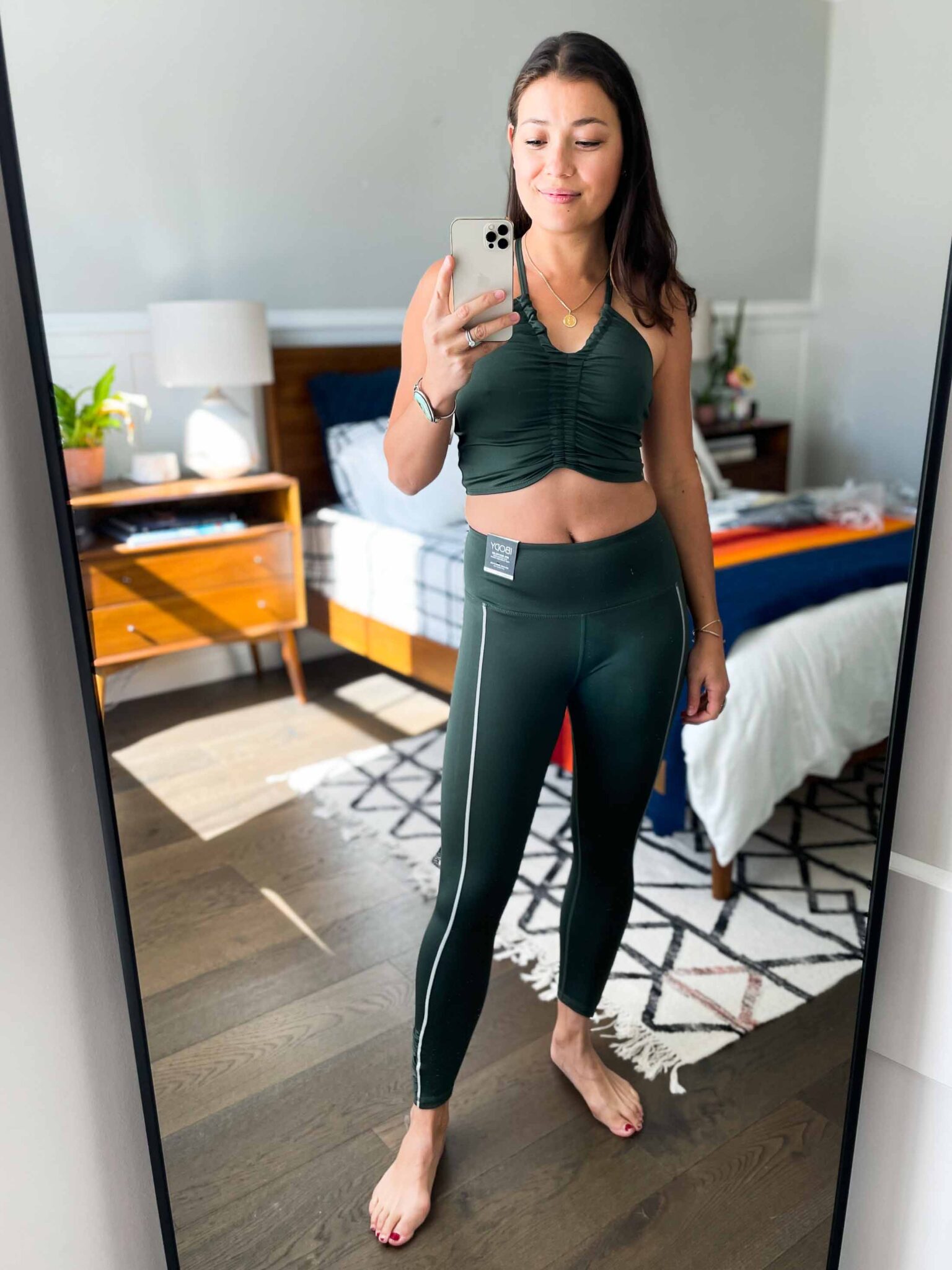 Key Takeaways: What's the contrast between a Vestlette and a Vestlet, you inquire? I wonder exactly the same thing. I dread it's one more copyediting oversight – or perhaps a loss from attempting to take care of customers in both British and American English. In any case, that is not the point here. The point here is that Cotton On is truly succeeding at the trimmed athletic top game. Without a doubt, this Ruched Vestlet isn't the most steady top, yet for a mat exercise – exquisite. Thus beautiful. (You might reallocate the ruching for pretty much inclusion toward the front, however doing so influences the length of the ties toward the back.) I wouldn't hold back to claim this in a few tones – particularly the Punch Pink – and could see wearing it under looser sweaters the entire year, or even instead of a two-piece top on ocean side days. At the maximum of $19.99 (presently on special for $10!), another strong purchase.
These leggings are another story. These are apparently similar jeans as above with maybe a couple highlights, and keeping in mind that I love the intelligent striping and the concealed back pocket, these vibe more slender than the ones above (you can faintly see the framework of one of the inside labels in the butt pic beneath) – and I needed to genuinely shimmy into them. They fit fine and dandy once they were up, yet it appears to be practically similar to the string utilized for sewing isn't quite as flexible as the texture, so I was apprehensive I'd pop a fasten (or 20) in the midsection getting them over my bum/hips. Perhaps this is an estimating irregularity, or perhaps the abnormal fit is selective to styles with the back pocket versus the side pockets like the ones I took a stab at and adored previously. (Cheerfully, the vast majority of the tones are the side pocket style.)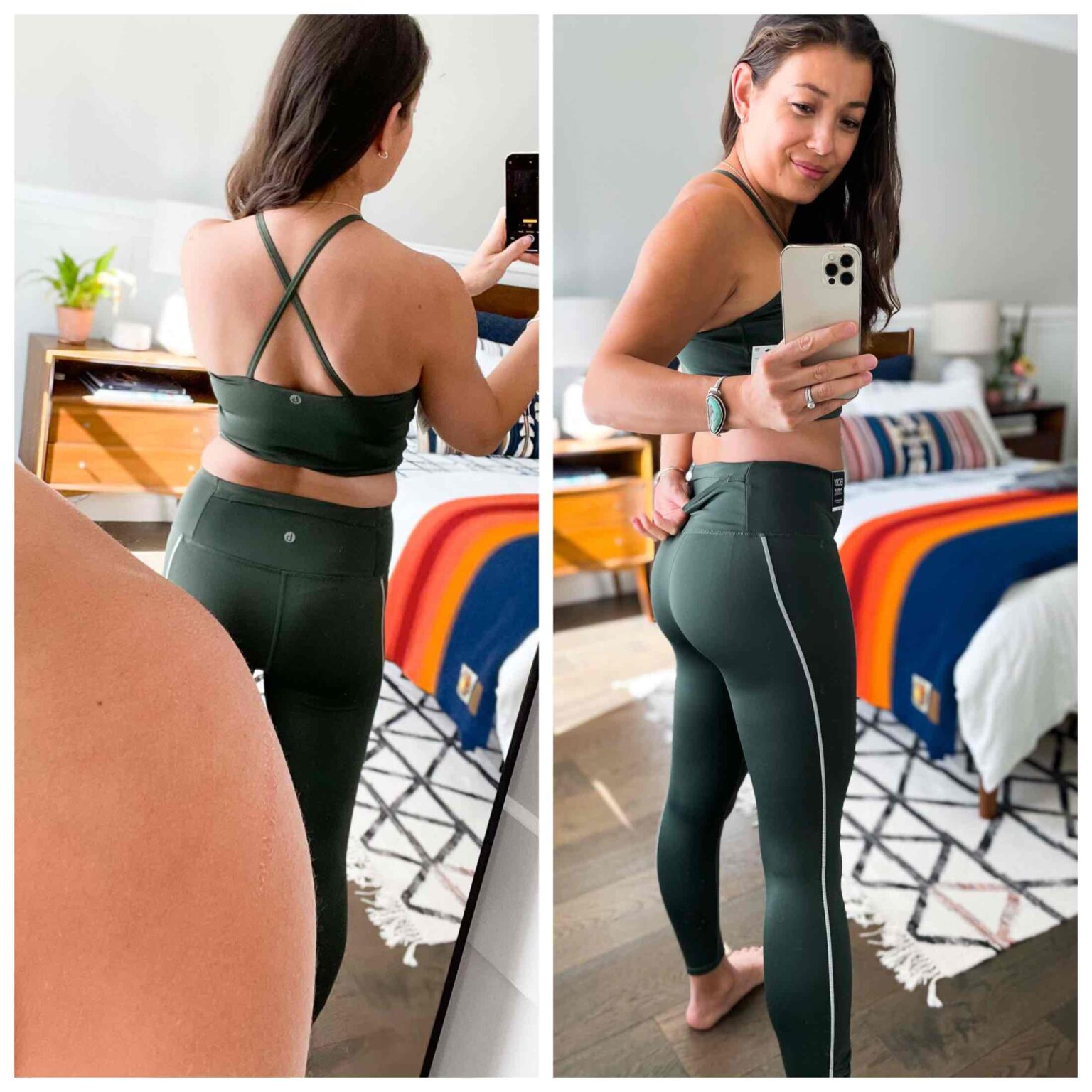 Sizing: I'm 5'5″ with a thicker waist, ample booty and athletic thighs, and wear a 25/26 or an XS/S in most bottoms. Up top I'm a 34C with strong shoulders and also waver between an XS/S. Per reviews (which very vague but mostly consistent), I bought both pieces in a size Small — the higher end of my normal size range. The top was perfect — and as I mentioned above, the straps/ruching detail make the fit somewhat modifiable. The bottoms were a little tight throughout, but especially in the waist. I think this sizing could be exclusive to colors with the back pocket; the side pocket style that I tried on above fit as expected for a size Small.
Cotton On Performance Activewear & Loungewear
While I was initially drawn to Cotton On's activewear because of the whole recycled coffee grounds thing, that makes up a pretty small percentage of their workout and loungewear offerings. Some of the activewear, in particular, is labeled "made with recycled fibers," but outside of the Love You A Latte collection, I'm not sure exactly what that means. I do know there were plenty of cute pieces that caught my eye — enough that I added them to the haul — so the investigation continues below.
COTTON ON ULTIMATE CUT OUT VESTLETTE & ULTIMATE BOOTY SHORTIE SHORT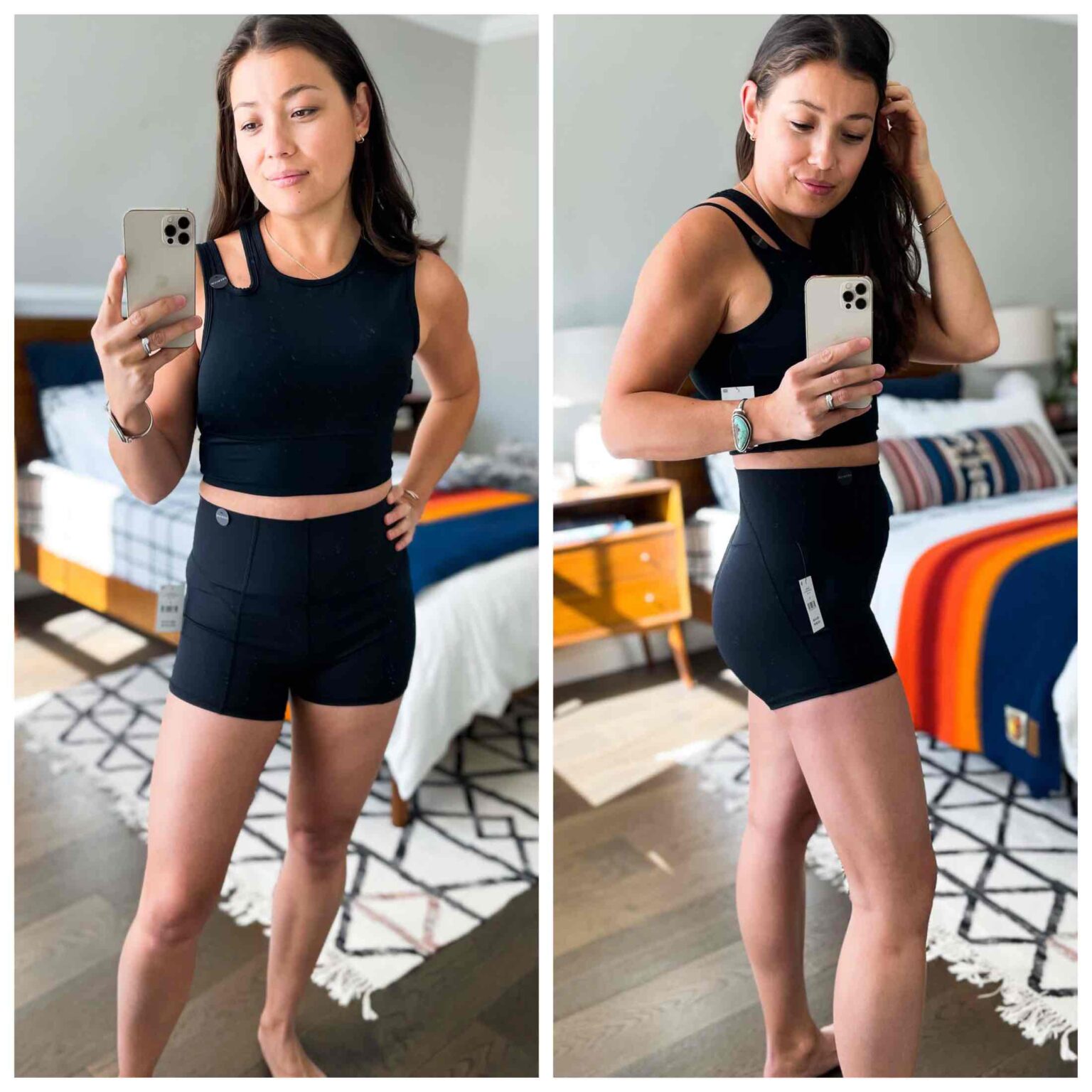 Key Takeaways: Anything labeled "ultimate" invites skepticism, but these two pieces are solid. Neither claims to be made with recycled materials, but both deliver on fit. The top (oh look, we're back to vestlette) isn't hugely inventive, but I like the interest that the cut-out adds. Decently supportive, and available in a few other colors, too (pink, white, lavender). But the booty shorts sure do pop dat butt. I love that they fit almost like real cycling shorts (yes, the kind with the chamois built-in — although to be clear, these have no padding) but they're a thick, unlined, laser-cut fabric with seams in all the right places. Super comfy.
Sizing: I'm 5'5″ with a thicker waist, ample booty and athletic thighs and wear a 25/26 or an XS/S in most bottoms. Up top I'm a 34C with strong shoulders and also waver between an XS/S. Wearing a Small in both pieces.
COTTON ON LIFESTYLE SEAMLESS YOGA SHORT & ASH CROP TANK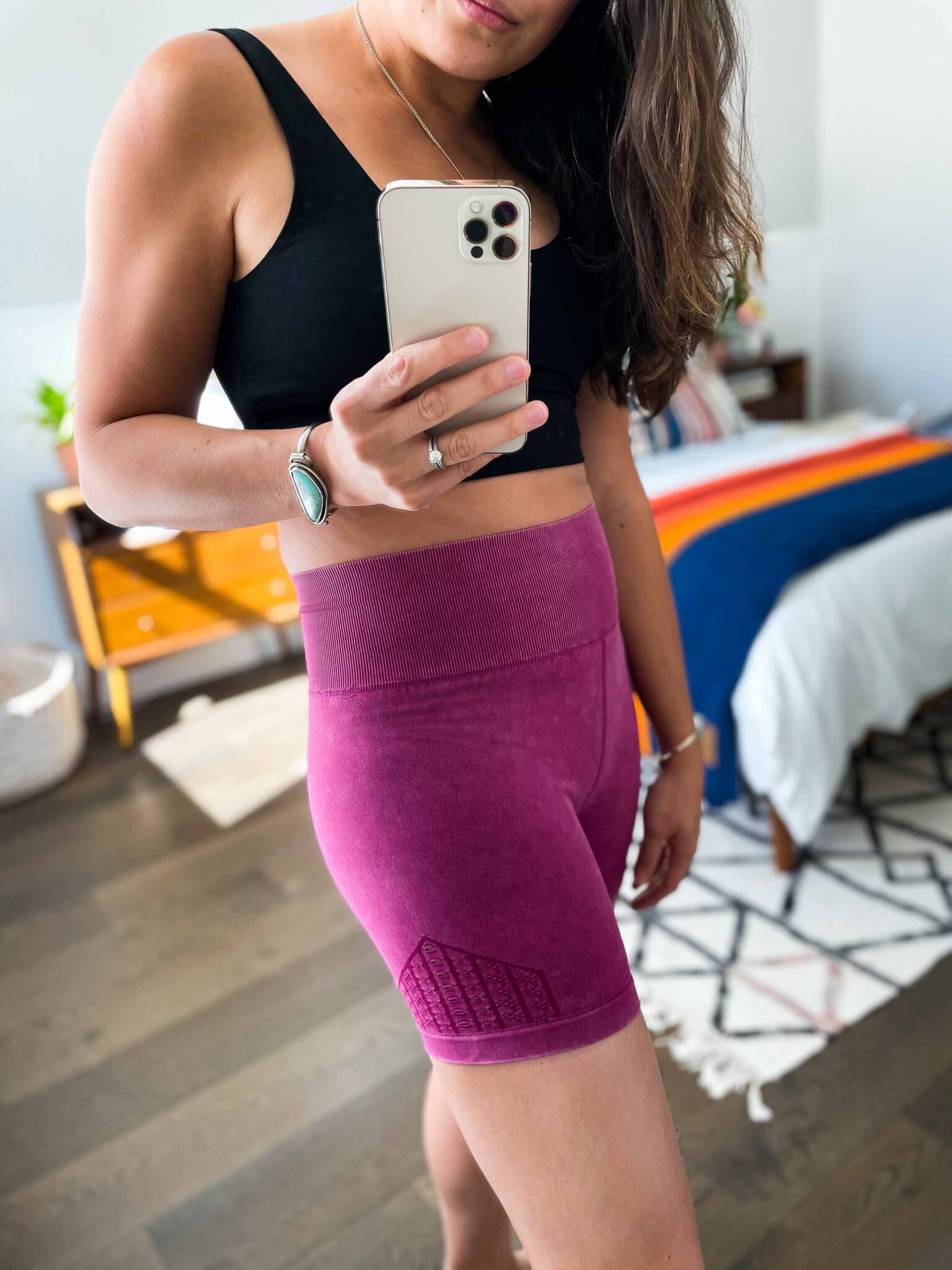 Key Takeaways: Holy crap, pals — at first blush, these Seamless Yoga Shorts are FREAKING GORGEOUS. I am in love with the washed boysenberry hue (it's like the Clinique Black Honey of pants!), the seamless ribbed waistband and the stitched details. I honestly want to wear these and only these — preferably with a bit of a tan — forever and ever. OK, maybe I'd be persuaded to buy a few other colors, too. I want to love them that much.
My issue is that I fear they might have the potential to creep up in the crotch. Legs apart — fine. Although, aside from my old flat-footed Ken doll, who stands like that? But as soon as you move a bit in them, the creeping/creasing begins. Maybe it's the color. I genuinely love it, but would these offenses be less apparent in boring ol' black or — ooooh, navy? I'm just not certain it's worth it to find out. But then again, they're a limited risk at $19.99…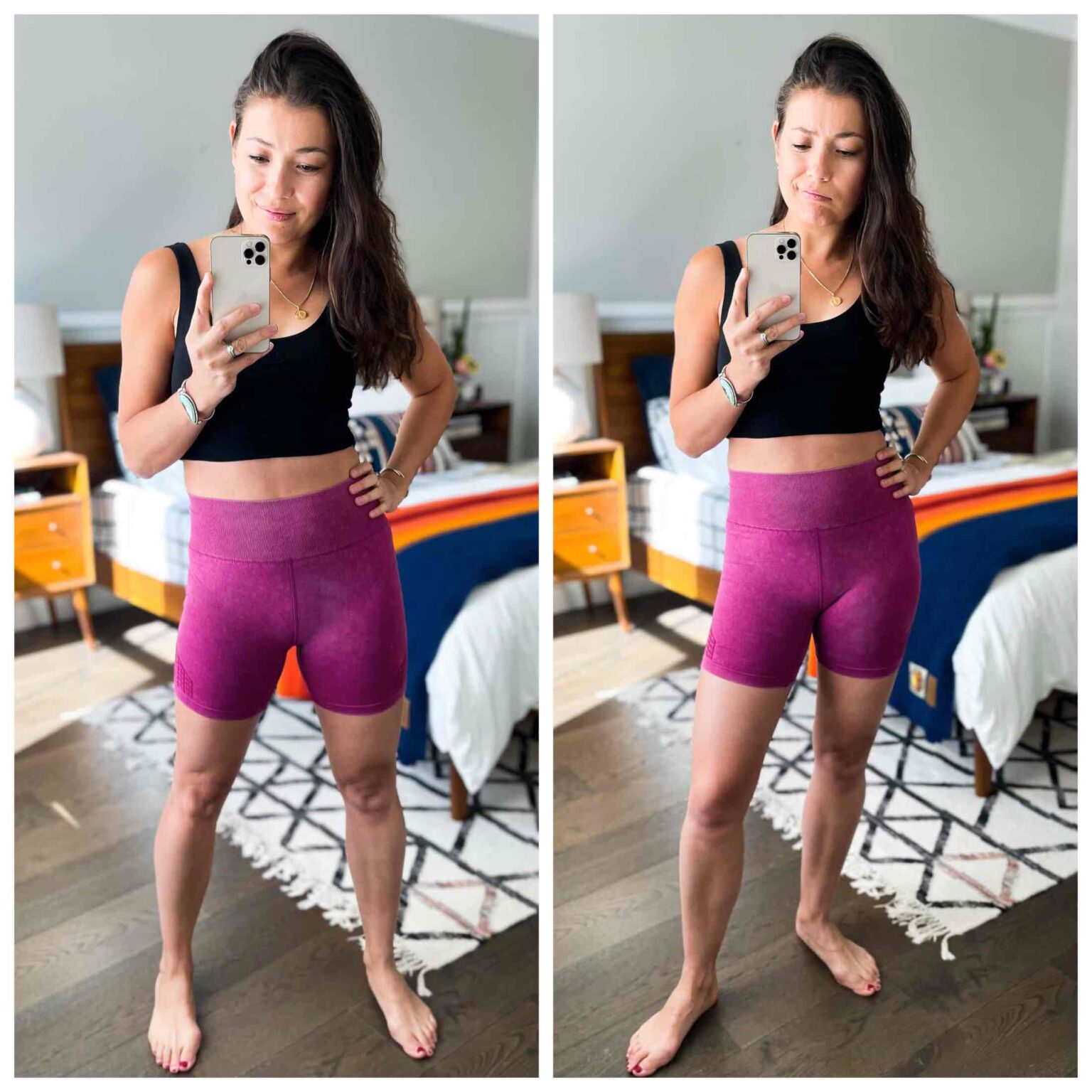 Not a lot to say about the crop tank other than the fact that it's perfect for layering under sweaters or hanging around the house. I wouldn't call it a sports bra — not enough support — but in theory you could wear an actual bra with it, which puts it into official top territory. Keeping this one for all the layering and lounging potential.
Sizing: I'm 5'5″ with a thicker waist, ample booty and athletic thighs and wear a 25/26 or an XS/S in most bottoms. Up top I'm a 34C with strong shoulders and also waver between an XS/S. Wearing the shorts in an XS/S (I honestly love the forgiving nature of combo sizing for pieces like this). Crop top is a Small and fits TTS.
COTTON ON CROPPED MUSCLE TANK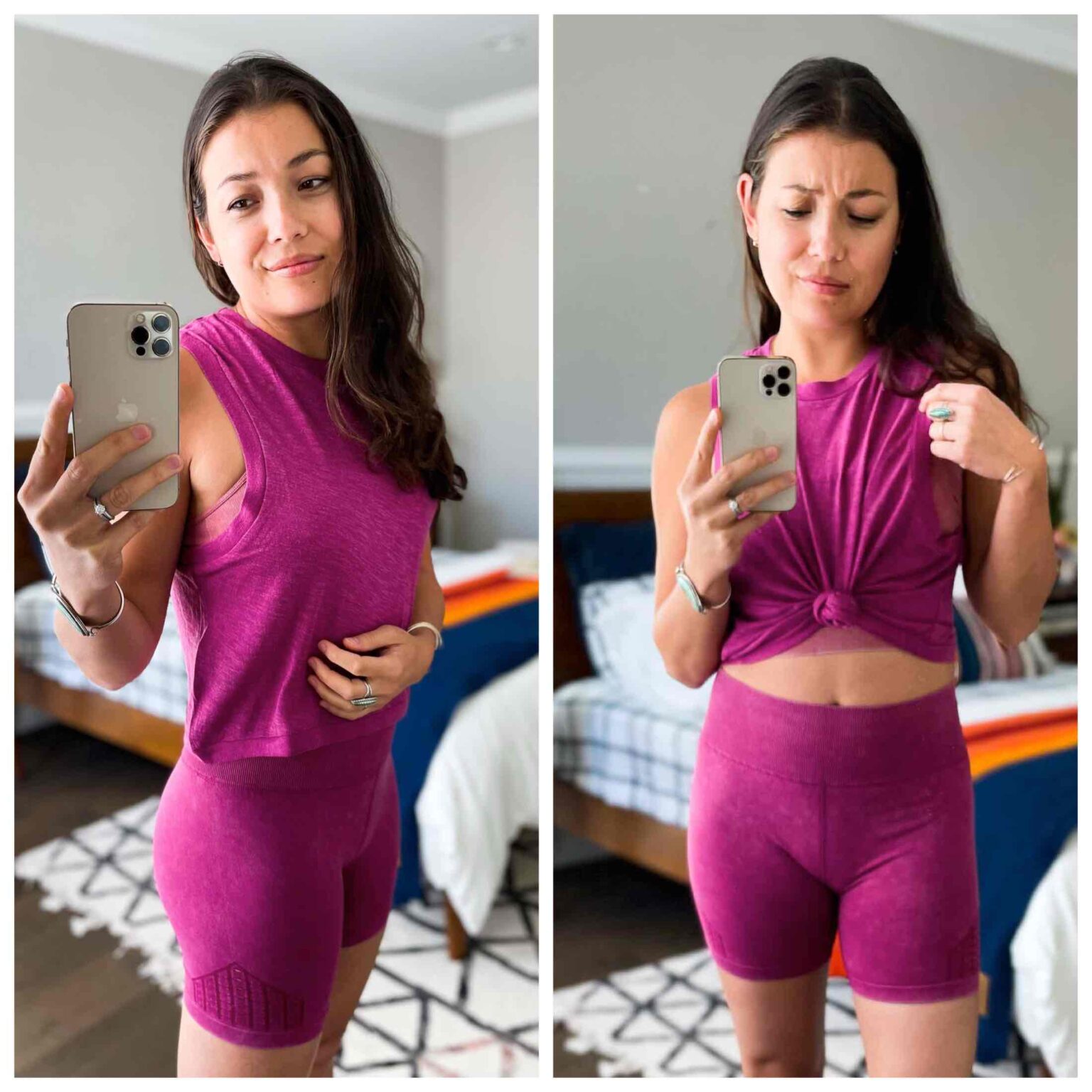 Key Takeaways: Fine for a layered workout tank, loved the potential for a matching set. Loads of colors, all garment-dyed which feels a little higher-end. Was hoping sizing up would give it enough extra fabric to also be knotted, but as you can see, that's just a ridiculous look. Better off wearing it as intended with the slightly high-low hem. Made from 40% cotton, 60% recycled polyester.
Sizing: I'm a 34C with strong shoulders and waver between an XS/S. I went with the Small thinking it would be more versatile, but ultimately I think an XS would fit a little closer to the body with less gaping armholes.
COTTON ON THE LOUNGE PANT & ISLA SEAMLESS CAMI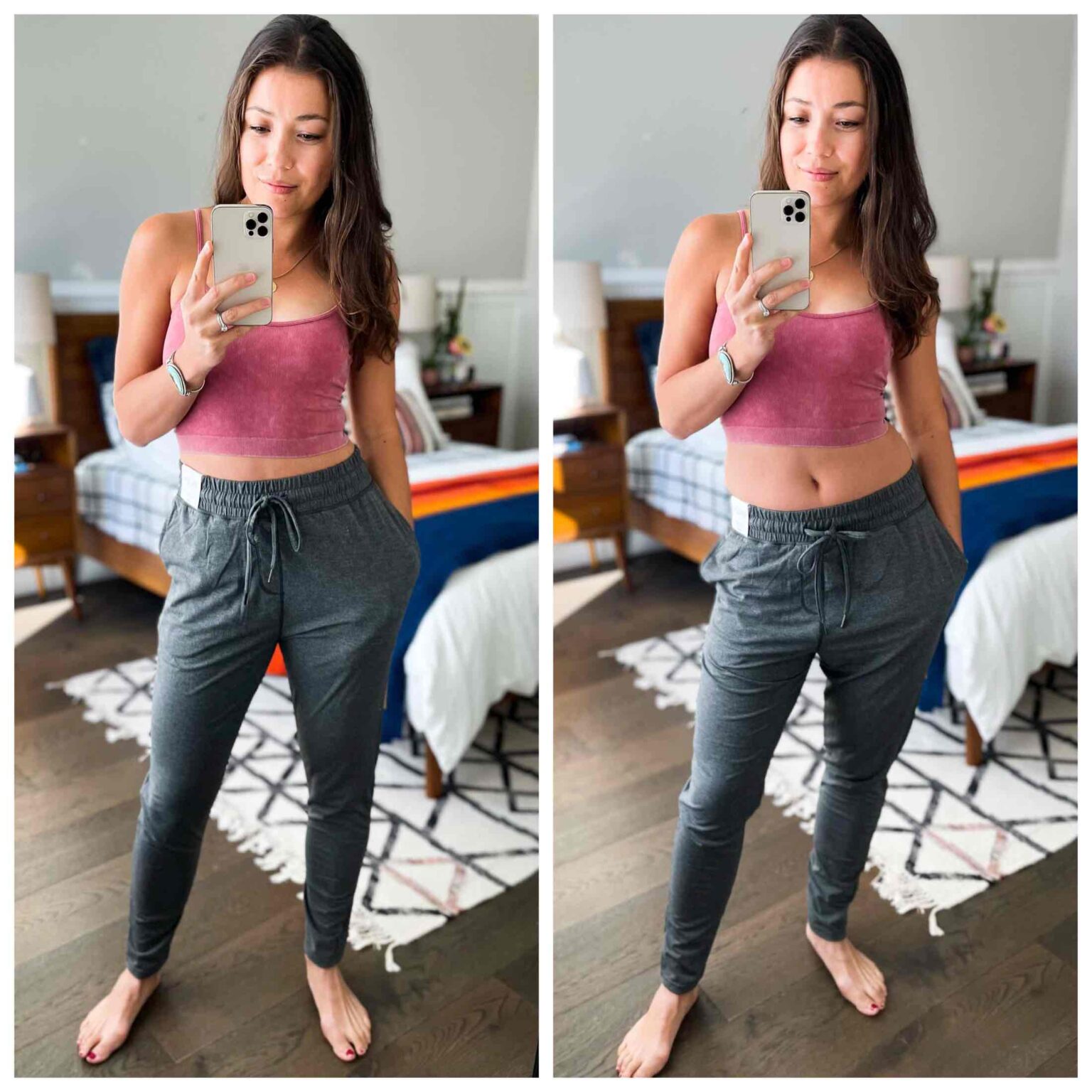 Key Takeaways: Torn on these The Lounge Pants since I love the fit (you can undoubtedly wear them higher or lower without them riding up in the groin or looking excessively dumpy), yet for $30, you could most likely find something equivalent at Old Navy or Target. All things considered, I keep on being charmed by Cotton On's "Accomplishing something useful" drives, so assuming I get an opportunity to help a brand that is putting resources into the two individuals and the planet, that would be preferable. In the event that you don't as of now have something almost identical in your storage room (or clothing day is coming atcha excessively hot nowadays), a commendable add. Could I put in a request for these and these by themselves? Presumably not.
Concerning the Isla Seamless Cami, I didn't understand the amount I wanted a piece like this in my closet. I love wearing camis under sweaters and pullovers, yet I disdain objecting with wrapping them up. Already, this drove me down the bodysuit course, however turns out an edited cami (duh, Emily) is the best approach. This tone is a balance of natural and heartfelt – it's additionally accessible in dark, beige and a modest bunch of different tones – and the consistent development is the ideal weight. Not much of help, so it won't supplant a bra in that regard, yet assuming you're all down with bras!!, it's a decent move. Furthermore, on special for $7.
Estimating: I'm 5'5″ with a thicker midsection, more than adequate goods and athletic thighs and wear a 25/26 or a XS/S in many bottoms. Up top I'm a 34C with solid shoulders and furthermore falter between a XS/S. Following audits, I went with the more modest of my standard sizes for the jeans and caught a XS, yet in view of the fit, I figure a Small would have turned out great, as well. Sadly, I'm not feeling like these bottoms would give you tall ladies the length you pine for, particularly if they somehow managed to contract by any means in the washing machine. The top is combo-sized and the XS/S is TTS.
COTTON ON SUPER SOFT DRAW CORD CREW, POCKET SHORT and SLIM FIT PANTS
I'm generally wary of anything marked "super-delicate" on the off chance that it's a manufactured sew – it just so regularly prompts pillsville. (The exemption up until this point: this sweater, which isn't showcased as super-delicate, yet I've announced it all things considered.) So obviously when I saw Cotton On's line of Super Soft loungewear, I got a couple to attempt.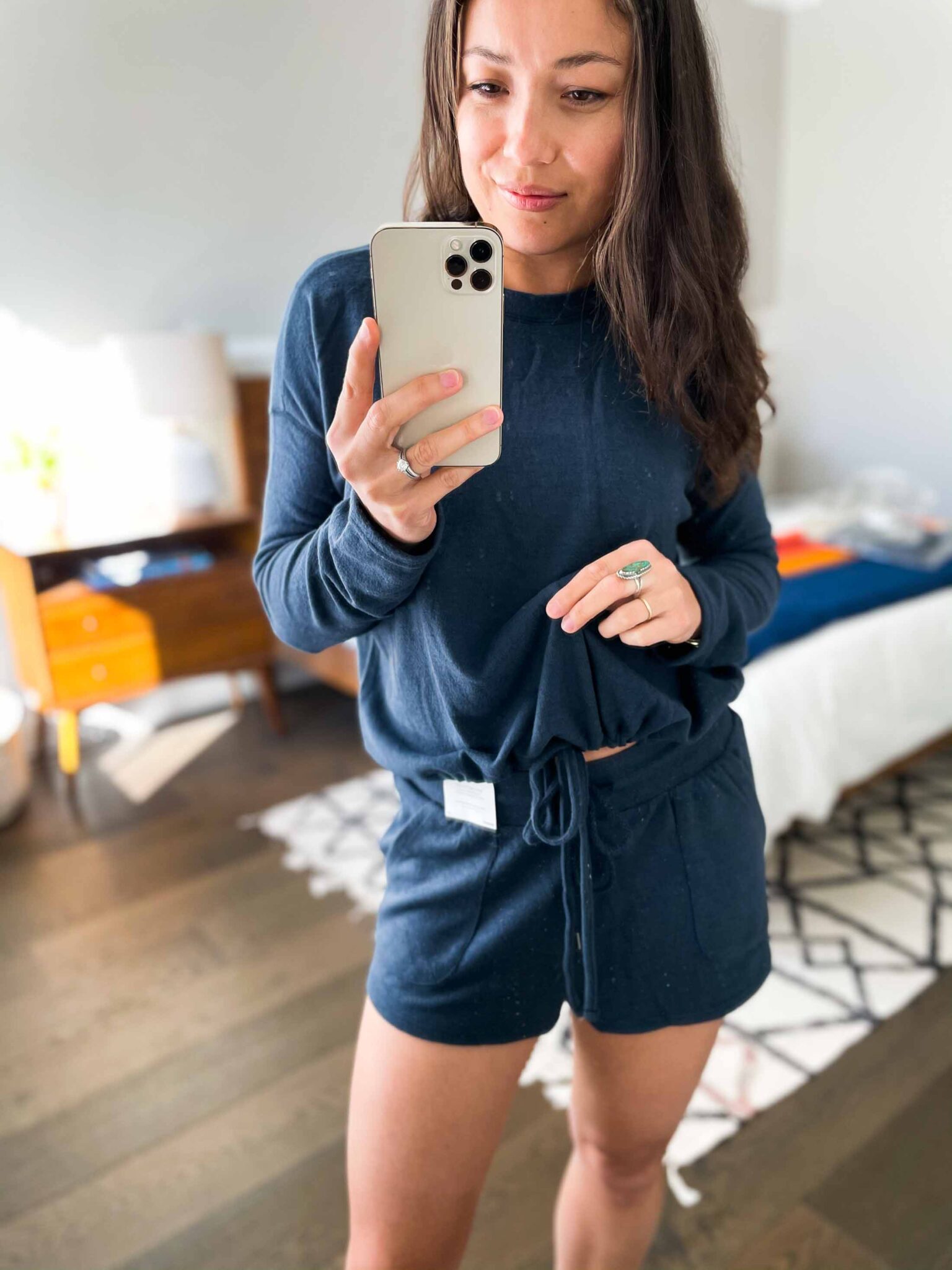 Key Takeaways: So the experts – these pieces (all included in the Magnet Blue, coincidentally) truly are supersoft, and not in a "tangles on your dry skin, fire resistant youngster pjs" somewhat way. I truly like the clamped midsection style of the Super Soft Draw Cord Crew – it's blousey, drapey, excusing. Somewhat exquisite despite the fact that it's without a doubt loungey. In spite of the fact that what number of drawstrings at the midsection is an excessive number of drawstrings?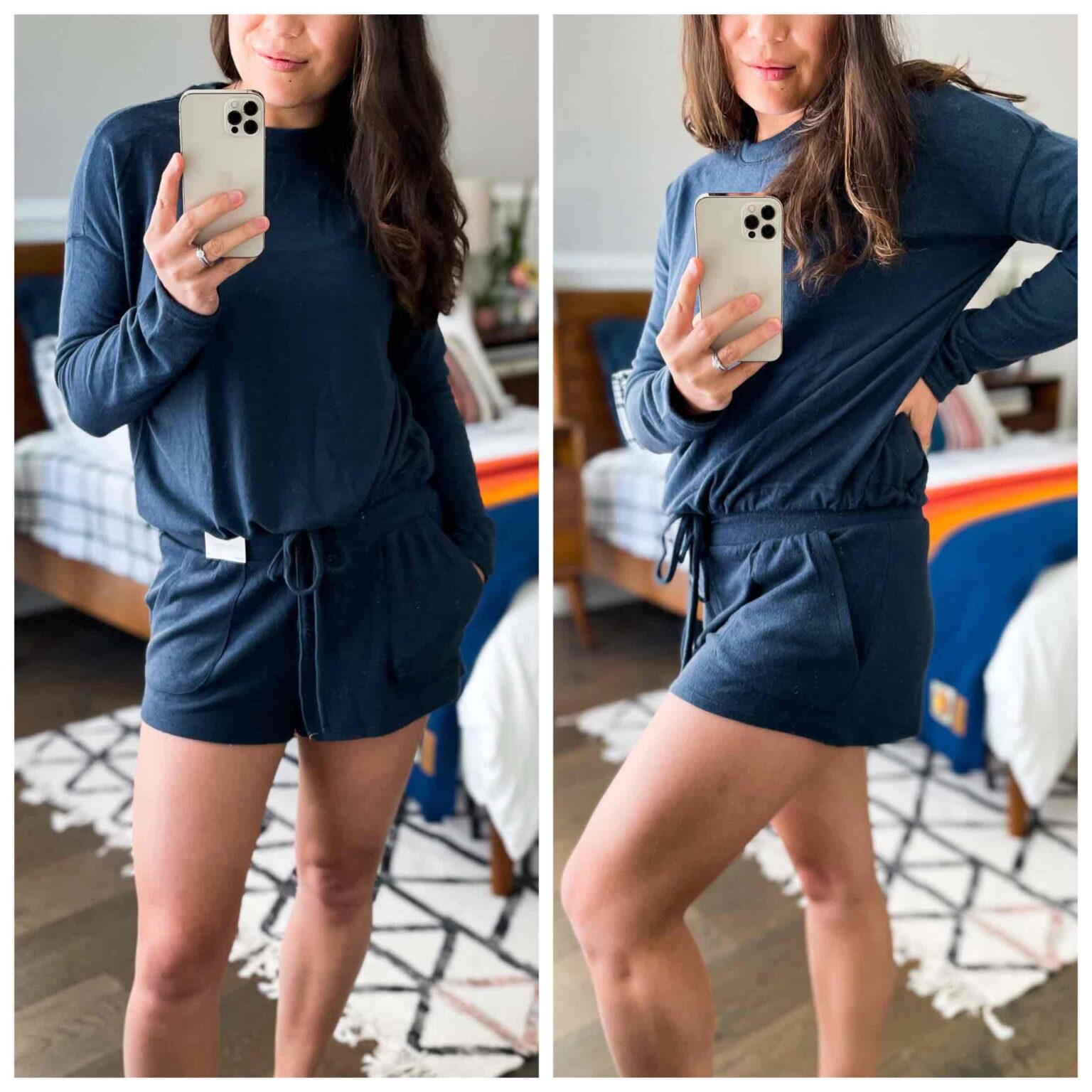 The Super Soft Pocket Shorts are comfortable, regardless of whether they slant pretty short. Also, the look together? Indeed, I'm simply a sucker for a set that matches long sleeves with short shorts. The Super Soft Slim Fit Pants are actually what'd you'd anticipate that they should be and make for a charming matching set choice, as well. In any case, I in all actuality do feel like there's the potential for pilling here, so I'm not 100 percent sold. Costs are $24.99 for the top (as of now on special for $15), $19.99 for the shorts, $29.99 for the jeans. For $75, I'd presumably placed my dollars into a solitary loungewear piece that would hold up better over the long run.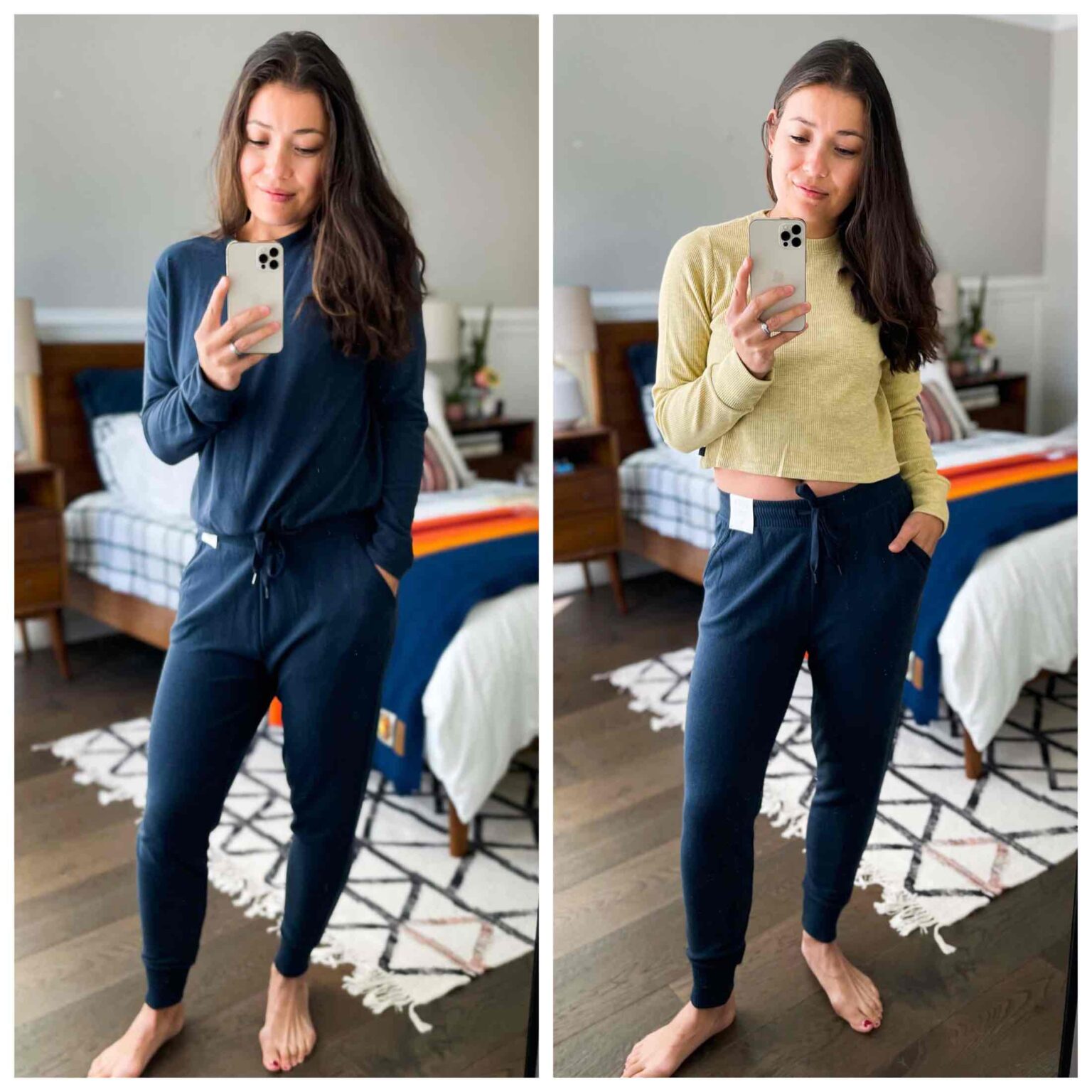 Also, this waffle weave top? I got it for the adorable back, at the end of the day… pass. The development is really shoddy, and whatever attracted me to this specific yellow tone online doesn't decipher well face to face. Smooth yellow heathered with sloppy dark. Not great – particularly on me. Heaps of different shadings on the off chance that you can't avoid it, however – and it's marked down for $10. In any case, don't say I didn't caution you.
Measuring: I'm 5'5″ with a thicker midriff, more than adequate goods and athletic thighs, and wear a 25/26 or a XS/S in many bottoms. Up top I'm a 34C with solid shoulders and furthermore falter between a XS/S. I estimated down to a XS for the jeans and the top since both appeared to be sufficiently open; I went with the Small in the shorts wanting to exploit juuust somewhat more length.
COTTON ON 90S T-SHIRT NIGHTIE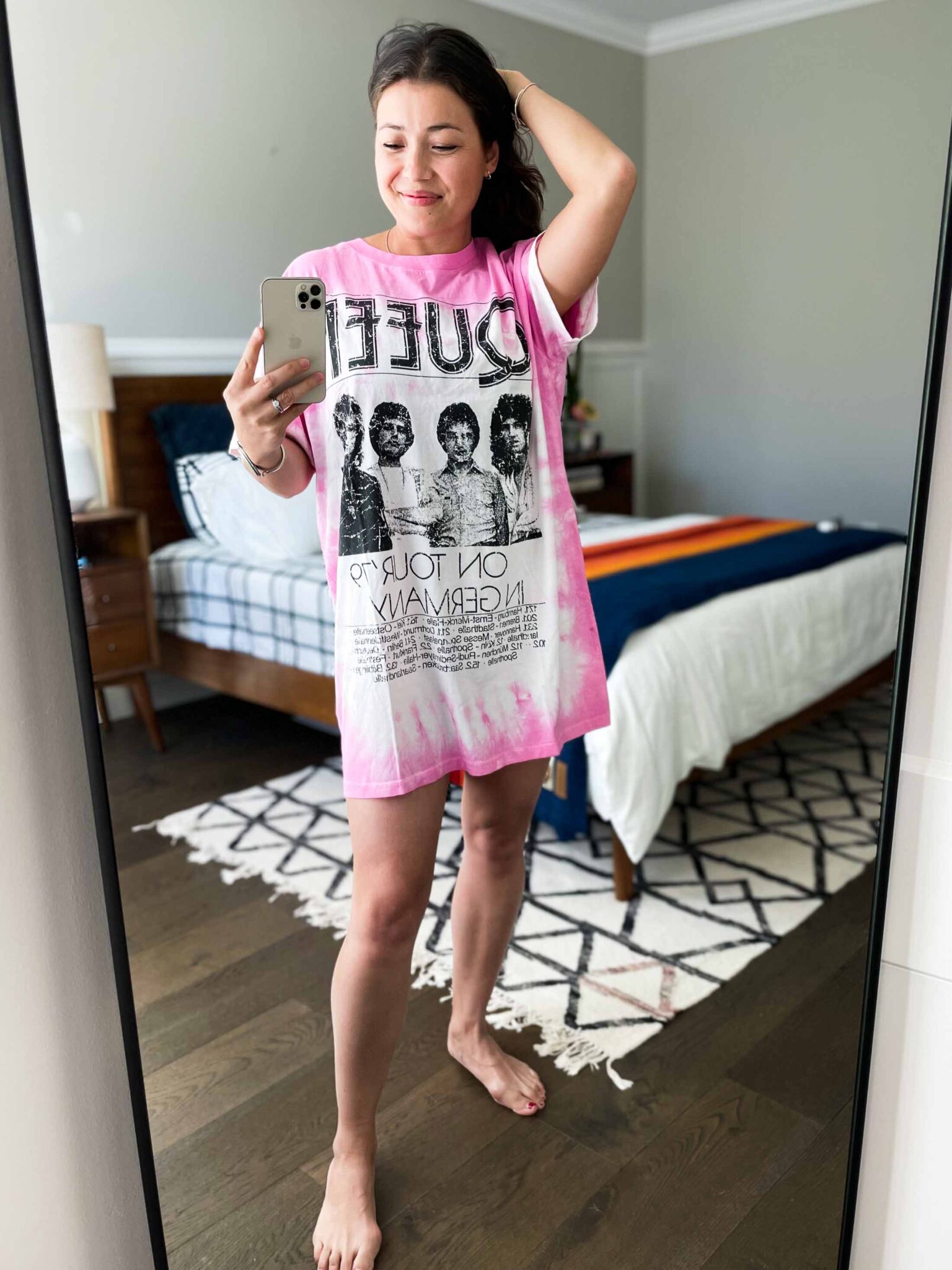 Threw this one in just for funsies, and it's a total keeper. I've long been a tee-and-undies sleeper (that is until Chris got me these ridiculously luxe washable silk jammies for Christmas), so it's no exaggeration when I say this 90s T-Shirt Nightie is going to become one of the most worn-things I've ever owned. Loads of other band graphics available. Wearing an XS, which initially seems giant, but it did shrink a little in the length after washing.
So in sum? I think my cautious optimism appropriately metered my expectations. Cotton On isn't reinventing the wheel by any means, but there are some gems here, especially for the price point. Extremely curious how the denim will stack up (spoiler alert: I'm about halfway through try-ons, and it's also been hit or miss, but some of the hits are GOOD) — so stay tuned, folks.