What is Copart?
Founded in 1982, Copart began with a singular salvage yard in California. Now they are a global leader in auctioning vehicles online. Their innovative technology and platform provide a unique mechanism to link sellers and buyers across the world.
Headquartered in Dallas, Texas, USA, Copart is an online auto auction company that allows sellers across the world to connect with buyers.
Copart has been operational for more than 35 years and has been instrumental in providing remarketing and vehicle auction services to auto resellers. Their operations span across countries, including Germany, Brazil, UK, Ireland, Spain, etc.
How Does Copart Work?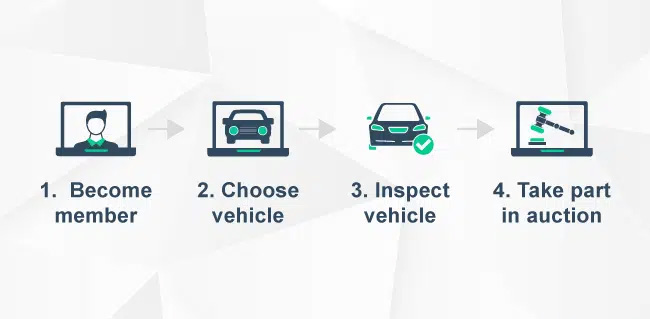 Copart assorts their vehicles from various consignors that include: 
Individuals
Banks
Dealers
Financial companies
Insurance agencies
Charities
Rental car companies
There are 3 ways you can sell a car with Copart – as an individual, as a business, or as a dealer.
The fastest, easiest, and safest way to sell your used, unwanted, or total loss vehicle is through CashForCars, a Copart brand. CashForCars provides a competitive offer based on the latest market trends and will purchase your car directly from you. In addition, they provide free pick-up or towing service.
1. How to Sell Your Car as an Individual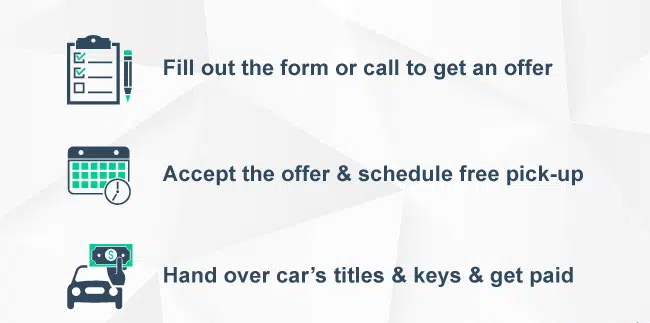 Step 1: Get an Offer
The very first step to selling your car to CashForCars is to visit the CashForCars website and fill out some details.
The details you'll need to provide include:
Your contact information (phone and email)
Your zip code
VIN code of your vehicle
Year of manufacturing, make and model, and trim of your car
The current condition of your vehicle
Alternatively, you can call CashForCars at 1-800-381-6219 and request an offer for your vehicle.
Whether you submit an online form or call the CashForCars agent, you'll receive an instant quote for your used car. This means you'll get an offer within just a few minutes.
In addition, the offer is guaranteed – it won't change at the time of a pick-up.
Step 2: Schedule the Free Pick-up
Once you have accepted the offered price from CashForCars, a CashForCars agent will schedule a pick-up at your convenience. The pick-ups usually take place within 24 hours of their scheduled call.
CashForCars provides free pick-up or towing, and they can visit your home or business location.
Step 3: Collect Your Money
As soon as your vehicle gets picked up, your payment is initiated and completed. You hand over the vehicle's titles, and keys and the CashForCars representative will hand over the cash then and there.
These three steps are all that it takes to sell your car to CashForCars.
2. How to Sell a Car With Copart as a Dealer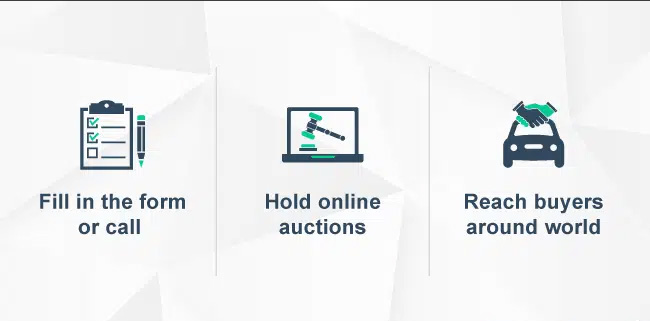 Copart lets you reach more than 750,000 buyers across 170 countries to sell your inventory if you're a car dealer.
Copart's virtual bidding technology allows you to hold online auctions. What's good, there's no arbitration, red light, or green light at Copart. You can sell a vehicle as-is, where it is, and avoid the hassle of getting right down to making money by selling cars.
To gain and maintain your trust, Copart doesn't get paid until you get paid. They simply help you market your car through their website allowing buyers to Make an Offer or Buy It Now.
There are 2 ways to sell your car with Copart as a dealer:
Fill out the quick online form with your contact details. The Copart agent will call you to guide you through the whole process of selling a car as a dealer.
Call Copart at 1-888-616-1237, and one of their representatives will help you get started right away.
In addition, Copart will wash and vacuum it before putting it up for an auction.
How to Sell a Car With Copart as a Business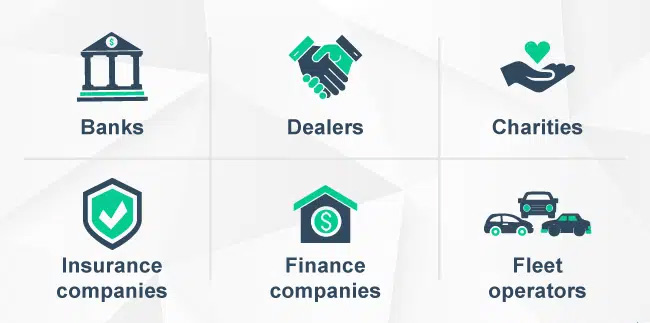 Copart also sells vehicles on behalf of a number of institutions, including:
Insurance companies
Banks
Finance companies
Charities
Fleet operators
Dealers
So if you represent any of these institutions and looking for a way to sell a car, you can consider selling it through Copart.
To sell cars through Copart as a business, you'll need to create a Copart Seller Account first. Alternatively, you can fill out the quick form with your contact details, and the Copart representative will reach out to you shortly.
Who is Copart Best For?
Copart is best for financial institutions, insurance companies, local municipalities and charities. The company's target customers also include individual consumers, body shops, dismantlers, salvage buyers, car dealers that want to sell their cars and earn extra income.
How Much Can You Get for Your Car with Copart?
The amount of money you get for your car with Copart Depends on the make model and type of vehicle you are selling. For instance, you can get up to $4000 for 2003 ACURA 3.2TL TYPE.
What Types of Vehicles Does Copart Purchase?
At this online car listing site, you can sell or buy different kinds of cars, trucks, vans, SUVs, etc.
Copart's inventory also has many types of vehicles at the auction. For instance, some of the vehicles bought include;
2003 JAGUAR S-TYPE– Estimated Retail Value $0.00 USD
2003 ACURA 3.2TL TYPE-Estimated Retail Value $4,125.00 USD
2018 HONDA CIVIC TYPE-Estimated Retail Value $40,415.38 USD
2017 JAGUAR F-TYPE-Estimated Retail Value $43,000.00 USD
How Fast Can You Sell Your Car with Copart?
With Copart, you can complete the selling process in 3 days and have cash for your car within 24 hours.
Copart Fees: How Much Does it Cost to Use Copart?
There are different fees for each way of selling a car through Copart:
Sell your used car (as an individual) $0
Sell your car inventory (as a dealer) Listing fee: $85; Selling fee: 2% ($50 minimum and $150 maximum)
Sell your car inventory (as a business) Listing fee: $85; Selling fee: 2% ($50 minimum and $150 maximum)
Copart Payment Options
Copart offers a variety of payment options: credit cards, wire transfer, money order, cashier's check, cash, and company check.
Copart Reviews: Is Copart Legit?
Copart reviews score 2.1 out of 5-star rating on Trustpilot and 2.4 on reviews.io. Some reviewers on these platforms complained that a lot of their vehicle parts were stolen in the facility. Others also think the internal communication inside this company is terrible and if there is an issue with anything, it takes a long time to sort out.
Otherwise, most reviewers on these platforms described the selling process as quick and easy. Few customers also praised the sincerity of their customer support and how they go out of their way to help with issues. Overall, Copart is a legit company that enables you to sell your car and earn extra income.
What are the Copart Pros & Cons?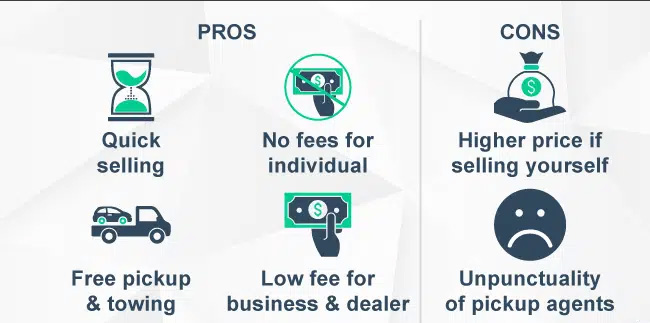 Copart Pros
Get rid of your old car within a few days by selling it directly to CashForCars
With every offer, Copart comes with a free pickup and towing service
No fees to sell your car as an individual
As a business or dealer, you'll only pay between $135 to $235 per sale
Copart Cons
There are a few complaints regarding the unpunctuality of the pickup agents
You might probably fetch higher prices for your car if you go on selling on your own, but that warrants all the other associated hassles of selling a car
How Good Is Copart Support?
Copart support includes common questions pages, blog, and resource center. You can also reach them via [email protected] or call (972) 391-5400.
Copart Review Verdict: Is it Worth Selling Car with Copart?
Copart is a multi-function platform that you can use for different needs you might have. Whether you're an individual looking for a way to sell your car fast, or a dealer/business looking for a way to make money selling cars, Copart can be an excellent option.
For one, this online car listing site partners with CashForCars who's a reliable car-buying company within the US, letting you sell your car to them directly. CashForCars provides an instant offer, and if you accept the deal, they'll pick up your car within just a few days.
On the other hand, if you have a dealership or represent a business (e.g., insurance, bank, etc.), you can sell a car through a Copart auction. What's good, Copart has a relatively low commission on each sale. In total, you'll probably end up paying anywhere from $135 to $235 per sale.
Overall, taking all the information about Copart into account, I can say that this platform is worth giving a try.