The Dr. Scholl's Work Massaging Gel insole is designed to provide relief and comfort to individuals who are on their feet most of the day. It's made of their very own Massaging Gel technology to provide superior cushioning and comfort at all times. It also comes with a cooling vents to keep your feet cool and dry regardless of the weather condition. Dr. Scholl's is also one of the most recognizable names in foot care products.
There are two different sets, one for women and one for men. Make sure you order the correct version, or cut the men's based on your correlated size.
Fit Profile
The Work Massaging Gel is a full-length insole that comes with a contoured design and supportive architecture that conforms to the shape of your foot. This ensures that you can get the exact fit and comfort while reducing instances of foot fatigue. You should have no problems fitting them in any shoes due to the low volume design.
What's notable is that these insoles might need to be trimmed for best fit. They are available in one size fits all for women and one size fits all for men. You will need to trim along the sizing lines provided based on your shoe size. Fortunately, they make this as easy as possible.
Arch Support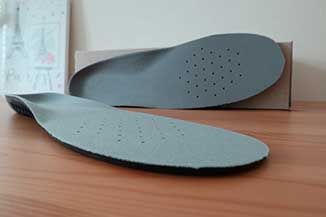 The Dr. Scholl's Work Massaging Gel insole features moderate arch support. The defining feature for these replacement insoles is the gel technology that is designed for comfort over all else. What this insole gives up in rigid arch support, it gets back in regards to comfort and springy return from each step. This makes the orthotic feel very responsive. There's also a reinforced side support that provides support to your arch each time you move through your stride.
Many comparable insoles for plantar fasciitis have rigid arch support, but this Dr. Scholl's insert offers at best a semi-rigid arch support. It's comfortable and has extra cushioning designed for absorbing shock from impact. However, this also has been useful for many in reducing instances of heel pain. What's more, it can also reduce muscle fatigue which many workers deal with, which makes it somewhat comparable to the Timberland Pro Anti Fatigue insole.
There's no specific metatarsal padding for this insole, however, it does offer a decent amount of cushioning in the forefoot area. The forefoot padding may be a bit softer than most insoles on the market.
Heel Cup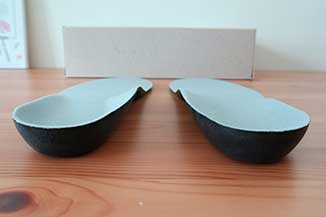 The heel cup of the Dr. Scholl's Work Massaging Gel insole isn't that deep, but it's definitely sufficient. However, its responsive wave cushioning does run all the way to the heel area to provide all-day cushioning and shock absorption, especially when walking on hard surfaces.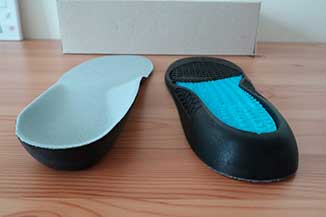 Due to the reduced amount of shock that is sent throughout your lower body, you should get some relief from pain brought about by tired and achy joints and feet. Apart from that, the heel cup in tandem with moderate arch support should help add a bit of stability and motion control.
That said, whatever purpose you use them for, the design should help prevent fatigue and perhaps other foot-related injuries.
The low profile of the Massaging Gel insole ensures they fit well into most shoes. And the grippy outsole should minimize any chances of slippage inside your shoes.
Use
The Work Massaging Gel insole from Dr. Scholl's is primarily intended for sneakers, work boots, and casual shoes. It's designed to provide relief from muscle fatigue in the legs and feet which are commonly experienced by people whose work requires standing for a majority of the day.
However, since it's a versatile insert, you can also use it for mild running and a variety of other athletic activities.
Online Review User Experience
Works great in reducing muscle fatigue
If there's one thing that a lot of reviewers like about this product, it's the fact that it really works great in reducing muscle fatigue in their legs and feet. A lot of them attributed this to the insole's excellent cushioning, stating that they were able to experience less pain. Some comment that the insole slows down the onset of fatigue.
Good reviews for plantar fasciitis
The Work Massaging Gel insole is not designed for individuals who suffer from plantar fasciitis, as it has less of an arch support than most prefer. However, there were multiple customers who mentioned that they were able to experience relief after using Dr. Scholls for plantar fasciitis. For those with sensitive heels, the Dr. Scholl's provide more cushioning throughout.
Thanks to the insole's massaging gel technology, it gets very positive reviews for it's comfortability. For those users, they like the cushioning from these inserts over much more rigid orthotics like Walk Hero or Superfeet. Apart from the cushioning, the insole is simply a more comfortable alternative.
Requires cutting down to size
Even though these Dr. Scholl's inserts are designed with cut marks on the outsole, many people simply find this to be an extra hassle. While it's not difficult to cut along the perforation marks, they prefer more sizing options from Dr. Scholl's products instead of a one-size-fits-all. But for most, it's a minor inconvenience considering it can easily be done with scissors.
Requires a few days to fully break in
A couple people mention the Work Massaging Gel insert requires a break in period. However, according to some buyers, the break in period only took them a few days and certainly should be less than a rigid insole with higher arch support and deeper heel cup. In any case, most find immediate relief and comfort from these insoles.
Pros:
Excellent cushioning in comparison to competing insoles
Versatile enough to be worn in any number of shoe styles
Easy to read cut marks for quick trimming
Great shock absorption
Moderate arch supports aren't overly bothersome
Slim profile
Inexpensive enough to buy a second pair for your other shoes
Cons:
Does not have the best arch support
May not last as long as other expensive brands
Not enough cushioning in forefoot area for some users
May not be the best option to correct flat feet or high arches