About COS
Sweden has brought us many greats, including IKEA, Spotify, and H&M. Since its launch in 1947, H&M's popularity has skyrocketed and is the parent company of many brands like COS. The name stands for 'Collection of Style', serving looks and style for the contemporary person who is looking to invest in timeless pieces.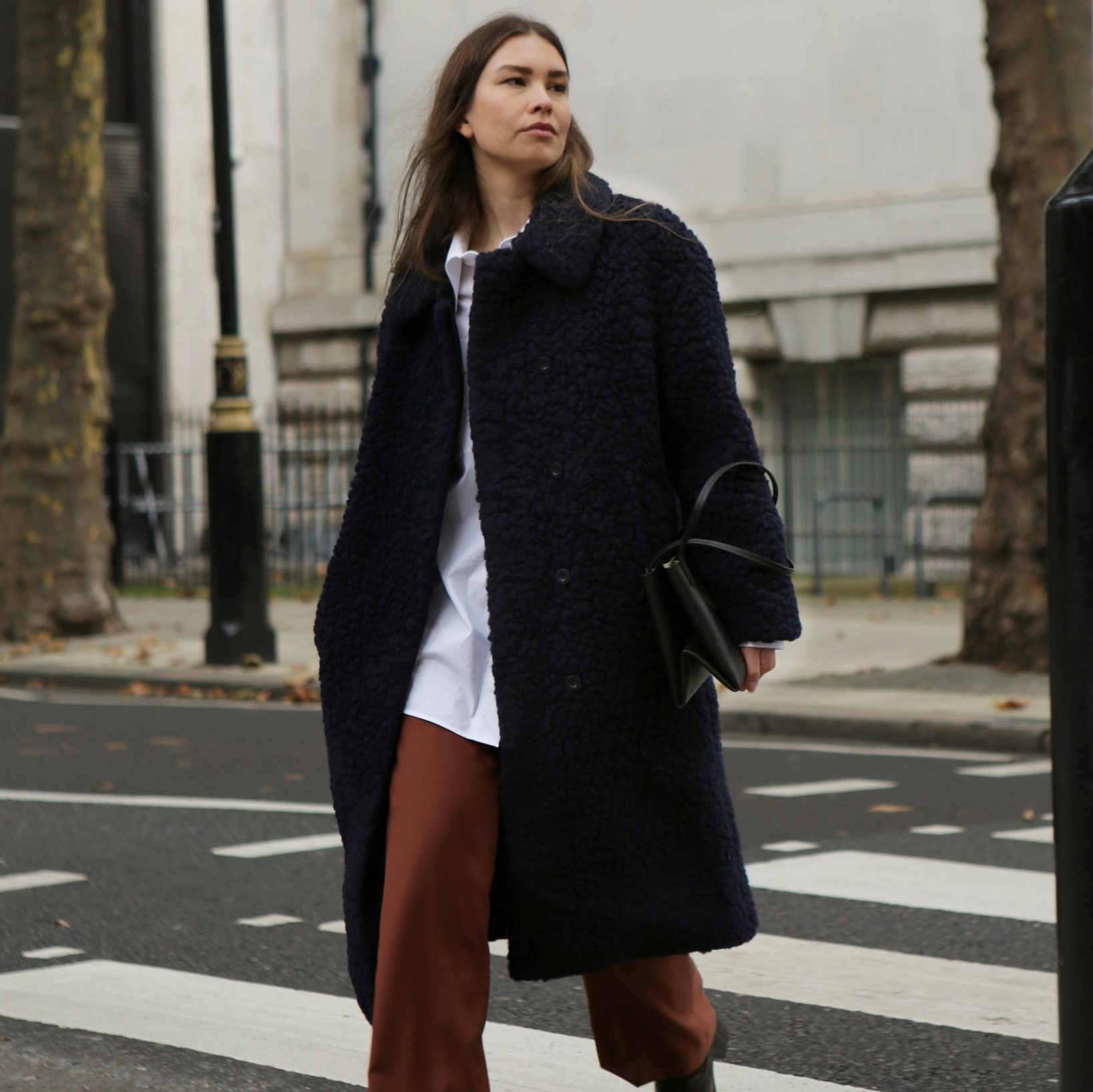 With 2.5M followers on Instagram and 616k likes on Facebook, it has won over the hearts of many people. It has even been featured in several media outlets, including The Guardian, Harper's Bazaar, and Architect Magazine.
COS has also collaborated with several artists and art/design locations, including New York-based studio Snarkitecture, Seoul-based publisher The Book Society, photographer Nina Band, artist Michael Sailstorfer, Dutch designer Olivier van Herpt, and Belgian duo Fien Muller and Hannes van Severen.
This COS clothing review will give you a look at the company policies and practices, along with product reviews, customer reviews, and fun facts and tidbits of information in order to help you decide whether the brand is worth your buy.
Overview of COS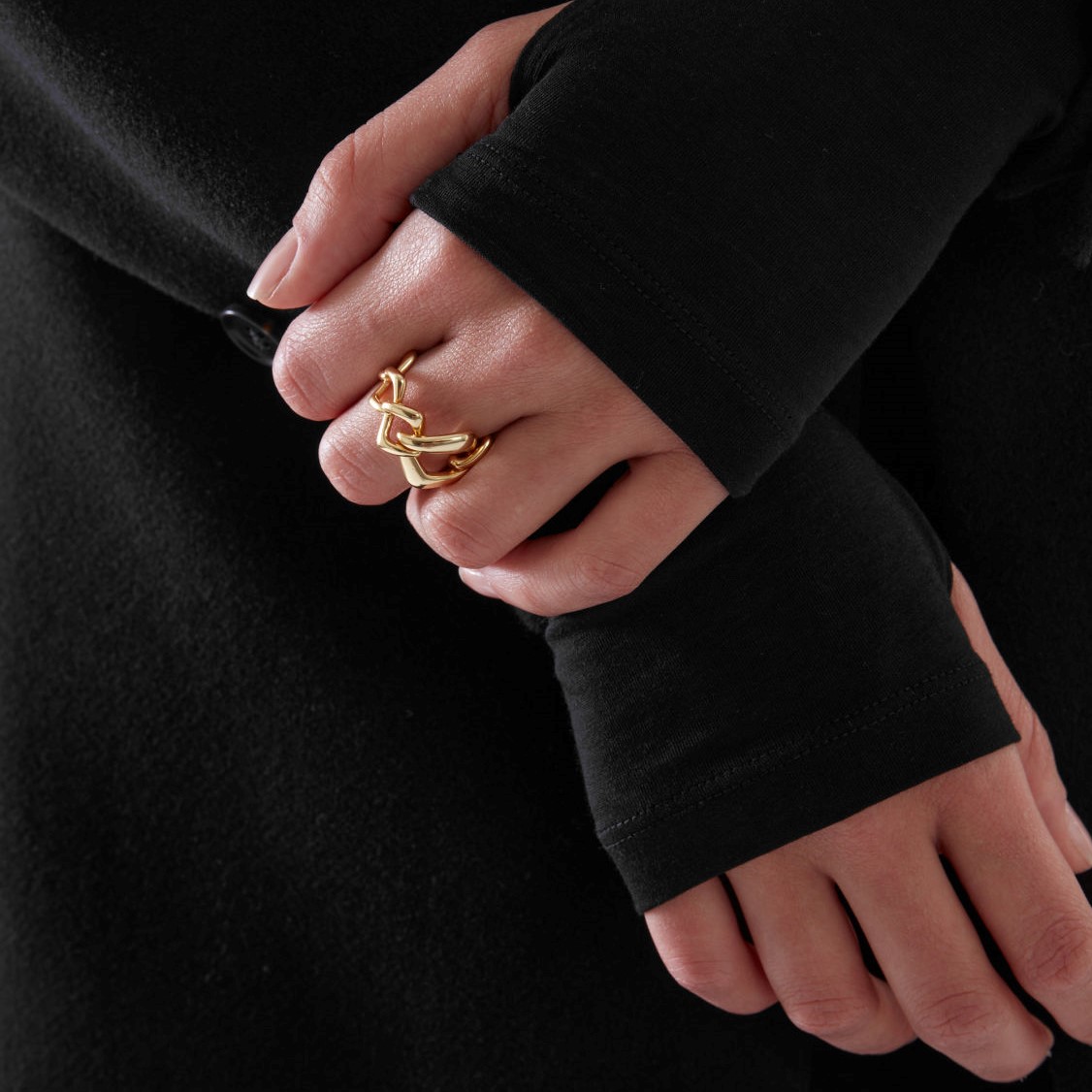 Owned by H&M Group, COS opened its flagship store in London in 2007. From its immense popularity, the brand put its online store into play in 2011. The current creative director of COS is Karin Gustafsson, who has a keen eye for the beautiful minimalist style that has created a cult-like following of the brand.
From its inception, the stunning spartan looks have become popular all across the globe. And the brand hasn't stopped at fashion. It has created the perfect aesthetic with specific architectural buildings that house its clothing. They understand their audience perfectly and know what will catch their eye.
With 197 locations all over the globe, COS fashion has pretty much followed in its H&M parent's footsteps. And its popularity has continued to climb. But before we take you on a deep dive into the details, this COS clothing review will go over some initial benefits and drawbacks of the company:
Pros
Generous 30-day return policy
International shipping
Brick and mortar locations
Clothing for men and women
Good reviews about quality
Readily available information on site
Tons of collaborations and projects
Student discount
New subscriber discount
Cons
In-person retailers are limited
Pricey
Despite its pricey collection, can the brand live up to the hype? Even if you found a COS tie dye sweatshirt, it is done in such a way that you can wear it whenever.
Now this COS clothing review will give you all the behind-the-scenes so you can get a real idea of what this brand stands for.
COS Dresses Review
The best way to upgrade your wardrobe is to add pieces that can last you longer than just a single season. That's the motto COS has built their brand around. And COS dresses do just that for you. No more fussy pieces—just gorgeous outfits in a simple design.
In this section of the COS clothing review, we will look at a couple of the brand's stylish dresses to give you an idea of their selection.
COS Gathered Dress Review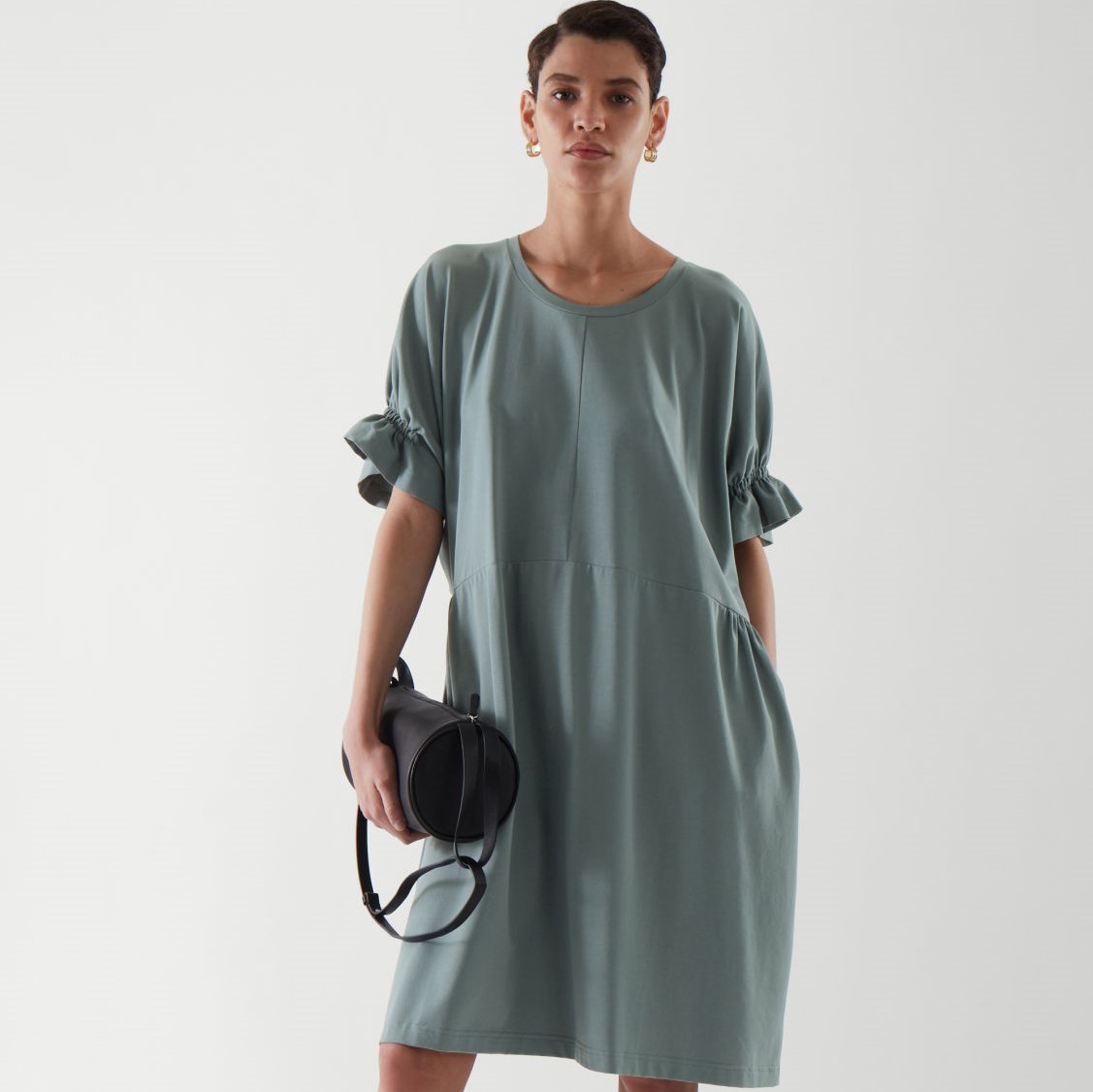 For those nights when you want to don something elegant for a walk down by the ocean, this COS Gathered Dress is the right outfit for you.
Loose-fitting, this dress is as easy as the breeze that floats by you. The slightly bell sleeves with ruching at the elbows give you an elegant factor that's understated. Made from organic cotton with a hint of elastane, you'll have the ease of simplicity and pockets hidden in the seams at your fingertips.
Available only in white or dusty turquoise, the dress comes in US sizes XS to L. Wear this dress out when you want to feel comfortable and chic. This effortless outfit will live on in your wardrobe for a long time.
The Gathered Dress retails for $99, currently on sale for $50.
COS Linen Shirt Dress Review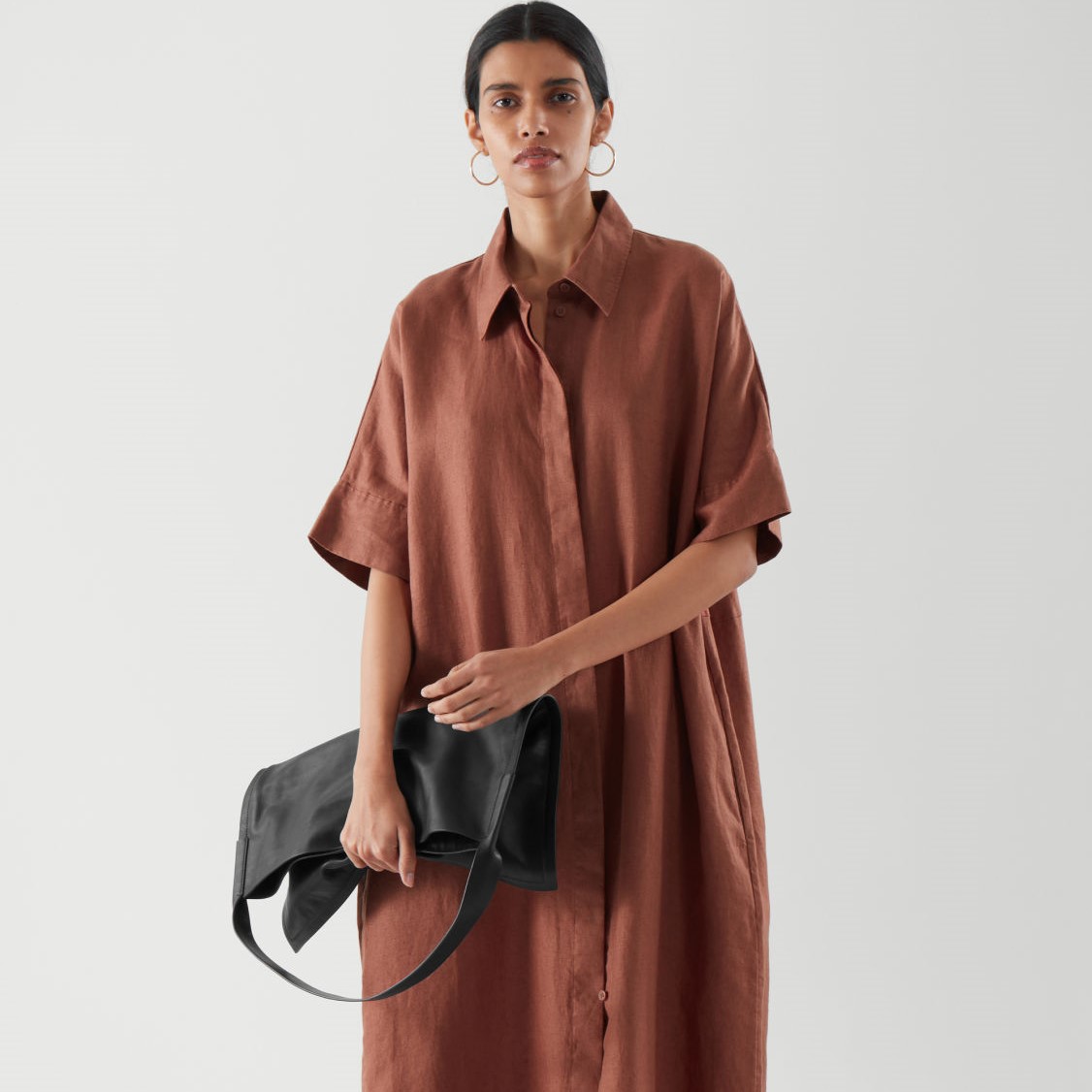 Versatility at its best. When you want to throw something on in the mornings without much thought, the COS Linen Shirt Dress is the perfect item in your closet.
Dress it up or down, this outfit gives off the comfortable and chic look without even trying. Made from eco-friendly linen, the button-down design can be worn on its own or over trousers. And the hidden side pockets are always a delight for any dress. With its loose sleeves, you can pull off this uncomplicated look in seconds.
The outfit comes in US sizes XS to L and is available in three colors:
The Linen Shirt Dress retails for $125, currently on sale for $63.
COS Maxi Pleated Dress Review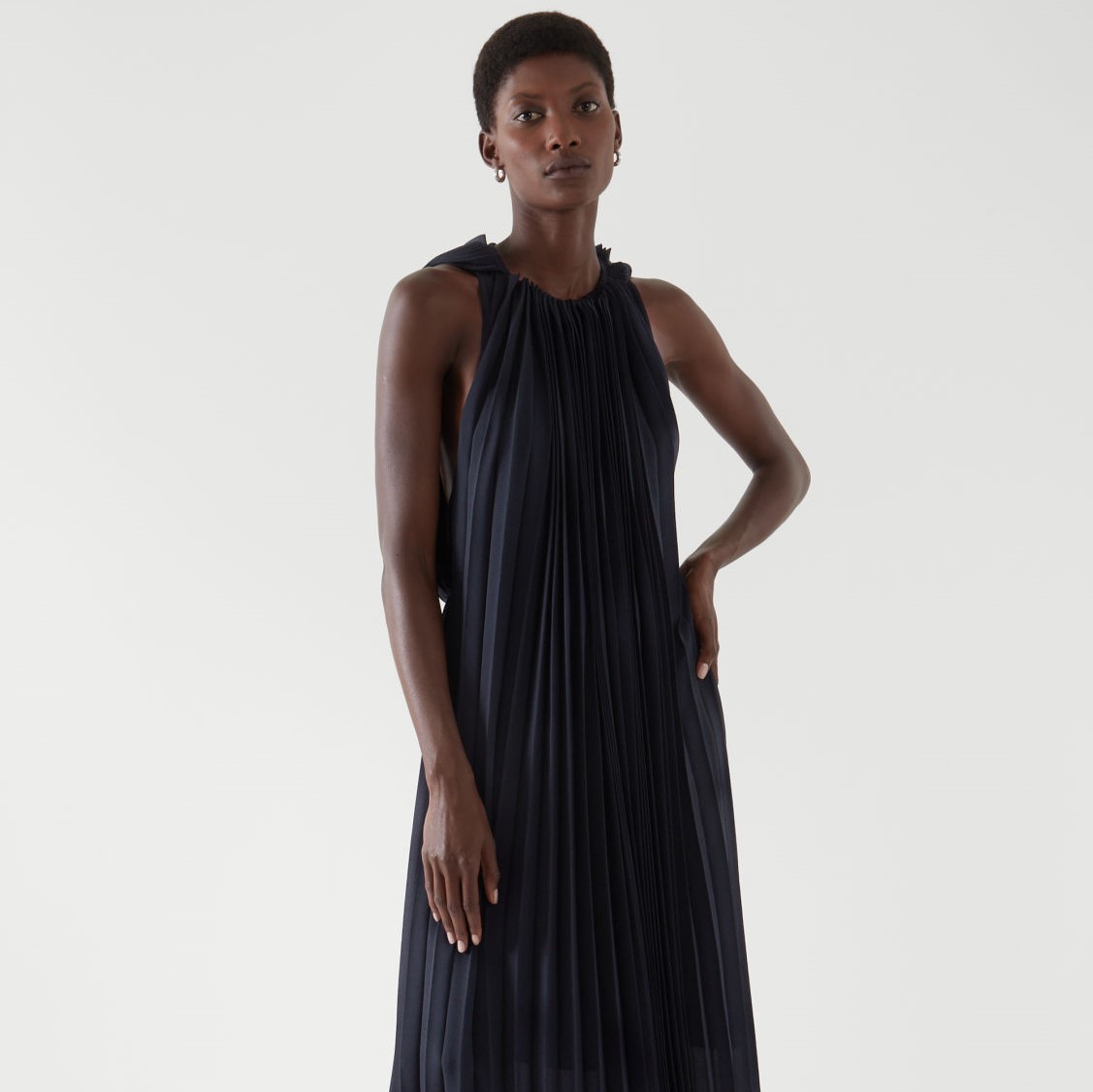 Chic. Elegant. Flattering. All of these terms can describe this Maxi Pleated Dress because it embodies everything a goddess would, and deserves, to wear.
This maxi dress has gentle pleats that start from the rounded neckline, flowing over your body to give you a fashionable look without appearing like you've spent hours on it. Nobody has time for that!
Made from recycled polyester, this dress can be worn with the cap sleeves down or thrown over your shoulders like a warrior goddess. The open slit in the back adds a hint of sexiness on top of the timeless look.
The dress comes in US sizes 2 to 12, and is available in two colors:
Navy (sold out)
Light green
The Maxi Pleated Dress retails for $175, currently on sale for $88.
COS Clothes Review
If you're not that enthusiastic about dresses, don't worry because COS clothes have everything you could possibly want, especially if you're a minimalist.
In this section of the COS clothing review, we will focus on what items are available for both women and men. As COS has a lot of inventory to go over, this review will not be looking at COS jewelry, but we do invite you to check them out under the women's section on the site.
COS Linen Vest Review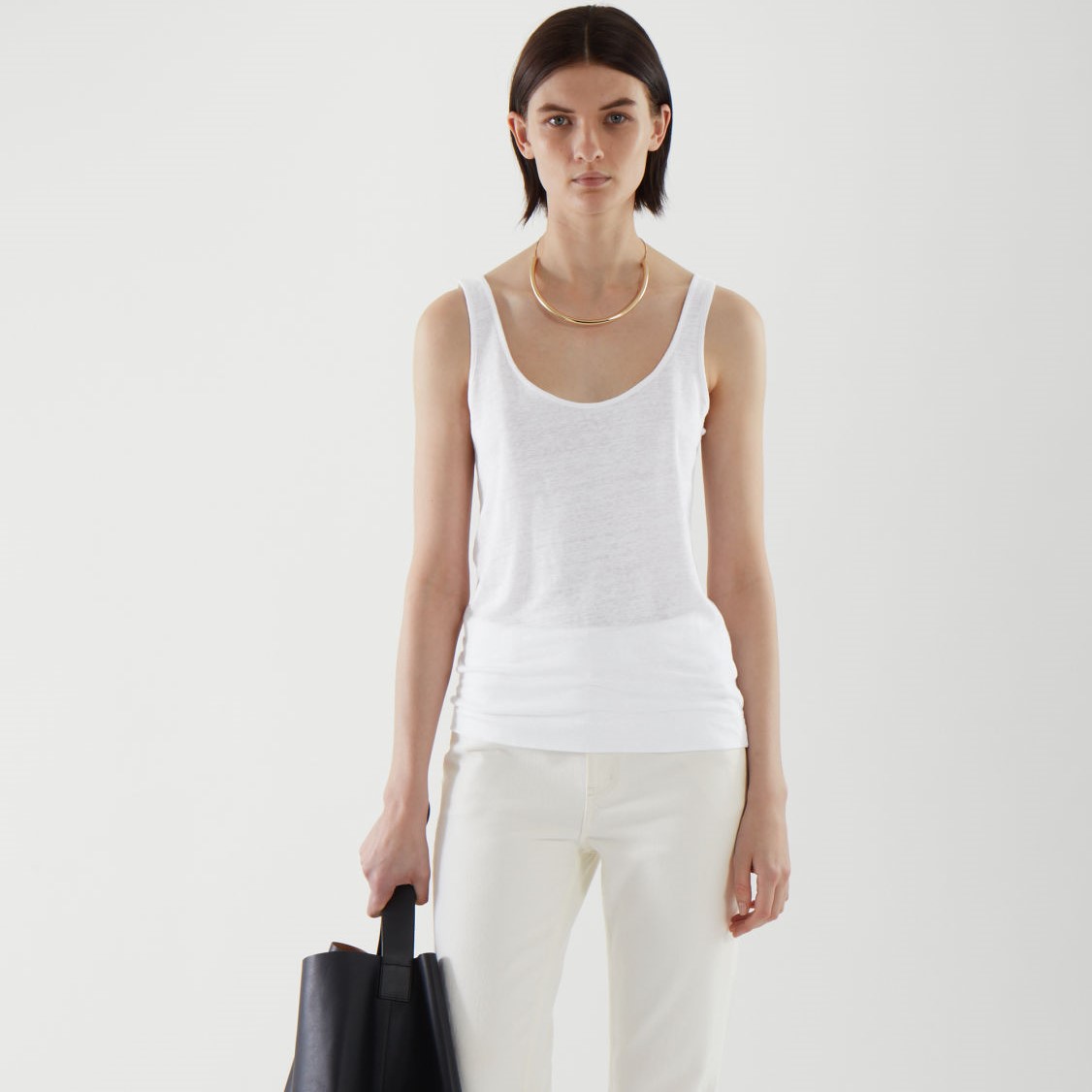 There is something to be said about COS linen vests—they look so easy and comfortable to wear. This wardrobe staple is bound to be the basis of many of your minimal looks.
Made entirely of linen, this permeable fabric will keep you cool and is easily paired with anything in the COS collection. The vest has a slightly sheer look to it so it can be layered with other items. With its tasteful neckline, you can dress it down or up, no matter where you go.
The top comes in US sizes XS to L and is available in three colors:
The COS Linen Vest retails for $25, currently on sale for $13.
COS Ribbed Mock Neck Top Review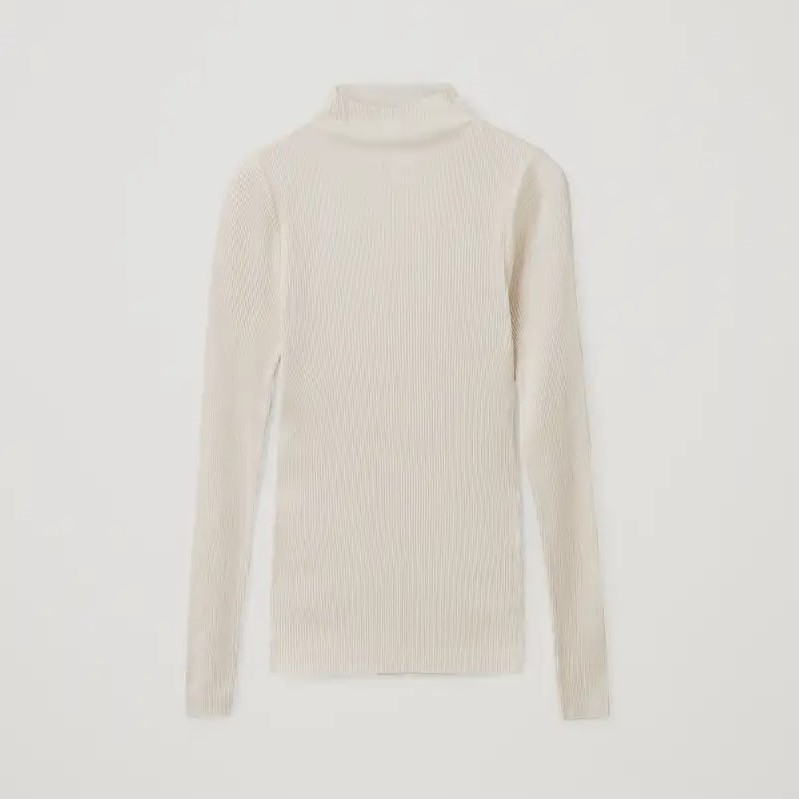 The classic top with an updated simple twist. The COS Ribbed Mock Neck Top is perfect for those chilly summer nights or layered under a thick jacket during those fall and winter months. Either way, you will look chic wearing it.
Made entirely of cotton, the mock neck top has a thinly pleated look, giving you a leaner look with its close fit. The top can be paired with jeans for a casual look or a skirt for a more professional look.
The top comes in US sizes XS/S or M/L, and is available in two colors:
The Ribbed Mock Neck Top retails for $49, currently on sale for $25.
COS Relaxed Fit Corduroy Sweatshirt Review
For those days when you need a little bit of extra warmth, COS Corduroy Sweatshirts might be right up your alley. These warm sweatshirts are great for the brisk fall days or chilly winter nights by the fire.
Made from organic cotton and polyester, this Relaxed Fit Corduroy Sweatshirt can be worn dressed up or down. No matter where you choose to wear it, you will look impeccably stylish, even if you pair it with a COS bomber jacket.
Available only in black, the sweatshirt comes in US sizes S to XXL.
The Relaxed Fit Corduroy Sweatshirt retails for $79, currently on sale for $24.
COS Cable Knit Vest Review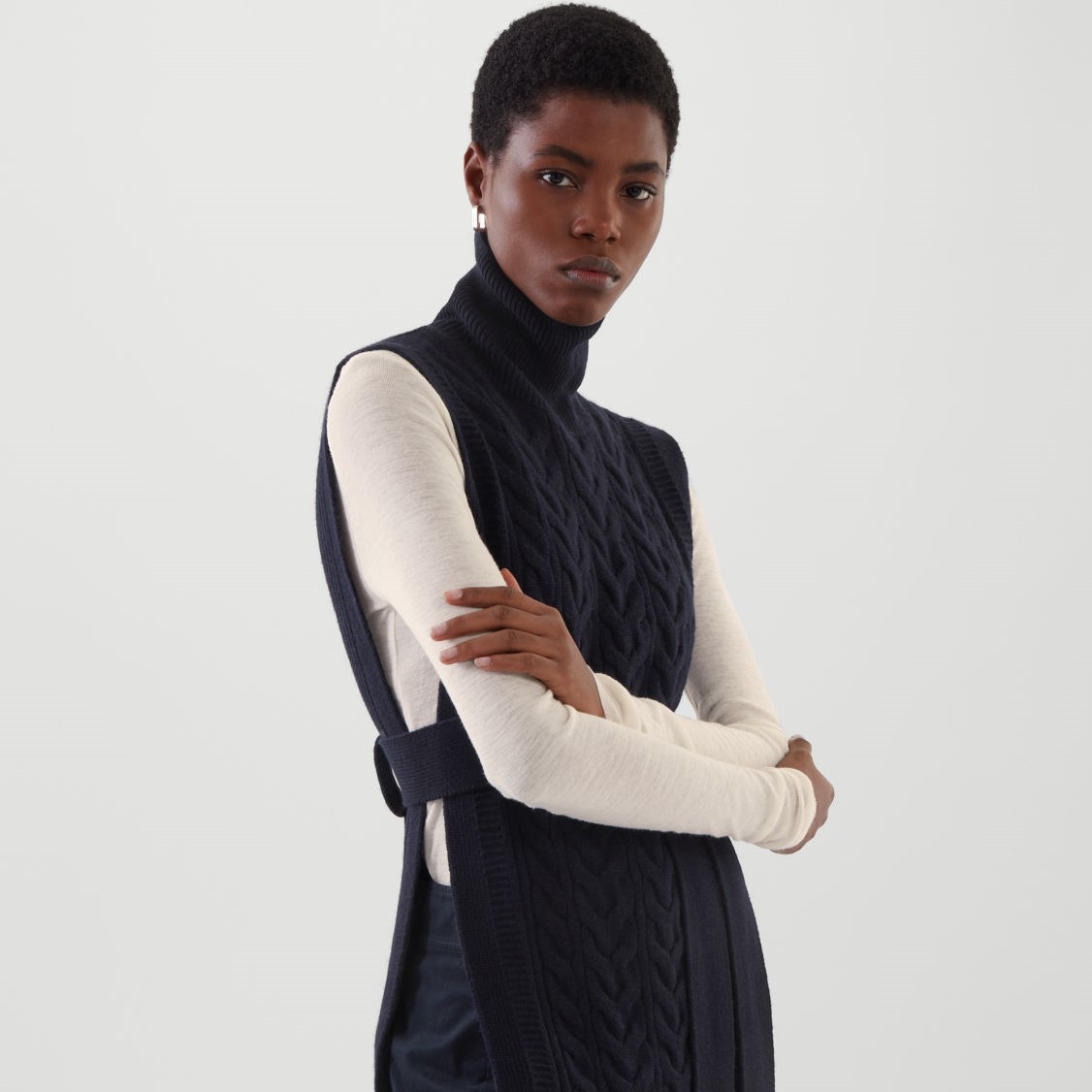 From fall to spring, knit vests can be a great way to transition you from those cold days to a warm office environment. And COS Cable Knit Vests are a great way for you to move through those chilly then super warm days.
Made from a combination of wool and yak hair, the neckline features a bit of a roll-down, giving you a relaxed look, and can be tied at the waist to display your figure in a flattering silhouette. Available only in navy, the cable knit vest comes in only one size.
The Cable Knit Vest retails for $125.
COS Shoes Review
When you have a timeless outfit on, you really don't want to pair it with the wrong type of shoes. That's why COS shoes have you covered, so you can look elegant from head to toe.
In this section of the COS clothing review, we will look at a few items in their shoe collection, ranging from sliders to trainers.
COS Leather Pointed Ballet Flats Review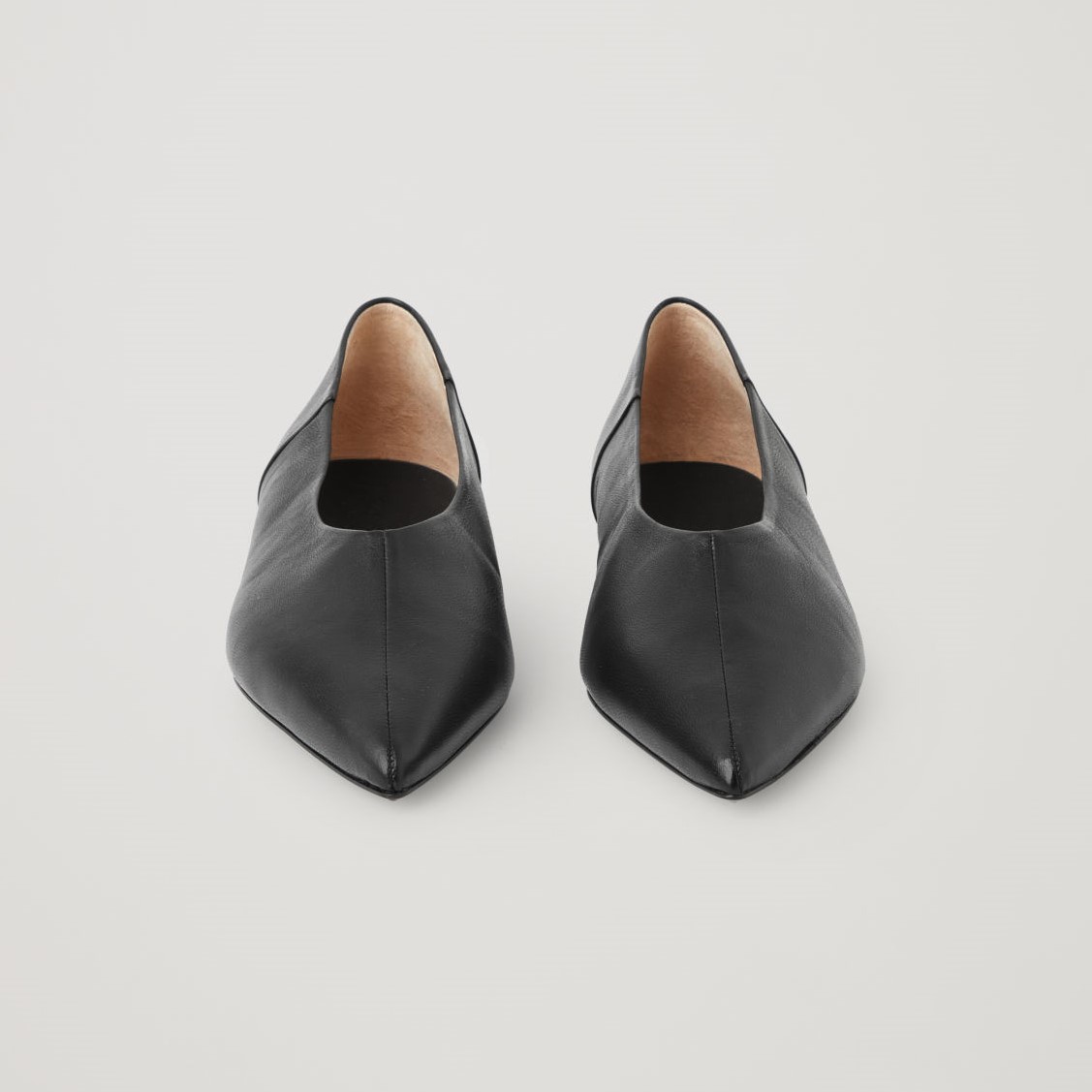 Perfect to move you through the work day to an evening out, this pair of Leather Pointed Ballet Flats are a great addition to your closet.
Made entirely from the luxurious Nappa leather, the ballet flats can live on forever in your wardrobe, easily worn with different types of outfits. Audrey Hepburn enthusiasts, you can live out your dream of embodying her elegance with this pair of shoes.
Available only in black, the flats come in US sizes 5 to 11.
The Leather Pointed Ballet Flats retail for $150.
COS Ribbed Cashmere Slippers Review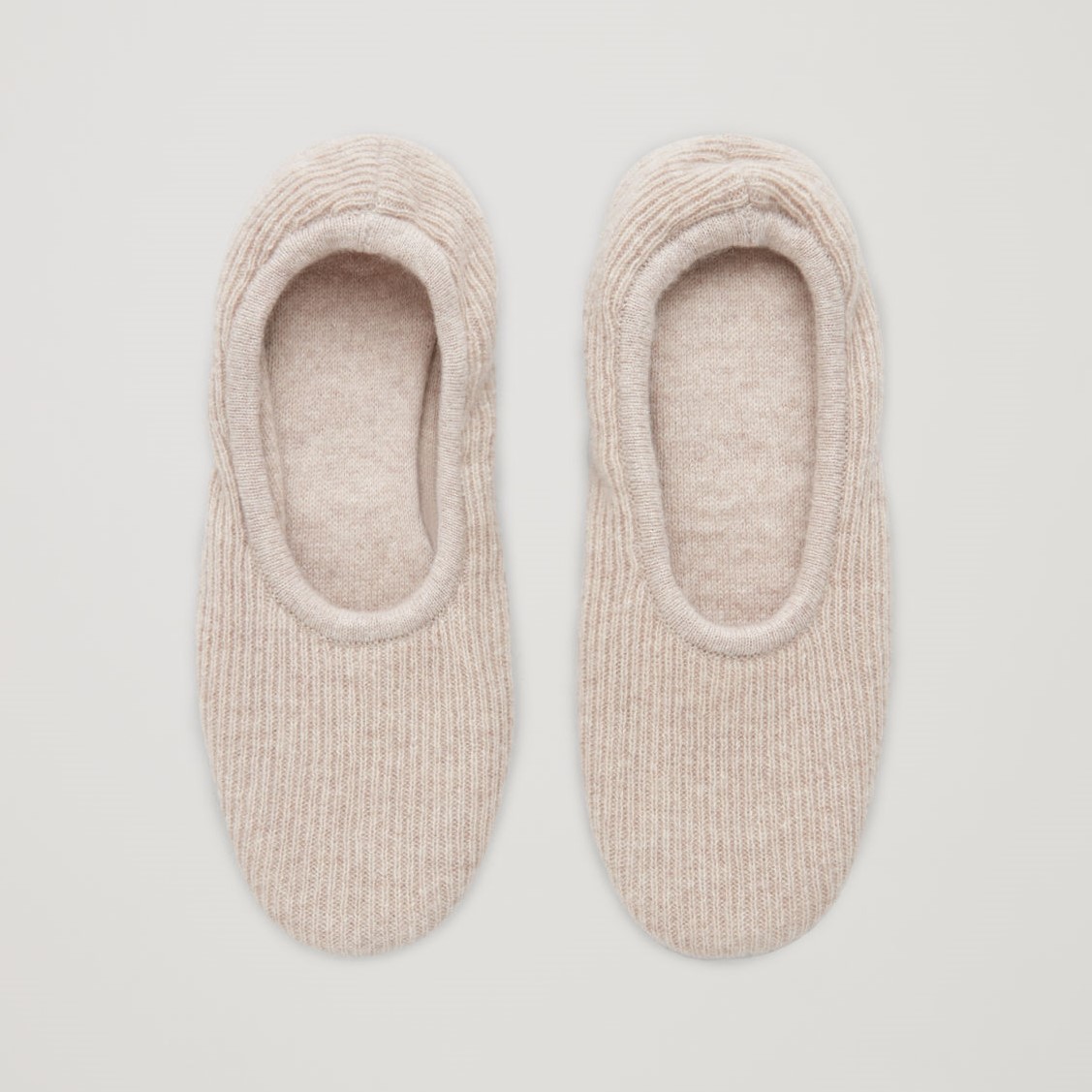 Let's be honest, when you're out running errands all day or at the office, all you want to do when you get home is to pull on a cozy pair of slippers to soothe your aching feet. And that's what the COS Ribbed Cashmere Slippers will do for you.
Made entirely from cashmere, your toes will thank you for wrapping them in such soothing fabric. But don't worry about slipping and sliding everywhere because the sole is made from leather.
Available only in beige, the slippers come in US sizes 5-6, 7-8, 9-10.
The Ribbed Cashmere Slippers retail for $89.
COS Leather Lace-Up Sneakers Review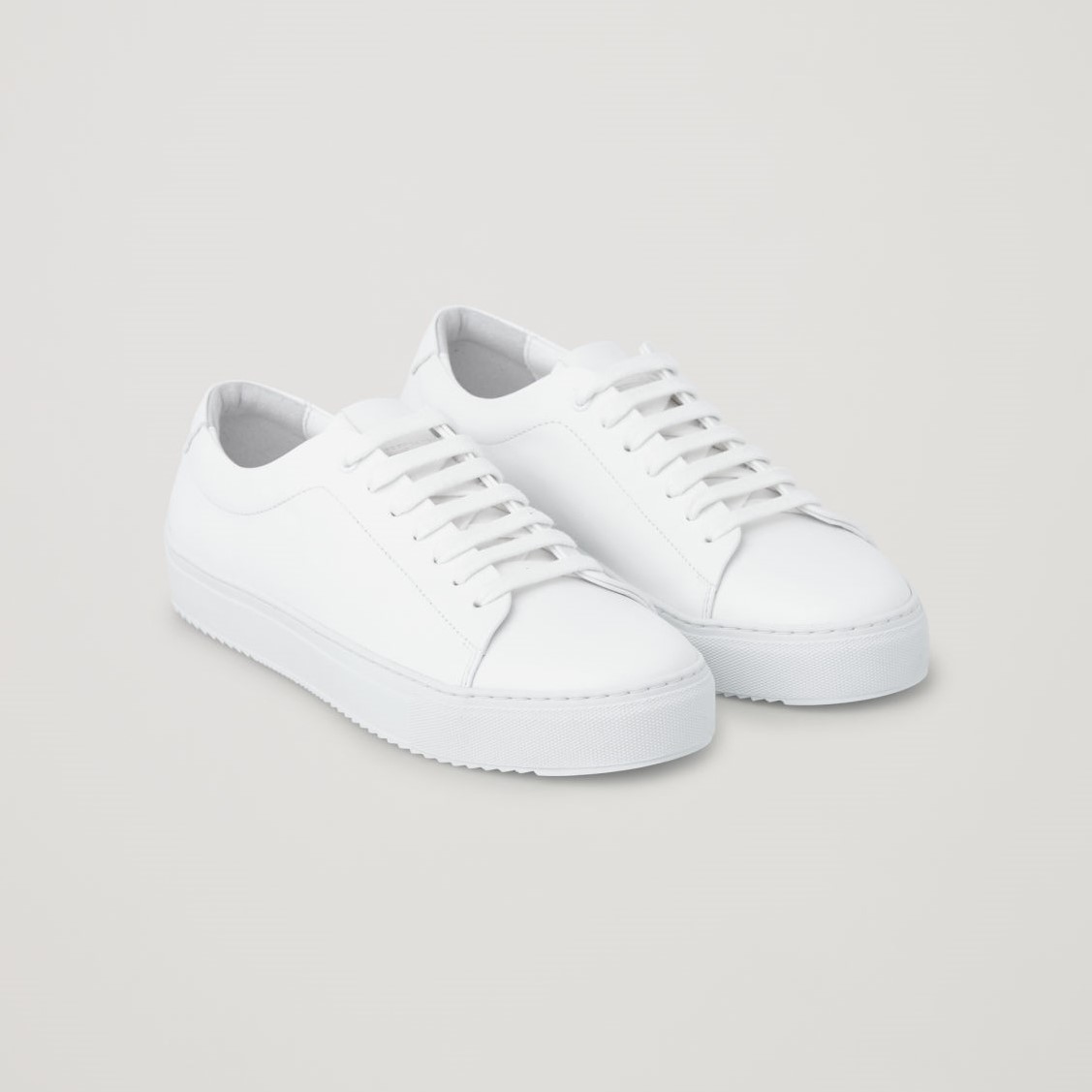 These men's sneakers will live on in your closet for years to come because the Leather Lace-Up Sneakers are a great way to carry you through the different seasons.
These sleek and unfussy shoes with extra support around the ankle will keep you running from A to B, without breaking a sweat. Made entirely of leather, the lining is fully cushioned to ensure you can walk for miles.
Available only in white, the sneakers come in US sizes:
The brand notes that the shoes do run a bit smaller so it is best to size up.
The COS Leather Lace-Up Sneakers retail for $135.
Is COS High-End?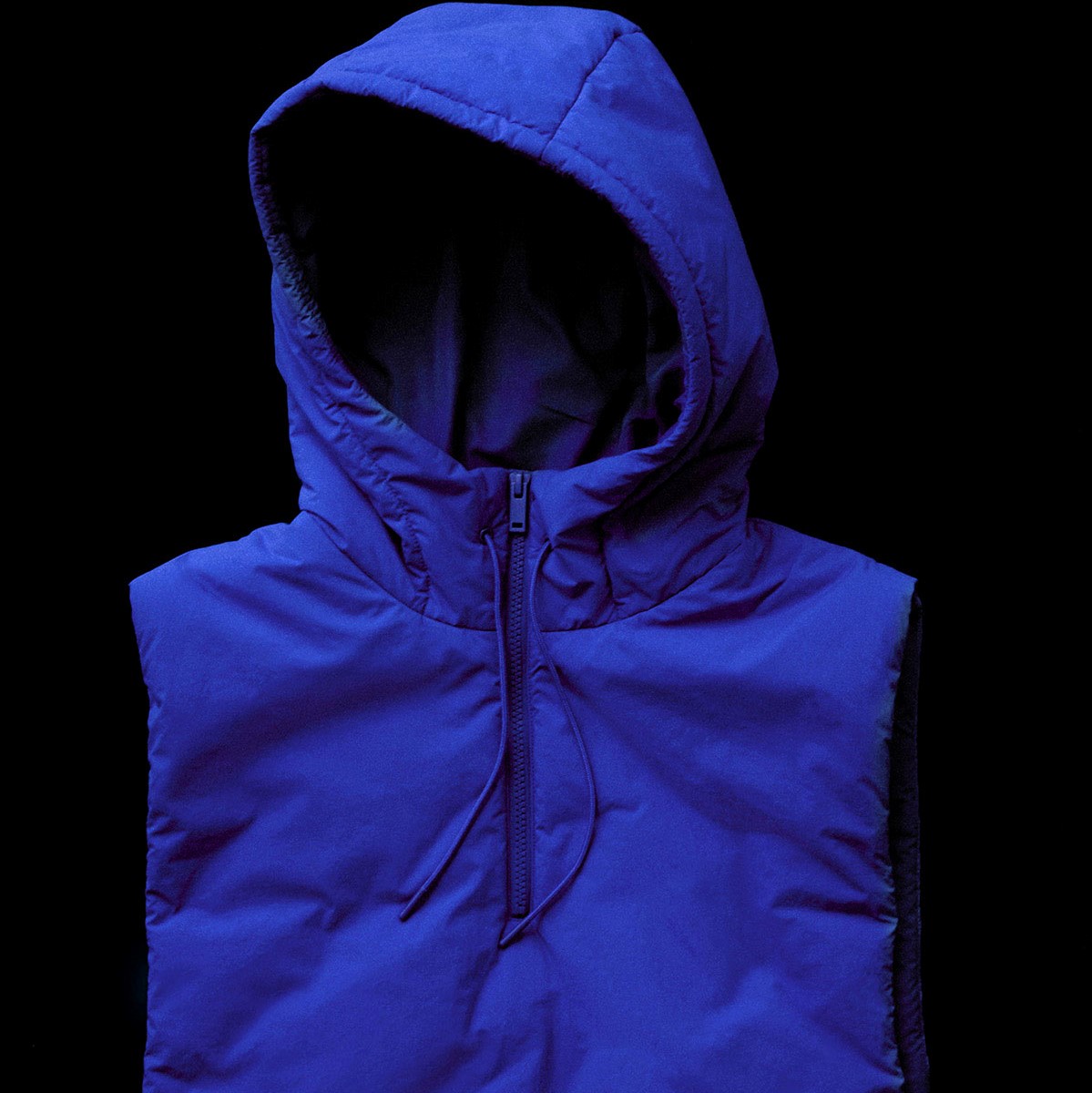 COS is a brand that focuses on quality, unlike its sister brand H&M. Though it is clearly not a luxury designer brand, it is pricier than other labels you may be familiar with.
The only high-end aspect about the brand would be in the quality they put into their products.
Is COS An Ethical Brand?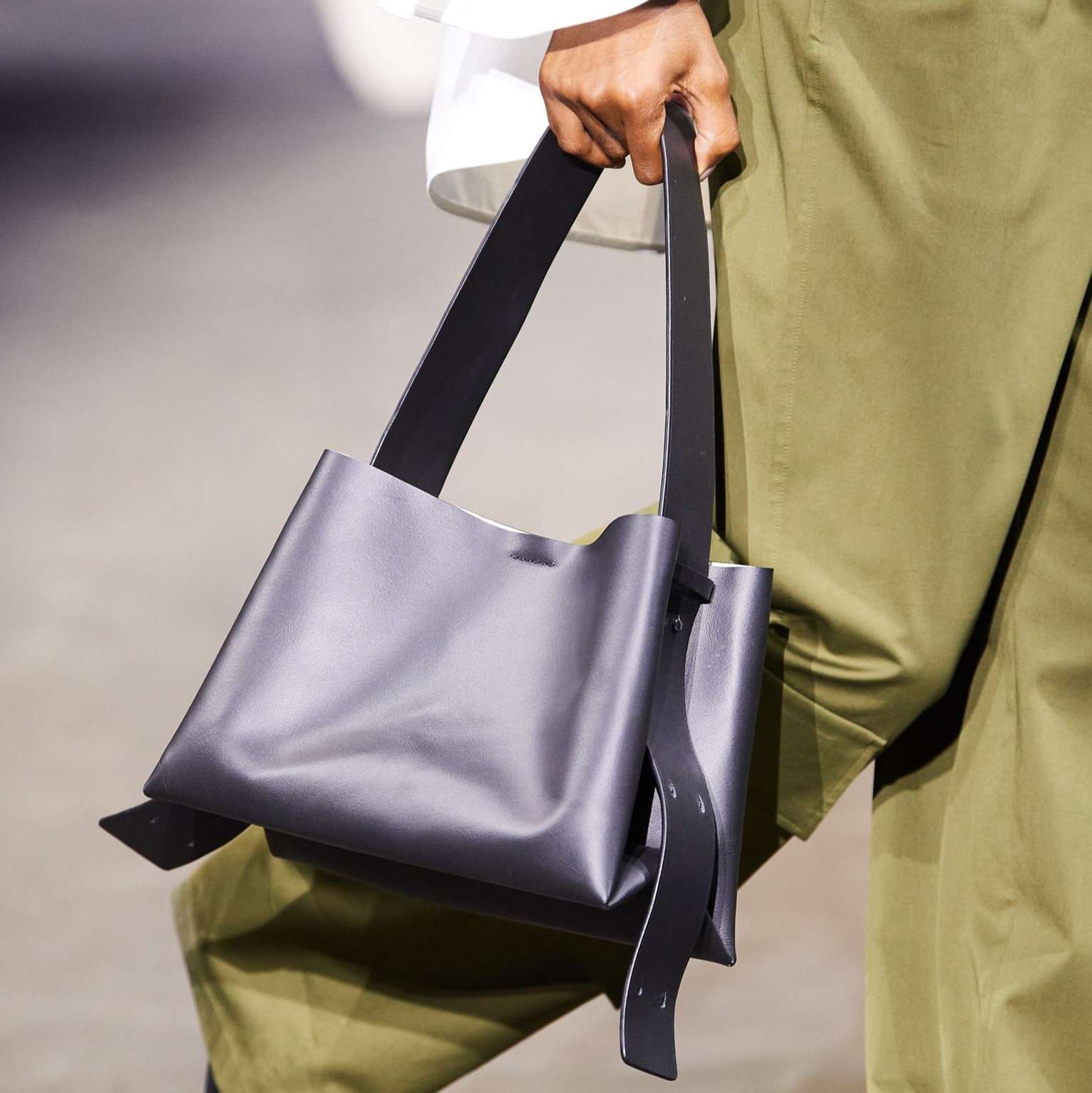 This COS clothing review found the brand does its best to find and use resources that have less of an impact on the world, which is admirable. Their goal is to be 100% sourced from environmentally-friendly and recycled materials and they are slowly, but surely, reaching it with about 86% of their items originating from sustainable resources.
Who Is COS For?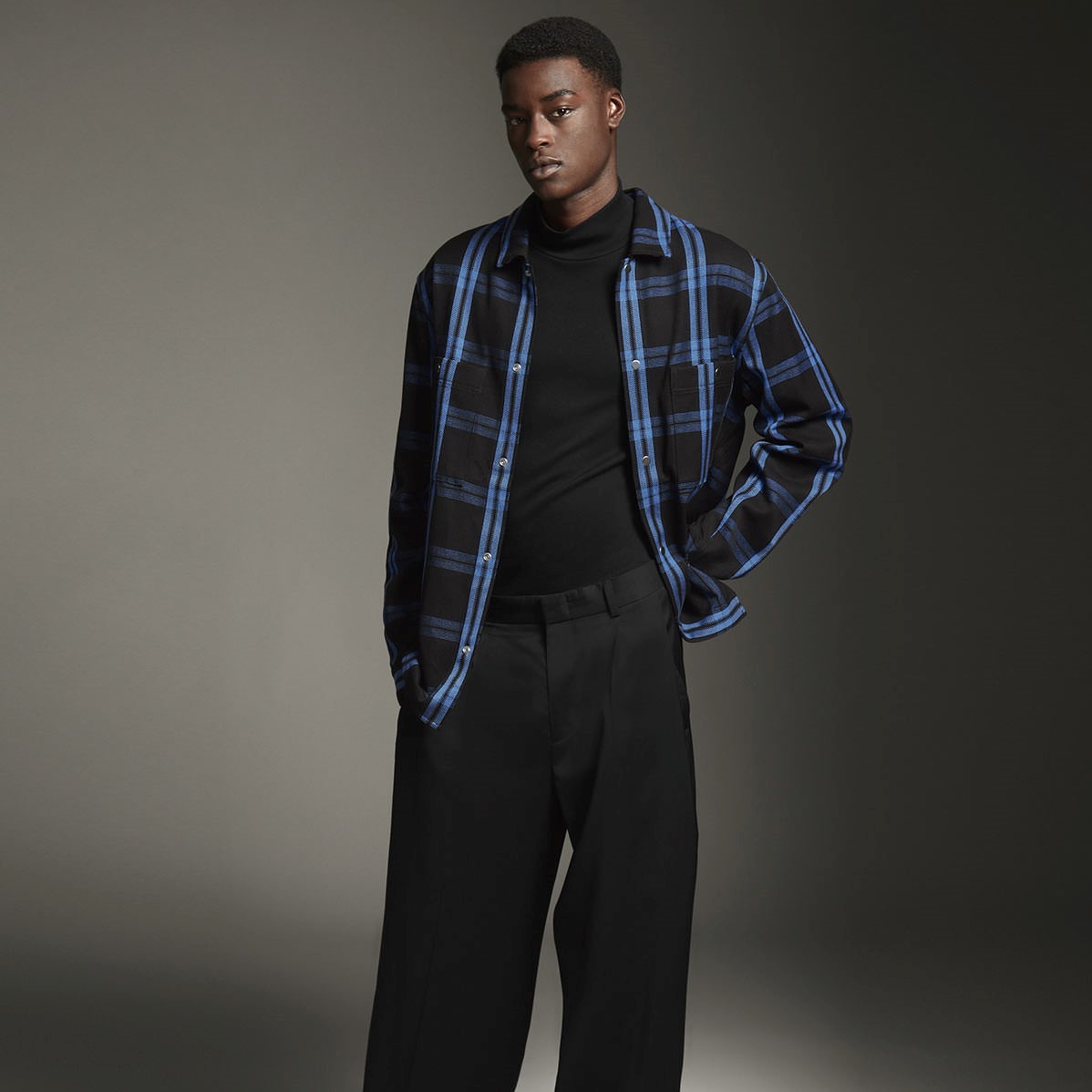 COS produces clothing for men, women, along with accessories for different occasions. This COS clothing review found the label puts an emphasis on being for anyone who prefers a minimal but stylish look.
Comparison: COS vs. OAK+FORT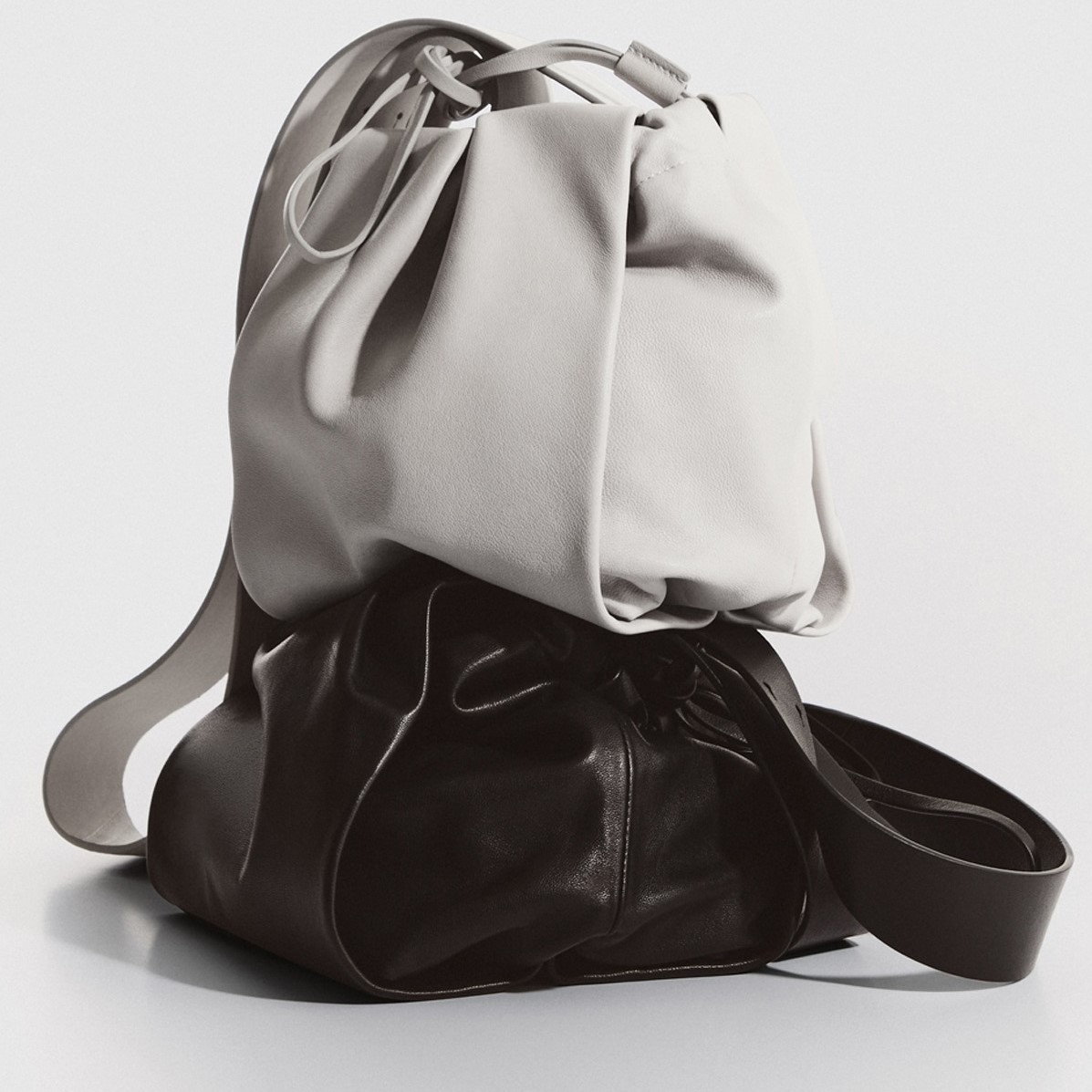 Now that you have an idea of what the brand offers, this COS clothing review will take a look at one of their competitors: OAK+FORT.
Founded in 2010 by husband and wife team, Arjuna Thiagarajah and Min Kang, the brand started as an online store only in Edmonton before quickly gaining a
dmirers. Today, the brand has expanded, with many customers loving their contemporary and sleek designs for men, women, jewelry, housewares, and beauty.
Though OAK+FORT is still growing, they clearly do not have the amount of in-person retailers that COS has. Both companies are big on sustainability, with OAK+FORT using recycled fabric and eco-friendly viscose in their clothing.
In terms of pricing, the OAK+FORT Midi Slip Dress is made entirely from polyester and retails for $68, while the COS Jersey Midi Slip Dress is composed of organic cotton and sells for $99, currently on sale for $50.
There may be exceptions, but it seems as though COS is the pricier option. If you are still curious about what OAK+FORT offers, then check out our full OAK+FORT Clothing Review.
COS Reviews: What Do Customers Think?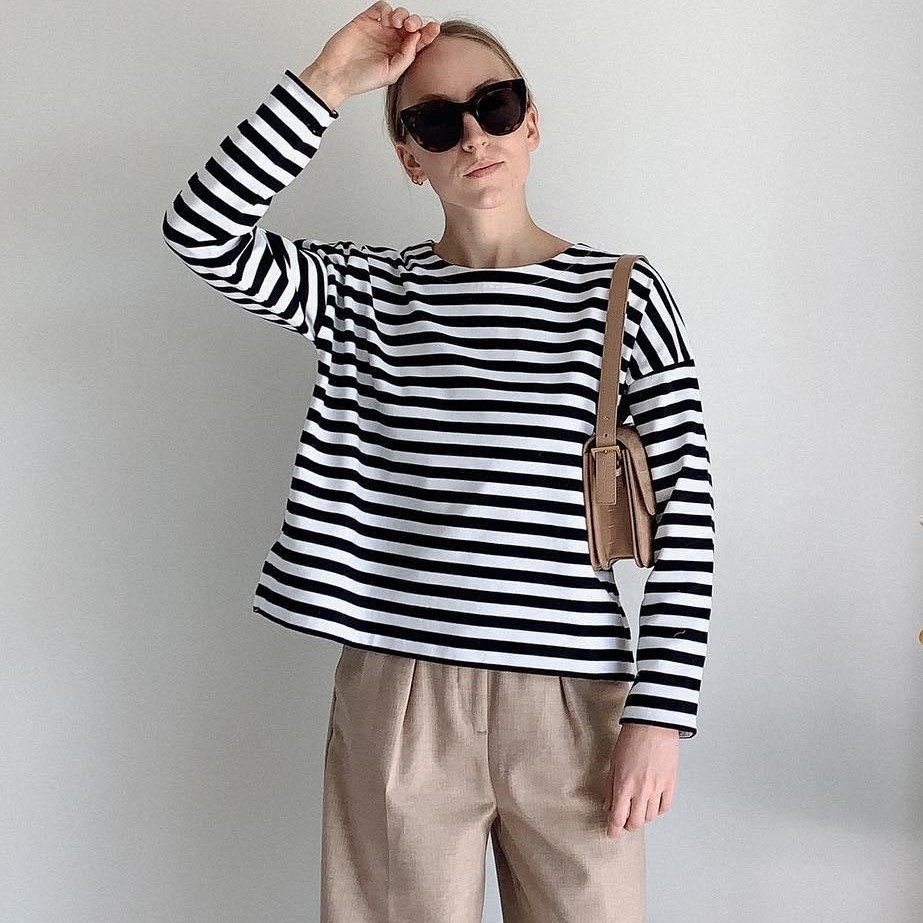 In this section of the COS clothing review, we will go behind-the-scenes and show you what their customers really think.
On Trustpilot, Faxon writes, "I am an older woman who enjoys dressing well/ fashionably in quality clothes that last, so I avoid fast-fashion. At this point I can't speak to the longevity of the clothes, but at first glance they are much better quality and fit than Zara and other fast fashion I bought and immediately returned."
And Imogen T. agrees, stating, "Great quality and good sales. Love all the clothes I have got from cos, timeless design and they wear very well."
A positive review on Reviews.io remarks, "Purchased a gorgeous tote bag for hols – can use as beach bag or clutch. Fast delivery. Very happy." Along with, "Perfect for a gift for my mother, lovely collection and they tastefully wrap the items in tissue paper to give a luxurious feel to the gift."
Even Gareth L. on Sitejabber is happy with what he purchased, commenting, "It's basically the best combination of quality and value you can get these days. The clothes are great and the prices are reasonable. Delivery could be faster…"
Is COS Worth It?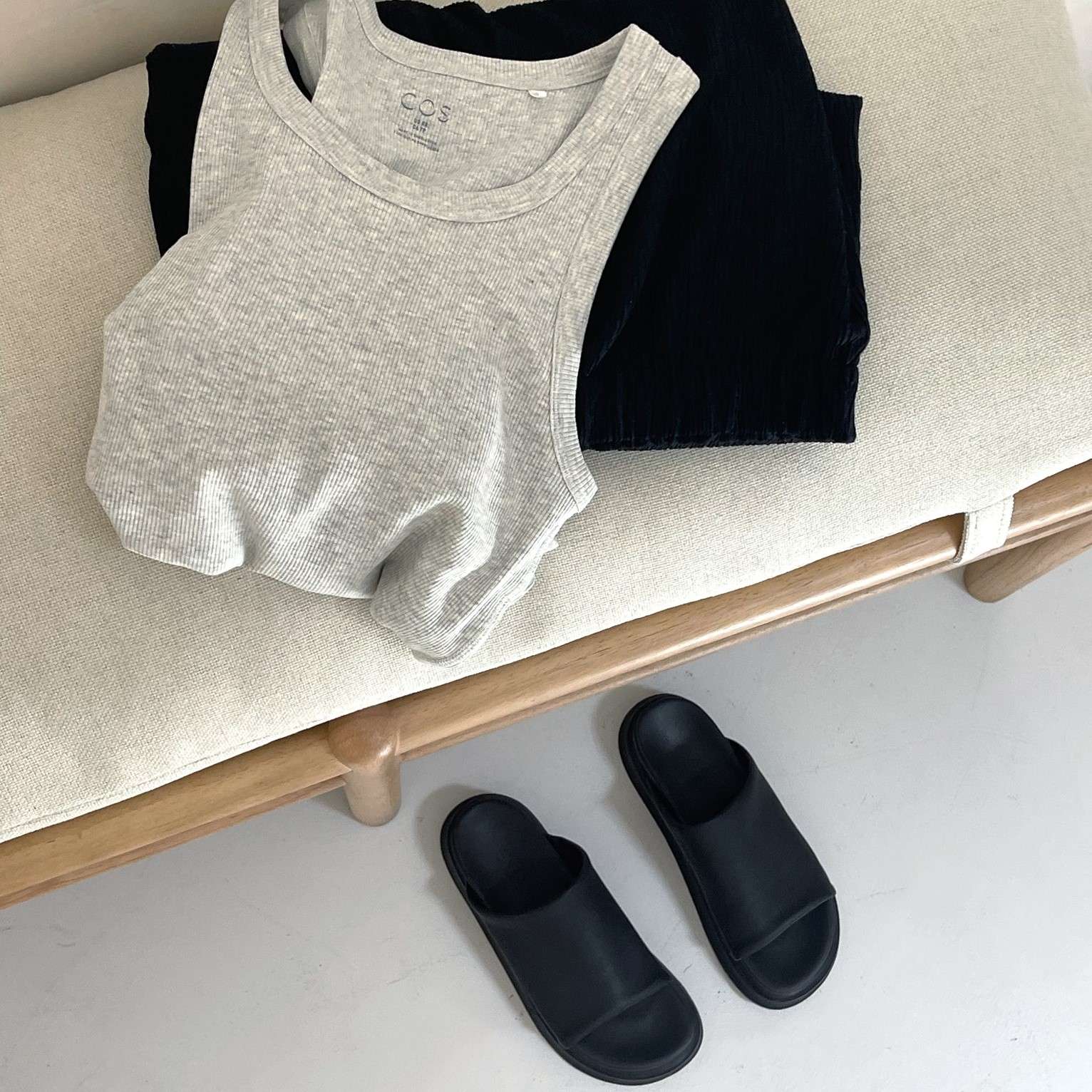 COS is pricey, but their products are high quality. Their shipping and return policies are fair and generous, and their brand is ethical and aiming to get better year-by-year. Their clothes look cool, contemporary, and high-fashion, and they are priced reasonably for how they appear. Plus these are all staples that will last you beyond the current season.
COS Promotions & Discounts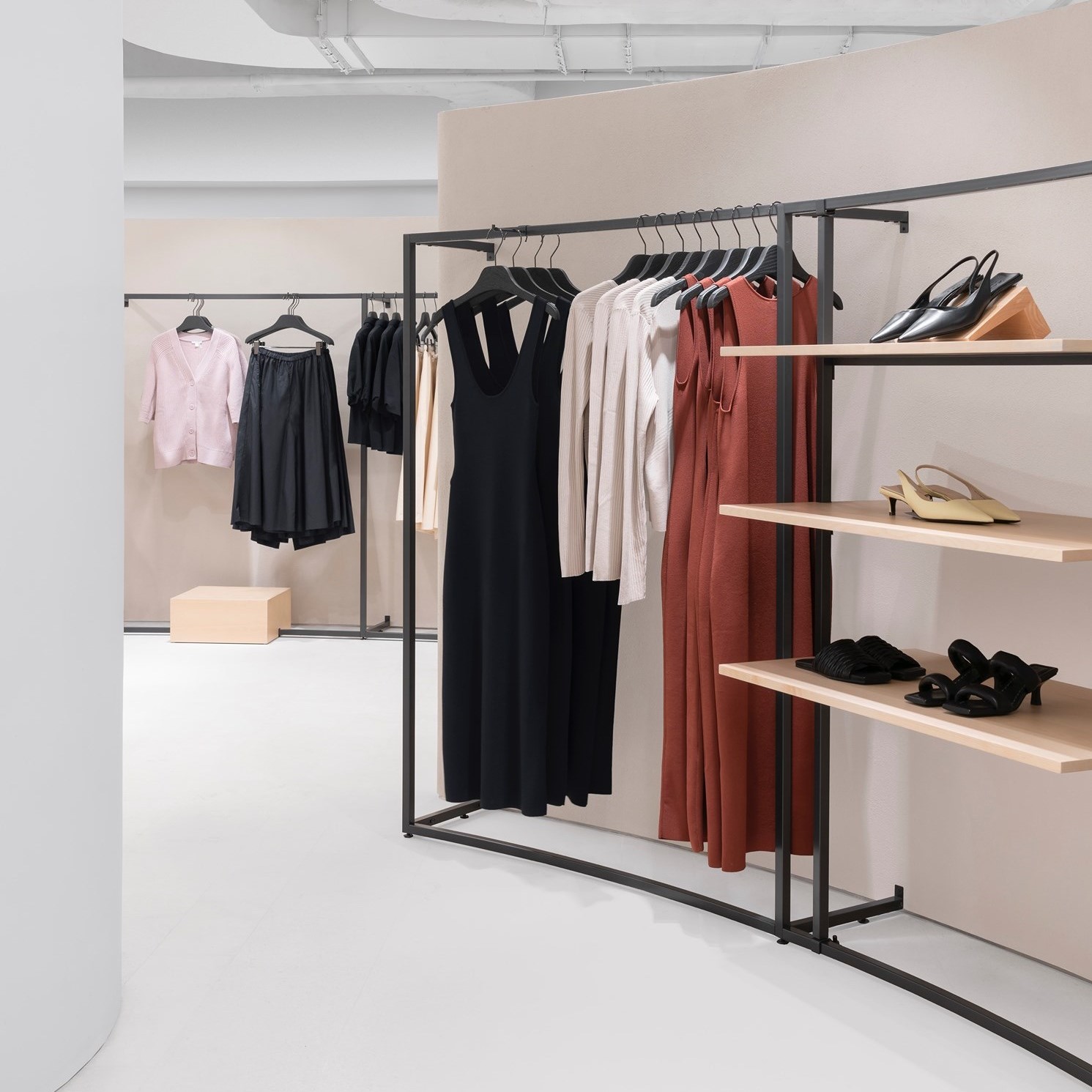 This COS clothing review found the brand offers two ways to save:
The first is through new subscribership where if you register, you can get 15% off of your first order.
The second is through a student discount, which you can claim by doing the following:
Register on the COS Student Beans website.
Verify your student card to get your discount code.
Check out the online shop.
Enter your discount code at checkout for 10% off.
Otherwise, you can find great deals in the COS sale section for both men and women under their respective dropdown menus.
Where to Buy COS
COS products are sold on their website and their retail locations, which can be found in several countries across the globe. You can locate a store near you using their store locator tool. To use it, input the country you are shopping in and watch for the little icons on the map. Click on one of them to get the exact address information.
FAQ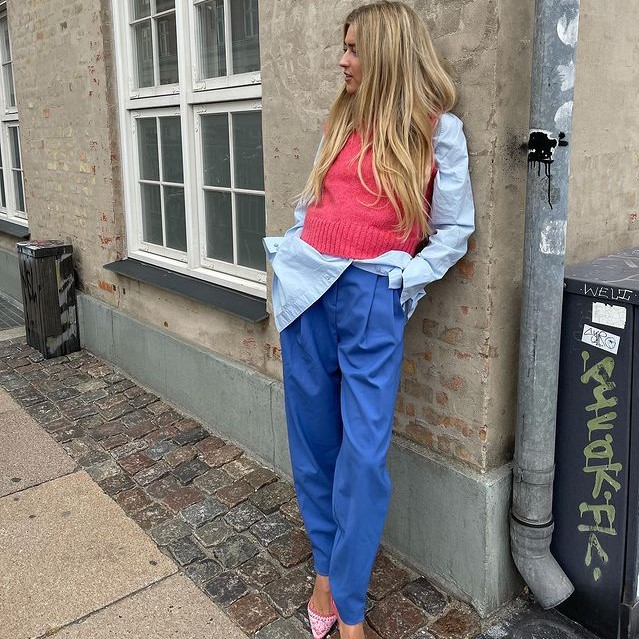 Where is COS shipped from?
The company's Tilburg warehouse (in the Netherlands) handles their shipping. Different locations can be found on the drop-down list in the top right-hand corner of their web page where you can specify your country.
Where is COS made?
Due to COS' ethical code, they work with 60 different manufacturers throughout Europe and Asia, all of whom have to abide by the brand's procedures.
Do COS clothes come up small?
COS clothing runs true to size, and there are several clothing options that have a looser fit, but are still very stylish. If you want specific information on sizing, check their size guide here.
What is COS' Shipping Policy?
To get specific information about shipments for each country, change the country to match your current location at the top right of the web page. This is the shipping information for the US:
Standard Delivery: $6 / Free over $140 (1-6 business days)
Express Delivery: $20 (1-2 business days)
They can deliver to all US states, with the exception of P.O. boxes, army/fleet/diplomatic post offices, or US Territories.
What is COS' Return Policy?
COS gives you up to a 30-day window from your order date to return the item for a full refund. As with many brands, the items you're returning have to be in their original condition. Any items that deal with personal hygiene (i.e. pierced jewelry or underwear) cannot be returned. Swimwear and bodysuits have to have their sanitary strip in place.
Final sale items cannot be returned.
How to Contact COS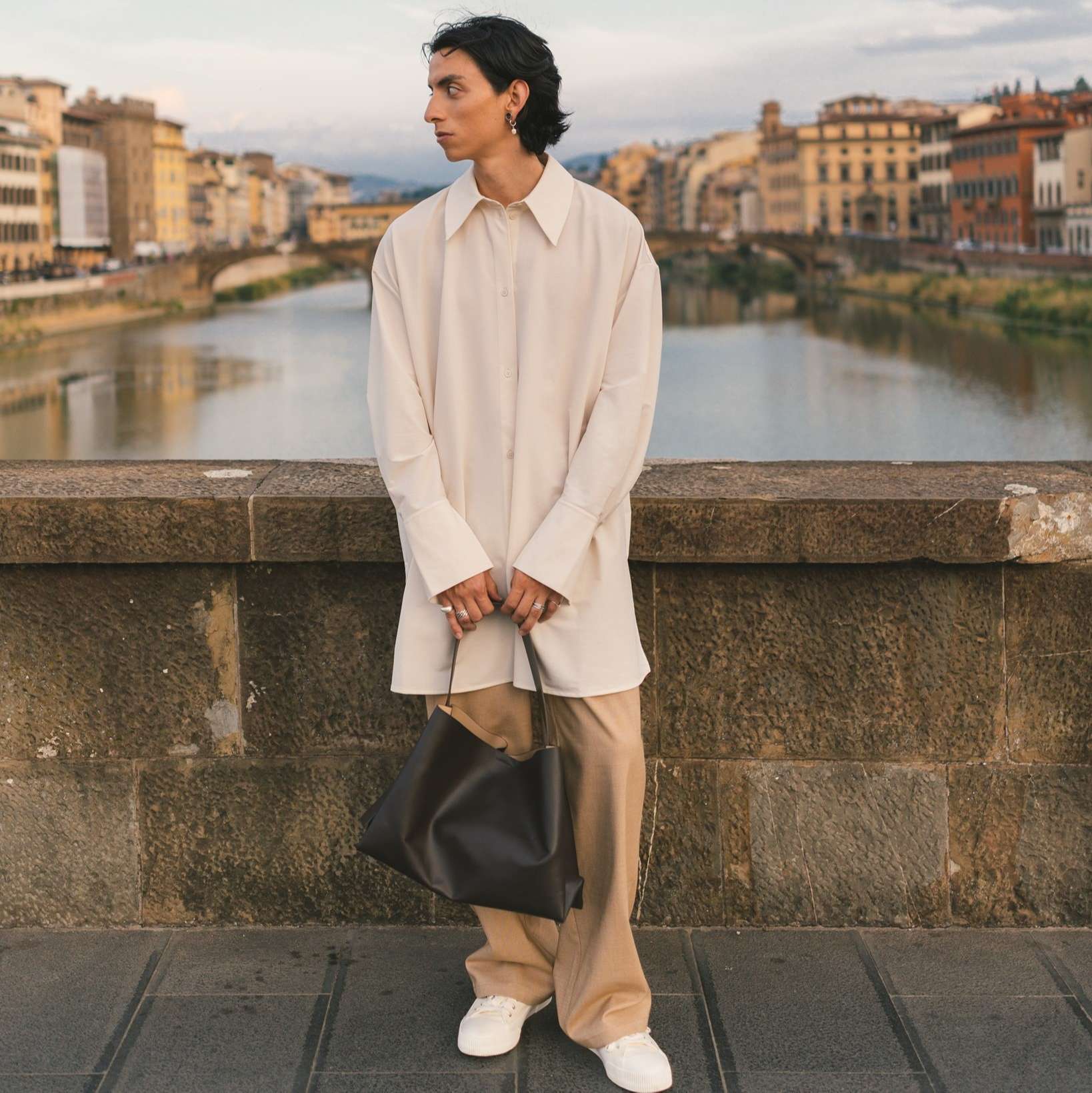 There are a few ways to contact COS:
Live chat on their website
Phone: 1-855-842-1818
Facebook Messenger
Their hours of operation are from Monday to Sunday, between 9 am to 10 pm EST.