I have been using their products for decades and just quietly, I think that my skin is the best possible version of itself. I fully attribute these incredible skin results to the high quality ingredients, research and innovation that goes into their cult classics such as the Advanced Night Repair serum and Estee Lauder Double Wear Foundation.
So, when Glenda, our Estee Lauder expert recommended I try some of the Estee Lauder Re-Nutriv products to take my skin to the next level, my first reaction was to scoff.
Then curiosity got the better of me, because Glenda's advice has always been spot on for each age and stage of my life. After all, Glenda has guided my skin care for the past 13 years, from my 20s, through to now, into my 40s. So basically, when Glenda talks, I listen.
What is Estee Lauder Re-Nutriv?
Re-Nutriv is Estee Lauder's prestige range of skin care and makeup.
It combines the world's rarest ingredients such as peridot stone, black diamond truffle extract and  Himalayan Gentian flower with cutting edge technology to deliver products that transform your skin.
What makes Re-Nutriv so special?
Like all the finer things in life, the making of the Re Nutriv products is not rushed.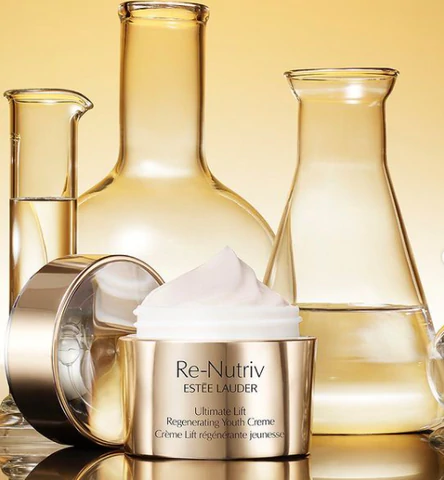 Nature is left to work its magic over time. For example, the hero ingredient, Black Diamond Truffles in the Ultimate Diamond range, are grown for 10,000 hours. When the time is right, they are harvested by hand, in Southwestern France.
The energy and alchemy of nature is also found in the Ultimate Lift products within the Re Nutriv range. These products feature the extract of the exquisite Himalayan Gentian flower. In spite of the harsh climate of the Himalayan mountains, the remarkable Gentian flower is able to regenerate each year. When the wild plants mature, their stem turns magenta, signalling that hand-harvesting can begin. The Himalayan Gentian extract boosts protein in the skin and helps to strengthen the skin against environmental aggressors.
Here is my the Estee Lauder Re-Nutriv range review
I'm going to be honest. I didn't want to love the Estee Lauder Re-Nutriv range of products because they are more expensive than what I have been using and I now have life privileges such as a mortgage and children to put first.
On the other hand, I was curious to see how the Re-Nutriv range compares to other gold standard Estee Lauder products that I'm currently using.
Let's run through my thoughts on each product.
1. Estee Lauder Re Nutriv Foundation Review
I take care of my skin and because of this, I don't feel the need to cover it up with a thick, mask-like foundation.
I want the foundation that I wear to add radiance and luminosity to my skin. It needs to even out my skin tone (thank you pigmentation). It must also have a fresh, dewy finish. Of course, I also want it to feel divine to wear, while staying in place all day.
Yes, I demand quite a lot.
Immediately, the Estee Lauder Re Nutriv Ultra Radiance Liquid Makeup hooked me in with the first pump.
The consistency of this foundation is similar to whipped cream and on application, it reminded me of the luxurious feeling of cashmere against the skin.
Personally, I love to elevate every day rituals and I love to find what feels good.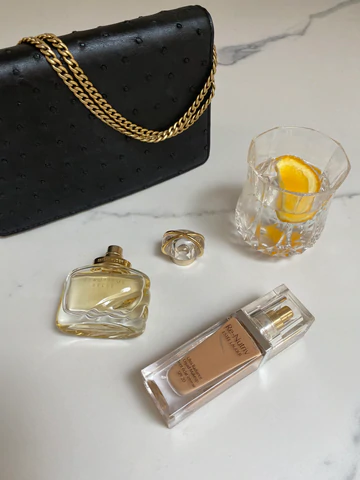 Wearing a foundation that feels luxurious on the skin is an achievable way for me to incorporate a touch of luxury into my daily self care routine and not just on special occasions.
As I said, I was really hoping not to love this foundation because of the price point. However, I really, really love it.
Does it apply evenly?
Yes, the Re Nutriv Ultra Radiance Liquid Makeup applies oh-so-evenly. It is silky smooth in texture and glides over the skin beautifully.
It feels incredibly light to wear and adds a phenomenal radiance and glow to the skin. Estee Lauder conclude that this results from the Peridot stones in the formulation.
I instantly notice that my skin looks plumper (hello younger looking skin) and it almost looks like I have applied a soft focus filter to my face in real life. My skin tone is even and it really does look radiant and flawless.
The coverage is medium, but can easily be built up to full coverage by using a little more.
How does it last through the day?
This foundation feels extraordinary to wear. All Day Long.
I wore it to work (I double as a hospital pharmacist). Even after a full shift with a mask on, the Estee Lauder Re Nutriv foundation did not smudge, nor did it dry out my skin or settle into any creases. It still felt lightweight and comfortable on my skin after 8 hours in a temperature controlled environment.
Up until now, Double Wear has been my gold standard foundation, but I now have to say that I have a new favourite.
How good is the shade selection?
I love that Estee Lauder remain consistent with naming their shades, making it easy to colour match across their different makeup ranges.
If you're not familiar with Estee Lauder's naming convention, there is a number followed by a letter on their foundations. This makes it easier to select a shade. C is for cool-toned, N is for neutral-tones and W is for warm-toned.
Is Estee Lauder Re Nutriv Foundation worth the money?
Yes. Estee Lauder Re Nutriv foundation is worth the money. It exceeds my expectations with its divine finish on the skin and it felt like a luxury to wear.
Sure, it is more expensive than other Estee Lauder foundations, however the results are exceptional. Also, a little bit goes a long way. I just used one pump to cover my face.
I always apply foundation with my fingers as this saves time and also prevents product from being absorbed into a sponge or brush.
However, don't just take my word for it. You can read the Estee Lauder Re Nutriv foundation reviews left by some of our customers here.
2. Estee Lauder Re Nutriv Moisturiser Review
The Re Nutriv Ultimate Lift Age Correcting Creme boastfully claims to boost the skin's natural collagen. Firstly, this means that your skin looks younger and feels firmer. Secondly, it also re-densifies the skin. This means that it addresses the thinning of the skin, which causes loss of facial contours, wrinkles and drying out the skin. Finally, this ultra rich cream promises to give dry and dehydrated skin a serious boost of hydration.
Along with the multi-patented Contour Lifting Technologies, the secret ingredient in this rich cream is the repair serum that is infused throughout it as well as the patented Life Re-Newing Molecules™.
However, science and advertising aside, I can hand on my heart say that the Estee Lauder Re Nutriv Ultimate Lift Age Correcting Creme does everything it says that it will.
Day & Night: Best moisturiser for mature skin
This is not your average face moisturiser.
It is a Super Cream and it took my skin To The Next Level.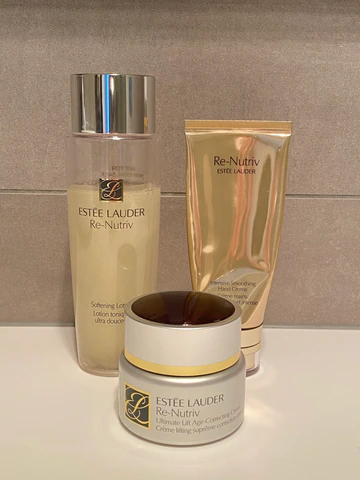 This deliciously rich cream visibly renewed my skin from the very first application. I thought my skin was already reasonably good before using this moisturiser.
However, after using this moisturiser for just a few days, I noticed that my skin went from being reasonably good to AMAZING.
My skin feels so smooth and soft all day. This is usually a fleeting feeling for those of us with dry skin. My skin also looks super healthy and radiant. So much so, that I actually find myself skipping the foundation day-to-day now that I'm using this hero moisturiser. Let me say that again, as I can't quite believe it myself. I have not worn foundation during the day after changing to this moisturiser. That's how much better my skin looks now.
I use this cream twice a day, as recommended. This isn't hard to adhere to as it is the ultimate indulgence to use such a rich cream.  It is such a lovely, lovely form of self care. And a ritual that I don't have to share with any one else in my household.
Luxury and authenticity converge
I embrace minimalism. However, I also love to take care of myself. I do this by only buying things that I truly love, value and appreciate.
Based on this philosophy, I have a tendency to dislike gift giving occasions as it is an opportunity for clutter to creep in. This year, I plan on putting the Estee Lauder Re Nutriv Ultimate Lift Age Correcting Creme on my Christmas wish list. This makes it easier for family to contribute to a gift that they know I will love, use and appreciate.
3. Estee Lauder Re Nutriv Serum Review
Our age shows around our eyes.
The skin on the outer corner of our eyes is much thinner than the skin on the rest of our face and as a result of this, is more prone to laxity. This makes your eyes more vulnerable to fine lines and wrinkles as the skin becomes loser and thinner.
I know that this sounds full of doom and gloom, however, it is possible to repair the skin surrounding the eyes and to prevent future damage with high quality eye creams and serums.
What does an eye serum do?
An eye serum is a skin care product that is packed with active ingredients.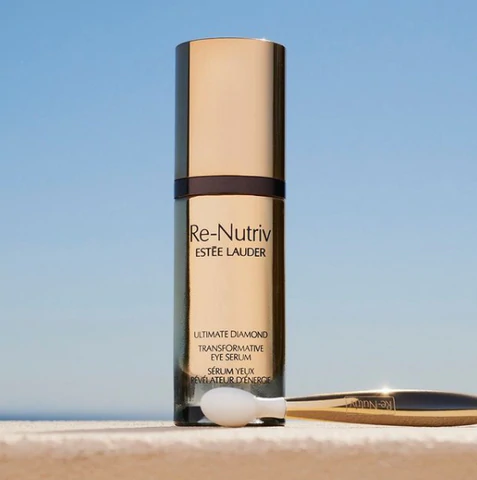 Its lightweight formulation allows it to penetrate deep into the skin and deliver these active ingredients where they are most effective.
A great eye serum will deliver ingredients that address the key signs of ageing: fine lines, wrinkles and dark circles, while also providing hydration to the delicate eye area.
Hands down, the best under eye serum for dark circles and wrinkles
I'm naturally prone to under eye bags and dark circles. After just a few days of using this lightweight serum, the skin under my eyes looked lighter, brighter and less puffy.
I am actually blown away by the results. There are so many eye creams and serums that claim to be anti-aging. However, none have transformed and brightened my eyes as much as the Estee Lauder Re-Nutriv Ultimate Diamond Transformative Eye Serum.
The pharmacist in me wants to understand how this eye serum is so effective. So naturally, I did a little a research.
Estee Lauder scientists are studying epigenetics which is how our genes are influenced by the environment and how this affects ageing.
By understanding what's occurring naturally in the skin, they are able to develop powerful skin care that can support repair and slow down the ageing process.
Through their research, Estee Lauder scientists discovered that Black Diamond Truffle extract helps boost the skin's Adenosine Triphosphate (a co-enzyme that carries energy within cells), which in turn assists with collagen and elastin production.
In other words, this ultra light and powerful serum not only visibly transforms my tired and puffy eyes. With continuing use, it will also visibly reduce the fine lines and delay the onset of wrinkles around the delicate eye area. It does this by firming and tightening the skin under my eyes, giving it a non-surgical eye lift.
Thank you Estee Lauder for your science-backed research and technology.
This luxurious eye serum comes with a sculpted ceramic eye wand which totally elevates the experience of applying this luxurious serum.
This serum works beautifully on its own, or under your favourite Estee Lauder eye cream.
4. Estee Lauder Re Nutriv Diamond Review
Oh my!
This eye cream is absolute heaven to use. Similarly, this Estee Lauder Re Nutriv Ultimate Diamond Eye Cream review is an absolute joy to write, because I love love love this eye cream. I don't say this lightly. I've tried many eye creams before and have been disappointed that the results don't match the manufacturer's claims.
If like me, dark circles or puffy eyes are regular features on your face, you will love the transformative power of this rich, luxurious eye cream.
This divine eye cream comes with a faceted massage wand which adds to the luxury experience. Gently roll the wand from the inner to outer corner of your eye to stimulate the skin to repair itself and increase micro-circulation.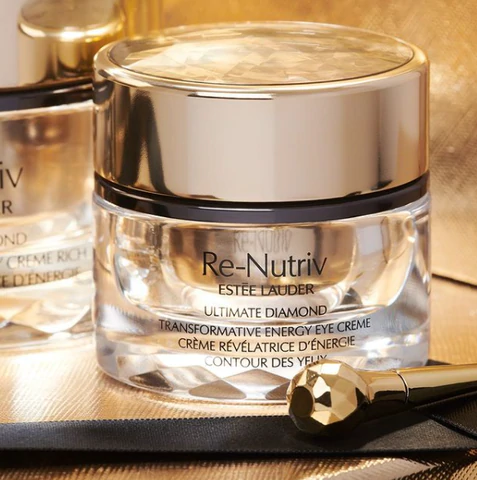 The best eye cream for fine lines
This delicious eye cream is formulated for mature skin. It features the rare Black Diamond Truffle extract, which facilitates your skin's own production of collagen and elastin. With continuing use, it will give you an eye lift and tighten the contours of the eye area so that puffiness and lines are reduced.
As the eyes show the first signs of ageing on the face, I will continue using this eye cream in years to come. It will reduce the appearance of lines and wrinkles. Just as importantly, it will stimulate my skin to repair itself when loss of firmness naturally occurs.
When you buy this luxurious eye cream, you're buying a product that has been tested and approved by ophthalmologists and dermatologists. This reassures me, as I'm not just paying for branding or marketing. Instead, I'm investing in a product that is backed by experts in the field.
5. Estee Lauder Re Nutriv Lotion Review
The search is over! If you have dry or dehydrated skin and you're desperate for skin that is soft, smooth and comfortable, then Estee Lauder Re Nutriv Softening lotion is for you.
The Re Nutriv Softening Lotion is so much more than a toner.
Firstly, it is flecked with golden pearlescence, which adds some serious elegance to this lotion.
It has a luxurious, silky texture that feels as if it is softly caressing your skin. It imparts an invisible veil of moisture and maintains the optimum moisture balance in your skin.
Are toners good for dry skin?
Toners that contain alcohol or astringent ingredients will make already dry skin feels even dryer.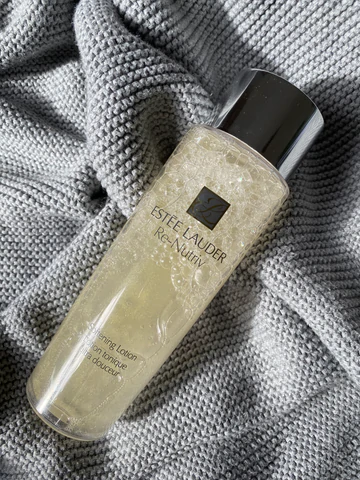 I love that this Estee Lauder toner is alcohol free. This means that it really soothes and softens my dry skin and does not leave it feeling tight.
As I'm curious by nature, I wanted to establish whether this lotion really contributed to my skin feeling AH-mazing, or whether it was the effect of the moisturiser that I used. So of course I conducted my own little experiment.
Some nights I just used the Estee Lauder Re Nutriv Ultimate Lift Age Correcting Creme. On these occasions, I woke up with beautiful skin, feeling really smug with myself.
On other nights, after cleansing my face, I applied the Estee Lauder Re Nutriv Softening lotion first, then I applied my moisturiser.
Well… let me tell you, after these nights, not only did I wake up with the absolute best version of my skin, but it felt so incredibly soft and oh so plump. The hydrating formula really prepared my skin well to receive the full benefits of the moisturiser.
Soft, plump skin is my ultimate aim. Why? Because it looks so healthy and it looks youthful.
Is toner necessary for aging skin?
Yes, toner is necessary for aging skin.
If I'm honest. I want to age gracefully. I don't want to disguise my laugh lines with Botox, nor do I want to let myself go and let the years take their toll.
I still want my skin to stay as plump and as soft and as youthful as possible. I know first-hand that little tricks such as the Estee Lauder Re Nutriv Softening Lotion is a great adjunct to the rest of my skin care regimen to help me achieve this goal.
6. Estee Lauder Re Nutriv Mask Review
In the spirit of full disclosure, I don't enjoy winter.
I don't enjoy feeling cold. I also don't enjoy the way the crisp weather leaves my skin feeling parched and tight.
Naturally, I gravitate to anything decadent and warm to comfort me from inside out and the outside in.
The Estee Lauder Ultimate Diamond Transformative Massage Mask hits the spot.
I love that it comes with a warming stone massager, so that you can create your very own at-home hot stone spa experience.
Very convenient during a pandemic. Also very convenient in the colder months, when you still want to pamper yourself while in the comfort of your own home.
Best hydrating face mask for mature skin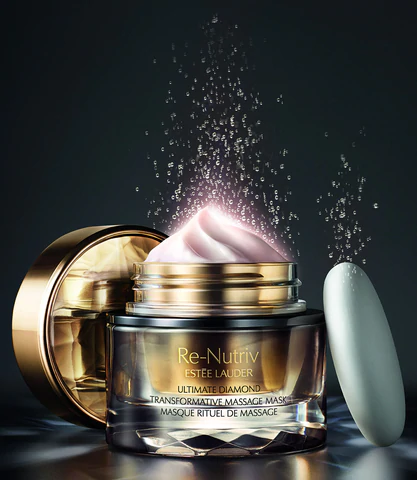 From the moment you unbox this glamorous glass jar, it feels like an indulgent experience.
The cream is gloriously rich in texture. It is infused with Black Diamond Truffle extract, which is incredibly rare and has potent hydrating and nourishing properties.
I use this mask as a pick me up when my skin feels particularly dry in the colder months.
The decadent cream melts into the skin and turns into a luxurious, silky oil when you massage it into the skin using the warm stone.
This is a divine little rescue remedy. Make it part of your self-care routine when your skin is feeling dry or when you're having a cosy night in at home.
So, If I could only pick one product, which is my favourite?
I must say, that this is actually quite hard. It's like having to pick a favourite child.
I didn't want to love the Re Nutriv range of products. But the reality is, that I actually love them.
They have elevated my skin. Without a doubt, my skin looks plumper. This is important to me, because plump skin looks younger. My skin also looks more radiant and extraordinarily healthy. This has given me the confidence to go makeup-free during the day. What freedom!
So, if I could only pick one product, and it is a hard decision, I choose the Estee Lauder Re Nutriv Ultimate Lift Age Correcting Creme.
This ticks so many boxes for me.
Firstly, it has such a gorgeous, decadent texture. It is a wonderful sensory experience to massage this into the skin twice a day. It creates a truly elevated skin care routine.
Secondly, it is infused with serum, a deliciously hydrating moisturiser and 50 nourishing ingredients. This combination works serious magic on my skin. It now looks wonderful and equally as importantly, feels amazing.
Finally, I have confidence in the Re Nutriv technology and know that it is helping my skin to age beautifully as well as protect it from further environmental damage.