Welcome to our extensive review of Get Your Guide, a booking website to tours and activities worldwide.
In this review we want to check how reliable the service is. Is Get Your Guide trustworthy, safe, easy to use?
This is an in-depth guide, useful for everyone interested in booking any kind of tours and activities online.
Good to know: No one paid me to write any type of review. This is 100% my own handwritten guide, based on my own experience using Get Your Guide and other tour booking provider.
Get Your Guide is a website (and also an app) which aims to make the holiday activity planning process much easier.
Have you ever booked a holiday only to feel completely overwhelmed with the amount of
activities and experiences on offer?
Then keep reading cause this guide will make your life easier!
I have used Get Your Guide many times during our travels, and many of our friends asked if Get Your Guide is a trustworthy company. That is why I decided to put everything together and review it.
Here I will let you know the pros, the cons, and how to use it.
1. What is GetYourGuide?
Get Your Guide is essentially a personalized online agency which allows you to book endless
activities, tours and experiences across the world.
It acts as the middleman between you and the travel companies.
Rather than searching on the internet for various activities and ending in different sites from different companies, you will have access to all the tours and activities in one single site.
Great right? Having all the activities and tours in a single platform will save you tones of time.
You will only have to concentrate to look which activity to join.
The truth is, Get Your Guide might not offer all the options you will have in some cities. There are always small companies which can only be found on site – especially on South East Asia or Central and South America.
Nevertheless, I found Get Your Guide is the platform with most activities, as well as many filters and marks which makes the decision process easier.
Especially when you have to prebook your tickets!!
Of course, if you want some adrenaline activities, there are better platforms out there, like Adrenaline Hunter, but if you are looking for the common activities: main sights tickets, bike tours, food experiences… Then Get Your Guide is your place.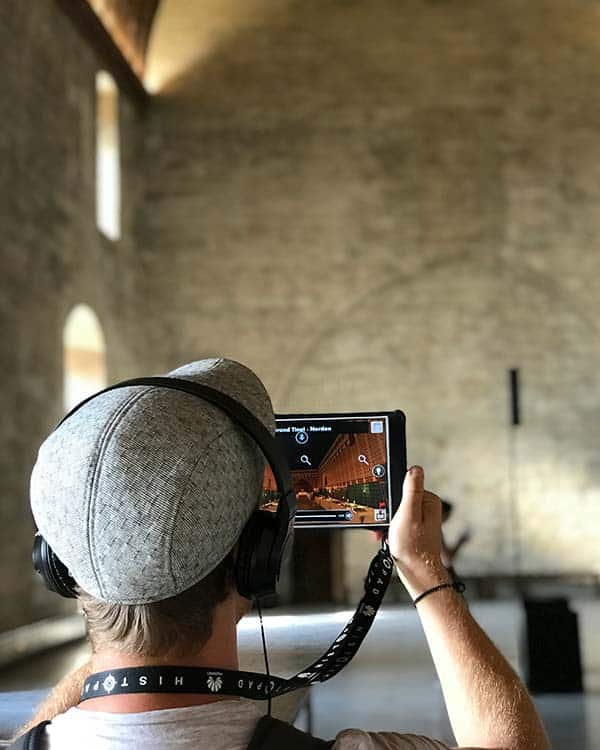 2. Booking Activities with Get Your Guide
The process in booking an activity with Get Your Guide is simple and straight forward:
You select the activity
book with your name, email and credit card
receive your confirmation email
Easy peasy and fast, I would say.
Before hitting the booking button, you will have to choose your perfect activity, of course. Some sights are listed multiple times. That is because it is different tours or just an audio guide and such. Make sure you read properly what you are about to book.
In our Step 2 choosing the right tour I go into detail.
What I really like about Get Your Guide is their information they show. For instance, they show highlights of the tour, what the tour includes (and what it DOES NOT include!) and the meeting point.
They also show "Important information" at the bottom. A great summary I wish many more websites would add. Here they summarize for instance what is not allowed on the tour. That can be "shorts" when visiting a church or mosque for instance.
Then they show "know before you go", covering important notes like opening hours, the validation of the ticket and such. Very, very handy and easy to read!
Let's see how to find, choose and book an activity on this platform step by step.
Search and filter
Decide which tour / company to join
Look at some reviews (but don't get crazy about that!)
Select your tour and pay
Receive your tickets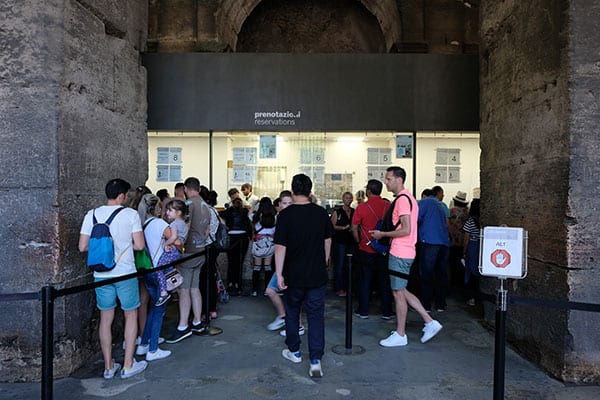 Step 1 – Search and Filter
When searching for your perfect travel plans on www.getyourguide.com, Get Your Guide has ensured that the process is
simple and straightforward for everyone.
All you have to do is type in your destination or preferred attraction and dates in the search bar and you'll have all the activities and tours at your fingertips.
I just did a screenshot so you can see the website and where to type: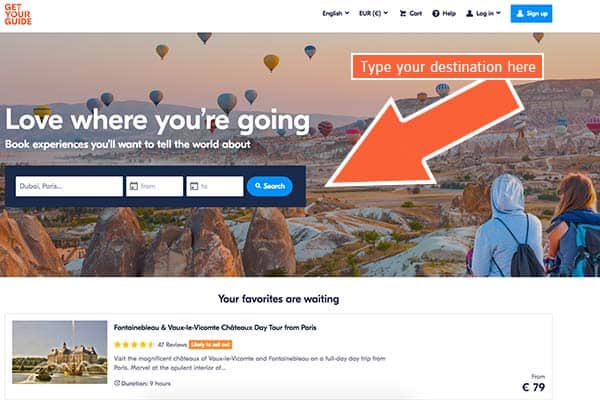 Filters you should use
With so many great options to choose from, you may be a little spoil for choice!
However, no need to worry as the guide offers a great filter system which allows you to create more
personalized options for yourself.
Make sure you use the filters.They will help you range the activities and find your perfect plan.
Here is the list of different filter options:
1. You can filter by interests such as:
2. Activities and tours can also be filtered by languages – and they do offer up to 25 different languages.
3. Select your wished time periods for individual activities: they range from less than an hour to a full
day or even multi day.
4. Filters also include:
Wheelchair Access,
Skip the Line
5. You can filter also by get your guide reviews for individual activities by:
Best rated,
Worst rated,
Most recent and
Oldest
6. You can also filter reviews depending on the type of traveler such as:
Couples,
Family,
Group of Friends and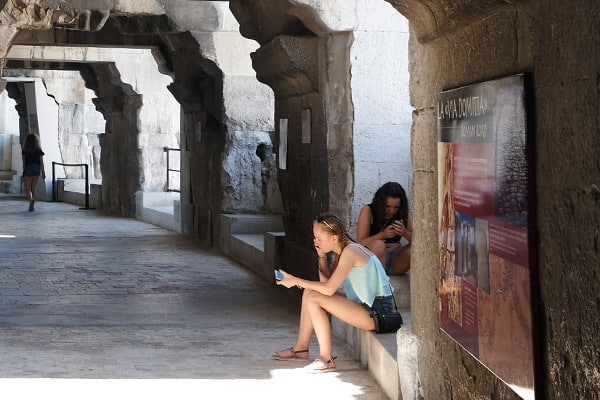 Labels
Whilst scrolling through options, several activities have different labels that will give you some insider information, these labels are:
'Likely to Sell Out',
'Bestseller',
'GetYourGuide Original'
Discounted prices
These different labels might help you choose the activity on your destination, or give you an idea when if you have to book earlier to assure your spot.

When an activity is marked as "likely to sell out" it is recommended to book as soon as possible.
Normally, the Bestsellers activities are the ones with the best reviews and usually the absolute Must-Dos in the city.
This can be the Eiffel Tower in Paris, Sagrada Familia in Barcelona and Colosseum in Rome. This could be also sights with very limited access like the Camino del Rey in Malaga, Spain or, again, Colosseum in Rome.
Good to know: I noticed the label "likely to sell out" is not a marketing trick to make you buy faster! They only labelled very few ones that actually sell out quickly.
After all, the Colosseum in Rome has now limited access for "only" 5000 people per day. Pre-booking is mandatory – if you want to enter!
In case of doubt which activity to join, this label can be your lifesaver.
Good to know: I found this website listing only all the Get Your Guide Originals.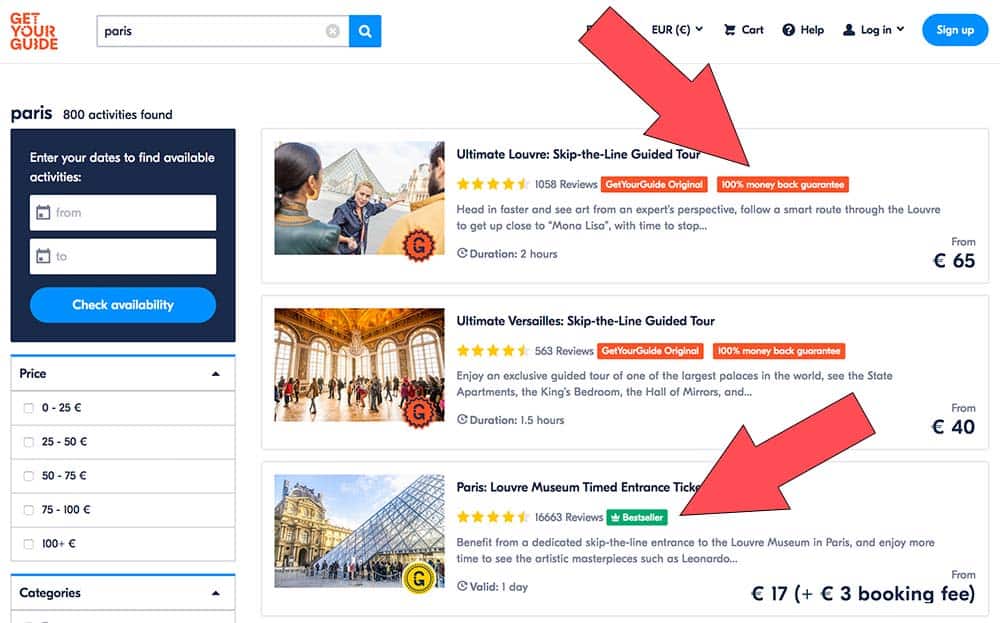 Step 2 – Decide which tour to join
GetYourGuide is fantastic for the hundreds of options available to book.
Although, the amount of choices means you will likely come across different options for the same popular
attraction.
It's important to be aware of the differences in pricing, length of time and features for individual attractions so you can find the best option for you.
Same Attraction with Different Options?
Indeed!
"Not everybody wants the same kind of tour, right?"
Here are a couple of examples to show you the variety on offer so you can choose wisely.
Sagrada Familia, Barcelona at Get Your Guide
You will find all these options under Sagrada Familia tickets:
Fast Track Guided Tour,
Guided Tour with Tower Access,
Fast Track and Passion Tower Access,
Skip the Queue Guided Tour,
Small Group Guided Tour,
Fast Track Entrance Ticket
The prices goes from €22 – €60 and the different tours include different options.
The title will give you an idea but you can read what does the tour include on each one, as well as the duration, and the reviews. The get your guide Barcelona reviews are important to read.
All this information will help you decide more accurately.
Smart trick: Always visit the main landing page they created for the sight you are interested in. You can find this on the upper-left part, below the logo. This is the so-called "breadcrumb" link.
The structure usually is:
Country > Region > City > Sight
So, in our case:
Spain > Catalonia > Barcelona > Sagrada Familia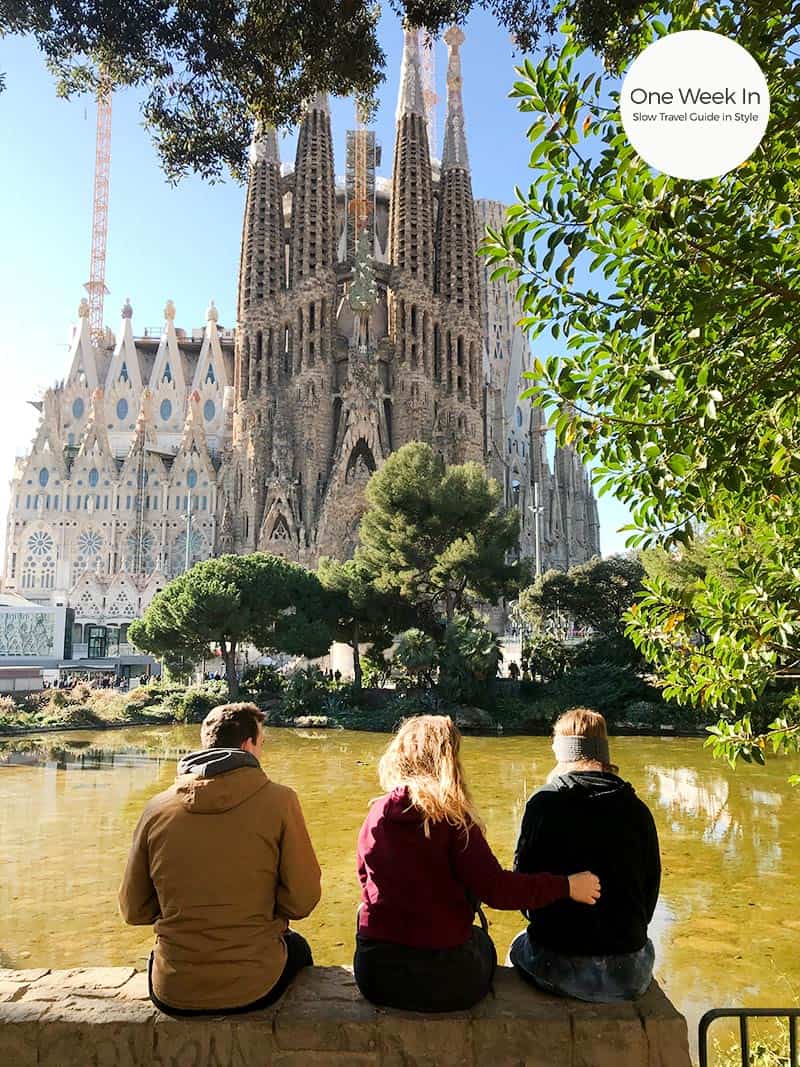 Alright, let us have a look at another popular example.
The Gondola Rides, Venice at Get Your Guide
You might think a gondola ride is a gondola ride. But of course there are many different ways to experience a gondola in Venice, such as:
Venice Traditional Shared Gondola Experience,
Gondola Grand Canal Ride,
Private Gondola Ride For Up To 6 People,
Venice Grand Canal,
2 Hour secret tour + Gondola,
One Hour Boat Tour
All the different tours offer different options, such a shared gondola, and exclusive gondola, only riding on the grand canal or even a shared gondola with maximum 6 people.
Prices range from €32 – €115 and you can read all the details about what is included on each tour description.
Now, for the Gondola Rides there is no landing page listing all possible tours. A pity. So, what do we do?
In this case I would keep an eye on the number of reviews and ratings. The ratings should be only a few month old – max!
Good to know: When looking at the ratings, and the last one was written in 1954, skip this tour!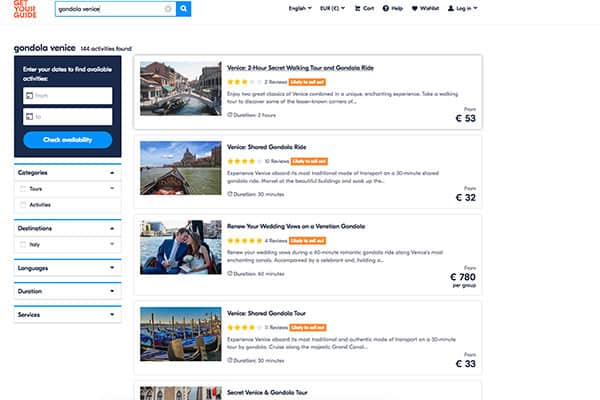 Step 3 – Reviews
The ratings on each activity as a whole will give you a rough idea about how beloved the activity or tour is.
As Get Your Guide mostly acts as the middleman between the customer and tourist companies, it's also helpful to look at some reviews made from the customers.
These individual comments left by past travelers will give you insights and opinions.
This shouldn't be a problem as there are thousands of reviews to help you make your decision. But
Don't go crazy reading so many reviews…
We always read the most recent ones to check they are accurate with the main review score.
Reviews for each tour/ activity are based on:
Service
Organization
Value for Money
Safety
You can always have a look at the top reviewed activities on each city to help you select your activity or tour. After your own tour has finished, you can also leave your own getyourguide review.
Here are a few top reviewed activities in some of best cities in Europe:
Barcelona, Spain: + 750 activities
The most popular are:
The Fast Track Sagrada Familia Ticket with an average rating of 4.7/5 from over 14000
reviews.
Park Güell comes in second with a rating of 4.3 /5 from over 8700 reviews.
Paris, France: + 800 activities
Most popular activity is the Louvre Museum: Timed Entrance Ticket with an average rating of 4.6 /5 from over 12700 reviews.
A close second is the Eiffel Tower: Second Floor Priority Access.
Rome, Italy: + 800 activities
Overwhelmingly most popular option is the Vatican Museum, Sistine Chapel & Saint Peters Guided Tour with an average rating of 4.5/5 from over 28000 reviews.
Another popular option is the Vatican Museums & Sistine Chapel Fast Track Ticket Options (€28) with a rating of 4.4 /5 from over 22000 reviews.
Again: Don't get crazy reading too many reviews.
I normally do a general check to see how many stars overall the activity has and then read max 4-6 reviews, one of the reviews with a bad rating to check when it was written and what the complain was about.
In a nutshell, for the ratings pay attention to:
number of review
overall ratings
the complaints
date of last review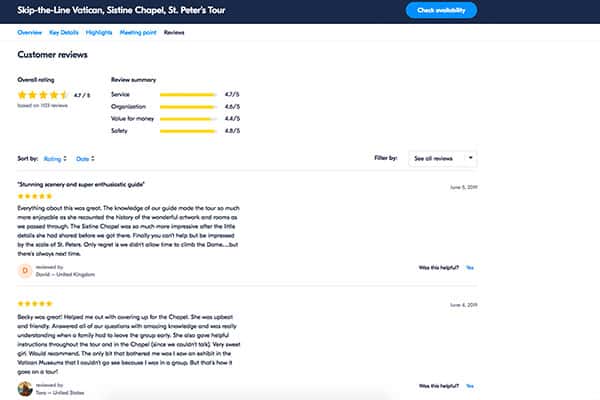 Step 4 – Select your desired option
After deciding with is the best tour or activity you wanna join on your travels you simply have to press the book now button.
Yes, it is so simple, just press that button on the right side and the tour will be added to your chart.
On this moment you could continue buying some other tours or just pay for that one pressing the checkout button.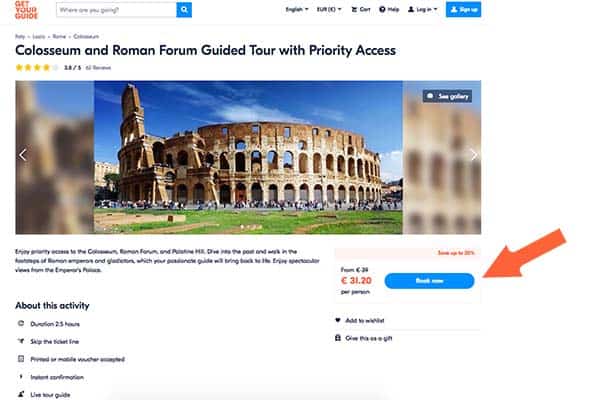 Payment with Get Your Guide
As well as having no restrictions in activity options, there are also no restrictions with
payment.
You are able to pay via:
credit card,
debit card,
PayPal
Google Pay
You have no need to worry about security either as Get Your Guide promises that all payments are secure and encrypted.
However, as activities and tours should be booked in advance, it is not possible to pay upon
arrival.
Step 5 – Tickets
Hurray, we have completed our booking. We chose the tour, we paid. Now what?
After completing your payment, Get Your Guide will send you an email confirmation.
I cannot believe I have to say this, but do not add your weird-spam email. You will need this confirmation email!
The email will be like this one:
For most of the activities you will receive an instantly confirmation, others may take up to 48 hours. This is because the provider has to check availability once again and may have to organize a few more things.
Once the booking is done, you do also have a direct link to the app, so you can download it and have your ticket there to show the day of your booking.
Bear in mind the tickets on the app can be shown even off-line, so it is great for traveling.
Good to know: You need battery on your phone to show the ticket. Makes sense, right?! So keep this in mind for the day of your booking. Imagine you arrive and your phone is dead…not amusing really.
If you like being organized and booking way in advance, bear in mind you may only get the confirmation within the same month as the booked activity.
Meaning, if you book an activity more than one month before, you won't get the details until one month before the activity will take place.
If you download your tickets on the app, you will be able to access your tickets online or on your mobile phone, even when offline, so no worries about lack of WiFi!
There needn't be any stress about arriving at the meeting point either.
All the necessary information can be found on the activity pages within the section 'When You Get There' which includes details on meeting points and a map.
Also, when booking, you will receive a confirmation like this one.
You can save your ticket as a PDF directly on your phone. Wait until you receive the email, or click to get your Mobile ticket, which will redirect you to your mobile store to download the app.
One day before your activity takes place, Get Your Guide sends you a reminder email. That emails shares again the meeting point, the voucher, and even the expected weather for the next day.
That is pretty cool!
Click on the photo below to get a better idea.

3. My Last GYG Booking at Colosseum in Rome
While I booked several times my sightseeing at this website, I want to focus on my last booking. This was at the Colosseum in Rome, Italy.
First things first: IT.WAS.AWESOME!
The booking went smoothly, and we entered. However, one couple did not…keep reading!
We checked the different tour options for Colosseum in Rome. They have an extra page for all the Colosseum Tour options.
You can choose between the
We chose the guided tour of Colosseum with Roman Forum and Palatine Hill.
Why did we chose this one?
Well, we checked the reviews and these kept mentioning the excellent guide. We also planned enough time for this sightseeing. And most of all: We wanted to have a guide explain more details and were interested in all 3 sights.
Perfect, tour is chosen!
We then checked the possible dates. That was no big issue really, since we were ahead of time and enough slots were still open.
We paid, received our confirmation email and hurray, we will enter that iconic sight! Already excited.
Now, the day of the tour arrived.
We had a bit of an issue on finding the meeting point. It was said the meeting point is "Arch of Constantine". Problem here was, there were many other tour providers. Every tour provider had its own color and sign.
We checked again the confirmation email.
The company was "Gray Line I Love Rome". Another backpacker came over. He saw we were also looking for someone. It turns out, he was looking for the same tour provider.
We kept looking for around 10 minutes, asked around. Then we spotted them, sitting still in the shadow. As we were ahead of time, they didn't want to be waiting in the sun.
Okay, no big deal. But we got nervous a bit. Anyways, it all turned out well. We got our earplugs so the big group of around 15 people could hear the guide properly.
What about that couple that could not enter?
One couple came over and wanted to join. They showed their ticket they bought on Get Your Guide. Problem: The ticket was valid for the 8am tour. Our was the 10am tour.
And, unfortunately, the ticket is only valid for that specific tour. BUMMER! They seriously could not join us.
It was not the tour providers fault; it was not Get Your Guides fault. That was the travellers fault: They haven't been on time.
The guide felt bad, everybody felt bad for them.
I also like to mention, when the tour started and the guided handed headphones out, I was certain I won't like this group-touristy tour.
I was so wrong!!!!!
The tour guide Laura was amazing! She had fun facts, explained everything in detail and yet simple enough that you won't get dizzy from all the historical names.
I also booked my Pompeii Tour with get Your Guide. This was super easy too.
There is even printed Get Your Guide Logos at the entrance, pointing to the pick-up of the audio guides.
So, in a nutshell: The last booking, as every booking with get Your Guide we did, went smoothly. The tour was fun and even better than expected. You see, some sights even have the GYG logo printed out and will point you in the right direction.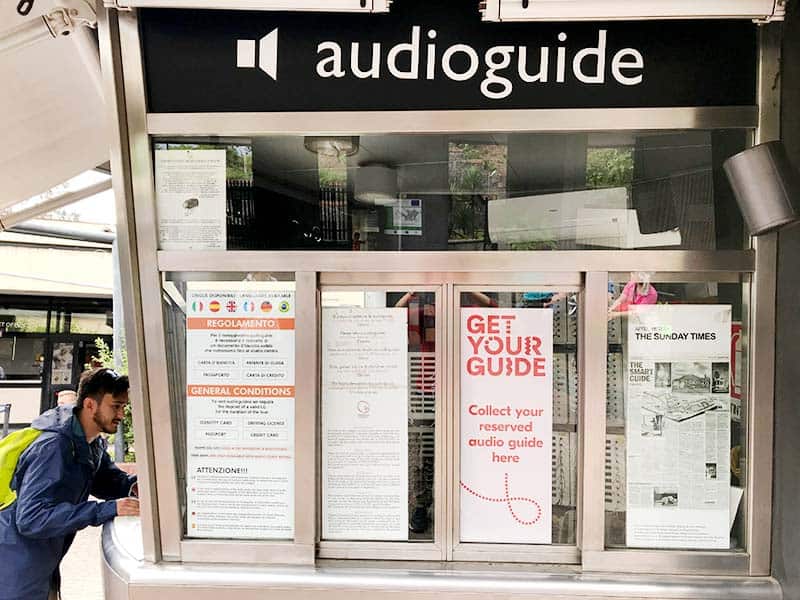 4. Is Get Your Guide reliable?
Yes!
I never had any issue booking with Get Your Guide.
Nevertheless, bear in mind the reliability of Get Your Guide very much depends on individual experiences and the type of activities you want to book.
How to get an accurate feeling of the tour you wanna join?
Here we look at some essential points to be aware of when booking with Get Your Guide:
Reviews
Always check previous reviews for individual activities so you can avoid any negative experiences.
Have a look at the overall rating, and read 3-4 reviews to make sure the book is what you are looking for.
Price guarantee
Get Your Guide as a lowest price guarantee which could be "tricky".
The 'lowest price guarantee' only applies to the price for the same activity by the same tourist company.
Due to conversion rates of currencies, you may also find a tour somewhere 10 cents cheaper or more expensive. But well, 10 cents…
5. Things to check before booking
We do always recommend you to check the Terms and Conditions of your desired activities.
On Get Your Guide platform, on any tour agency you go, or any activity you wanna join (in your life).
Nobody enjoys reading them but reading the small print can definitely pay off.
To make your life a little easier, here is a list of the most important things to know before booking:
#1 information policy
Get Your Guide has no liability for any errors on their site and no responsibility for third
party content.
This means if there is any misinformation on their website, they don't necessarily need to take responsibility for it.
That would mean, for example, that if the tour says that it includes a water bottle and then you do not receive it, you should claim it to the company directly, not to Get Your Guide.
#2 your information is required
Bookings require registration in which you must enter your email and accept the terms and conditions. You must also be over 18 to register.
#3 best price guarantee
Get Your Guide claims to offer the lowest prices, therefore if you find a lower price they promise to pay the difference.
#4 Prices include taxes already
All prices include VAT and taxes, although you may be charged less or extra depending on the conversion rate.
#5 it's a booking portal
Since Get Your Guide is acting as the middleman, they make it clear that suppliers have the right to exclude you from any activity with no refund if you don't meet personal requirements.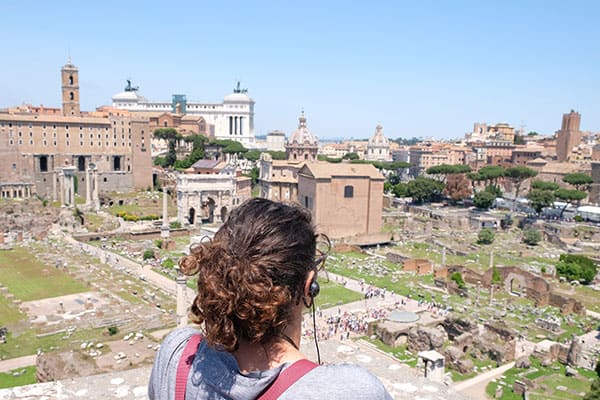 Read always if there is a personal requirement.
6. Cons of Get Your Guide
In this section I want to include a few things the portal could do better. Is Get Your Guide trustworthy? Yes, it is.
I want to focus more on a few usability things that could improve the overall experience.
Same tour several tours
As mentioned before, Get Your Guide can list one sight several times. This is because different suppliers offer different tours. It can be a 3 hour guided tour through Sagrada Familia or just the entrance ticket.
I mentioned this before.
While this can be cool for comparing on what tour you want, it can be also confusing. It is really a minor thing.
Meeting Point/ Company can be confusing
When we booked our tickets for Colosseum with Get Your Guide, the meeting point was not as clear.
It is fair to say, this was not Get Your Guide's fault. The tour provider did not write the best description. We were in front of the Colosseum, and there were at least 5-15 other companies. We started asking and asking, looking for t least 10 minutes until we found the correct one.
At that point, we got nervous. Therefore, always be on time or better, come before the actual meeting time to make sure you have a back-up time.
Many different types of tours and sights
As an inspiration for things to do, Get Your Guide works great.
However, when you only want the main sights and museums, Tiqets is the better option. They really only offer the regular, must-dos in the city.
Europe vs Rest of World
I found that Get Your Guide is super helpful for European sightseeing. For the Asian market, it is not as useful. That is because in Europe many sights have to be pre-booked and it requires a lot of preparing.
Not so in South East Asia, for instance.
If you plan to attend a pub Crawl or enter a museum, there is rarely anyone that wouldrequire a 2 months prebooking.
7. Discounts and Offers
If you are a savvy traveler, this one's for you!
There are hundreds of activities, tours and experiences on Get Your Guide, so you should make sure you are getting the very best deal.
Be careful, as some activities offer very similar experiences but for different prices.
For example, the 'Sagrada Familia Guided Tour with Tower Access' and the 'Fast Track
Guide Tour Sagrada Familia with Towers'.
Both activities last for 90 minutes and ability to skip the queue; however the former is priced at €54.67 and the latter €50.
Only a small difference, but be aware that there could potentially be cheaper options on the
Get Your Guide website for the same or similar activities.
There is not a price filter on the website. To score the best price on this case, add Sagrada Familia as a keyword and have a look at the different offers. You can find all Sagrada Familia tickets online English here.
Price Comparisons
When booking basic entrance tickets, which do not include extra features such as guided tours or private groups, be sure to compare to the price from the source first.
A popular entrance ticket to the Louvre Museum in Paris is featured on Get Your Guide for €17 + €3 booking fee. On the other hand, if you pay on the official website or at the museum itself, you will only pay €15 – €17.
Similarly, an admission ticket to Park Guell in Barcelona will only set you back €13 on Get Your Guide, however a timed entry ticket on the official website will cost you a mere €10.
You are paying for the convenience of having your ticket confirmed on the email or app, avoid the queues… or even the availability!
Read this important part: On my last trip to Rome I could only enter to the Colosseum because I booked through Get Your Guide.
When checking for tickets on the official website, tickets were sold out.
Fortunately, I had a look at Get Your Guide and there was a tour available.
I had to join a guided tour to see The Colosseum, but… I could get in!
Even better, I got a really good tour. I mentioned this before. Yet again, I never imagined I would like a guided tour, but all the information our tour guide provided was awesome.
Bear also in mind, you can also get audio-guides tour on Get Your Guide. That means, normally, you will skip the long queue to pick up the audio guide on the site.
That happened to me in Pompeii. The queue was around 20 minutes long, but the pick up for my audio guide with Get Your Guide was empty.
I could skip the queue just showing my confirmation email on the pick up point.
Special tickets for main attractions
As mentioned, on my last trip to Rome, I could not find Colosseum tickets directly on their official website, but I could find them on Get Your Guide.
Why? Well, there are many cases and explanations, here you have 3 examples:
1. Tour operators buy group tickets and they resell them to individual people. That way, you can get a better deal as individual traveler.
2. Some tour operators buy group tickets for 25 people but they do only have 20 customer. They resell these 5 extra tickets on the platform.
3. People cancel 24 hours before the activity and Get Your Guide is able to resell the ticket and refund it to the first buyer.
That are some reasons why you can also find some reduced prices on Get Your Guide that you won't find anything else.
It is a totally valid offer and a great way to find tickets for those attractions that might be sold out even on the official pages.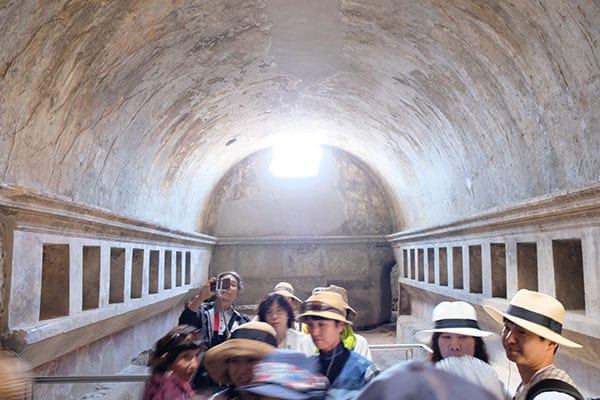 8. Get Your Guide Contact
If you're looking for help or have a complaint, there are plenty of ways to get in contact with Get Your Guide.
Their contact number is open 24/7 for 9 different countries, including a separate line for other
international countries.
You can also send them a message through their online website or send them a WhatsApp
to an English speaking representative.
Frequently Asked Questions – FAQ
We collected also the main frequent questions about GetYourGuide:
1 – Does GetYourGuide run it's own tours?
Yes.
As you are searching for activities, some will be labeled 'GetYourGuide Original' which
means the tour is run by them.
2 – Refunds
Conditions on refunds can depend on the supplier, although typically if you cancel 24 hours
prior, you will receive a full refund.
You are likely to receive no refund if it is less than 24 hours or you don't show up.
If the supplier cancels due to unforeseen circumstances such as bad weather or strikes, you
will receive a full refund.
Suppliers also have the right to exclude you from the activity if you don't meet personal
requirements, if this happens you are not entitled to a refund.
Refunds will typically appear in your account between 3-4 working days.
3 – GetYourGuide Contact and Customer Service
The contact number is open 24/7 with numbers for 9 different countries, this includes:
USA ( +1 844-326-5840)
UK (+44 (0) 20 3962 0237)
Spain (+34 911 23 56 12)
International (+49 (0) 30 56839445)
WhatsApp (+49 151 23457858) – which is only available through English messages
4 – Payment
You can pay through credit or debit card, PayPal and Google Pay through the website or
get your guide app. All payments are encrypted and secure.
5 – How to handle a complaint?
The best way to handle a complaint is to contact the customer service GetYourGuide through their phone number, email or WhatsApp.
Remember that many issues could be the fault of the supplier rather than GetYourGuide itself.
6 – Can you book Last Minute with Get Your Guide?
This really depends on the product. Most likely you need to book 1 day ahead. In most cases you cannot book and show up 5 minutes later.
That being said, it really depends on the product. If it is a group walking tour without a special entrance to a sight, then it should be possible.
If it is a limited entrance ticket to, I would not recommend to book last minute.
In general, it is advised to book at least 1 day ahead; especially in high season. High Season in Europe is usually the summer months, July and August.
Get Your Guide Promo Code
Of course we all love a nice discount. Our Getyourguide promo code already expired; we know, it is a pity. At the moment we do not have any valid promo code for Get Your Guide.
We will share all discount codes we receive in our newsletter. You can subscribe for free.
GetYourGuide: Final Verdict
Who is Get Your Guide perfect for?
If you're the type of person who seeks to get the most from their travel destination, to learn the culture and explore the popular tourist hot spots, this site is ideal.
However, spontaneous travelers may not be so suited to GetYourGuide as the site requires booking,
organizing and planning in advance.
Many activities are also structured and involve groups of people, so wandering at your own pace may not be on the cards.
Above all, the site itself is professional, trustworthy and has many reviews to attest to this.
It's also really easy to navigate and will give you plenty of options to choose from.
In addition, you don't need to worry about not finding something suited just for you.
As prices can differ, always be sure to compare to other attractions and check the reviews to
be certain you're getting what you pay for.
Aside from this, it's definitely worth having a look, you may be surprised by the amount of things you can do on your next holiday!