Shopbop is an online fashion store that was started in 1999 as an online store to a brick and mortar store called Bop. The store was located in Madison (Wisconsin, USA). The fashion-conscious student base of the community coupled with the wider reach that the online store gathered saw the growth of the company.
Though the brick and mortar store was later closed, Shopbop continues to operate strongly and to ship merchandise to customers from their distribution centre in Madison.
In 2006, Amazon acquired Shopbop, and the company has existed since as a subsidiary of the retail giant. However, Shopbop operates almost independently of Amazon, and even competes with it.
The go-to destination for modern fashion styles will be the store that holds a large inventory of quality and affordable fashion styles and is also powered by customer-friendly policies and services. Does Shopbop meet this criterion to pass as a real go-to place for your fashion needs? In the first place, is Shopbop legit?
Yes, Shopbop is a legit fashion store. And does not trick or cheat its customers off their money. And you will get any item you purchased from the store without a problem. So, is not a scam.
This Shopbop review will also examine Shopbop in order to provide the information that will help you answer these questions.
Shopbop review at a glance:
A US-based fashion online store
Founded in 1999, but a subsidiary of Amazon since 2006
Specializes in women's clothing, accessories, and home items
Offers low prices, price adjustment, price matching and a loyalty program
Offers free express shipping to worldwide destinations
Allows returns if made within 30 days of the delivery dateCustomer support is available 24/ 7 via email and telephone
Website is https://shopbop.com/; has Android and iOS fashion apps
Is Shopbop legit?
Shopbop is legit, not a scam. The internet came on board, and businesses moved online. Sadly, fraudsters joined the movement. As a result, there are probably as many scam online platforms as there are legit businesses. Therefore, it's important to find out if the online platform you're intending to do business with is legit. Except you don't mind being ripped off.
In this regard, Shopbop comes out strong because there's no doubt that the online fashion store is legit.
First, Shopbop is a subsidiary of Amazon – the retail giant. To suggest that Shopbop is a scam store will mean saying that Amazon is a scam company, which is simply absurd. This is because Amazon is the biggest internet retailer in the world in terms of market capitalization and revenue.
However, Shopbop is not hiding behind the strengths of their parent company; because they have a legit identity of their own. The company has corporate headquarters in Madison (Wisconsin, US) as well as distribution centres. Suffice it to say that fake stores exist only virtually. Usually, fake stores do not have a physical headquarter/ office or distribution centre/ stores. The absence of physical existence is one reason that fake stores do not fulfil orders. However, with physical existence, and especially the distribution centres, Shopbop has the hallmark of a legit store – the capacity to fulfil orders.
Lastly, Shopbop was established in 1999, which means that they've been operating for almost 20 years. Suffice it to say that no fake store can operate that long. The news of the scam activities will be out in no time; and with such exposure, the site and its operators disappear. However, Shopbop has only waxed stronger through the years, even adding new clothing lines, and opening up another store.
That said; as a subsidiary of Amazon, with the capacity to fulfil orders, and with almost 20 years of seamless operation, there's no doubt that Shopbop is legit.
Is Shopbop safe?
Shopbop is safe. It's not enough that an online shop is legit, it should also be safe. A legit store that I'd not safe can leave you exposed to other fraudsters. This is because when you use an online store, you share sensitive information like your payment instrument details. If the store is not safe, such details can be hijacked by fraudulent third parties. There's no need to state what happens when a cyber fraudster intercepts your credit card details.
In this regard, Shopbop also comes out strong. The store uses a secure sockets layer (SSL) technology to create a secure link over a public network like the internet. The link is between your device and their (Shopbop) web servers. SSL is the industry standard for such, and any data transferred in the link is private. SSL also encrypts the data to ensure that even if captured, it is indecipherable.
Another data protection measure Shopbop is is not displaying your full payment instrument data, even when you are to confirm orders. That way no one looking in can steal such sensitive data.
That said, there's no doubt that Shopbop is safe.
Some features of Shopbop
Website
The website is the first contact with an online store; thus, the website should be fully functional. The website of Shopbop (https://shopbop.com) comes out strong in this regard.
The first thing about it is that it is simple and uncluttered. Appropriately placed are product images and short introductory texts. Links to the various product categories can be found on the top of the site, while links to the company policies (shipping, returns etc) can be found at the bottom. This makes the site very easy to navigate.
Also, the website has a well developed mobile page (https://m.shopbop.com). It works on all mobile operating systems including Android, iOS, BlackBerry, etc. That the site is fully mobile optimized means it resizes to fit the small screens of mobile devices and platforms. You won't have to drag screens to view the full web page. Also, all you need do to access the mobile page is type in the URL into a web browser and you'll be redirected.
With this full mobile compatibility, Shopbop allows you to shop on the go from anywhere and at any time.
Fashion Apps
To make for even more convenient buying, fashion retailers invest in fashion apps. This is because apps allow the fashion shop to be one click away for fast access. Also, it uses push notifications to alert customers of new arrivals and special promos/ sales. Thus fashion apps can position you to take advantage of cost-saving offers and to receive exclusive items.
If you'll rather be shopping with a fashion app and take advantage of the associated benefits, then Shopbop is worth looking at. They have apps for Android and iOS.
The iOS app has a high 4.7 out of 5 rating in its app store, which tells you it is highly appreciated. It is a 45.4 MB file that won't take too much of your device resources. If you've checked reviews of fashion stores, you'll find that iOS apps of most stores are usually way heavier.
The Android app fared poorer with a rating of 3.8 out of 5 in its app rating. One major complaint was that the items kept repeating over and over again. However, it's just a light 5.5MB file.
Product Range
The ideal shop should have a wide product range. That way it will be a true one-stop-shop where you can shop all your fashion needs. You'll want this because it saves you money. Purchasing all your items in one place may qualify you for bulk purchase discounts; also, you'll be paying to ship only one order, as against shipping different items from different stores.
In this regard, Shopbop ticks the box. They specialize in women's fashion, and they hold every clothing type you'll expect to see in a modern women's fashion store, including accessories. Their product categories including the items in each product category are as follows:
Clothing: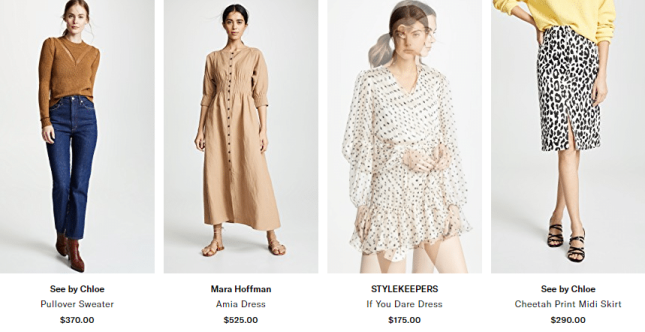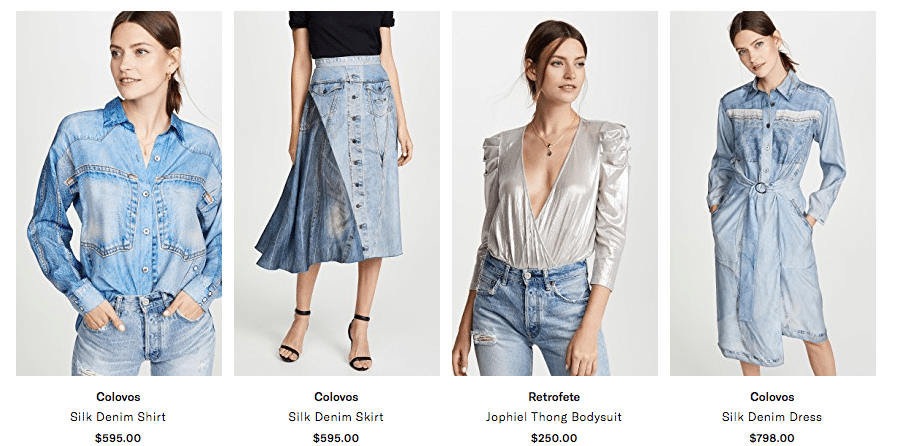 Clothing: – You'll find clothing pieces for every occasion and season such as cold weather picks, cozy at home picks, everyday essentials, vacation styles, wedding boutique, formal workwear and more. Specifically, the items you can choose include: Activewear (jackets, leggings, shorts and skirts, sport bras, sweatshirts and hoodies. Sweat pants and track pants, tanks, and Tees); Dresses (cocktail, formal, bridal, mini, midi, maxi, knee length, of the shoulder, long sleeve and more); Jackets and Coats (blazers, bombers, coats, denim, down and puffer, fur and faux fur, leather and faux leather, trench coats, vests and more); Jeans (boyfriend jeans, cropped jeans, distressed jeans, flared jeans & wide legs, high waisted jeans, maternity jeans, overall, relaxed skinny, skinny jeans, straight leg jeans, and more); Jumpsuit and Rompers; Lingerie and Sleepwear (bodysuits and teddies, bras, camisoles, maternity, panties, robes, shapewear, Sleepwear, slips, lingerie accessories); Maternity clothing; Pants and Leggings (ankle, boot cut & flare, cropped, high waisted, leather, leggings, skinny, slouchy, straight leg, sweatpants, wide legs); Shorts (denim, dressed up, knee length, mid length, short); Skirts (mini, knee length, midi, maxi, A line and full, denim, leather etc); Suit Separates; Sweaters and Knits (cardigans, cashmere, crew and scoop neck, sweater dresses, V neck, turtle neck, and vest); Swimwear (bikini, cover ups, and one pieces); Tops (blouses, bodysuits, button down shirt, crop tops, graphic Tees, night outs, off the shoulder tops, sweater and hoodies, tank tops, short sleeve tops, long sleeve tops an more)
Shoes: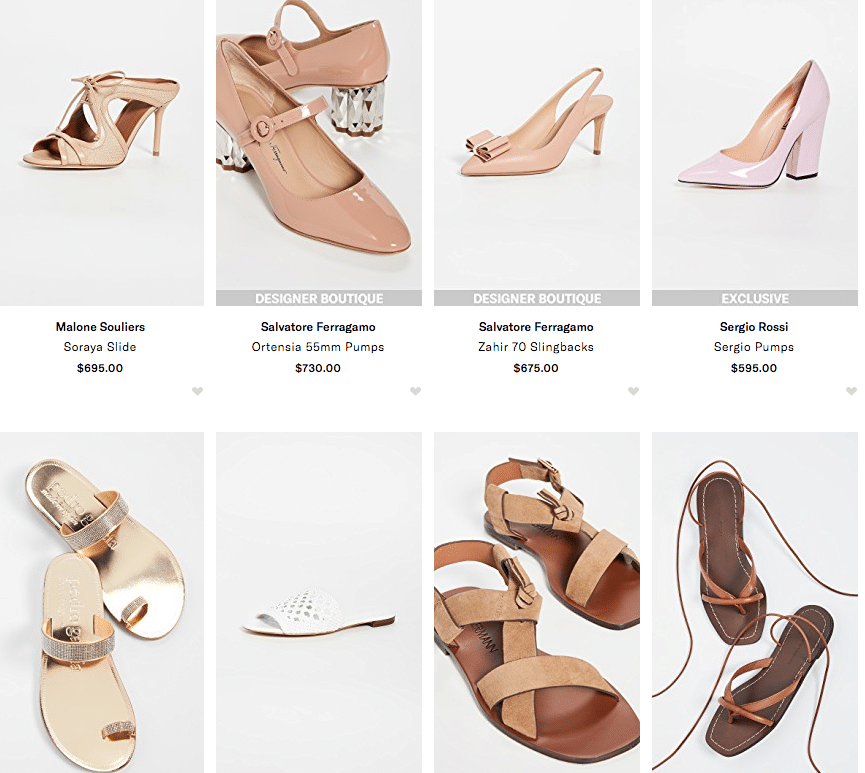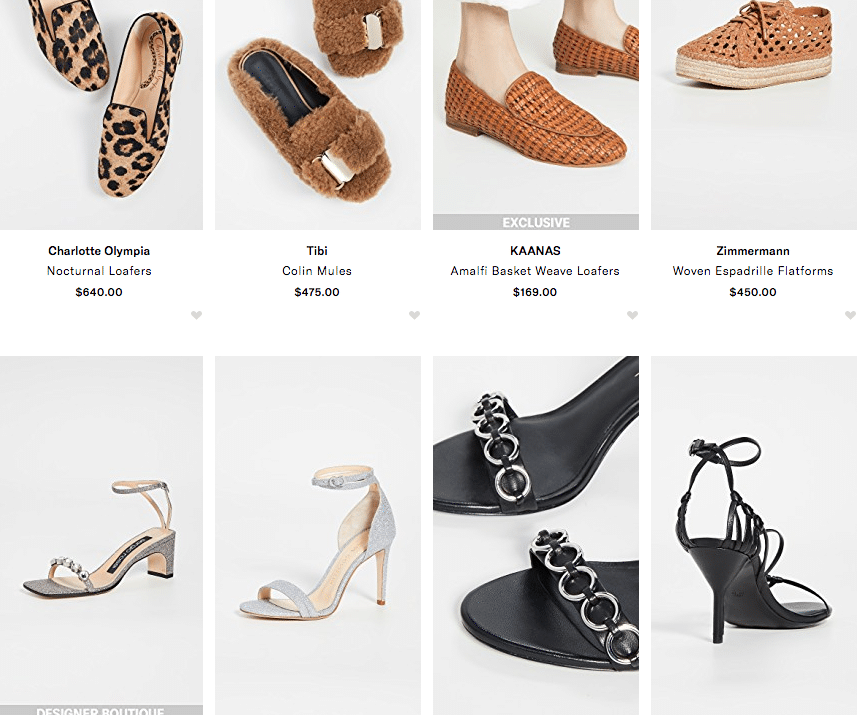 Shoes – You'll find all types of shoes including 80's inspired shoes and Western boots, dad sneakers and animal print pairs. Specifically, shoes you'll find include: Booties (lace-up, flat, low heel, medium heel, high heel and ultra-high heel); Boots (knee-high, over the knee, flat, and all heels); Espadrilles (platform, flat, all heels); Flats (ballet, espadrilles, loafers, oxfords, and slippers); Mules send Slides; Pumps (open toe, platform, all heel types); Rainboot; Sandals; Slingbacks; Sneakers (high top, low top, slip-on, platform); Winter boots; shoe accessories
Bags: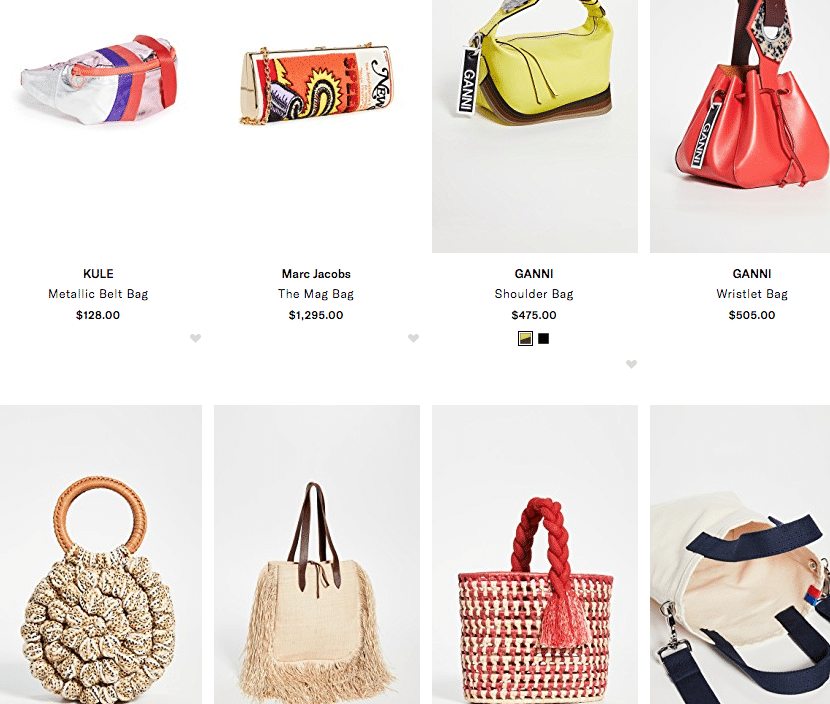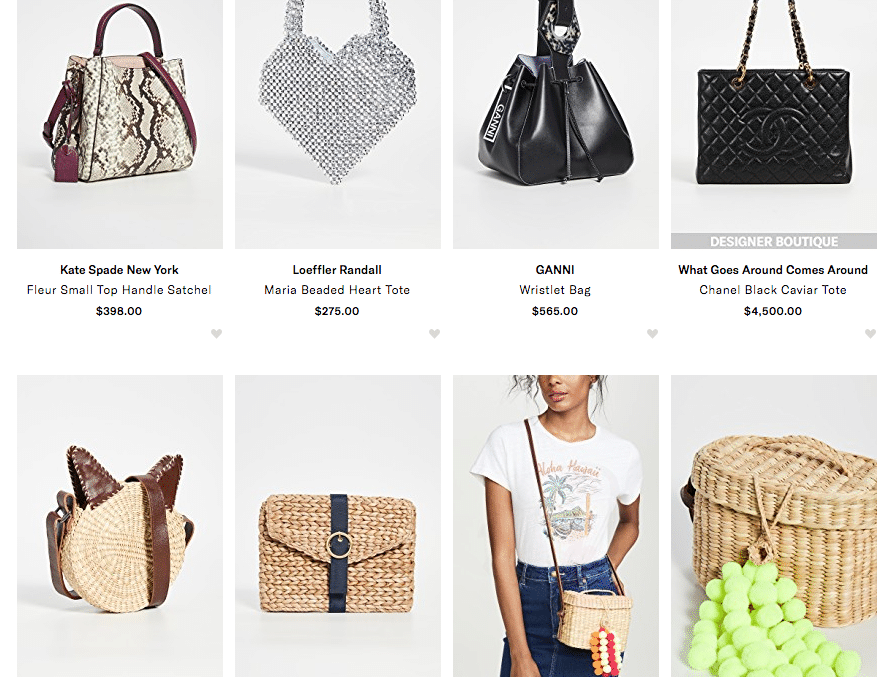 Bags – You'll find all bag types and trends including handbags, vintage bags, animal print bags, bucket bags and circle bags. Specifically, bags you'll find include baby bags, backpacks, beach bags, belt bags, clutches, cross body bags, gym bags, luggage, satchel and top handles, shoulder bags, totes, wallets, and bag accessories send pouches.
Accessories
– this includes active accessories, belts, fine jewellery, gloves, hair accessories, hats, home and gift items (books, candles, drink water and water bottles, fabric care, home decor, pool and outdoor items, stationery, towels), jewellery (anklets, bracelets, earrings, fine jewellery, hand and body chains, jewellery boxes, necklaces, personalized jewellery, pins, rings, watches), key chain and bag charm, scarves and wraps, socks and tights, sunglasses and eyewear, tech accessories, travel accessories, and more.
Gift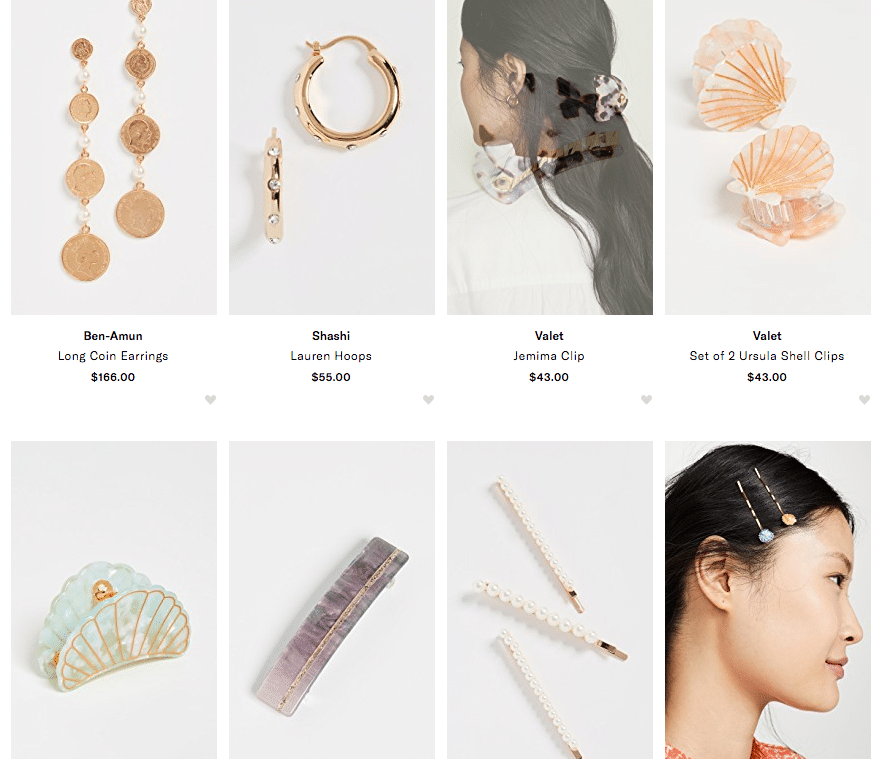 – this section is where you can shop a gift for her, gift for him, gift for kids, and for home
The different product categories show that Shopbop has a wide product range, and is a true one-stop-shop for women's clothing and accessories. However, another important consideration is the number of individual items within each product type. It's important that the ideal store holds a large inventory of particular item types. This will give you a large selection to choose from, and you're more likely to find something that you like.
In this regard, Shopbop also ticks the box. Not only do they hold a wide product range, but they have a large inventory of each of the product types. They are able to do this because they also feature items from many designer brands. Some of the designers you'll find in Shopbop include BAUM UND PFERDGARTEN, ei8htdreams, Ganni, Golden Goose, Isabel Marant, Beaufille, Facetasm, I.AM.GIA, Khaite, Retrofete. These collaborations ensure that Shopbop holds quality and authentic clothing and fashion pieces. Thus, they not only hold a large inventory, but the quality of items is top-drawer.
Shipping
Shipping comes second only to price as an important factor in online purchases. The main shipping considerations are shipping cost and shipping time.
When the shipping cost is too high, the total expenditure on the item might be perceived as unacceptable even if the item itself was acceptably priced; therefore, the ideal store will have shipping costs that are as low as possible. Also, customers don't want to wait for too long to receive the delivery of their package; therefore, the ideal online store will have shipping times that are as short as possible.
In this regard, Shopbop comes out strong. However, an important (yet oft-neglected) consideration is the destinations that the online store supports (ships to).
The ideal store should support a long list of worldwide destinations so that you can buy from the store no matter where in the world you'll want to receive your order. In this regard, Shopbop ticks the box. They ship to over 220 countries/ regions worldwide. If you've checked reviews of online stores, you'll find that this is much more than what many online fashion stores cover.
Back to shipping cost; the lowest possible cost is zero, which is free shipping. Thankfully, Shopbop offers free shipping.
When free shipping is not applicable, they charge flat rates which means that your shipping cost will not increase when the weight or size of your order increases. In terms of shipping times, they have different delivery options; and the one chosen will determine how long it will take to receive delivery of your package.
For customers in the US; there are three delivery options – there is the standard delivery, a 2 Days delivery, a Next Business day delivery, and a Saturday delivery. The standard delivery is the free delivery option, and it will take 1 – 3 business days to get your package.
The 2 Days delivery will get you your package in two business days, and it cost $10. The Next Day delivery will get you the package the next business day following the day you place the order, and it cost $25. The Saturday delivery will deliver package on a pre-arranged Saturday, and it cost $30.
It can be seen that the US free delivery offer is fast (only three days), and also has no order qualifying amount. Usually, online fashion retailers that offer free shipping will require that your order is up to a particular amount to qualify for the offer. And when the amount is set high, there's pressure on the customer to spend high to get free shipping. However, in Shopbop US free shipping, all orders qualify; so customers are not pressured to spend more than they'd intended just to get free shipping.
When shipping to Canada, there are no 2 Days, Next Day or Saturday delivery options, so all shipping is free. There's free express shipping which takes 1 – 3 business days, and there's another free shipping option that takes 5 – 9 business days. However, the latter (option with a longer delivery time) includes free returns.
However, when shipping to most of the other international destinations, there are two delivery options – express delivery and postal delivery.
The express delivery takes 2 – 4 business days and cost $10 for all orders under $100 but free for all orders over $100; while the postal delivery takes 7 – 20 business days and cost also cost $10 for all orders below $100 but free for all orders over $100. You must be asking what the difference is in the two options when they are equally priced. In express delivery, there is packaged tracking, but for postal delivery, you can't track your package.
However, there are other international locations with different rates. For example, free express (2 – 4 days) shipping to Armenia is $20, and only free for orders over $150. It is also $20 for orders going to China, and only free for orders over $300. Chins orders have standard shipping that is $10 and free for orders over $100, but that takes 8 – 11 business days.
That said; there is a drop-down menu on the shipping information page on the Shopbop website where you can select a particular country and get the available shipping options, cost, and times.
However, one good thing about the shipping policy of Shopbop is that they offer free shipping to worldwide destinations. Usually, online fashion retailers offer free shipping domestically; and since most of these shops are US based, only US customers (and at most Canada customers) get free shipping. Therefore, it's exemplary that Shopbop ships free worldwide.
It's also worth noting that they have free shipping on the express delivery option which only takes 1 – 3 days (in the US and Canada) and 2 – 4 days (for international destinations). This is a welcome shift from applying free shipping to only standard delivery that takes relatively longer periods.
Usually, there is an order processing time that is not added to the advertised shipping times. When such order processing times are long, it adds to the actual shipping time, and you'll have to wait longer to get your package. This, the ideal shop should have order processing times that are as short as possible.
In this regard, Shopbop does not earn a living of marks from us. However, it's not because their order processing times are longer than should be, but because there is no information about it. The company only says that "orders are processed pending availability and credit verification"". This does not tell us what we want to know. For example, if the items are available and there is enough credit in the supplied account, how long will it take to process an order and dispatch it?
However, the guaranteed delivery times of the 2 Days delivery option and the Next Business Day options suggest that such orders will be processed the same day. However, for all other delivery options, there's no way of knowing.
Returns and Exchange Policy
Returns
The blind purchase that characterizes online purchases means that you may not be totally satisfied with an item when you receive delivery of it. Instead of being stuck with an item that you do not like, you'll want to be able to return it to the store for an exchange or a refund. Thus, the ideal legit online fashion store should allow returns.
Thankfully, Shopbop does. They include a returns label with every package which can be used to easily return any item in your order that you're not totally satisfied with. Their return policy allows 30 days from the date of delivery to return an item to the store. The 30 days window is more like the industry standard for returns because that is what most fashion online retailers give.
If your returns are received within the 30 days window, Shopbop will proceed it and within 5 business days issue a refund to the original form of payment. After that, you'll allow the few days that it will take your bank to do their own processing and reflect the funds. If you've checked reviews of fashion retailers, you'll find that this is one of the fastest returns/ refunds processing times out there; some stores can have you waiting for up to a month to receive your refund.
However, for your returns to be accepted, they should also meet some conditions. They must not be worn, altered, or washed. They must have all tags and labels attached and must be returned in their original packaging.
Where the return policy doesn't make for good reading is in terms of returns shipping cost. Shopbop offers free returns but that's only for US and Canada customers.
The US free returns have the returns window reduced to 15 days. This means that to get free returns, the returned items must get to Shopbop within 15 of the original delivery date. If it gets to them after 15 days (but not more than 30 days), a fee of $10 is charged for returns shipping which will be subtracted from your refund. The reduced return window will have customers racing against time to get their returns to the store.
The Canada free returns are only available to orders that used the longer 5 – 9 days shipping option. For orders that were originally shipped using express shipping, a return shipping cost of $30 will be charged. For the other international destinations, returns shipping costs range from $30 to $110. This is relatively on the high side. Imagine getting an item for $100 and paying $20 to ship it to Armenia, only got the store to charge $110 for shipping if I opt to return it.
Exchanges
Sometimes, you don't want to return an item for a refund; you just want to get another item in its place. Product exchange is an option that most persons prefer because it's usually faster to get the new item than when you have to wait for a refund, before placing an order for the new item.
Unfortunately, Shopbop foes do not support product exchange at the moment. So you'll have to wait to get refunded before placing the new order.
Price and Related Policies
Price
The price of items in a store is the most important consideration. Customers will not want to buy items that are perceived as unreasonably priced; thus, a review of online stores should examine whether prices are competitive.
In this regard, Shopbop comes out strong. Though prices fluctuate, you'll find that though Shopbop has some very expensively priced items, they also hold items listed are on par or lower than in most other stores.
If you're shopping on a budget, you'll find a lot of elegant under $100 pieces to pick from
Promotions
Virtually every business offer promotion to increase sales, and online fashion retailers are no exception. A review of promotions offered by a store is important because it can make a customer get free items or get items for less than their full prices.
Shopbop does well in this regard because they run different promotions from time to time. Many of the promotions are time-specific – only available for a specific period of time. Therefore, you'll need to always check their website to know what's being offered. Alternatively, you can install the app and get regular promo alerts.
However, at the time of writing this review, there were not a lot of promos. Unlike many online fashion stores where we get greeted to price discounts offers and other promos on their landing page, the only thing we saw on the Shopbop landing page was an offer to "sign up for Shopbop emails and get 15% off your next purchase".
It is only when you go to their sales page, that you'll see a lot of items marked down by as much as 40 – 70%.
Loyalty Program
However, while we did not see as many promotions as we'll love to see; we did see that Shopbop has an amazing loyalty program that rewards customers for their continuous patronage.
How much you spend in the store in a year determines what level of the four-tier program you fall into. The levels are bronze, silver, gold, and platinum. As with all tiered program, the higher levels promises better rewards.
At the bronze level, you get early access to sales and new arrivals (that is you get to shop sales and new arrivals before non-members); you also get alerts of back-in-stock items.
As a silver member, you get every perk of the bronze level, a special gift for breaking into a new level, and a discount of 10% off purchases on your birthday. At the gold level, you'll get all the perks of the silver level, but the birthday discount will be 15%.
Added to this, you'll get a VIP customer service line for more effective customer support service, and a just-for-you surprise discount at some point of the year (mystery money). Lastly, at the platinum level you'll get every perk of the hold level (but with the birthday discount increasing to 20%), and special invitations to exclusive events such as fun parties.
That said; if you want a shop that rewards your shopping activity, Shopbop is worth looking at.
Price Adjustments
You can also get items lower than the listed price at the time you completed the transaction. If you purchase an item from Shopbop, and within 14 days of your purchase it is marked down. You don't need to worry about not having waited a few days before making your purchase in order to get the best value.
All you need do is contact Shopbop about it; their price adjustment program allows them to review the situation and they'll credit the difference in price to your original form of payment.
This is a nice little perk that is not seen very much in the online clothing retailing business.
Price Matching
The ultimate proof that Shopbop is committed to offering the lowest possible prices is its price matching policy.
If at the time of purchase you find an identical item in another store selling for a lower price than it is in Shopbop, all you need do is contact them. If they determine that the item is indeed identical (quality, style and colour) to theirs, they will give you their piece at a lower price.
Also, this is a strategy common to online Jewelers, but rarely seen in fashion cyberspace.
Payment Method
The ideal online fashion retailer should support a wide range of payment options so that customers can easily pay for their orders no matter where they may be residents.
In this regard, Shopbop accepts payment using the following: Visa, Master Card, American Express, Discover, JCB, Diners Club, UnionPay and Alipay.
It is typical of online fashion stores not to break the roof with a long list of payment options; for example, they do not support the increasingly popular web wallets and cryptocurrencies. However, the payment options in Shopbop are still limited. For example, there's no support for PayPal and any form of bank transfer that some stores accept.
That said, since the options supported by Shopbop are global options that are available in virtually every location in the world, you shouldn't have any problem paying for your orders in the store.
Customer Support Service
No matter how effective an online store runs, some customers will have questions that they need answers to, and some may have issues with orders. Therefore, the legit store must provide for attending to customers' inquiries/ queries.
In this regard, Shopbop provides two channels that customers can use to directly contact the – email and telephone.
To use the email service, you can submit your queries to the address: [email protected]. There ate other email addresses listed on their website that you can use if you want email support in other languages. Shopbop email support is available in over 7 languages including Spanish, French, Chinese, Korean etc. As typical of email submissions, you'll have to wait for a while to get a response.
If you want instantaneous feedback, you may use the telephone service. Shopbop provides toll-free lines so you don't have to worry about charges. The number for US customers is 1-877-746-7267; while that for other be countries/ regions is 1-608-270-3930.
One good thing is that telephone support is available round the clock (24hours a day, and 7 days a week). The one dent is that telephone support is only available in the English Language.
Pros:
Has a large inventory
Ships to over 220 worldwide locations, and offers free shipping to worldwide destinations
Allows returns within 30 days of the original delivery date, and issue refunds within 5 business days of receiving returned items
Offers Price adjustment and Price matching which serve to give customers better value
Has a loyalty program that acknowledges and rewards customers' year-long purchases
Not sure:
Not impressed by the number of promotional offers
Order Processing time – no time estimates of how long it takes to process regular orders
Cons:
Product exchange is not supported
Relatively high returns shipping cost
Limited payment methods – does not support PayPal
Conclusion
Shopbop is legit and safe. As a subsidiary of Amazon, with 20 years of fulfilling orders, and with the use of industry-standard data protection techniques, there's no doubt about their legitimacy or safety.
They offer products from the industry's foremost contemporary and designer labels; thus, they hold a wide product range and a large inventory. They sell quality and authentic items; their prices are in the okay range, and they offer price adjustment and price matching focused on offering the best competitive prices.
There's free express shipping worldwide, and returns are allowed if made within 30 days of delivery, and a refund is issued within 5 days of receipt of returns.
In all, Shopbop comes out as a strong fashion store, with only a few knacks such as limited payment options, and high cost of returns.
Do you have any experience with Shopbop? Kindly use the review section below to give us your brief Shopbop review.