I believe that the key to success is lifelong learning. That is why I'm always looking for ways to learn new skills. By now, I have probably tried every single online learning platform out there, and today, I will talk about one of my favorite ones – Skillshare.
In this review, I will be sharing my experience using Skillshare. I've been a member of Skillshare for almost four years now, and I like it a lot. I took many classes during the past couple of years, and for me, it's definitely worth time and money.
However, I understand that Skillshare might not be for everyone. There are pros and cons which I will talk about today. I will also discuss some of Skillshare's key features and point out some areas that could use improvement. If you want to learn new skills then keep reading, because by the end of this article you will know for sure whether Skillshare is a good fit for you. And as a bonus, I will also share a link to a free trial of Skillshare.
What Is Skillshare?
If you are new to Skillshare, let me explain really quickly what it is and how it works. But first, watch this Skillshare review video to get the answers to the most common questions about Skillshare.
Skillshare is one of the best online learning platforms for people who want to learn new skills or improve existing ones. It launched in 2012 with just 25 courses at the time.
The platform is constantly growing and now they have thousands of classes in different niches. Skillshare gives its members unlimited access to classes for a monthly subscription fee, plus they also offer a lot of free classes. Skillshare courses are not accredited and you won't get any certificate at the end. You will get something better though – skills that can be applied in real life.
I believe that Skillshare is the future of education. However, it's rather different than traditional education. Skillshare's primary goal is to deliver quality information to their students and make sure they complete practical assignments and apply new skills to real situations.
What Makes Skillshare Unique?
There are a few things that make Skillshare stand out among other online learning platforms:
Every course you take is focused on learning one specific skill in a short period of time.
You can apply the skills you learned on Skillshare in the real world.
Skillshare focuses on project-based learning which is a great way to practice new skills.
Skillshare is very affordable. You can sign up for a 30-day free trial, get a monthly subscription, or get an annual Premium membership with a 40% discount. That includes unlimited access to all Skillshare classes.
Speaking of classes, Skillshare often invites celebrity teachers. Just recently they launched two new classes taught by NBC talk show host Lilly Singh and a New York Times best-selling author Jonathan Van Ness.
You can learn for free! Yes, that's right: Skillshare has thousands of free classes, as well.
Skillshare Review
Skillshare is a good learning platform that offers great value for money. For $32/m or $168/y you get unlimited access to over 27,000 classes. You can start as a free member or take a free trial. Learning in classes, workshops, and LIVE is simple and engaging. Skillshare helps learn and improve skills.
Skillshare Pros
For only $14 a month you get unlimited access to thousands of courses. No other online learning platform offers anything like that.
Skillshare has over 27,000 courses in different niches. You learn a lot.
You can sign up for a 30-day free trial to try Skillshare before committing to a subscription.
Even though some classes lack quality, there are still many great courses to choose from.
Most courses include a project which, in my opinion, makes learning more effective and fun.
Courses are divided into short lessons and you can learn at your own pace.
With Skillshare's app you can learn on the go.
Skillshare video quality is usually at least 720p or HD.
Many classes are taught by top experts in their fields and some are taught by celebrity teachers.
Skillshare Premium membership includes free access to workshops and live sessions.
Skillshare Cons
Skillshare doesn't give certificates when you complete a course. So you won't be getting any piece of paper, "just" the knowledge and skills. Although the fact that it's not a "real" education is not important for me, it's a concern for some people who are thinking about joining the platform.
Some Skillshare classes are outdated. Make sure to check the reviews from other members and the date when the class was added.
If you forget to cancel the free trial you will get charged a monthly or yearly fee. So if you are not planning to continue using the service, cancel your subscription before the trial ends.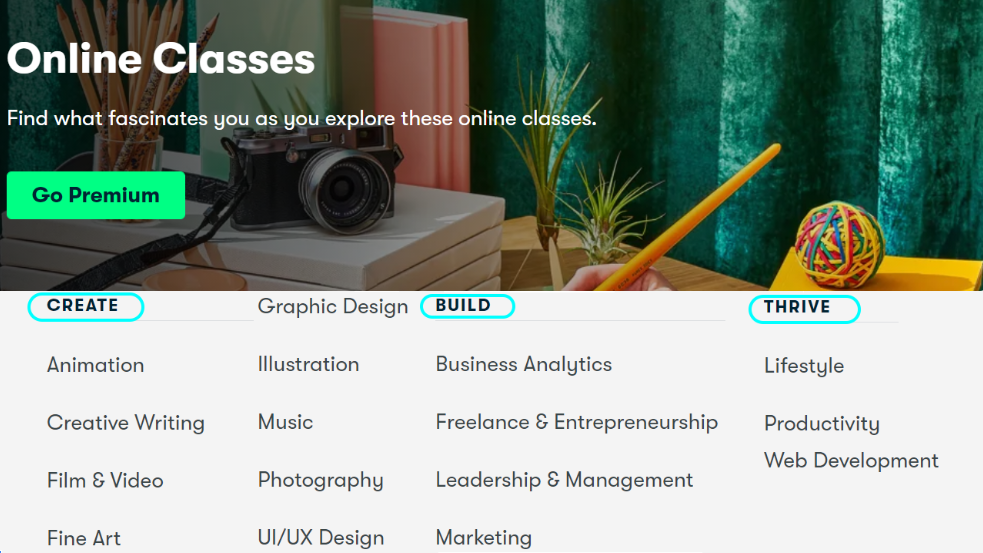 Many people get excited about Skillshare at first but don't take any action or learn new skills. I suggest you start the right way and take the time management class first to organize your time wisely and get motivated to learn and improve different areas of your life.
What Is Skillshare Good For?
Skillshare classes are divided into 4 categories: Creative, Technology, Business, and Lifestyle. As of March 2021, Skillshare has over 27,000 classes. When I first joined the platform, there were 21,000 classes. But don't let those numbers fool you. Although I think that Skillshare grants you unlimited opportunities and that there are a lot of high-quality classes with superstar teachers and great content out there, I also stumbled upon some courses that were poor in quality. Keep in mind, that almost anyone can become a teacher on Skillshare. So even though the bad quality classes are often being removed from the platform, once in a while you may come across one. That is why I advise you to always read reviews from other students prior to taking any class.
But let's be honest here, you probably won't need all 27,000 classes. I try to devote one hour each day to Skillshare because I also have a business to run and a family to spend time with. But trust me, even one hour a day makes a great difference. I can't stress enough how much those new skills that I learned improved both my business and my personal life.
Is Skillshare Free?
No, Skillshare Premium membership is not free.
Does Skillshare have free classes?
Skillshare offers two options: free and paid membership. Either way, you have to become a member and create a (free or paid) account to take classes.
Which Skillshare classes are free?
Yes, you can use Skillshare for free. If you want to browse free classes just click this link or choose the "free" category on the Skillshare website.
Free classes are great for a number of reasons:
There are more than 2,000 free classes available.
The classes are usually high-quality. This is a Skillshare initiative and there are paying teachers themselves.
Cons of Skillshare free membership:
You only have access to free classes.
As a free member, you can't participate in workshops.
You can follow the groups, but you can't participate in discussions.
Skillshare Free vs. Premium
I love that Skillshare has an option to learn for free, but if you have an opportunity to purchase a Premium membership, then do it. The quality of Premium classes is better, and less than 10% of Skillshare's classes are included in the free membership. Plus, the Premium subscription comes with many perks, like access to workshops, live sessions, etc.
How Much Is Skillshare? Is It expensive? Plans And Prices
Skillshare Premium cost
Skillshare monthly membership costs $32 per month and Skillshare annual membership is $168 per year. Oftentimes, you can get a discount on annual subscription.
Is Skillshare Premium worth it? What are the benefits of paid membership?
Skillshare's annual subscription will cost you about $14 per month.
Even if you chose to purchase a monthly membership, it would still cost you only $32 per month, which is a great deal.
With Skillshare Premium membership you get unlimited access to all Skillshare classes.
You also get access to all courses, tutorials, and workshops.
You can join groups and take part in all discussions. Ask questions, post your projects, share different ideas and experiences; Skillshare is a perfect place to connect with like-minded people. This makes learning much easier and a lot more fun!
Since you get access to thousands of classes, you may end up taking the course you never thought of taking, and actually loving it! For example, when I first joined Skillshare, I wanted to improve my video editing skills, marketing, and productivity. But I also took some cooking classes, relationship coaching, photography, and outsourcing without paying any extra money. Skillshare encouraged me to expand my horizons and I'm truly grateful for that.
Skillshare Free Trial
Right now, Skillshare offers a special deal for new members. If you sign up for a free trial, you can use the service for 30 days for free. After that, you can continue the subscription and pay $168/y or $32/m or cancel the trial and remain a free member. Skillshare sends an email 3 days before the trial ends.
If you are still not sure whether you want to join Skillshare or not, I suggest you take a free trial first. You can sign up for a free trial of Skillshare using this link – this way you with gain unlimited access to all Premium classes. Check out how Skillshare works and see how truly great it is. If for some reason you won't like the platform, just cancel your trial before it ends to avoid any charges. Take advantage of this wonderful offer while it lasts.
How much is Skillshare after a free trial?
If you decide to continue learning with Skillshare after a free trial, you will be able to purchase an annual ($168 per year) or a monthly subscription ($32 per month).
How long is Skillshare free trial?
Skillshare's free trial is 30 days long. I believe that is enough time to explore the platform and take a few great courses.
Can you cancel Skillshare after a free trial?
Absolutely. You can cancel your subscription anytime. However, if you don't want to get charged, you need to cancel your membership before the end of your trial.
Skillshare 30% Off Annual Subscription
At the moment, you can save 30% off the annual Skillshare subscription with ANNUAL30AFF coupon code and have Premium Skillshare access for around $8 per month. Skillshare membership is already very affordable, and the company doesn't usually run these kinds of promotions. That is why I encourage you to take advantage of it. So if you've been thinking of joining the platform, now is the perfect time to do it.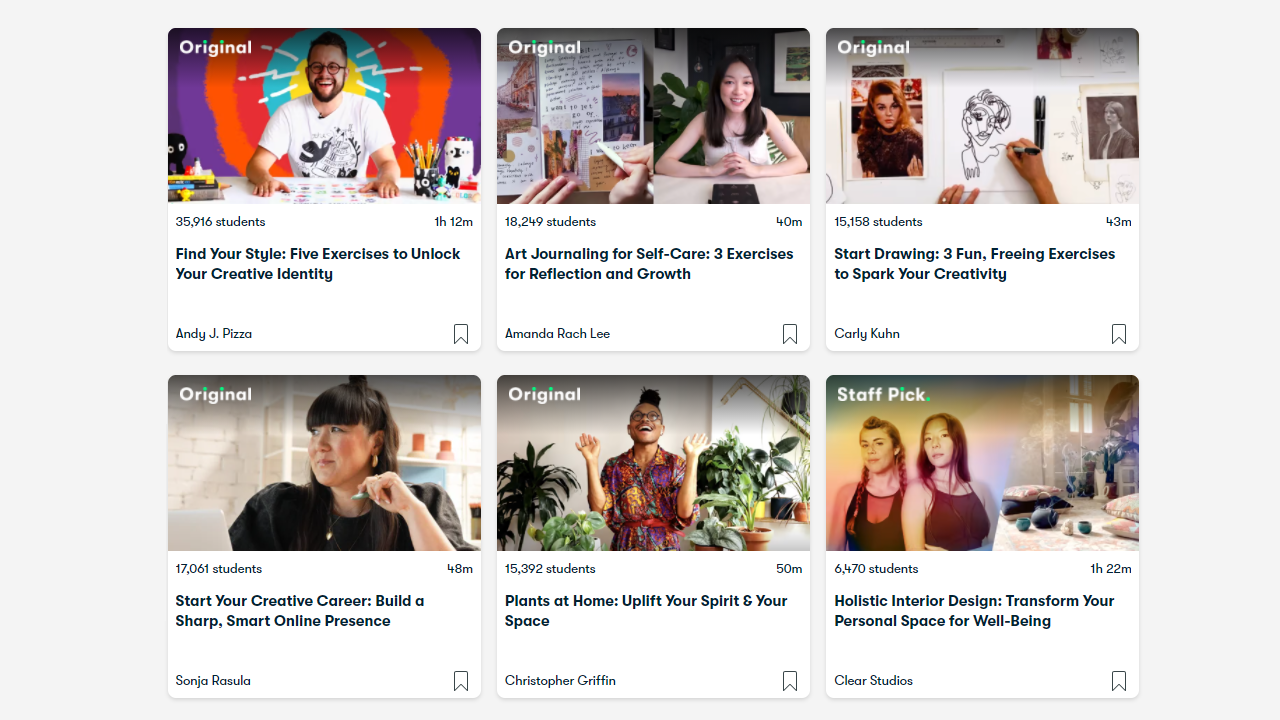 Skillshare Teachers
Who teaches on Skillshare?
Anyone can teach on Skillshare. This can both be a bad and a good thing. Most classes are taught by working professionals, experts in their fields, and even celebrities, but there are some teachers that are just not good. So again: read reviews before taking any course.
Skillshare celebrity teachers
In 2021 Skillshare launched three new courses that exceeded my expectations taught by celebrity teachers.
Social Media Storytelling by Lilly Singh
Lilly Singh is a host of her NBC late-night talk show called A Little Bit Late with Lilly Singh, an executive producer, and a New York Times bestselling author of her book HOW TO BE A BAWSE: A Guide to Surviving Conquering Life.
On Skillshare, Lilly is teaching a class called Social Media Success: Video Storytelling on YouTube & Beyond. The class is 1 hour and 39 minutes long and consists of ten short lessons, in which Lilly shares her process of making viral videos. This is a perfect class for any YouTuber or Instagramer who wants to gain tips on how to create great videos and grow your social media following.
The Ultimate Self-Care Playbook by Jonathan Van Ness
Jonathan Van Ness is a New York Times best-selling author of his memoir Over The Top: A Raw Journey To Self-Love and a star of Netflix's Emmy Award-winning series Queer Eye.
On Skillshare, JVN teaches a class called The Ultimate Self-Care Playbook: Discover & Nurture Your Centered Self. The class is 1 hour and 21 minutes long and consists of thirteen lessons. In this class, Jonathan shares his self-care secrets (including lessons in skincare, yoga, journaling, meditation, and crafts), and teaches how to unlock creativity, unlock your true desires, start a sustainable self-care routine, and build your relationship with yourself.
Character Design by Josiah Brooks (aka Jazza)
Josiah (Jazza) Brooks is a television presenter, illustrator, author, and creator of a very popular YouTube channel Draw With Jazza.
On Skillshare, Jazza teaches a class called Character Design: From First Idea to Final Illustration. The class is 1 hour and 5 minutes long and consists of 9 lessons. This class is perfect for anyone who wants to learn about character design. You will see how Jazza creates his characters from scratch and will find out how to develop the ideas that you want to draw.

Skillshare Classes Review
How are Skillshare classes structured?
Most Skillshare classes are half an hour or hour-long so it won't take much of your time. And even the half an hour courses are broken up into parts so that it's easier to go and watch a bit when you have time and come back and finish watching it later. For me, it's easier to devote a certain amount of time every day to learning and just watch it all at once. Even after a stressful day, I can go and sit on the couch with a cup of tea and my tablet, relax and learn something new. That calms me down and gives me a sense of accomplishment.
Skillshare classes are not live, but they do have Live Sessions which is another cool way to learn. I will talk more about Live Sessions later.
What can you learn on Skillshare?
Skillshare offers more than 27,000 classes to Premium members. You can learn anything from drawing, cooking, and meditation to investing, cryptocurrency, growing your business, and so on.
You can take as many classes on Skillshare and learn as many new skills as you want. The sky is truly the limit here.
Tips For Choosing High-Quality Classes
So how do I chose a course that I want to take? I have developed a simple system that helps me pre-qualify a class before taking it to determine if it's worth my time and whether I would benefit from it. I suggest doing this simple "class research" prior to joining Skillshare to make sure there are enough classes in your area of interest.
Choose a category that interests you the most. Then browse Skillshare classes.
If the course doesn't look appealing, skip it. I believe that the thumbnail says a lot about the teacher and how much effort he put into creating his class.
Check the introduction video (every class has one). Read the reviews.
See what kind of projects other students created in the class.
If something seems off, just skip the class and search for another one that you will enjoy more.
Are Skillshare Courses Accredited?
Skillshare courses are not accredited. You won't receive any certificate after you take a class. Skillshare is about gaining practical knowledge, learning new skills, expanding your horizons.
Some people are wondering if Skillshare can get you a job. Look, guys, it all depends on you. If you learn a lot of new skills that are needed for a certain position, then yes, Skillshare may help you get a job or boost your career. And even though Skillshare doesn't give certificates, I think that the classes would look good on your CV. And if you create a project during your class, you will receive a URL that can be showcased in your resume, portfolio, or elsewhere.

Skillshare Live Sessions
In the spring of 2020, Skillshare introduced Live Sessions – a new way to learn and connect. You can see the upcoming live classes here.
Skillshare Live Sessions enable students to grow, learn, connect, and explore within a creative community. Each session lasts 60 minutes or less, and if you decide to join, you will be working alongside teachers to learn new skills and techniques. You will be able able to ask questions in real-time and get an exclusive behind-the-scenes look at the whole process.
Live sessions are available to all Premium Members but keep in mind, that space is limited, so it's better to check the upcoming schedule in advance.
How Live Sessions work:
Simply click on a "Remind me" button next to the course you want to take. You will then see that the class status has been changed to "Subscribed".
You will receive a notification to join the live session on the day of the event 15 minutes before it starts.
Space is limited to 300 people, but the sessions are highly popular so make sure your sign up well in advance.
You can participate and ask questions via chat.
It is encouraged that your camera is turned on but it is not required.
All live sessions are hosted on the Zoom platform.
Only a few selected teachers were approved for Live Sessions, which means that all classes are top-notch.
Live Sessions is another excellent way to learn on the Skillshare platform. I will post more updates and share my experience soon.
Skillshare Groups Feature
In May of 2017, Skillshare added a Groups feature to the platform. This feature allows Skillshare members to connect with each other. Groups are divided into four main categories: Creative, Technology, Business, and Lifestyle. At the moment, there are over 30 well-organized Skillshare Groups. If you are a Premium member you can participate in the discussions, share work, and, of course, ask questions. Most Groups have around 3,000-5,000 members. I personally love this feature because it allows me to connect with like-minded people, discuss interesting topics, and even improve some skills.
What are Skillshare Workshops?
Skillshare offers a great variety of workshops. What makes workshops different from Premium courses is that you actually take a class on a designated schedule set by the teacher alongside other Skillshare students. Workshops often last for a few weeks, and they are perfect for students who are interested in a more intense learning experience and want to get more feedback from teachers. Workshops are usually run by the Top Skillshare Teachers. I enjoyed this feature a lot it certainly exceeded my expectation.
Most workshops are already included in your Premium subscription and you are free to join them. Sometimes you may come across a workshop that is truly unique and has limited seating available and might cost a bit extra. In my experience, these are usually great courses that are definitely worth paying for.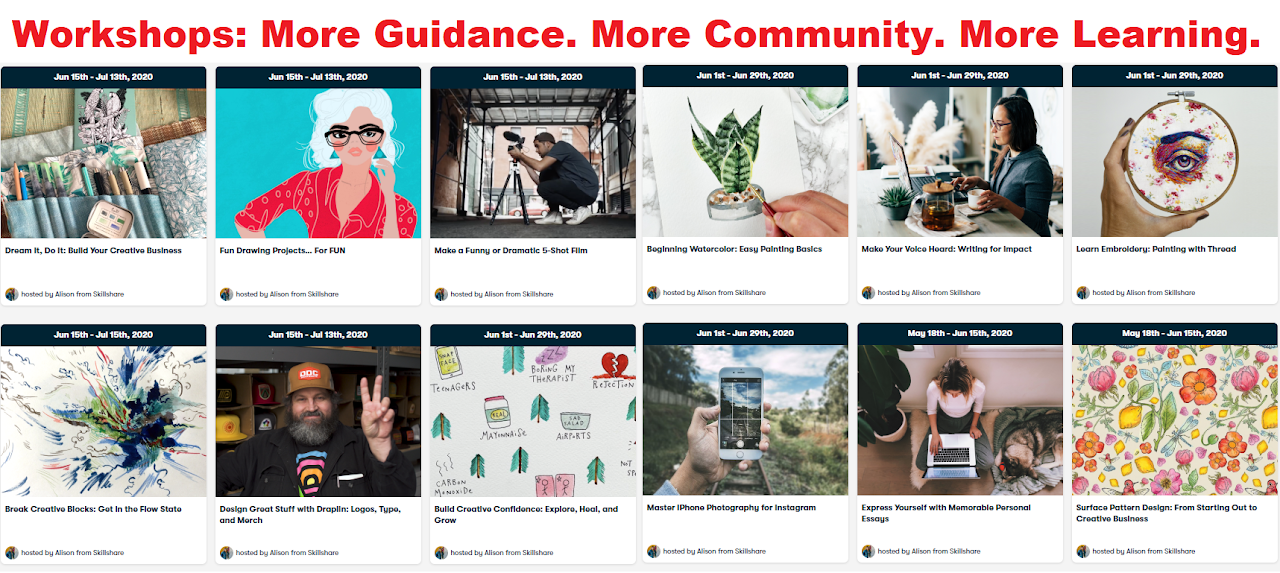 Skillshare Mobile Experience: App Review 2022
You can download the Skillshare app if you prefer to learn on the go and use mobile devices to take classes. If you have a Premium membership you can learn even when you are offline. All you have to do is download the classes beforehand. I find the Skillshare app to be very responsive and easy to use. You can watch different courses on the app or your computer and it will track the progress and save exactly where you left off. I like that you have these bite-sized pieces of content because this way I don't feel overwhelmed by a massive load of material. It makes learning fun, easy, and manageable in my busy day-to-day life. That's another thing I absolutely love about Skillshare.

Is Skillshare A Scam?
This is one of the most common questions I get on the Skillshare review video on YouTube, and I feel that it's time to address this topic. Let me be clear, Skillshare is a legit company, and if you check the reviews on the Trustpilot website you will see that they have many good reviews. I looked at the reviews and noticed that almost every person who left a negative one complained about the same thing: being charged after the end of a free trial (nobody complained about having free Premium access to thousands of high-quality classes though).
Yes, that is true. If you sign up for Skillshare free trial and don't cancel your subscription before the end of the trial you will be charged automatically. Many people keep asking the same question: Can you cancel your Skillshare membership if you sign up for a free trial? And the answer is yes! Of course, you can cancel it at any time during the trial if you want to avoid being charged.
Another popular question is Can you get a refund from Skillshare?. Skillshare offers refunds for annual Premium membership only if you made a request within 7 days after your payment went through. You can't get a refund for a monthly subscription, which makes perfect sense to me. Try Skillshare for one month at no cost, see if you like it, and then make a decision. If for some reason it is not what you've expected, then you don't have to wait for 30 days to cancel your subscription, do it any time before the trial ends. Set up a reminder in your calendar so that you won't forget about it.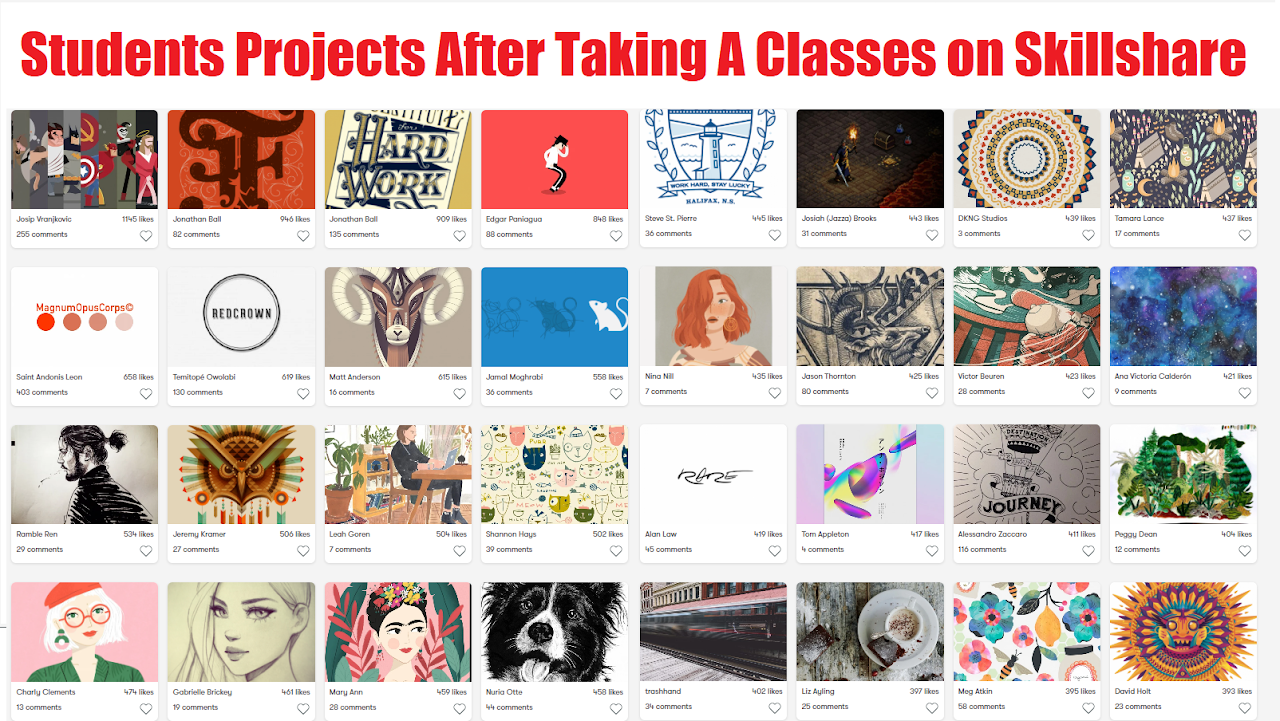 Is Skillshare Worth It?
In my opinion, Skillshare is a good, legit platform for anyone looking for high-quality well-structured unlimited classes and workshops at a fraction of the regular price. I use it daily and always learn something new and I have only good things to say about it.
It offers 30,000 classes for $32/m or $168/y and a free trial. Cool features like workshops and live sessions help students engage more in learning. There are very few cons, and without a doubt, Skillshare is worth it.
As you can tell from this Skillshare review, I really like the platform. I think that Skillshare is worth it and I recommend it to all my friends and family members. I love the idea of learning from the comfort of my home. I love all the projects that I worked on. And most of all, I love applying new skills in life and getting real results.
Obviously, like any other service, Skillshare has its cons, but I think that the pros overweight them. And after using the platform for several years, I feel that Skillshare is a trustworthy and reliable company. Plus, it's good value for money. Where else can you take as many classes as you want for such a low price? So my verdict is that Skillshare is worth it.
Is Skillshare A Good Match For me?
Skillshare offers endless possibilities for learning. You can learn how to start your own business, become a freelancer or an entrepreneur. There are great courses that can teach you how to build a website, become a successful blogger or a photographer, start your own YouTube channel, or sell things on the Internet. Plus, you can take art or cooking classes, and even learn how to speak foreign languages. There are so many options to choose from!
Basically, for $0.45 per day, you can get access to thousands of high-quality classes. So just ask yourself:
Am I open-minded enough to try something new?
Do I really need to learn anything new? Or am I fine just the way I am?
How much time can I devote to learning new skills?
What can I learn today to get great results tomorrow?
What areas could I improve to get a better quality of life?
Which practical skills can improve my business?
And if you feel like you are ready to learn new skills and improve your life, then Skillshare might be the way to go.
Skillshare Review Update 2022
There are a lot of exciting things happening with Skillshare right now as the platform continues to grow and thrive. The latest updates include a revamped logo that reflects one of the company's main goals – to encourage exploration, and a new slogan – "Explore your creativity". Plus, the platform got an even more user-friendly redesign.
All the classes are now divided into three different categories: Create (Film & Video, Graphic Design, Music, Photography, Web Development, etc.), Build (Business Analytics, Freelance & Enterneuprenship, Leadership & Management, Marketing), and Thrive (Lifestyle, Productivity).
In 2021, there will be a lot of new classes available on the Skillshare platform and, what's more important, even more high-quality courses. Skillshare's team is working very hard to make sure that all classes meet the high-quality standard. There are still a few mediocre classes on the platform, but I can definitely see how much things have improved over the past couple of years.
Three more classes taught by celebrity teaches have been added to the library in the past few months: Social Media Storytelling by Lilly Singh, The Ultimate Self-Care Playbook by Jonathan Van Ness, and Character Design by Josiah Brooks (aka Jazza).
In other news, Skillshare has recently teamed up with Adobe to bring their users an insider look at the company's new app, Adobe Fresco. Skillshare launched five classes taught by amazing illustrators and designers which show students how to use the app to create art. Students are encouraged to create a project of their own using the Adobe Fresco app. The purpose of these classes is to help artists at all levels strengthen their digital artwork skills.
Skillshare Chroma Courses
In 2021, Skillshare launched Chroma Courses – cohort-based courses that last several weeks each. The goal of Chroma Courses is to help creatives upskill. Chroma Courses have a limited number of spots available (usually, 50) so that members get to study in small groups.
Chroma Courses are not included in the Skillshare Premium subscription, you have to pay for each one separately. At the moment, the cost of most Chroma Courses is $499.
New courses will be announced every month. The topics of Croma Courses vary from entrepreneurship and design to photography. If you decide to enroll in any course, you will be able to participate in live Q&A, get personalized feedback on your assignments, and receive exclusive content from teachers.
Skillshare FAQ

Is Skillshare better than Udemy?
They are two very different learning platforms. The biggest difference between them is the pricing model. With Skillshare, you get an unlimited subscription to all classes in the library. With Udemy, you have to pay for each course individually.
Is Skillshare better than college?
Skillshare is an online learning platform that offers different courses. It is not accredited. You learn for the sake of learning, and not because you will earn a certificate or degree.
Is Skillshare better than LinkedIn Learning?
LinkedIn Learning is a good platform, but it has a more passive learning approach than Skillshare. It is also much more expensive.
Is Skillshare worth the money?
For $14 a month (for an annual subscription) you get unlimited access to more than 27,000 classes, plus workshops and live sessions. In my opinion, it is well worth it.
Is YouTube better than Skillshare?
I agree, that you can learn a lot of things on YouTube. With Skillshare, however, you get more in-depth content, and the lessons are much more organized. Plus, unlike YouTube, Skillshare doesn't have any ads and recommended videos to distract you from learning.
Does Skillshare have a student discount?
You can apply for the Skillshare Student Scholarship to get 50% off a Premium Membership. You need to have a valid .edu address to apply.
Is Skillshare legit?
Yes, Skillshare is a reliable company that has been on the market for over a decade.
What happens if you cancel Skillshare?
If you cancel your Skillshare subscription, your account will remain active for the days that you have paid for. During this time, you will be able to enroll in free classes on Skillshare and update your class projects.
Can you download Skillshare videos?
Yes, you can download Skillshare videos for offline viewing, but only through the app. To download a video, go to a class and press the "Download Class" button.
Can I use Skillshare on two devices?
Yes, you can use Skillshare on multiple devices.