Everybody needs a reliable down jacket. It doesn't need to be flashy, it doesn't need to have its price driven up by a massive PR campaign. The North Face's Premonition down jacket is one such solid performer; no one is raving about it online, probably because all of the people who bought it are out in the woods around a campfire somewhere.
The North Face Premonition Down Jacket Features:
800-fill down big mountain riding jacket is light and packable without sacrificing warmth
Steep Series collection is fully featured for on-mountain performance
New engineered woven-baffle construction reduces the need for glue or baffle stitching
Relaxed ergo fit is engineered with articulation and extra ease
Two internal dump pockets
Two hand pockets double as core vents
Chest pocket doubles as a stowpocket
Under-helmet fitted hood
MSRP: $280

Innovation and function in harmony
The Premonition is a member of The North Face's Steep Series. The Steep Series is a performance-oriented line that is targeted a price point lower than their pricey (but, admittedly, remarkable) Summit Series. The Steep Series pieces are begging to get out into the backcountry, and the Premonition is really quite a fine jacket for big days in big powder. To that end, it's decked out with every feature you might need in the mountains.
There are, for example, a plethora of pockets. Two generous internal dump pockets can accommodate goggles, and they share a mesh backpacking with the twin zippered hand pockets. Opening up these pockets provides plenty of added ventilation. A zippered chest pocket also doubles as a stuff pocket, and The North Face has included a haul loop for clipping the Premonition onto a carabiner to be stashed. Other big-mountain features include a functional drawcord hem, an under-the-helmet hood fit, and nice chunky zipper pulls all over for use with gloves. Major kudos there, I get very tired of testing winter jackets that aren't built for gloves.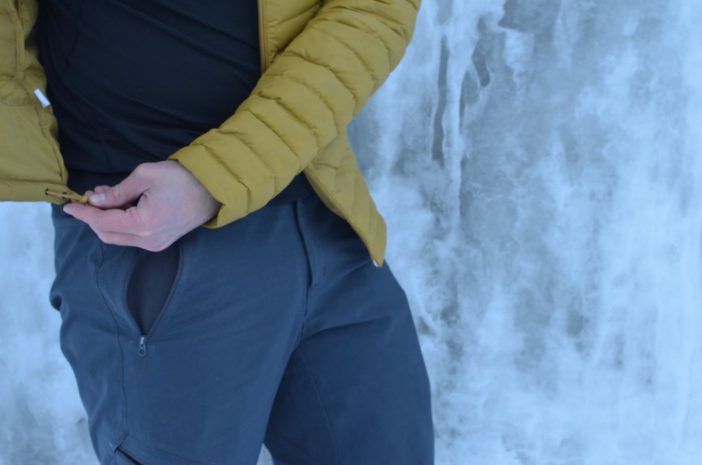 The key innovation that The North Face has packed into the Premonition is its woven-baffle construction, and there are a number of benefits to talk about here. Perhaps the most noticeable is how it reduces wind cutting through the jacket; that can be a major detriment to puffy jackets that have lots of seams. At the same time, this design cuts the overall amount of stitching and glue throughout the jacket, theoretically reducing the number of potential failure points. Interestingly, the entire jacket (even the sleeves) has what I would normally call a hung liner; it looks like a hung liner, but I suspect it's actually a component of the woven-baffle construction. In any case, the additional fabric sheet helps increase dead air space and reduce the amount of air coming through from the outside.
The other key aspect of the Premonition is its careful tailoring. While the 15D nylon doesn't have any inherent stretch, the Premonition is engineered with The North Face's 3D Fit patterning, so it really moves quite comfortably with your body. It has a fairly relaxed, generous fit and it's long enough to cover your bum, too. That's nice for a mountain puffy, purely from a protection standpoint. The fabric has a DWR, but the wonderfully fluffy 800-fill down doesn't have a hydrophobic treatment. The jacket's lining is a rather burly 40D nylon, which seems extreme for a jacket lining. I suspect that this was necessary to give it the strength it needs for the unique baffle design that it helps to support. This lining is a significant factor in preventing wind from cutting through the jacket, too.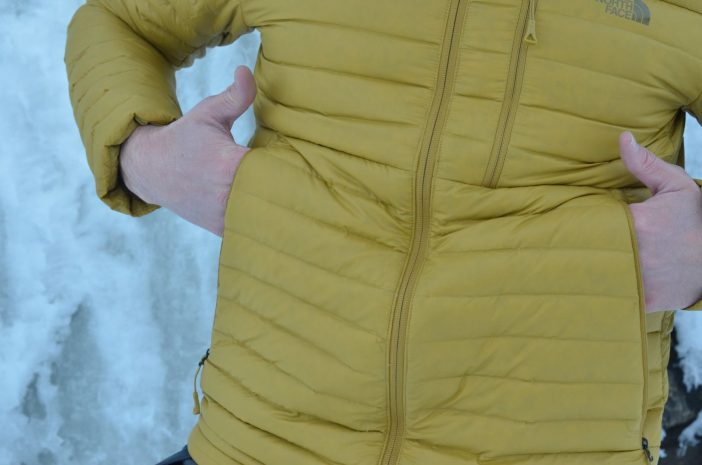 I only really have one complaint, and it was only an issue when I wore a short-sleeve shirt around town. There's an odd bit of stitching on the inside of the elbow in each sleeve, and it can be a bit irritating to your skin over time. It comes where the uninsulated armpit areas transition back into baffles down the arms. By the way, kudos to The North Face for putting zoned insulation into a puffy. It stretches what I think puffies are good for.
Real-world testing proved the Premonition to be a worthy companion in the mountains. The wind can't get through it, and it's quite warm for its weight. The DWR isn't as burly as I've seen on other down jackets but you know perfectly well that you should have a shell over this if it's rainy. In part, tighter face fabric weaves than the 15D nylon help in this regard. I especially like the tall collar, which makes a great seal around your neck when the hood is down.
It's tough to give a guesstimate of the Premoniton's ideal comfort range. I wore in in temperatures ranging from single digits to the high thirties, and I'd say that its sweet spot is through the high twenties to mid thirties with appropriately varying layering systems; of course, that's just my subjective take on it. At roughly 14.5 ounces, the Premonition is not ultralight – we could have guessed this from the chunky rubber zipper pulls – and so I think of it as a midweight puffy.
But this puts it into the same category as, for example, the Mountain Hardwear Ghost Whisperer at half of the weight and the Sierra Designs' Elite DriDown Hoody. Though technically midweight jackets, these both are lighter than the Premonition and feature higher fill-power down (at least on the original Ghost Whisperer). One can't make a direct comparison, though, primarily because of the Premonition's construction. The Premonition's real charm lies in its innovative baffle design. This does a great deal of good where wind is concerned, effectively blocking out stiff cold breezes. So while the Premonition might otherwise lose ought ounce-for-ounce against these lighter jackets, it'll reward wearers when the wind picks up.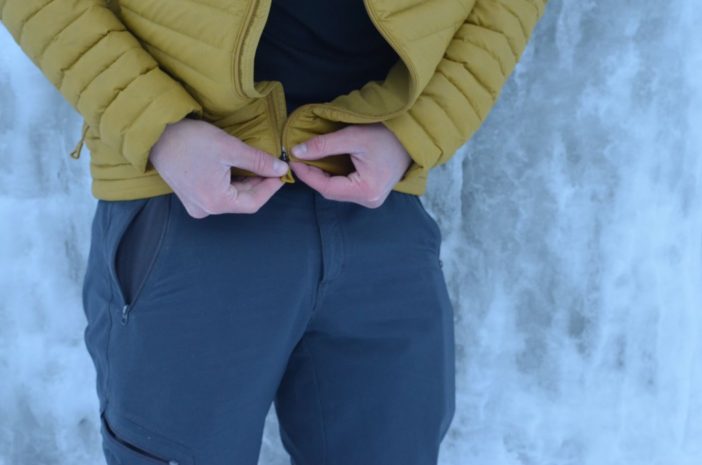 The Good:
Every feature you'll need is here
Plenty of storage
Comfortable, stylish fit
Collar design is especially good
Zoned insulation is great on a puffy! Fewer sweaty armpits
Mesh hand pocket core vents are awesome
The Bad:
Seams halfway down the sleeves are uncomfortable
Loose-ish 15D face fabric weave isn't as resilient in wet weather as tighter weaves
The Bottom Line: Premonition Down Jacket
The Premonition is just that – a sign of great adventures to come. It's a very competent mid weight puffy that's quite warm for its weight, and I'm impressed with the fancy woven-baffle construction. Overall, it's a highly wind-resistant puffy that fits great and doesn't get in your way.