About Thrive Market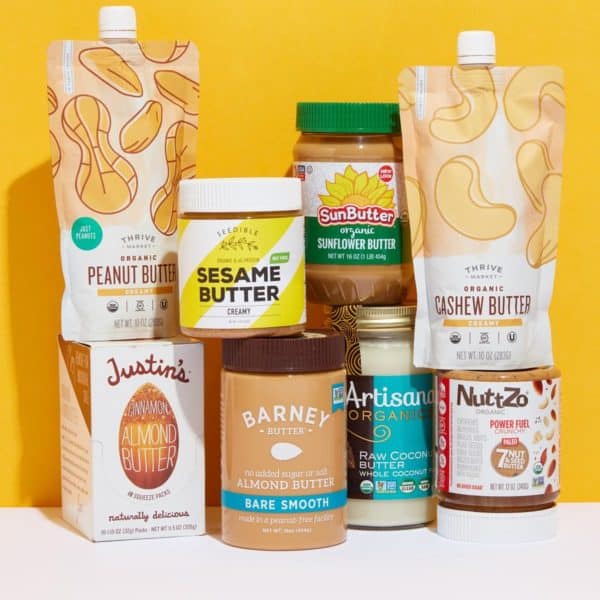 Thrive Market is an e-commerce retailer that carries brands that are organic, non-GMO, non-toxic, and sustainably made from brands like Primal Kitchen, Acure, and Annie's.
With a steady following of 724K on Instagram, Thrive Market has been spotlighted by various media publications, including PopSugar, Forbes, Fast Company, and Business Insider. To use this service, customers must sign up for an annual membership plan.
In the mood to browse the Thrive Market shelves? Before you grab a cart, read this Thrive Market review first to get an in-depth look at this company.
We'll go over their products, subscription plan, customer ratings, and more to help you decide if they're worth checking out.
Overview of Thrive Market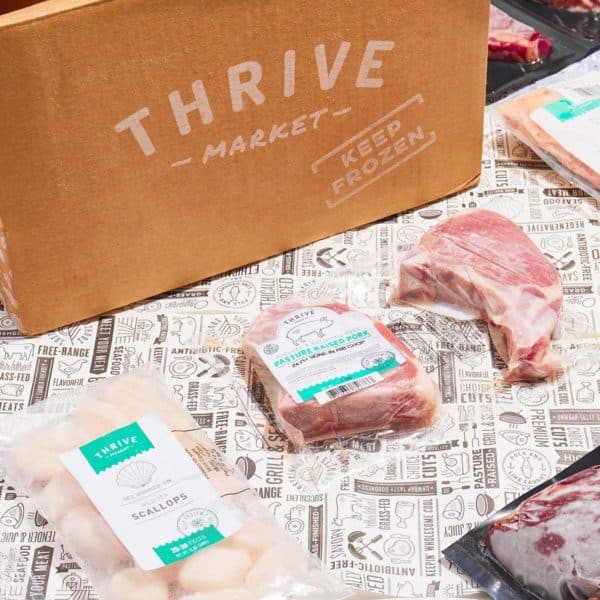 Whether you know it or not, healthy shopping is a game that the food industry doesn't want you to win, as it has often worked to make nutritious eating inaccessible, inconvenient, expensive, and confusing.
By establishing Thrive Market in 2014 in sunny Los Angeles, California, founders Nick Green, Sasha Siddhartha, Gunnar Lovelace, and Kate Mulling set out on a mission to make healthy and affordable shopping easier for everyone.
Dedicated to providing premium foods that are made out of quality ingredients, Thrive Market focuses on environmentally friendly products and ensures that the brands they carry contain no GMOs, are ethically sourced, and are affordable for everyone.
As the founders say in their "Quality Manifesto" on the Thrive Market website, "To us, the health of a product is intrinsically tied to the health of the people who produce it, and the health of the planet."
Now with 500,000 members and counting, Thrive Market has expanded their healthy-living mission to include goods as well as food, including cosmetics, items for kids, and pet necessities.
The company is also committed to giving back to the community, as they partner with hundreds of hunger organizations, food banks, and nonprofit programs to make sure their clients receive healthy essentials as well.
Before diving deep into this Thrive Market review, let's go over some initial pros and cons: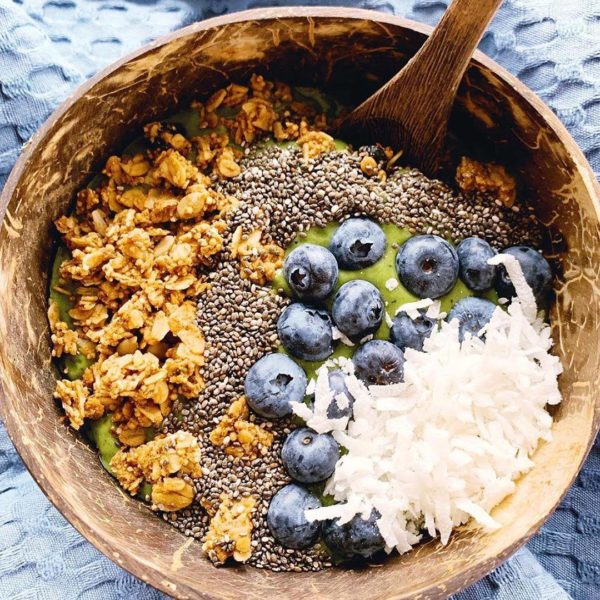 Pros
Hundreds of grocery brands that are affordable, organic, sustainably and ethically sourced, and non-toxic
Users can shop for all the groceries need from the comfort of their own home
6,000 products in total
Customers can use the mobile app to shop on the go
Thrive Membership comes with free plans customized for low-income families, students, teachers, veterans, and first responders
Cons
No international shipping
How Does Thrive Market Work?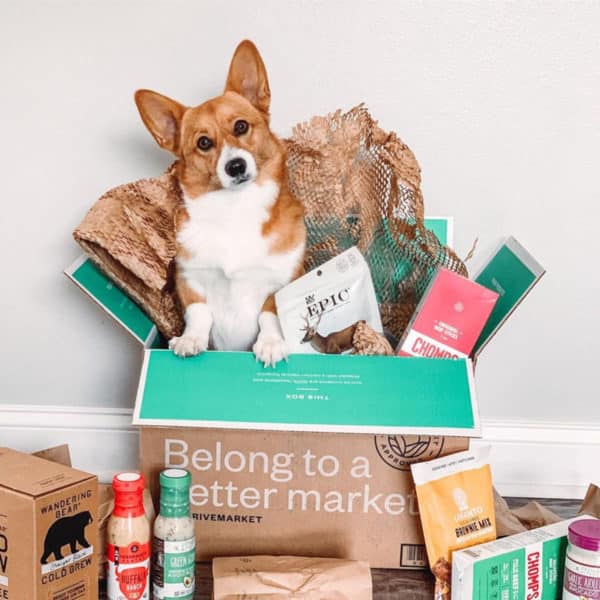 Say goodbye to wonky carts, stretching to reach the top shelf, and waiting in checkout lines.
With Thrive Market, customers can do their grocery shopping from the ease of their own homes, on the condition that they sign up for a Thrive Market Membership, just know that merchandise cannot be purchased on a one-time basis.
We should note though that the company offers a 30-day Thrive Market free trial to help first-timers decide if the program is right for them.
If you want to continue shopping with Thrive Market, you can pay as little as $5 per month for your membership, and you have the option to pay $60 for a year in advance.
You'll also get bonuses, like 25%-60% off retail prices for an average savings of $30 for every order.
Thrive Market has a Savings Guarantee that promises, "If you don't make back your annual membership fee in savings by the end of your membership year, they'll automatically give you the difference in Thrive Market credit after your annual renewal."
The advantages don't stop there: for every customer that signs up for a membership plan, Thrive Market will also provide a free subscription to a person in need.
Although customers cannot pause or temporarily disable their membership, you can order as often as you like with no frequency requirements or limits.
Additionally, members can choose the "Autoship" option, which sets up a recurring shipment order to ensure you never run out of essentials. For more details on how to manage your Thrive Market login and account, visit the "How it Works" page on their website.
The road to health is not an easy venture. Thankfully, Thrive Market has your back when it comes to grocery shopping.
Hosting over 6,000 products from hundreds of brands, this marketplace offers a great selection of food, beverages, supplements, cosmetics, and other goods.
If you're overwhelmed by the options, you can peruse Thrive Market's carefully curated selections, which can be filtered to suit over 70 dietary and lifestyle needs.
From delicious nut butter smoothies to vegan plant protein powders, this Thrive Market review will now go over some of the bestsellers that you may want to add to your cart.
Thrive Market Grass-Fed Collagen Peptides Review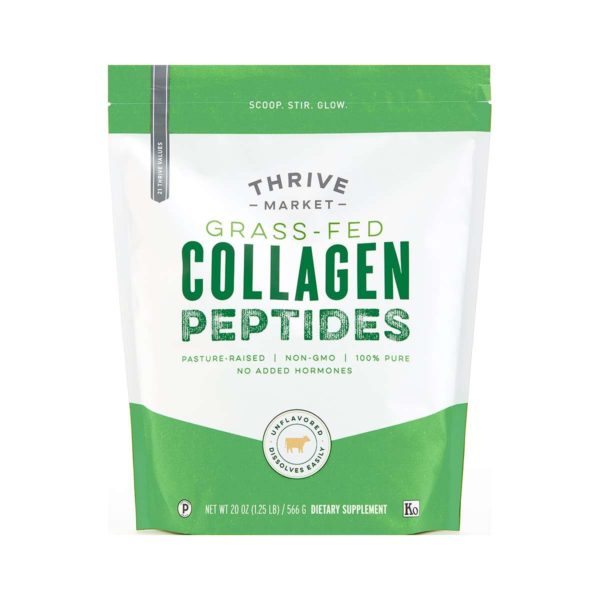 Formulated to promote healthier skin, hair, and nails, Grass-Fed Collagen Peptides can be mixed into your afternoon smoothies for an added health kick.
Containing no GMOs, this daily supplement is sourced from 100% pure grass-fed, pasture-raised bovines. This fine-ground powder is designed to be tasteless, textureless, and hydrolyzed, which means that it can be easily dissolved into oatmeal or coffee.
These Thrive Market collagen peptides are keto-friendly, paleo, and gluten- and dairy-free, and cost $25 for a 20 oz. packet or $19 for 20 stick packs (compare that to the original retail price of $37).
For those that like a hint of something sweet, the supplement also comes in three tasty flavored varieties: mocha caramel, matcha mint, and vanilla, which come in pouches that vary from 10 to 11.07 oz. and cost $20 each.
Thrive Market Rightrice Original Review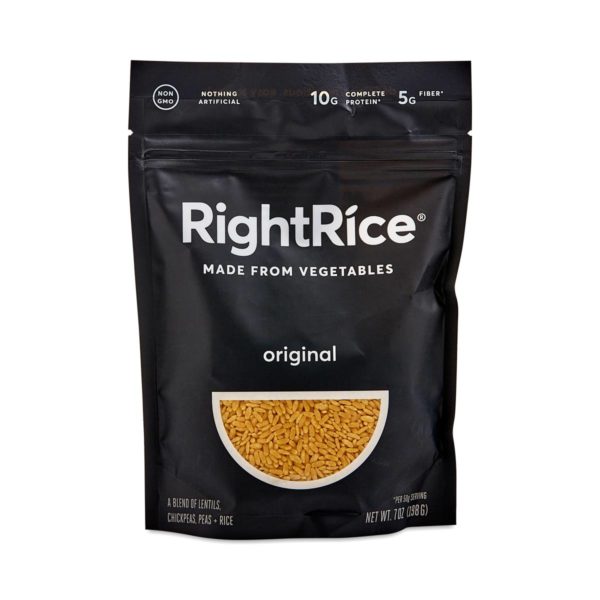 This ain't your regular bowl of rice. Rightrice Original is a blend of rice with 90% nutritious vegetables, such as lentils, chickpeas, and green peas. Containing more protein, fiber, and fewer net carbs, this is a healthier alternative than the plain white original.
It's also gluten-free, non-GMO, kosher, and vegan. Oh, and did I mention that it cooks in just 10 minutes on the stovetop? So it's not only healthy but also super-convenient.
This Thrive Market review recommends transforming it into a risotto by adding some vegetable stock and white wine during the cooking. For a non-vegan option, pair it with oven-roasted chicken and a plate of hearty vegetables.
Change the way you think about your grains by picking up Rightrice Original in a 7 oz. pouch for $4.
Thrive Market Brown Sugar Replacement Review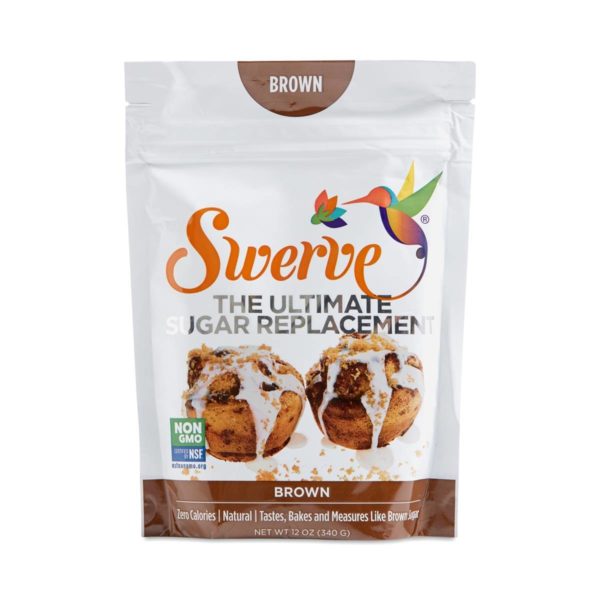 For those who can't get enough brown sugar milk tea or cold brew coffees, Thrive Market has a much healthier and more cost-effective solution for you. The Brown Sugar Replacement from Swerve offers the same sweet sensation without any added calories.
Each portion is already measured out, so bakers and cooks can quickly mix it into their recipes without any need for mental math.
Part of the Thrive Market keto store, this unique form of brown sugar uses a blend of non-GMO erythritol and oligosaccharides, which are derived from fruits and vegetables.
Feel guiltless in your sweet-tooth adventures by purchasing a 12 oz. bag of Brown Sugar Replacement for $8 (which knocks a crucial couple of bucks off its original retail value of $10).
Thrive Market Maldon Sea Salt Flakes Review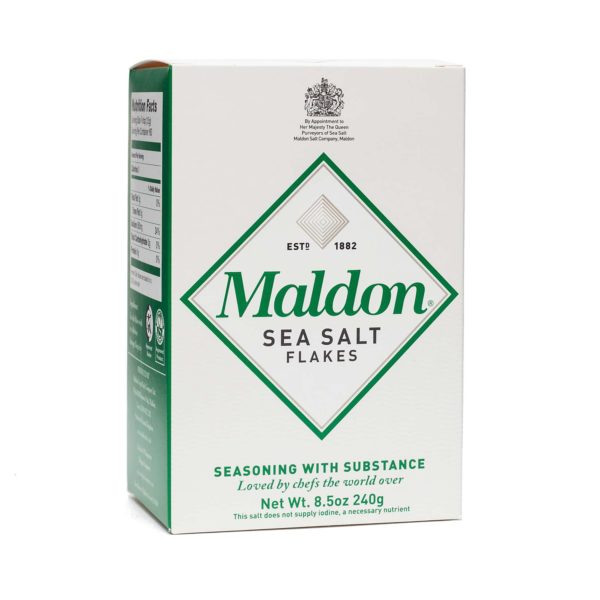 Going back to 1882, Maldon Sea Salt Flakes were a long favorite of gourmet chefs in London.
Originating in the English town of Maldon, located near the Blackwater River and the North Sea, which provided a mixture of freshwater and saltwater.
The brand developed such a reputation that it was eventually granted a Royal Warrant of Appointment (the right to place royal seals on its products) by Queen Elizabeth II herself.
Packaged in an 8.5 oz. box, these high-quality sea salt crystals have a fresh earthiness that leaves none of that bitter aftertaste you get with some other brands. Get the rich taste of history for $5, marked down from the original retail price tag of $7.
Thrive Market Keto Pancake & Waffle Mix Review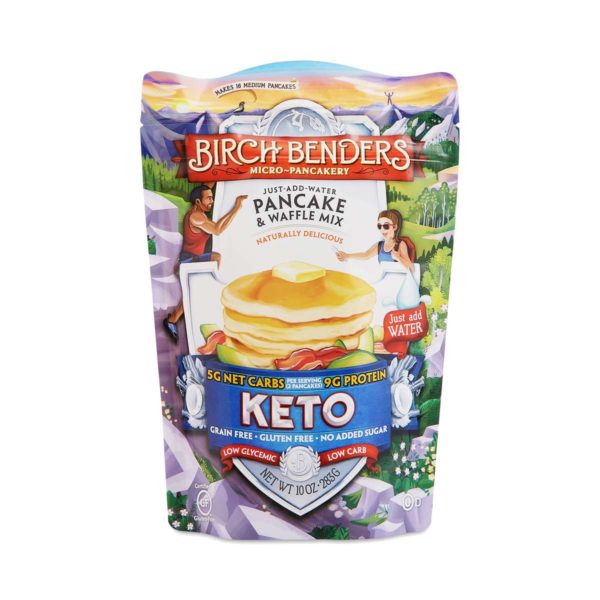 A fresh stack of hotcakes or waffles can turn those morning blues around, but they're not the healthiest breakfast option due to all that butter and sugar.
This Keto Pancake & Waffle Mix lets you get that spring back in your step while keeping you light on the scale, with only 5 grams of net carbs and 160 calories per serving.
This Thrive Market birch benders keto mix contains a blend of almond flour, tiger nut flour, powdered eggs, cassava starch, and more. Packaged in a 10 oz. pouch, it costs only $6 compared to the original retail price of $8.
Thrive Market Tapioca Flour Review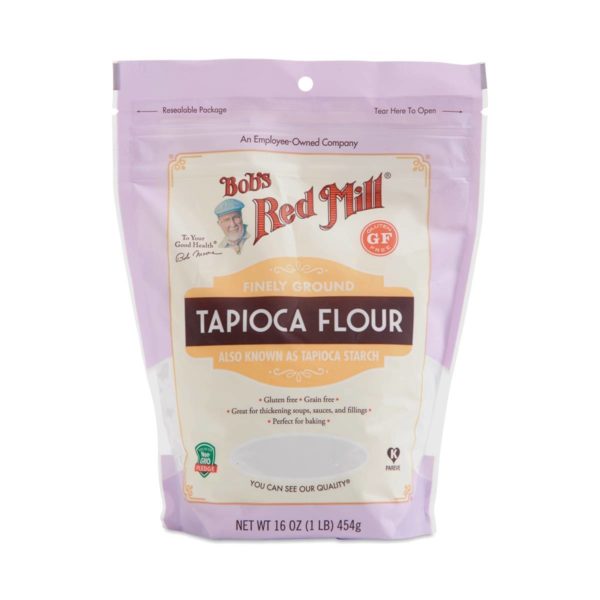 Bob's Red Mill Tapioca Flour is a great alternative if you're gluten intolerant. This grain-free flour is made entirely of cassava root, which is ground into a starchy, slightly sweet powder.
Vegetarian, kosher, paleo, vegan, and non-GMO, this versatile flour can be used to thicken soups, make a sumptuous batch of pan-roasted dumplings, or in a buttery pie crust for dessert.
Thrive Market members can get this pantry essential in a 16 oz. bag for just $3, which gives them an 11% savings on the $4 standard retail price.
Thrive Market Potato Starch Review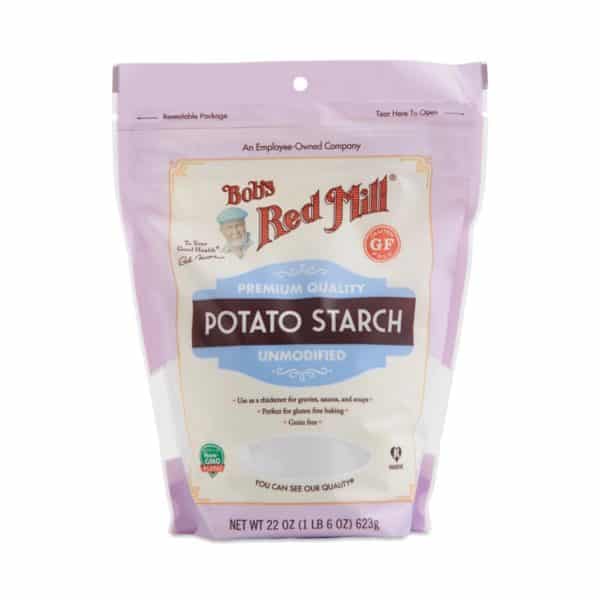 Here's a surprising fact: cornstarch is actually bad for you. This food additive is loaded with carbs and calories, and it isn't a good source of nutrition either.
So when you need it, consider opting for Bob's Red Mill Potato Starch instead. Containing only 40 calories per serving and low in cholesterol, it'll help ensure that your heart won't start palpitating when you add it to sauces or soups.
Designed to tolerate higher temperatures than cornstarch, this nifty alternative can also add moisture to baked goods and be an essential in gluten-free cooking.
If you want to make good use of it, try whipping up handmade potato noodles for your next dinner. A 22 oz. bag costs $3, compared to the $4 retail standard.
Thrive Market Sal Suds Biodegradable Cleaner Review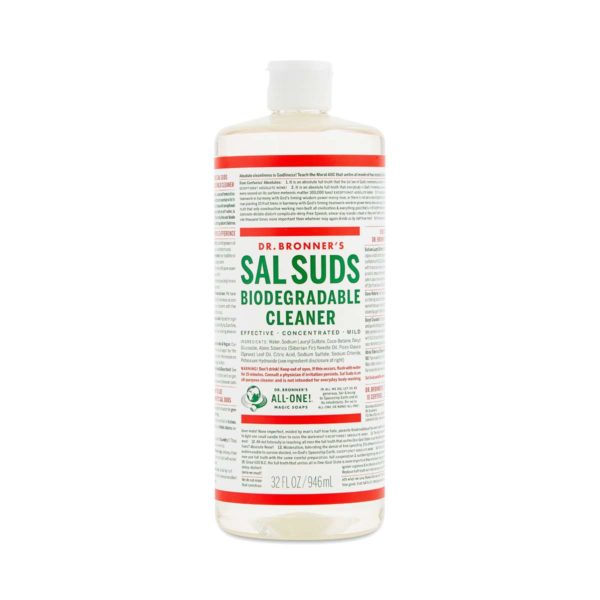 When it's time to clean your kitchen countertops after a busy session of meal prep, steer clear of that disinfectant spray that's probably loaded with harmful chemicals and opt for Sal Suds Biodegradable Cleaner instead.
This concentrated hard-surface all-purpose cleaner is made of plant-based surfactants, natural fir needle, and spruce essential oils.
Formulated without the use of pine stump oil, synthetic dyes, fragrances, or preservatives, this naturally based household disinfectant is powerful enough to scrub away stains but gentle on the skin.
Get a 32 fl. oz. bottle of Sal Suds Biodegradable Cleaner for only $13.
Thrive Market Disinfecting Multi-Purpose Wipes Review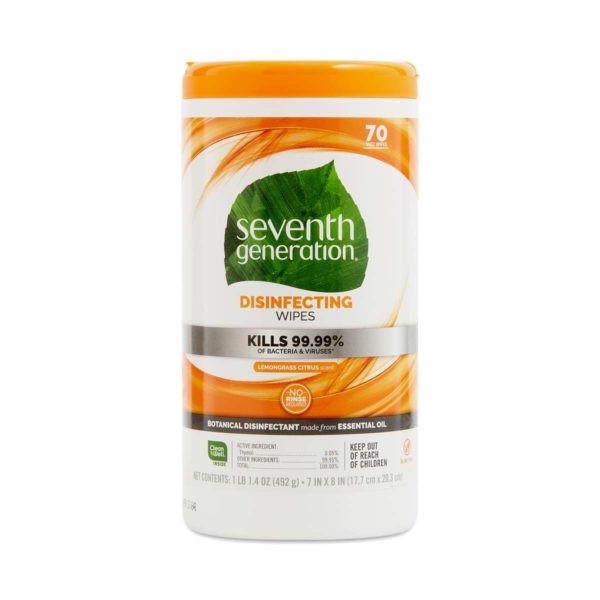 Kitchen counters, stovetop burners, and other food-contact surfaces can be magnets for bacteria.
Designed to kill 99.9% of household germs, including cold and flu viruses, Seventh Generation Disinfecting Multi-Purpose Wipes are made to be used on hard, non-porous surfaces.
These cleaning wipes don't require a rinse, and as a bonus, they're scented with essential oils and botanical ingredients to reduce that chemical smell.
This 70-count package of Disinfecting Multi-Purpose Wipes will run you $7, a slight markdown of the original $7.50.
For those who are concerned about hygiene (and who isn't these days?), try pairing these Seventh Generation wipes with the Thrive Market Everyone Hand Sanitizer Spray.
Thrive Market Membership Review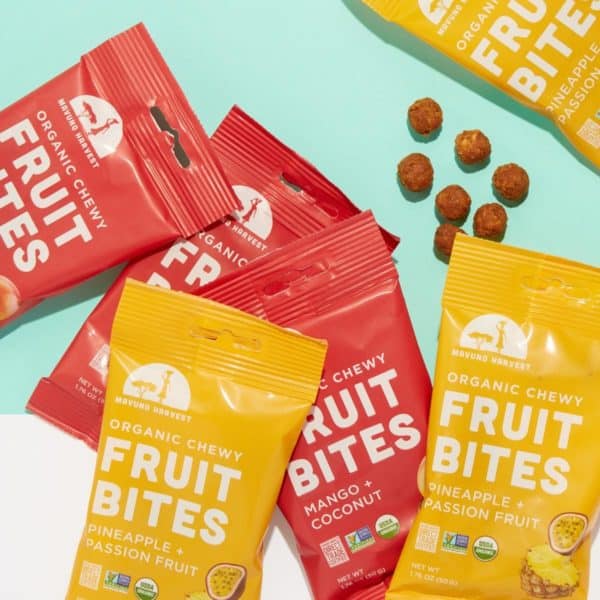 While this Thrive Market review has already gone over the details of the company's Membership, but there are a few other perks you should know about.
Each time you order a package of branded goods, a set amount of 'Thrive Cash' will be added to your account, which can be used to gain access to exclusive deals and discounts.
Members can earn more Thrive Cash through products and brands that offer promotional deals on their website.
If you're a student, a veteran, or someone who needs a bit of help when it comes to paying for groceries, you may be eligible to sign up for the Thrive Gives Program.
For those who qualify, the company offers a Membership for free. You can find out more by visiting the Thrive Gives page on the website.
How Much is Thrive Market?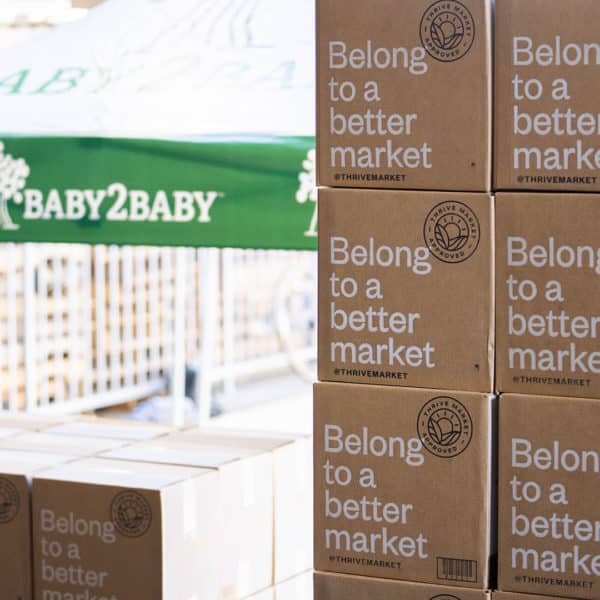 Customers have two ways to pay for their Thrive Market Membership. You can either pay in monthly installments of $5, or $60 for a year. Or for those eligible for the Thrive Gives program, you are not billed for using the company's services.
Thrive Market Reviews: What Do Customers Think?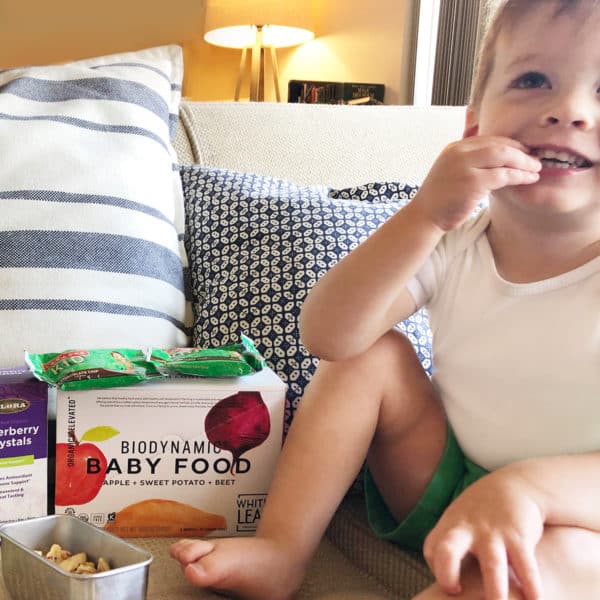 This Thrive Market review did some digging to find out what customers think about the service.
Most of the reviews on the company website are devoted to the products themselves: for instance, the Grass-Fed Collagen Peptides have a rating of 4.7 stars from over 4,600 reviews.
But on the "About Us" page, you'll find customer testimonials that indicate an overwhelmingly positive customer response to the company and its membership plan.
Most have commented that the company's subscription program is convenient and cost-effective for those looking for healthier food options for their families.
The company's social activism is another great selling point for many. One reviewer wrote on their website:
"I want my family to have healthy and affordable options, but what makes me a bigger fan is that for every membership, Thrive Market gives a free one to a low-income family." 
The rave reviews continue on external sites. On Trustpilot, Thrive Market earns a rating of 4.5 stars from over 2,591 reviews, while on Sitejabber, rankings from 1,989 reviewers give the company a rating of 4 stars.
Commenters on both websites have stated that they like the selection of products, and many added that they had positive experiences with customer service representatives:
"Not only do I no longer need to read every label before purchasing, but it's also easy to adhere to my diet and nutritional needs. Thrive Market makes it easy! They also have amazing customer service, which is a key factor for me," one Trustpilot reviewer wrote.
But, this Thrive Market review did find a few customer complaints. On the company's Facebook page, buyers report negative experiences with the customer service team, saying that they didn't receive the help they needed in solving problems dealing with delayed orders.
On Sitejabber, other customers had issues canceling their memberships or received charges when signing up for a 30-day free trial. As one reviewer noted:
"Terrible customer service, if you can even call it that.  My order from almost two weeks ago has gone 'missing.' I've contacted customer service numerous times, getting robotic responses that said, 'I'm sorry, I can't help you with that,'" said one Facebook user.
Is Thrive Market Worth It?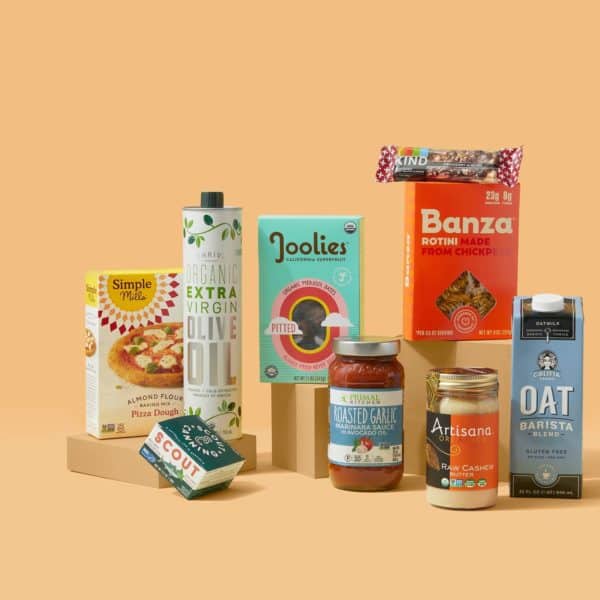 Is Thrive Market worth it? Based on thousands of rave reviews, this Thrive Market review can answer: yes. The company has over 6,000 products readily available, most of which are far more reasonably priced than they are in your local supermarket.
Thrive Market also curates their selection to fit every dietary and lifestyle need, which means that if you're kosher, vegan, or gluten intolerant, you've got a great chance of finding items designed for you.
The company is very transparent when it comes to ingredients and their supply chain, and it's nice to see that they give back to the community with free memberships for low-income families and individuals.
The brand knows groceries are expensive and that new food delivery services are daunting and pricey. What makes this brand different, and worth it, is the 30-day free trial option and the installment payments of only $5 per month as opposed to a lump sum.
Along with the advantage of ordering your everyday essentials online, Thrive Market's range of sustainably sourced, organic, healthy, non-GMO products could very well change your nutrition habits for the better, at the very least.