Udacity is a superb Silicon Valley based MOOC platform. We recommend it for its ease of use, in-demand course topics, and career supporting resources. Udacity's course selection is not as diversified as edX or Coursera. But, they do have one of the strongest lineups of tech courses.
"We are audacious for you, the student." According to co-founder Sebastian Thrun, that's where the name "Udacity" came from. Audacity symbols bravery, and it's a fitting word for the online education platform. Why so, you might ask?
Well, I say that because Udacity has been one of the pioneers of the e-learning industry. In June of 2011, when Udacity was launched, MOOC sites were not as mainstream as they are now. Major online education platforms such as Coursera and edX did not exist at the time. Starting a MOOC company in the summer of 2011 demanded bravery and a willingness to fail.
But, they did not fail. Not in the slightest. In fact, their audacity paid off in a major way. Udacity became a unicorn company worth $1 billion in 2015 – four short years after its creation. And, the numbers have kept growing since then. By now, the number of online students taking Udacity courses has risen to a staggering 11.5 million.
Udacity is one of the very few e-learning platforms that has succeeded right from the get-go. Take Udacity's very first course, an introductory course on artificial intelligence, for example. This course garnered massive interest with more than 150,000 enrolled students.
With stats such as these, it's clear that Udacity is a MOOC giant that cannot be ignored. But, with the rising tuition costs of Nanodegrees, is Udacity still worth it in 2020? Or, is it a dinosaur company doomed to fail? Let's find out the answers to these questions in my review of Udacity. Or, you can also learn more about the best Udacity courses and Nanodegrees.
What is Udacity?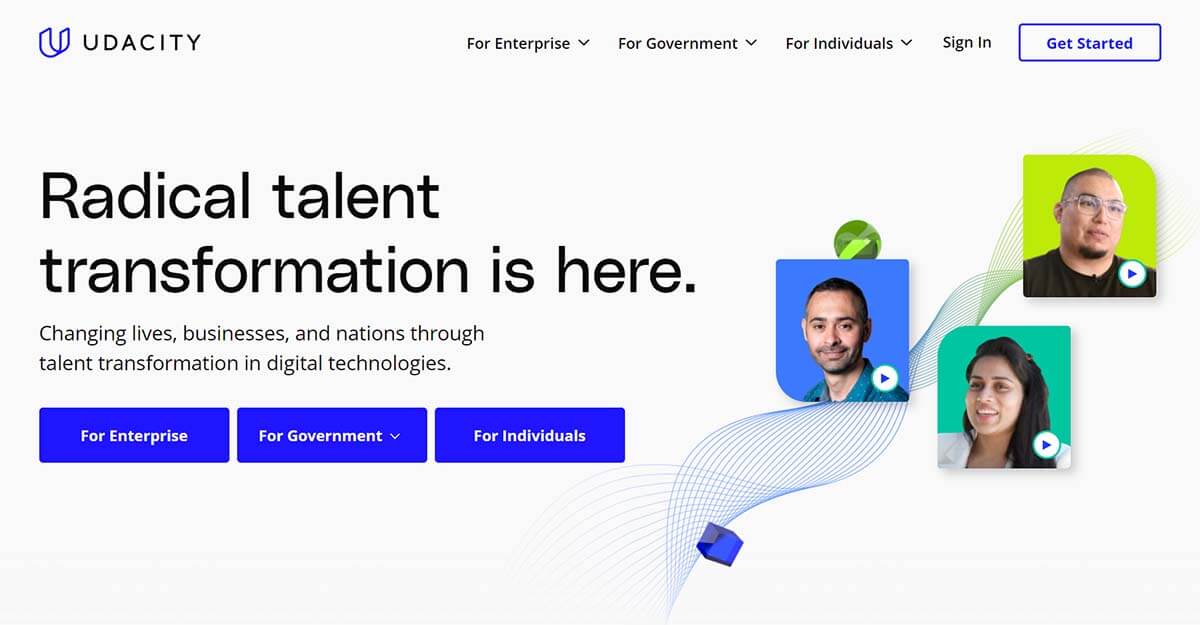 Udacity is a for-profit online education platform based out of Silicon Valley. The platform offers massive open online courses (MOOCs) and micro-credential programs (Nanodegrees).
Udacity's courses arise from partnership with well-known corporations in Silicon Valley. Some examples of these corporations are Google, Facebook, Nvidia, and Amazon. Through these partnerships, Udacity's aim is to provide students with up-to-date practical knowledge. And, they focus on teaching the skills that are currently most needed in these companies.
This is also why tech-related courses are Udacity's most popular category. After all, the vast majority of Udacity's corporative partnerships come from technology. And, these corporations need experts in technology above all else. Udacity's job is to train them.
Yet, Udacity's Nanodegrees and courses are not restricted to programming topics. Udacity also offers some fantastic courses in Business and Data Science. In fact, my personal experience with Udacity also comes from a Business-related Nanodegree. That program is Udacity's Digital Marketing Nanodegree from the Business category. I will highlight my experiences throughout this review of Udacity.
Who is Udacity's CEO?
Udacity's current Chief Executive Officer is Gabe Dalporto. Co-founder Sebastian Thrun is serving as President and Chairman of the Board. The other two co-founders, David Stavens and Mike Sokolsky, work on various A.I projects unrelated to Udacity.
Is Udacity accredited?
Udacity is not an accredited educational institution. Also, Udacity's programs are not credit-bearing. This means that they cannot be used to transfer credit to accredited educational institutions. Udacity's certificates are, however, valued by tech corporations looking for new employees.
How Does Udacity Work?
Studying at Udacity is a very simple process. It's easy even for someone who has never learned online before. To clarify, the program I took on Udacity was the Digital Marketing Nanodegree. Thus, that's what I will be using as my point of reference. It's important to realize that other Nanodegree programs might differ in some ways. But, the basic working process of Udacity remains the same across the board.
Taking a Nanodegree on Udacity involves the following steps:
Choosing a course
Paying the tuition fees
Course onboarding
Going through the course lessons
Taking quizzes
Completing graded projects
Graduating with a certificate
Taking advantage of career services
Choosing a course
There's a good variety of online courses and Nanodegrees available on Udacity. That is why choosing the correct one for yourself is the most important step in the learning process. The first thing to remember here is that you should not choose a course based on a moment's impulse. Instead, look at the list of topics and pay attention to what you could turn into a career.
Udacity emphasizes career-building and landing a high-paying job after graduation. Thus, if you want to take full advantage of Udacity, you should also consider this when picking a course. Choose a field that you can establish a long-term career in. A personal recommendation of mine? Look at Udacity's data science courses.
Paying the tuition fees
After deciding on the program you want to take, it's now time to subscribe to it. Udacity offers various payment options such as PayPal and credit cards. Now, it's worth mentioning that there are some free online courses on Udacity. These will not require payment. But, the majority of online courses and Nanodegrees do need payment.
And, as Udacity's courses don't come cheap, make sure that you make the most of the courses you subscribe to. Pour as much time and effort into the curriculums as you can. By doing this, you will ensure that you get your money's worth.
Course onboarding
When you first start an online course on Udacity, you will go through onboarding. During onboarding, you will prepare both yourself and Udacity for the upcoming studies. In particular, this includes the following:
Filling a questionnaire
Previewing the syllabus
Planning a personal study schedule
Setting personal study reminders (syncs with calendaring software)
This type of extensive onboarding aims to prepare you for the program and to help you make the most of it. Also, it's purpose is to help you set concrete goals for progressing through the syllabus. That's what the study reminders and personal study schedules are for. Overall, Udacity's onboarding is some of the best I've ever seen. It's simple but effective at preparing students for the digital studies.
Going through the course lessons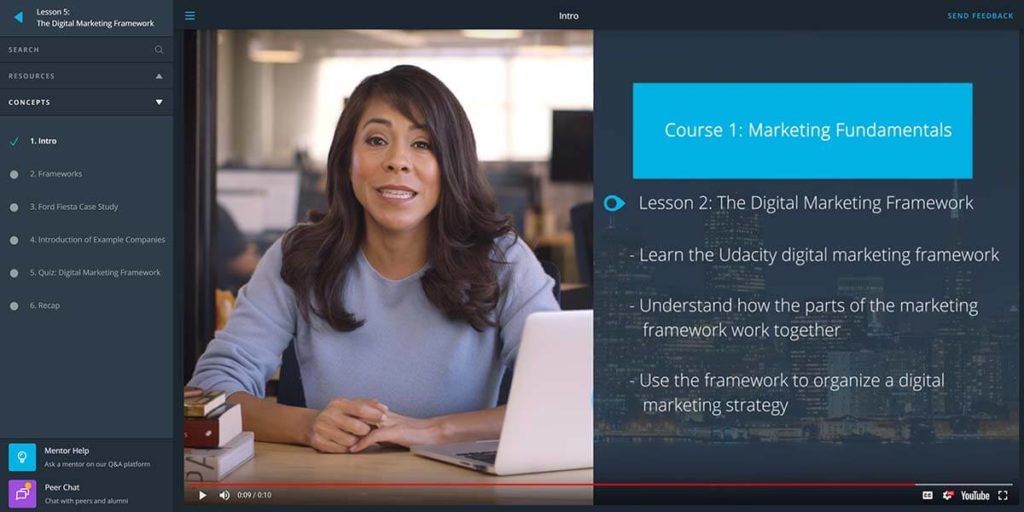 Once you finish the onboarding, it's now finally time to start learning. From the left-side menu, you can access the syllabus, and you can jump to any point in the curriculum. This is helpful if you want to change the order of lessons around. After all, every student has different needs, and some might prefer to start from the middle – or even the end.
Now, as for the course lessons themselves, most of them are split into 10-20-minute segments. And, from my experience, a large portion of Udacity's course lessons are video lectures. This is both a positive and a negative for me. I do enjoy video-based lectures if done right. And, Udacity's video lectures are some of the best out there. But, I can never motivate myself to sit through dozens of hours of video-based curriculums. That is if there's no practical work in-between. Thankfully, Udacity's courses do include quizzes and graded student projects besides videos.
Taking quizzes
As you go through the course lessons on Udacity, now and then you'll take a quiz. These quizzes usually come at the end of course units. And, they serve as a way to ensure that you understood the lesson materials.
From my experience, Udacity's quizzes are quite easy to pass. That is if you pay attention to the lessons and take notes while doing so. However, Udacity's quizzes are not so easy that you'll be able to nail them based on intuition alone.
Taking this into consideration, I think Udacity's quizzes are good at what they do. Many other MOOC platforms I have tried don't get quizzes right. Some MOOCs have had quizzes which don't relate whatsoever to the course material. It's frustrating to spend hours studying, only to find that you don't know the answers to any of the quiz questions. Udacity, though, did a good job with this. The quizzes come from the lessons, and if you pay attention to the lessons – you will also pass the quizzes.
Completing graded projects
At the very core of Udacity's teaching system are the graded student projects. These are real-world projects that get reviewed by expert mentors. And, their main aim is to provide students with practical experience.
Mentorship through these types of projects is an integral part of Udacity's syllabi. To make the most of your Nanodegree, make sure to ask questions from your mentors. And, here's another tip: take part in student-to-student discussions. These can be just as valuable as talking to a mentor. Udacity's entire learning system is based on these graded projects. Thus, you should make sure that you take full advantage of them whenever you can.
Graduating with a certificate
To qualify for a Udacity certificate, you need to fulfill the following criteria:
Pass all the course lessons
Complete all the projects with a grade of "Meets Expectations"
That's it! Completing a Udacity Nanodegree is very simple in principle. Yet, it takes time and effort to fulfill these two aspects. To get your money's worth of value out of your Nanodegree, make sure that you do it not only for the certificate but also for the knowledge.
Taking advantage of career services
This step does not have to come at the end. You can make use of Udacity's career support resources the very second you enroll in a Nanodegree. But, I listed it as the final step because it's not directly connected to the course syllabus. Instead, it serves on its own as an individual feature.
Udacity's career resources include the following:
Cover letter reviews
Resume review
LinkedIn review
GitHub review
All these services are very useful if your goal is to establish a new career. By taking a nanodegree, you'll get access to resume templates and a network of tech companies. It's worth mentioning that Udacity no longer guarantees a job proposal for graduates. Yet, they still do their best to ensure that their graduates have good career prospects.
Review of Udacity's Pricing & Costs
The cost of taking an online course or Nanodegree on Udacity largely depends on which of them you choose. To be specific, the cost mostly depends on the length of the program. That is because, in the last few years, Udacity has moved to a subscription-based pricing model. This means that if you want to take a Nanodegree, you'll have to pay a monthly fee for doing so. Thus, the cost of the program is directly connected to its monthly duration.
Udacity used to have a fixed pricing model, meaning that all Nanodegrees would cost a one-time fee. This type of pricing model is fairer to the user in many ways. After all, paying a one-time fixed fee means that you buy access to the course and that's that. You can take the course at your own pace, and there's no hurry.
With subscription-based pricing, though, Udacity students have to rush through the course lessons. That is unless they want to dish out exorbitant amounts of money on monthly fees. Yet, I wouldn't be quick to criticize this change in pricing. That is because some students can even stand to benefit from this change in the pricing model. More on this below.
How much does Udacity cost?
The monthly subscription costs for Udacity's Nanodegrees are currently $399 per month. Students can also pay for multiple months simultaneously at a discounted price. There are also some free online courses available on Udacity. But, they are limited in lessons and they don't share the same quality as paid Nanodegrees.
How can I save money on Nanodegree costs?
There are a couple of ways to reduce the total price of a Nanodegree. These are the methods I would recommend:
Take advantage of discount codes
Finish the Nanodegree as fast as possible
Apply for Udacity scholarships
The first method, discount codes, requires you to find an organization that has received a coupon from Udacity. E-Student is one of these organizations, so if you'd like to cut $50 (around 15%) off the cost of any Nanodegree, then make use of our link.
The second cost-reducing method, finishing the Nanodegree ASAP, is rather obvious. As Udacity's new pricing model is based on monthly payments, you can take advantage of that. Reduce Nanodegree costs by completing the program in fewer months than the official estimation. By doing so, you'll have less monthly payments to make, and you'll save a decent chunk of money.
The final cost-reducing method, scholarships, is also frather straightforward. Take a look at Udacity's scholarships page. See if there are any open scholarships that you might qualify for. If there are, send in an application and hope for the best. By doing so, you might even end up getting a Nanodegree for free.
Review of Udacity Nanodegrees
In this section, I will review Udacity's Nanodegrees. This will be an evaluation based on my personal experiences of taking a Nanodegree. To be specific, the Digital Marketing Nanodegree that I took part in 2020.
Nanodegrees tend to be the first thing which comes to people's mind when they think of Udacity. After all, these are the most popular programs of the online education provider. And, many success stories are floating around the Internet. Stories of people starting lucrative jobs at Google, Facebook after finishing a Nanodegree.
Yet, these success stories should not come as a surprise to anyone. After all, tech industry giants are the ones who lead Nanodegrees. All topics covered in the Nanodegrees come straight from Silicon Valley. If the tech industry lacks professionals in a specific area, then Udacity will teach it with a Nanodegree.
With extensive career support services and best-in-class user experience, Nanodegrees become very appealing. Not to mention the user-friendliness and high production value of the course materials. These are some of the reasons why Udacity is one of my favorite platforms for online education.
But, the costs of Nanodegrees are rising year-by-year. This is why it becomes important to evaluate Nanodegrees based on cost-effectiveness. To be specific, their cost-effectiveness. The central question that this section aims to answer arises from this. That question is – are Nanodegrees worth it?
What is a Nanodegree?
Nanodegrees are online certification programs offered exclusively on Udacity. Udacity's Nanodegrees offer a cost and time-effective alternative to traditional degrees. They are comparable to edX's MicroMaster's programs and Coursera's MasterTrack programs. In this video, Sebastian Thrun, the co-founder of Udacity, explains Nanodegrees.
Sebastian describes Nanodegrees as short versions of certificates. He emphasizes the value of teaching in-demand skills quickly. That is unlike traditional degrees that need years of time and effort to complete. He believes that if this type of online education becomes optimized, it will double the world's GDP.
Can you get a job with a Nanodegree?
Yes, you can. Many of Udacity's graduates get lucrative jobs after finishing a Nanodegree. Jennifer Person started working at Google after finishing the iOS Developer Nanodegree. This is due to Udacity's career services that come included with every Nanodegree.
How long does a Nanodegree take?
The length of Udacity's Nanodegrees depends on the learner. While the majority of Nanodegrees take between 2 and 6 months to finish, it's not always the case. Fact-paced students can reduce the overall length by a large margin. A 6-month Nanodegree can be finished in less than 4 months by quick and organized students.
Are Udacity Nanodegrees recognized?
Udacity's Nanodegrees are not recognized or accredited by educational institutions. But, they were never meant for that. Instead, the recognition of Udacity's Nanodegrees comes from tech companies such as Google, Amazon, and Facebook. Thus, while Nanodegrees are not recognized by academia, they are recognized by corporations.
Are Udacity Nanodegrees worth it?
Generally speaking, my Udacity Nanodegree was well worth the cost. The mentorship, graded projects, expert interviews, and free access to paid tools alone would justify the cost. And, the career services and well-built curricula give it even more value. But, without discounts, the prices of Nanodegrees are still high. Thus, I would recommend you to either wait for discounts or to use a coupon code such as ours when you buy a Nanodegree.
Advantages (Pros) of Udacity
Udacity's online courses and Nanodegrees have many advantages over their competitors. Their MOOCs have gone through some considerable changes throughout the years. And, many of these changes have been positive. All in all, I can say that my review of Udacity was a very positive experience.
These are the biggest benefits of Udacity:
Well-built user interface
Nanodegrees contain expert interviews
Strong mentor support
High-quality graded student projects
Active student discussion forums
Best-in-class career services
Well-built user interface
Udacity's user interface has gone through several redesigns over the last few years. I'll be the first to say that I was not a fan of their initial design choices. The menus were bland, the homepage was empty, and the color choices were very boring. But, year-by-year, they have turned a mediocre user experience into something excellent.
As of right now, Udacity's user experience and design are the one of the best out of all MOOC sites I have seen. Continuing course lessons from the menu are simple. It's very easy to see upcoming deadlines for graded projects. And, there is quick access to the course outline. This gives you the chance to jump back to previous or upcoming lessons whenever you need to do so.
Udacity's user interface design is human-centric, easy to use, and effective. Without a doubt, it's one of my favorites when it comes to online education providers.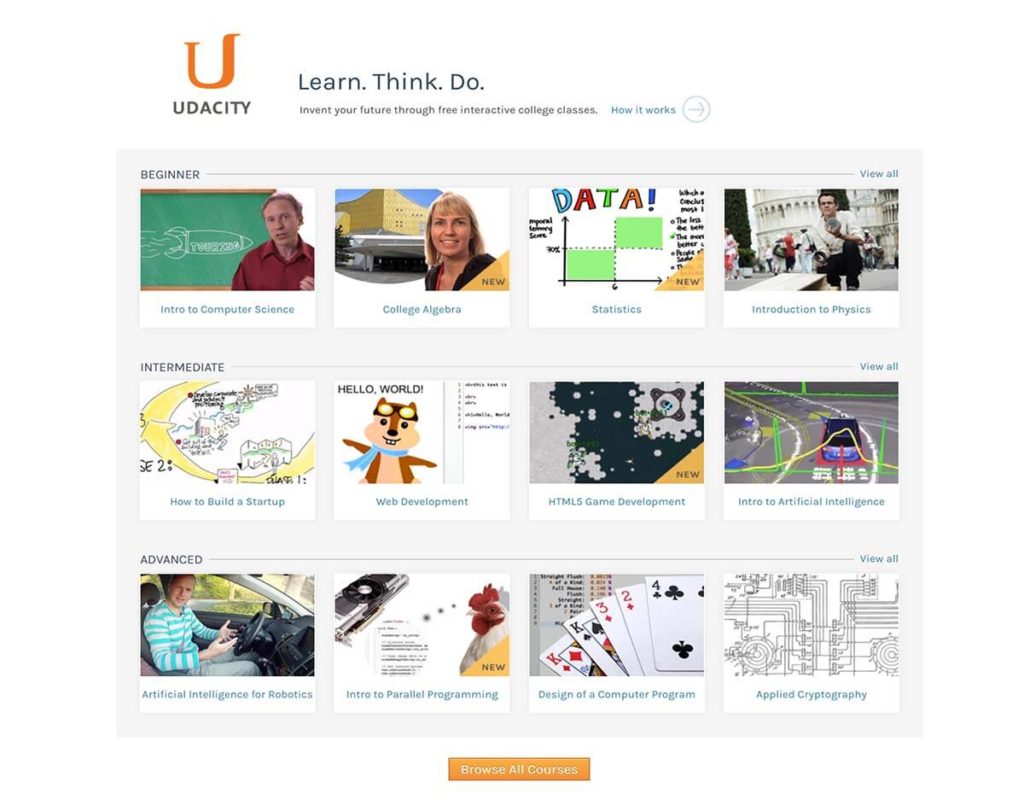 Nanodegrees contain expert interviews
While taking Udacity's Nanodegrees, I was a big fan of expert interviews. Placed throughout the curricula, they kept the course lessons very captivating for me. So, what do I mean by expert interviews?
Well, as an example, let's once again use the Digital Marketing Nanodegree. In the first course week, there was an interview with the president and COO of Change.org, Jennifer Dulski. In this interview, Jennifer shared her experiences in creating a digital marketing strategy. A strategy for Change.org, which has over 300 employees and $15 million in revenue. It was intriguing to listen to her strategies and actionable tips for marketers.
And, as the interview was right at the beginning of the syllabus, it gave me a strong motivational push. A push to keep working through the curriculum. While the theory is important, hearing real-life stories from experts is as important. I have not seen interviews implemented to such an extent on any other MOOC platform. I loved it.
Strong mentor support
All of Udacity's Nanodegrees include technical mentor support. The mentors are there to guide you throughout your studies. They will answer any questions you have and they give expert feedback for your projects. Student projects are one of the main learning tools on Udacity. Thus, the value of high-quality mentorship becomes doubled.
While I have not made extensive use of Udacity mentorship myself, I recognize the value where it's due. Many online students abandon MOOCs when they get stuck for one reason or another. Ready-to-help mentors help to combat this and to raise retention rates of students.
Industry-expert mentors are one of the biggest benefits of taking a Udacity Nanodegree. But, Udacity has recently come under fire for reducing the salaries of their mentors. That's very troubling if cheap, incompetent mentors start to take the place of professionals. The entire mentor-based learning system will crumble if that happens. I hope that will not end up being the case. With Sebastian Thrun being back in Udacity's managerial positions, the future seems hopeful.
High-quality graded student projects
All of Udacity's courses and Nanodegrees include graded real-world projects. Projects designed to give you practical experience in the field you are studying. In programming courses, this could mean creating real-world applications. In digital marketing courses, this could mean creating a real Facebook Ad campaign. Or, it could encompass writing a document or creating a design.
These student projects are a superb way of hammering down the theoretical lessons. Combined practice and theory are much more effective than theory alone, after all. To master almost any educational field, you need a combination of both.
Udacity's student projects are superb for giving online students practical experience. And, combined with excellent mentorship, these projects became all the more valuable.
Active student discussion forums
Some years ago, Udacity's greatest weakness was the lack of an effective student forum. But, in recent years and months, they have managed to turn this weakness around. It seems they realized their weakness and managed to fix the hole in their arsenal of learning tools.
Now, students have access not only to mentor help but to a feature called "Peer Chat". In Peer Chat, students can collaborate and create discussions with each other. I enjoyed seeing students answer each other's questions and supporting each other. It reminded me of the "push each other" mentality from traditional universities.
Udacity's student discussion forums are not yet on the same level as FutureLearn. But, Udacity has come a long way in the last few years. I'm excited to see what other improvements they have in store for the platform.
Best-in-class career resources
Taking an online course or Nanodegree on Udacity comes with one of the best suites of career resources I have seen out of an online learning platform.
You will get help with preparing for job interviews and writing a strong resume. Also, an expert will look over your LinkedIn and Github profiles to see if there's any room for improvement. Finally, Udacity will distribute your resume to a network of potential employers. These are the same corporations that Udacity has a partnership with. For those who forgot – this includes companies such as Google and Nvidia.
Disadvantages (Cons) of Udacity
I highlighted many fantastic benefits of being an online student on Udacity. But, it's not all flowers and sunshine. Udacity also has disadvantages worth considering before committing to a course.
These are the biggest disadvantages of Udacity:
No Udacity app
Not enough practical exercises
No Udacity app
Udacity used to have an iOS and Android app. But, they removed it from the App Store and Google Play Store at the beginning of 2019. In Udacity's own words, the discontinuation was to "upgrade the learning experience". Yet, more than a year has passed since then, and there's still no signs of a new Udacity smartphone app.
Most major MOOC platforms have a dedicated app, and that's for good reason. For me, a large part of online learning takes place outside of home. I like to listen to lectures while walking or being in the gym. Having a dedicated smartphone app makes this process much more user-friendly. It is possible to simply go with the mobile version of the Udacity website. But, it's just not as comfortable as an app such as Coursera's.
While taking a Nanodegree, I tried using the mobile version of Udacity's website for learning on the go. It was not the ideal learning experience. Some of the quizzes did not function well, and every time a lecture ended I had to take my phone out and click "next". An auto-play feature would have been helpful. While I can't say it was "unusable", it could see some improvements.
I hope that soon, Udacity will once again release a new smartphone app. As of right now, a lack of one was a major disadvantage for me. As of 2022, Udacity still does not have a smartphone app.
Not enough practical exercises
I would have enjoyed some more practical exercises thrown into the Nanodegrees. I find that I learn the best when I am working on practical challenges. In coding, this could mean practical coding challenges. Or, in Business-related courses, this could mean simple challenges of financial analysis.
Even if it's in the form of very simple assignments, I love practical exercises. Udacity did have some, and I can't mark it as a major disadvantage of Nanodegrees. But, I would have liked to see some more. There were a good amount of quizzes and graded practical projects. But, in the future, I would like to see more practical exercises thrown into the Nanodegrees.
Conclusion: Is Udacity Worth it?
To me, Udacity is still worth the price in 2022. I started reviewing Udacity back in 2020, and since then, the prices have remained stable (even decreased in some cases).
And, all things considered, my experiences with Udacity were very positive. Above all, the well-built curricula, mentorship, and career services make the platform worthwhile.
During this review, I dug deep into the various features of Udacity. I analyzed the Nanodegrees, user interface, online reviews, and more. My review of Udacity was somewhat limited by the fact that I have only taken a single Nanodegree myself. It could be that other Nanodegrees are better or worse, and I would not have any recollection of that.
Yet, I remain confident in my assertions of Udacity despite this fact. That is because the online reviews of Udacity that I read all seemed to mirror the same points as I did. Nanodegrees are expensive – everyone seems to agree on that. But, the consensus also seems to be that Udacity's online programs are of very high quality. And, the career services and mentorship are some of its greatest strengths.
With confidence, I can say that I was very satisfied with Udacity's Nanodegrees. While they have gotten rather expensive as of late, they still offer tremendous value for students. Especially so for students interested in artificial intelligence, data science, or business. Students from these fields will find exceptional value from the MOOC platform Udacity.