Mirror creates a stylish, cutting-edge fitness product: an interactive video screen that provides home workout instruction and functions as a mirror when not in use, seamlessly integrating into your home decor. With 174K Instagram followers and a number of celebrity customers, Mirror has established itself as a leading brand in the at-home fitness industry.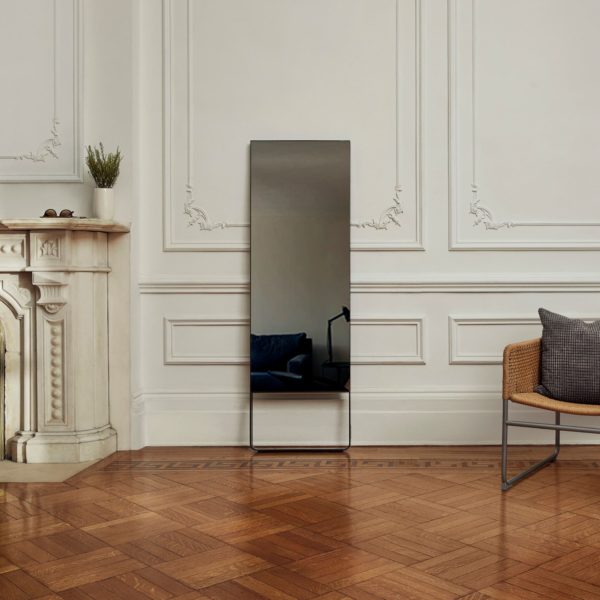 This Mirror review will focus on the product's exercise program and the Mirror gym interface. By examining the product's physical specifications, settings, payment options, and instruction elements, we'll give you the info you need to decide whether this is the fitness fit for your personal lifestyle.
Overview of Mirror
Mirror was founded by Brynn Putnam, a Harvard graduate and dancer with the New York City Ballet, who first found entrepreneurial success by creating the Refine Method exercise studio chain in 2010. Putnam created Mirror in 2016, and it quickly attracted a number of celebrity customers, including Ellen DeGeneres and Jennifer Aniston.
Features on the smart Mirror workout system in publications like The Wall Street Journal, Vogue, and Business Insider grew the brand's profile massively. During the COVID-19 pandemic, Putnam sold Mirror Co to Lululemon in a $500 million deal, and continues to manage the brand as a subsidiary of its new parent company.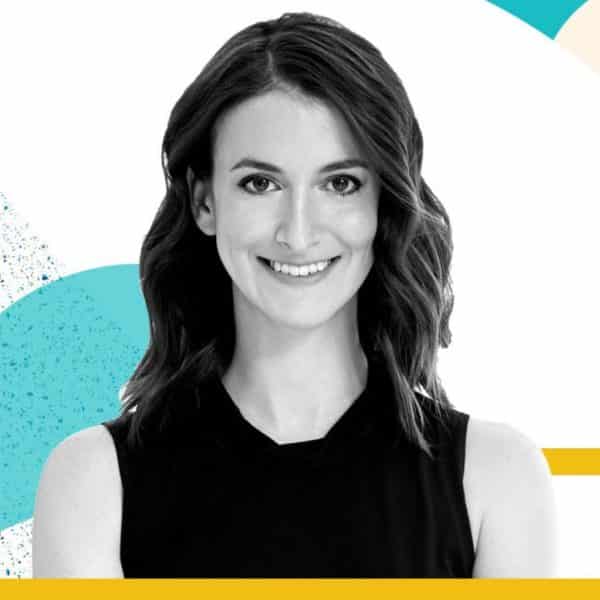 At present, Mirror enables subscribers to take fitness lessons and try out a variety of workouts from their home.
Customers can also engage in group meditation sessions and book private sessions with personal trainers. In the future, Putnam wants to develop the product further to allow users to connect with wellness trainers, doctors, and more.
Is the Mirror workout worth it? It sounds great so far, but it's time to take a deep dive into the product's technical details, short-term and long-term costs, and the features that set it apart from a standard video workout.
Highlights
Recommended by top-tier celebrities like Ellen DeGeneres and Jennifer Aniston
Easily control the visual interface using the free Mirror app
Huge library of thousands of workout videos and programs of different lengths and intensities
Mirror workouts include yoga, pilates, strength training, boxing, and 45+ other types of activities
Device functions as an elegant-looking mirror when not in use
Mirror can be mounted on the wall or supported with a carbon steel stand
Installment payment option available via Affirm
Mirror Fitness Subscription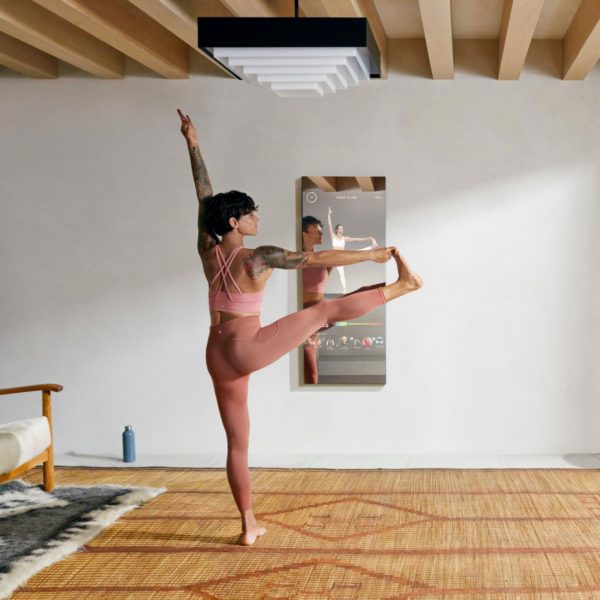 Purchasing the physical Mirror is only step one of this workout program: you then have to buy a subscription to the exercise program in order to use it. (Although the display itself is a fancy-looking mirror that some people might happily fork over four figures to bring home with them.)
Buying the subscription unlocks all of the Mirror home gym capabilities, including a library of thousands of workout programs. The programs range from 5 minutes to 1 hour in length and include 50+ activities, from boxing to yoga.
Your subscription also allows you to schedule one-on-one sessions with a fitness instructor (at extra cost), utilizing the display's high-quality camera and microphone. Your workout Mirror can hold up to six user profiles, allowing every member of the household to track their stats, schedule workouts, and customize their exercise plan.
Mirror has also gamified their product with a competitive feature that lets you challenge your past self or other Mirror members to meet fitness goals. When you reach them, or maintain a certain level of fitness, you are rewarded points on your profile.
The first month of your subscription will be charged when Mirror arrives. New buyers are automatically locked in to a one-year subscription, with the option to shift to a month-by-month agreement after that initial term. Either way, the subscription costs $39/month.
How Much is Mirror?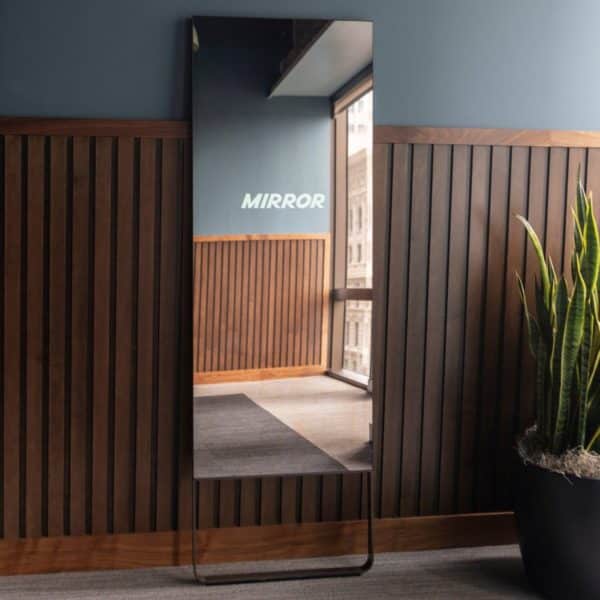 The Mirror costs $1,495 for the sleek 70lb visual display, and then $39 per month to access the library of workout programs and other features. There is normally a $250 fee for delivery and installation, however now you can get this free as part of Mirror's special offer.
That is the base cost to use the product, but there are other bonus features and services available. If you want to move your Mirror within your home after installation, the brand offers step-by-step installation videos to help you through the process, but they recommend using their professional service for a flat $150 fee to protect against damage.
For a short-distance move from one residence to another, Mirror will uninstall, transfer, and install your Mirror at the new location for $250. Moves of over 50 miles from where the Mirror was originally installed costs $300 and involves packaging your Mirror for transit; note that this fee does not cover the cost of actually moving your Mirror.
As to the extra features of the system itself, subscribers can book one-on-one lessons with a personal trainer using the 5-megapixel camera and microphone. They can help you develop a Mirror workout plan, guide you through a workout, and give you tips on how to improve. No matter what kind of exercise or trainer you select, the cost remains the same at $40 per session.
Mirror has partnered with Affirm to give you the option of paying the upfront cost through regular installments, subject to qualification. You can choose a 12-, 24-, or 36-month plan; the lowest per-month rate is $42. This does not include the Mirror membership of $39/month, which begins on the day your Mirror is delivered.
This Mirror workout review should also inform you that the Mirror membership begins with a default one-year subscription. After that time, you can opt for a month-by-month membership plan.
Can the Mirror workout see you?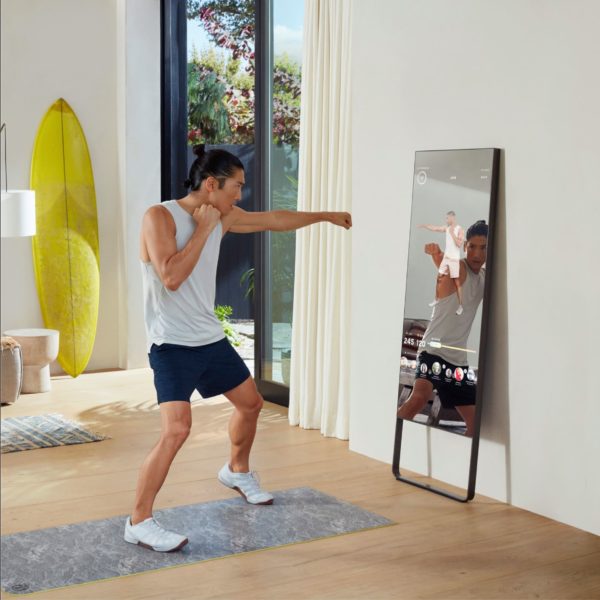 The Mirror is equipped with a 5-megapixel camera, microphone, and Bluetooth technology that allows your Mirror trainer to see you during your one-on-one workout. This lets them guide you through exercise programs, correct mistakes, and encourage you to reach new levels of personal achievement.
Mirror assures buyers that the camera and microphone are only enabled during one-on-one training sessions. But you can also turn on the Community Camera during a live group workout to interact with friends, family, or other Mirror members for encouragement and social connection.
The Mirror also comes with a cover that blocks the camera from potentially capturing video when you don't want it to. To put it simply, the Mirror can see you only when you want it to see you—you are in control.
Can you move the Mirror workout?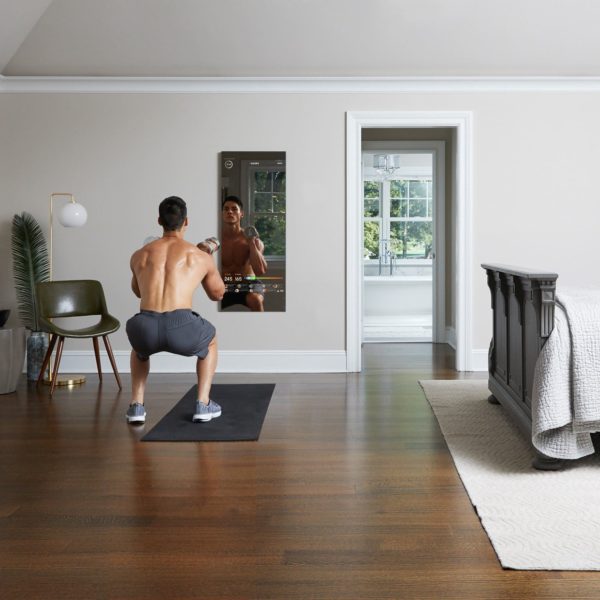 Yes! After installation, the Mirror workout can be moved to any room in your house. While it may be capable of fitting inside a hallway storage closet, this Mirror workout review highly recommends placing it in an open space so that you don't hit anything when you hop from side to side or make dynamic movements with your arms and legs.
One limitation to moving the Mirror is that it weighs 70 lbs, so while it's not impossible to move, you do have to be careful. It's also a sleek and elegant-looking conversation piece unto itself, so you wouldn't want to scuff or damage it.
To be extra-safe, get another physically capable person to help you move the Mirror if you plan to do it yourself. That way you can handle stairs and other potentially difficult maneuvers more easily.
You also need to think about how you want to secure your Mirror after you've got it to the desired location. If you want to hang it on your wall, you should set up the wall mount in advance. If you went for the carbon steel stand instead, then your Mirror will be more mobile, allowing you to shift it to other rooms in your home.
This Mirror workout review would be remiss if it didn't mention the brand's official recommendation that you should "engage our professional team anytime you want to move and reinstall your Mirror," at the rates cited above. To let the pros handle it, contact [email protected] and tell them what kind of move you require.
Can you use Mirror without a subscription?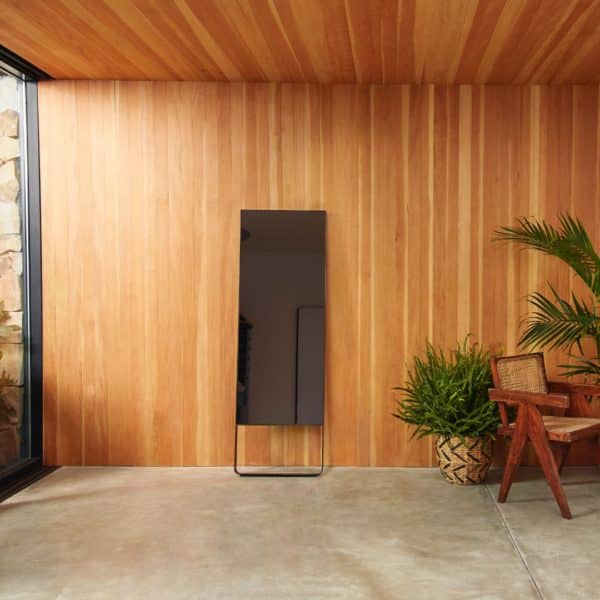 You will require a subscription in order to access the Mirror exercise catalog of guided workout programs. But rest assured that you're not paying that subscription for a status quo service: the Mirror team is hard at work adding new features and fitness routines, and they also offer live lessons on a weekly basis.
Going into the details of the exercise program catalog, this Mirror workout review is pleased to say that there are over 50 types of workouts, including boxing, pilates, stretching, and even dance. There are then thousands of programs across those genres, ranging from 5-minute burst exercises to full 60-minute strength-training sessions.
Mirror has made thousands of fitness programs for their subscribers to follow. No matter your level of fitness or activity preferences, you will find something at the right level of physical activity and engagement.
How Does Mirror Work?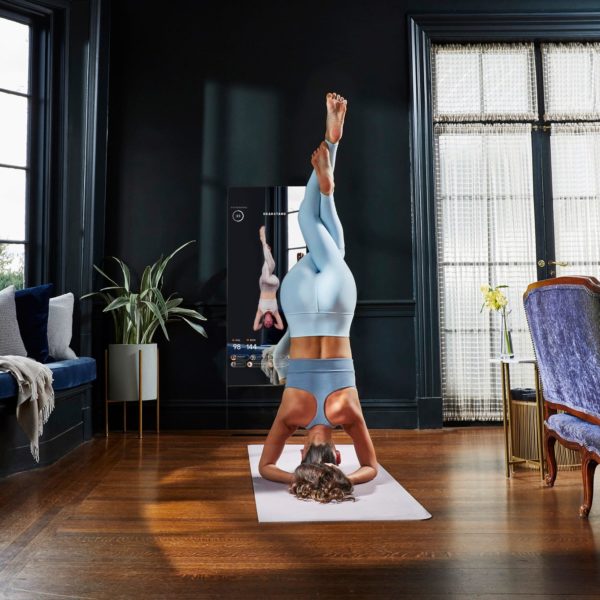 Mirror is cutting-edge technology that connects you with the best verified trainers for world-class fitness lessons and guidance. When it is not activated, it functions as a museum-quality mirror that will add a touch of class to any home interior.
Using your Mirror requires both a monthly subscription and use of a phone app (available for Apple and Android devices). The Mirror itself is not a touchscreen display, but you can connect to one-on-one training sessions through the embedded camera and microphone. Additionally, you can synchronize your Mirror to speakers or headphones through Bluetooth.
Mirror's Bluetooth capability also extends to heart-rate monitors, Apple Watches, and other smart technology. This can provide up-to-date feedback on your physical condition to the Mirror display, integrating it with your workout.
Mirror Reviews: What Do Customers Think?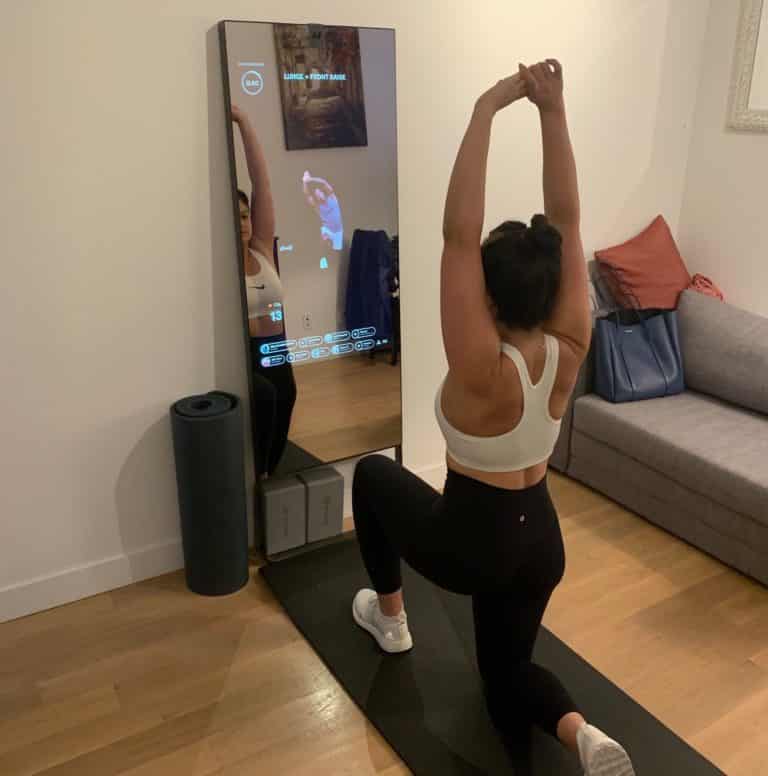 The Mirror website shows us that the product has a 4.9/5-star rating. Customers say that it is a great workout motivator for people who are stuck inside all day or don't want to deal with inclement weather.
One verified Mirror customer from Houston writes on the site that, "Due to all the rain we're getting I could not go walking and I lost my motivation to workout inside a long time ago. With the Mirror, my motivation is back and better than ever. I sometimes do two videos a day; a Live and a Recorded one. It's pretty cool. Best purchase ever!"
Another huge selling point is the massive catalog of workout options, which provides something for every level of fitness and workout experience. One beginner-level user raved about the ease and accessibility of the fitness routines:
"I love it!! The classes are awesome; so many to choose from and the different levels of difficulty are very helpful! I am just starting out so it's really good to be able to choose; it helps me to not feel overwhelmed. The instructors are excellent! They really give good demonstrations so it makes it easy to follow along!"
This Mirror workout review tracked down in-depth reviews of the brand in notable media outlets. The reviewer at PC was particularly impressed by the Mirror's compact size and easy fit into her home geography:
"Living in a small New York City apartment, I don't have much space for fitness equipment. While you still need to allocate enough room to comfortably complete the workouts, one of the best things about the Mirror is that it doesn't take up a ton of space like the Peloton Bike or Tread do….It takes up as much wall real estate as your average floor mirror."
An in-depth New York Times review concluded that the carefully curated workout catalog and semi-replication of the live-gym experience was the major strength of the Mirror:
"Solid programming, thoughtful details, and a nearly seamless user experience could help keep the Mirror from becoming a connected-fitness blip….Each class I took [was] engaging and well paced. Exercise choices felt logical and purposeful, and the instructors routinely addressed form considerations, encouraging class participants to use the mirror to check positioning."
Other major news outlets love the Mirror too: it was named one of Time Magazine's best inventions of the year, while Vogue dubbed it "the wellness industry's most game-changing device yet." Along with the glowing customer reviews, these words of praise from the pros convince this Mirror workout review that the Mirror is an amazing product well worth buying.
Is Mirror Worth It?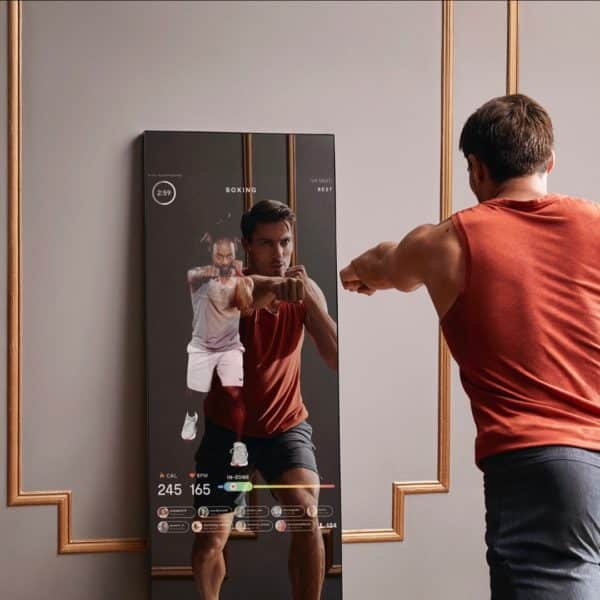 There's no doubt that Mirror is a great home fitness product. It is endorsed by some of the biggest celebrities in the world, several of the most notable magazines and newspapers, and thousands of subscribers as a major and worthwhile product.
While the upfront price tag may seem hefty, it can be broken down into regular instalments through Affirm (although you must first qualify for the program).
After that, the subscription fee is relatively low at $39/month. Plus, it comes with a 30-day Mirror home trial period, so if you decide you don't want to keep it you can easily return it for a full refund.
Mirror Promotions & Discounts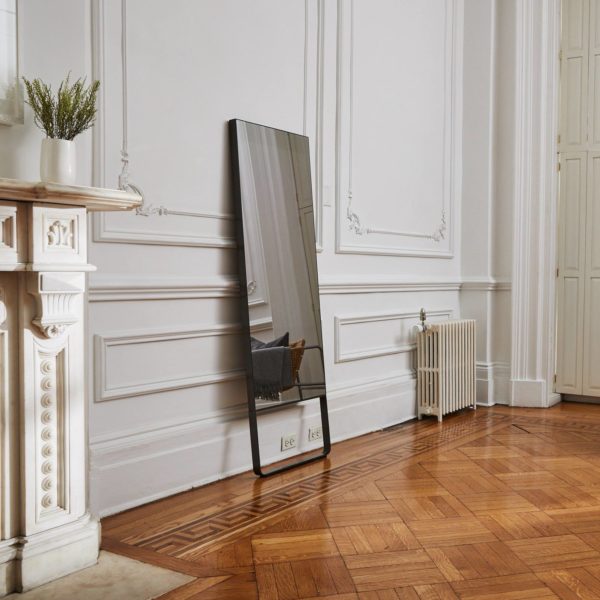 There is a great promotion running at the time of this Mirror workout review: Get $100 OFF Plus Free Delivery and Installation ($350 value) with the purchase of a Mirror.
Sign up for Mirror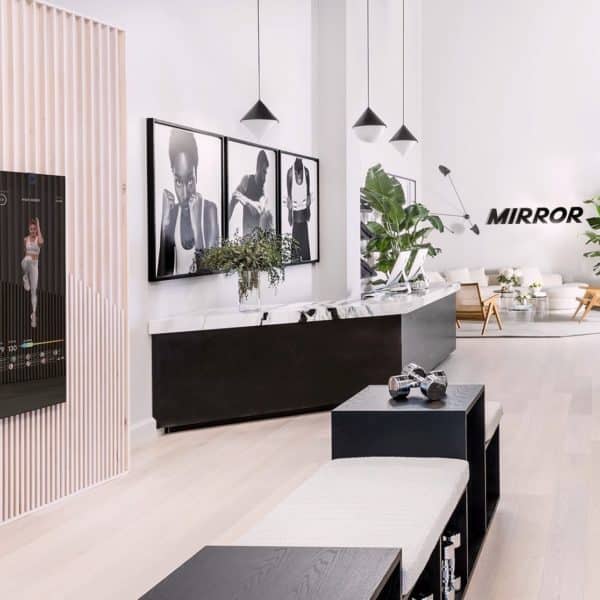 Signing up for Mirror is easy. Follow the steps below and you're golden:
1. Go to mirror.co/shop/mirror and add the Mirror to your cart
2. Go to checkout and apply any available discount codes
3. Enter your delivery information
4. Provide your payment information and complete the order
FAQ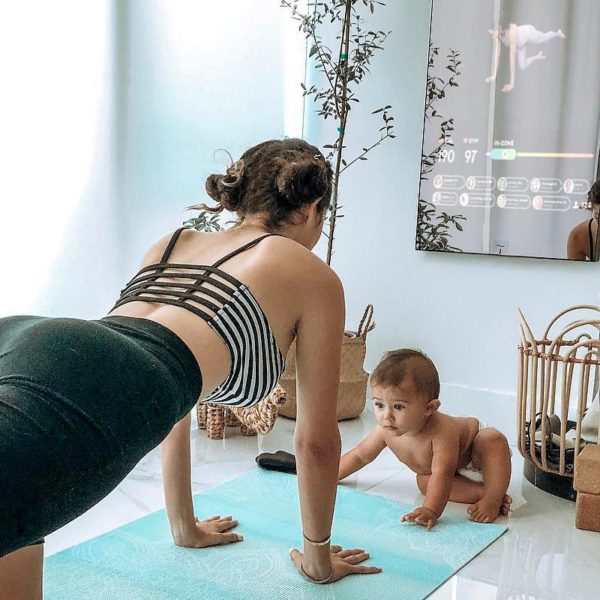 Does the Mirror ship internationally?
Mirror does not ship internationally overseas. However at the time of this review it is available in the US and Canada.
Can the Mirror be returned?
Yes! This Mirror workout review found that you can return your exercise Mirror within 30 days for a full refund. This offer is applied to every customer who has not previously done a trial and has just purchased their first Mirror (so it doesn't apply if you buy more than one).
If you don't like your Mirror, the brand will refund the cost of the physical device, the first subscription payment, any costs associated with delivery and shipping, as well as taxes. To initiate a return, contact the Mirror customer support team.
How to Contact Mirror
You can reach out to Mirror by calling the brand's support team at 888-288-1588, or reach Mirror online by emailing the company at [email protected].