Since 1997, Autotrader has become one of the most widely-known automotive shopping websites. You can use it to buy used and new cars, research car values or list your own car for sale.
But is Autotrader the right dealer for you? Team Clark has explored the process of buying and selling vehicles with Autotrader and compared it to other methods to find out.
In this article, I'll look at how Autotrader works and what the process is for buying and selling cars. I'll also show you how you can use Autotrader as a research tool and lay out the pros and cons of buying and selling cars there.
Below, you'll find detailed information including how to get started on the site, how to buy and sell a car with Autotrader and the pros and cons I found when using Autotrader.
How Does Autotrader Work?
Autotrader aims to be a comprehensive online solution for buying and selling new, certified and used cars. The online approach lets you quickly compare vehicles available in your area.
According to the website, Autotrader offers the largest available selection of vehicle inventory from dealers and private sellers and the most complete research and comparison tools. I also checked out the app on The App Store, and it had a 4.7-star rating out of 289.5K reviews as of May 2022. On Google Play, the app had a 2.9-star rating out of 29.4K reviews.
Autotrader doesn't hold a physical inventory, and it doesn't own the cars that are listed on its website. Instead, it provides a way to shop for new and used cars across several different car lots in your area. Once you've found a car that you're interested in, you can contact the seller directly to set up a test drive and/or purchase the vehicle.
You can use Autotrader to shop for both new and used cars or research the value of a car before you buy or sell it. You can also list your own car for sale on the website for $49 with free ad renewals. That means you can keep refreshing your listing until it sells at no additional cost. If your car is eligible, you may also be able to get an instant cash offer for your car. If you want to accept the offer, you can take it to a nearby participating dealership for cash or trade-in credit.
Buying a Car Through Autotrader
Autotrader makes it easy to search for cars for sale. You can start from the homepage by entering a make, model and ZIP code. You can also click the "Used Cars" or "New Cars" tab on the top of the screen to get started.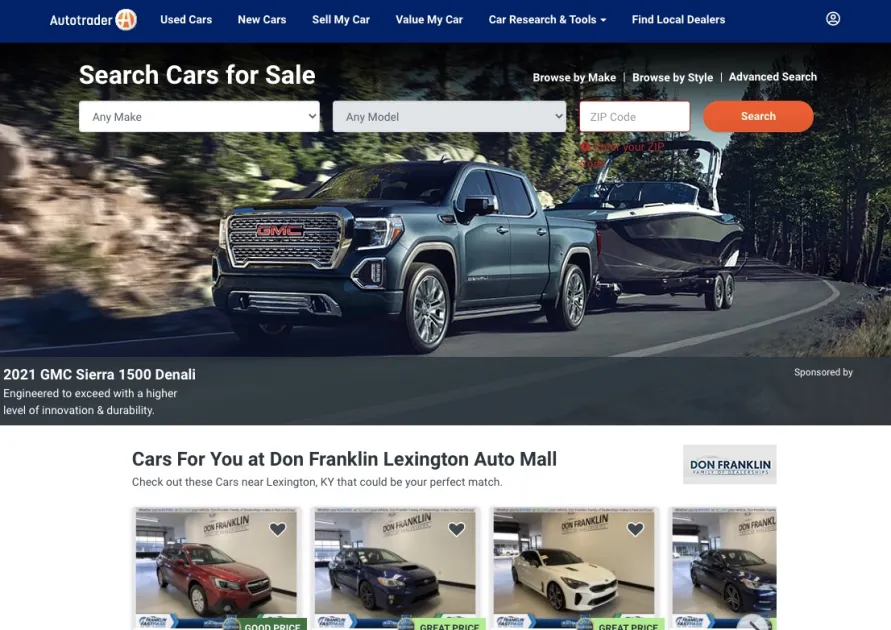 If you aren't sure exactly what you're looking for, you can browse the available selection by clicking "Browse by Make," "Browse by Style" or "Advanced Search." I was also able to scroll down the home page and see cars available at dealerships near me, cars for sale with dealer home services and recommendations based on previous searches.
No matter how you choose to begin searching for your new car, you'll see relevant results (as well as a few ads), once you've selected what you're interested in.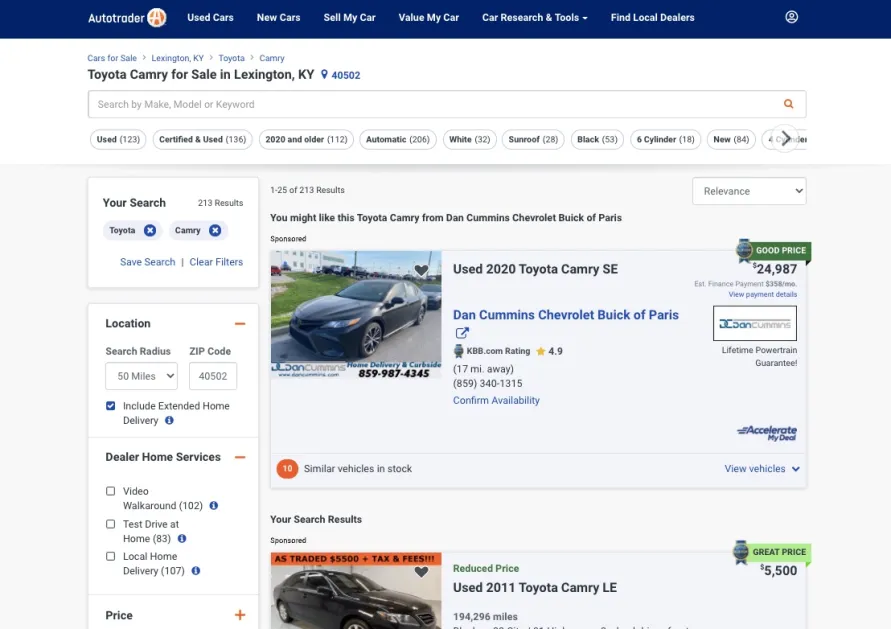 When I searched for a Toyota Camry near Lexington, Kentucky, there were 137 search results. From there, I was able to narrow the selection by condition, year, color, location, price, vehicle history, mileage, features and more.
As you browse available vehicles, you'll see labels like "Good Price," and "Great Price." There aren't any labels to indicate negative pricing, and I found that many cars didn't have labels at all. These labels are from the Kelley Blue Book Price Advisor, a tool from Autotrader's partner website.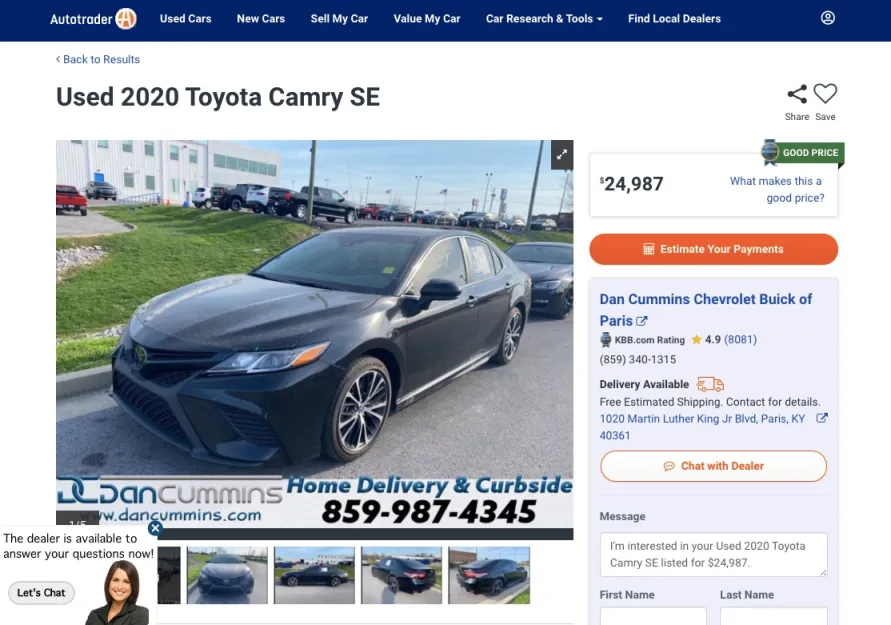 Once you've found a car you're interested in, you can click on it to see additional pictures and information. You'll also be able to read seller comments, which may include details about what's excluded from the quoted price you see online. On the Camry I looked at, the dealership noted that tax, title, licensing fees and processing or preparation charges would be added to the internet price.
If you want to contact the seller, you can send a message on the right side of the screen.
The sale of the car itself will take place between you and the dealership.
Selling a Car Through Autotrader
If you're looking to sell your current vehicle, listing it on Autotrader could be a great way to find a buyer. A listing costs $49 to create, but you can leave it up for as long as you need to at no additional charge.
To begin, click "Sell My Car" at the top of the page. Then, click "Place an Ad." Once you do, you'll be able to enter your license plate number and state or your vehicle's VIN number to get started.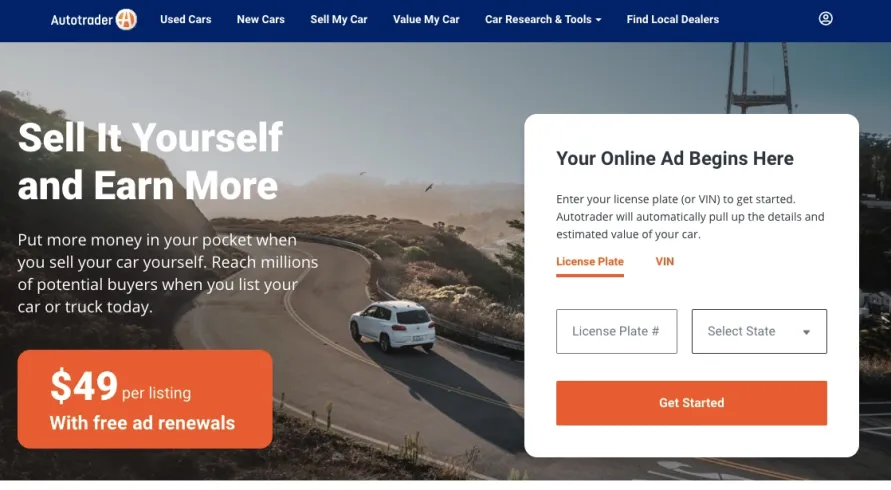 According to the website, when you list with Autotrader, your vehicle's history report will be included for free. Additionally, your ad will be listed on Autotrader and KBB.com with unlimited free ad renewal every 30 days.
Before you begin working on your car's listing, here are the four steps that Autotrader recommends following to sell your car:
Organize your paperwork, clean your vehicle and determine your car's value in order to price it accordingly. As far as paperwork goes, you'll need your vehicle history report, maintenance records, as-is documentation, odometer disclosure, vehicle title, bill of sale, and potentially a transferrable warranty. For help pricing your car, you can use Autotrader's "Value a Car" tool, powered by Kelley Blue Book.
Write a detailed description and take photos. It's important to be transparent in your listing and include several pictures of the inside and outside of your vehicle.
Be prepared. When buyers start contacting you, you'll need to be ready to answer their questions and set up test drives.
Once you've found a buyer, come to an agreement on the price and finalize the transaction while protecting yourself financially and legally. Then, transfer the title and ownership.
For more information on how to create the best used car ad for Autotrader, check out this article.
Your vehicle may also be eligible for an instant cash offer. To check your eligibility, visit the website and enter your car's license plate or VIN number. You'll then be able to choose your car's specific features and condition.
If your car is eligible, you'll get an instant cash offer that's good for seven days. If you want to accept the offer, you can bring your car and the offer to a participating dealer for cash or trade-in credit.
Using Autotrader as a Research Tool
In addition to being able to browse available cars and list your own car for sale on Autotrader, you can also use the website as a research tool. Whether you're trying to estimate a monthly payment, considering trading in your car or wondering which car is best for you, Autotrader can help. To get started, scroll over the "Car Research & Tools" tab at the top of the page.
Under "Helpful Links," you'll find links to resources such as deals for cars, trucks and SUVs. Under "Car Research & News," you can click on "Research and Information" to read car reviews, get expert car advice, compare cars more.
The "Car Buying Tools" section features a lot of great resources including things to consider before buying a specific car, a car loan payment calculator, car affordability calculator, car trade-in tips and more.
You can also use the "Value a Car" feature provided by Autotrader and Kelley Blue Book to find the value of the car you'd like to sell or buy.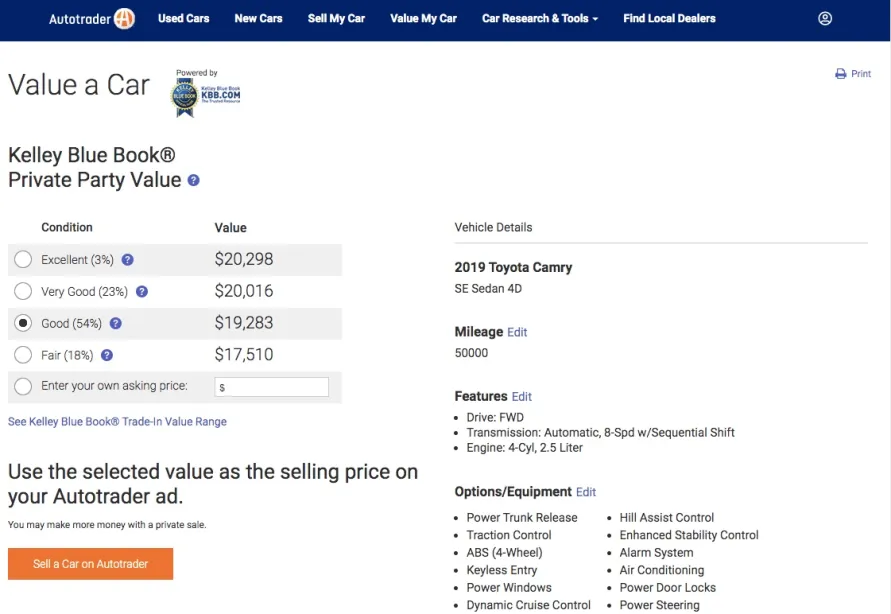 You can begin by indicating what you plan to do: sell a car, trade in a car or buy car. From there, you'll be able to enter details about the specific car you're describing. Then, click "Get Car Values" to see the estimated values. You'll see the estimated values for various conditions ranging from fair to excellent. You'll also see a list of the car's features, options and equipment.
This information can help you decide whether or not you want to purchase a new car and whether you want to sell or trade in your current vehicle. You can also use the list of features, options and equipment to create a detailed used car listing if you decide to sell your car yourself.
Pros:
Autotrader is a reliable resource for finding vehicle values and additional unbiased research.
You can compare prices, deals and inventory at nearby dealerships online.
You can list your own car for sale for $49, but you can refresh the ad and keep it posted for as long as necessary at no extra cost.
Cons:
Autotrader doesn't have a physical inventory, which means you'll just be put in contact with nearby dealerships.
Autotrader doesn't purchase used vehicles directly, which means you'll have to wait for a buyer if your car isn't eligible for an instant cash offer.
Autotrader doesn't offer financing. If you want to get pre-qualified before shopping, you'll have to take care of that on your own.
Final Thoughts
Overall, Autotrader is a good resource to check out whether you're shopping for or selling a car. Even if you're just gathering information, the website offers great resources under the "Car Research & Tools" tab as well as the "Value a Car" page. There, you can find out what specific cars are worth and read reviews.
When I checked out Autotrader, I looked up the values of a few popular vehicles including my own. I did the same thing on a few competitor sites including Edmunds and CarGurus. While there were slight differences in the value estimates, they were all within $1,500 of one another. For this reason, I feel that you're going to see relatively reliable car values on Autotrader.
When it comes to the actual cars that are listed on Autotrader, you'll see the price the dealership is listing on the website. If it's considered a "good" or "great" deal, you'll see a label above the price.