If you search for the "best stand mixer," every article you'll find puts KitchenAid at the top of the list.
And these publications aren't wrong. When it comes to stand mixers, KitchenAid is the gold standard.
They're versatile, high-performing appliances designed by an iconic brand and produced in the USA. But they have one undeniable downside — they're incredibly expensive.
So, are KitchenAid mixers worth it?
The short answer is yes. KitchenAid mixers are worth it because they do so much more than mix; they shred, grind, whip, knead, and mash. With the plethora of attachments available, you can use them to make pasta, mix ice cream, stuff sausages, juice fruits and vegetables, and more.
But KitchenAid mixers have even more to offer than versatility, and in this in-depth review, I explore all of those benefits. I also uncover some of the downsides (besides the high price), so you can get the full picture.
So, if you're thinking about buying a KitchenAid mixer but need an unbiased review to help you make up your mind, keep reading.
How Much Do KitchenAid Mixers Cost?
There aren't many alternatives that can match KitchenAid mixers' power, performance, and versatility.
But with those benefits comes a price.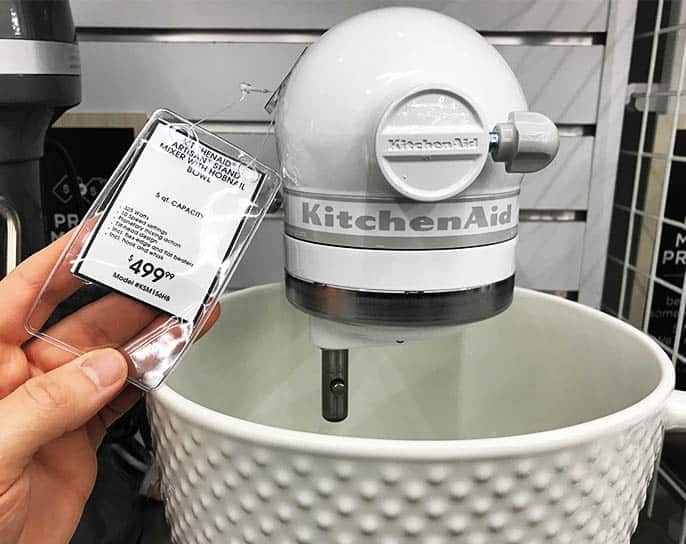 While pricing varies depending on the size, bowl, and attachments, KitchenAid is more expensive than most alternatives. And, if you prefer a bowl-lift vs. a tilt-head model, you can expect to pay even more.
To get an idea of the cost, take a look at the chart below. It shows real-time prices for the most popular KitchenAid Stand Mixers and attachments:
Why Are KitchenAid Mixers So Expensive?
In this section, I explain why KitchenAid mixers are so expensive and lay out what you can expect if you purchase one of these highly-coveted countertop appliances.
Quality Construction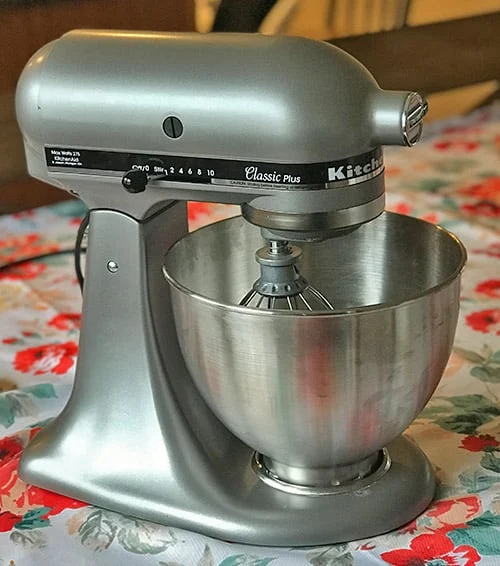 KitchenAid stand mixers can be passed down through families for generations.
The superb construction, quality materials, and commitment to craftsmanship result in long-lasting stand mixers.
KitchenAid Stand Mixer Review Quality Construction
To be clear, no brand is perfect, but KitchenAid has been around for over 100 years, and longevity tends to be a byproduct of quality products.
Furthermore, KitchenAid offers a hassle-free 1-year replacement warranty to make sure you are satisfied with your purchase.
This warranty extends to purchases made in the United States, District of Columbia, Puerto Rico, and Canada. For warranty information in other areas, visit KitchenAid International.
American-Made
KitchenAid stand mixers are manufactured in Greenville, Ohio by skilled artisans (see the process in action).
It's nice to know that the iconic appliance is still made in the USA — especially when other brands outsource entire manufacturing operations to China in favor of cheaper labor and construction costs.
To be fair, some stand mixer parts are made overseas (for example, the stainless steel bowls are made in Korea), but the actual stand mixer is assembled in the United States.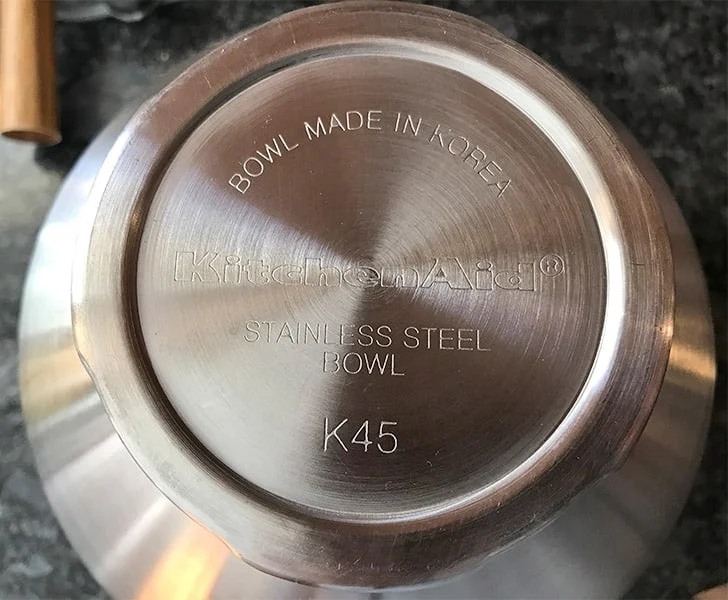 Versatility
A KitchenAid stand mixer is much more than a mixer. It boasts a supporting cast of attachments that turn it into a multi-function appliance. With a KitchenAid stand mixer and multiple attachments, you can eliminate these additional appliances:
Spiralizer
Grinder
Grain Mill
Ice cream maker
Food processor
Juicer
Strainer
Sausage Maker
Pasta Press
From making cupcake batter to producing homemade noodles, it's a product that can free up counter space and still serve your food prep needs.
Keep in mind, most attachments are sold separately, so the total cost can escalate quickly depending on your needs.
Brand Reputation
KitchenAid has a rich history spanning over a century. Over the years, the brand has amassed millions of loyal customers, and its stand mixer has become a culinary favorite.
Just take a look at the thousands of positive customer reviews on the ever-popular KitchenAid Artisan 5-Quart Tilt-Head Stand Mixer.
Its long track record and proven value result in a strong brand reputation. When you buy a KitchenAid mixer, you know you're getting a quality product that will last. But its reliability, history, and reputation come at a price.
History of the KitchenAid Mixer
Did you know that the original KitchenAid mixer was created for industrial use?
The first models were developed in 1908 by Herbert Johnston and Thomas F. Rataiczak for the Hobart Manufacturing Company. They were in use on all U.S. Navy ships by 1917.
The upright-styled Model H-5 was launched in 1919 for home use. When one of the company's executives took the prototype home to try it out, his wife called it the "best kitchen aid." The name stuck.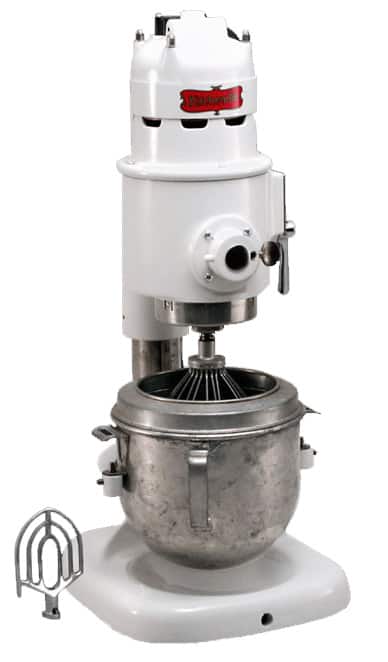 By 1937, the design evolved into the Model K. This design is credited to Egmont Arens, who created the cylindrical J-style mixing arm and interlocking bowl. This design was later trademarked and remains the iconic style that stands today.
KitchenAid has been a sought after staple in homes for generations and offers a wide range of colors, sizes, and designs to suit various tastes. The brand also makes commercial stand mixers for businesses that handle heavy volumes of food preparation.
How They're Made
KitchenAid mixers are made downtown in Greenville, Ohio.
While the factory tours are no more, the KitchenAid manufacturing plant is in full swing today, just as it has been since 1941.
The KitchenAid factory team preps all parts before transport to the main assembly areas. Preparation includes cutting, pre-assembly, drilling, and pressing ball bearings.
Mixer parts are hung on conveyor lines and sprayed with a fine colorful powder that's later baked into the surface. This baking process results in the powder becoming part of the mixer itself, so it's not a coating that can easily chip or scratch.
The parts are then carted to different areas of the factory for hand assembly.
Everything is meticulously checked before proceeding to the next step, such as trim band and flat beater installation. Mixing speeds are set, and all components are inspected to ensure proper movement and spacing.
Quality control team members ensure colors are vibrant and without blemish before being packaged for distribution.
You can watch the birth of a KitchenAid mixer in this quick behind-the-scenes video.
Performance and Versatility
The KitchenAid mixer is celebrated for its stellar performance in handling a variety of kitchen tasks. Most mixers come standard with a dough hook, flat beater, and wire whip, but you can add on other attachments to the power hub as well.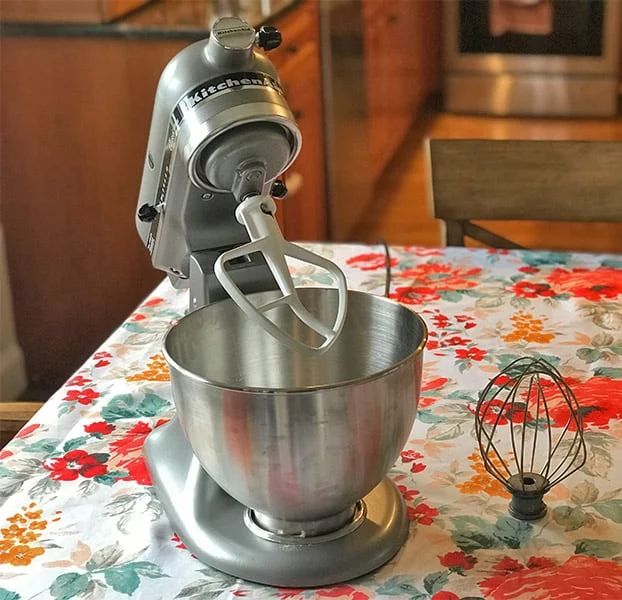 Do you want to bake a cake? It can mix the batter.
Thinking about making fresh pasta? Done.
Have you always wanted to make homemade ice cream? Treat yourself.
With included accessories and extra attachments, you can:
The bottom line is that this one appliance can get the job done no matter what meal or dessert you want to make.
It's more than a mixer. It's like having a sous chef by your side. It's for these reasons why KitchenAid has reigned supreme for over a century.
Want to learn more about all the tasks KitchenAid mixers can accomplish? Check out 30+ Creative Ways to Use a KitchenAid Mixer.
Models and Add-Ons
There are three types of KitchenAid mixers: Tilt-Head Mini, Tilt-Head, and Bowl-Lift (pictured below left to right).
KitchenAid KSM3311XHT Artisan Mini Series Tilt-Head Stand Mixer, 3.5 quart, Hot Sauce (Renewed)
Tilt-Head Mini (view on Amazon or KitchenAid.com): Perfect if you are short on counter space. It's a 3.5-quart size and functions just like the larger models, complete with the power hub for attachments.
Tilt-Head (view on Amazon or KitchenAid.com): This is the home cook's standard. It has a 3.5 (Mini) to 5-quart capacity and a powerful motor (275W to 325W). The bowl is stationary, and the head of the mixer tilts back.
Bowl-Lift (view on Amazon or KitchenAid.com): This model is great for a large family or if you love entertaining. It can hold 5 to 7 quarts and features a more powerful motor (575W). The mixer head remains stationary, and the bowl ascends and descends as needed.
There are several models to choose from, including Classic, Classic Plus, Professional 5, Pro 600, Pro Line Artisan, Professional HD, Professional 6500, Deluxe, Custom Metallic, and Limited Edition.
Each model has unique options, such as size, choice of bowl, or color. There are over 35 options for bowls, including glass, stainless steel, or ceramic styles.
There are over 40 options for stand mixer colors, and some models even come with pouring shields. The multiple attachments and accessories create a customized appliance. You can even get your mixer engraved.
Resource: Check out the KitchenAid Stand Mixer Buying Guide and my in-depth comparison of KitchenAid Classic vs. Artisan mixers. Both will help you select the perfect model for yourself or as a gift.
Cleaning and Care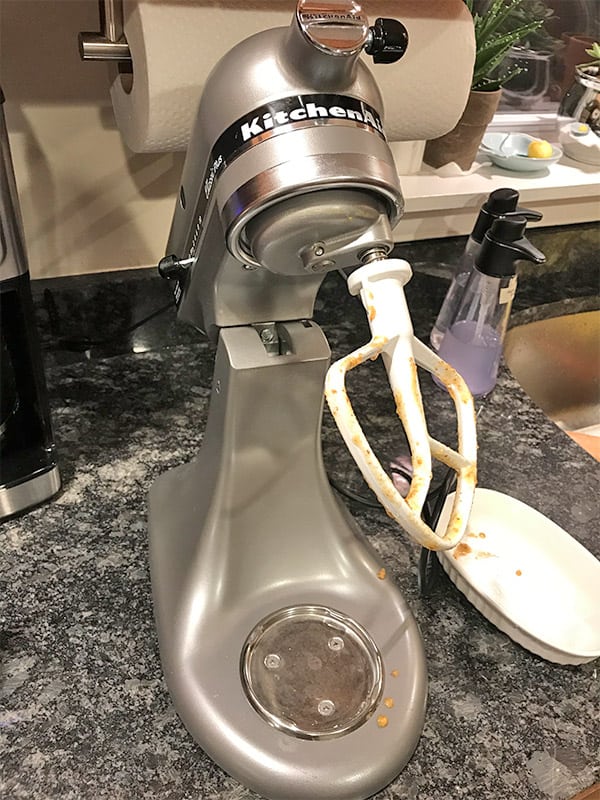 Cleaning the KitchenAid mixer is straightforward. No need for special cleaners or tools; just be sure to unplug it first. All parts and attachments are suitable for handwashing in warm, soapy water.
KitchenAid Stand Mixer Cleaning
All bowls are dishwasher safe and some of the attachments as well. For best results, dry everything with a lint-free towel before storing it.
The mixer itself needs a wipe down with a damp cloth, but if it gets grimy over time, try soap and water or use a water and baking soda mixture.
Durability
KitchenAid stand mixers' average life expectancy is 15 years, but it can last up to 30 years or longer with proper care.
The mixer's body is made of zinc die castings, which are extremely durable, heavy, and vibration dampening, so the mixer stays in place and doesn't fall off your counter during use.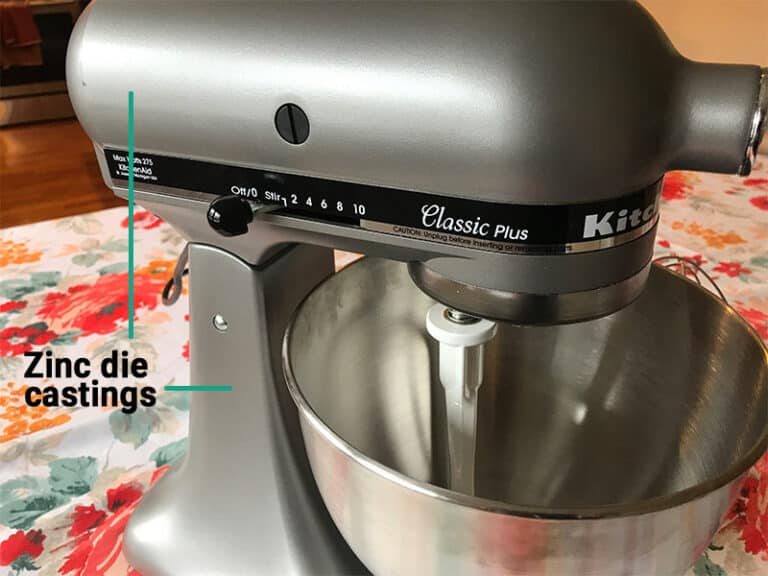 It's built to last, and as long as you take care of it and follow the instructions for care and maintenance, you can feel confident about the return on investment.
If you have issues with your mixer, ship it to the KitchenAid factory for repair. Just call KitchenAid and order a shipping kit, which includes a special package and a reduced price (these appliances are heavy) to mail with FedEx.
Otherwise, bring it to a local authorized KitchenAid repair facility.
What Others Are Saying
Clearly, I'm a fan of KitchenAid mixers. But what are others saying about these popular appliances?
Good Housekeeping: 5 Best Stand Mixer Reviews (see full review)
Respected consumer product voice, Good Housekeeping, called the Artisan Series 5-Quart Mixer the Best Overall Stand Mixer and "the ultimate countertop showpiece…" Reviewers loved the way it aced lab tests and offered a variety of customized options.
10 Best Stand Mixers for Effortless Mixing, Kneading and Whipping (see full review)
Reviewers from Food & Wine named the KitchenAid Artisan Series 5-Quart Stand Mixer with Pouring Shield as the Best Overall and Best Rated among 10 top customer-rated stand mixers. Reviewers pointed out that the mixer has "ten speeds and a powerful motor to easily whip, knead, and mix ingredients."
The Best Stand Mixer (see full review)
Wirecutter, a New York Times consumer review site, chose the KitchenAid Artisan Series 5-Quart Stand Mixer as Best Stand Mixer after 50 hours of testing over seven years. It called the model "a workhorse worthy of heirloom status…"
Consumer Reports: Best Stand Mixers from Consumer Reports' Tests (see full review)
Consumer Reports choose four KitchenAid models to fill slots for the top seven stand mixers based on testing: Classic, Classic Plus, Artisan, and Professional 6500. The consumer review site gave these models top marks in performance.
Time and again, KitchenAid comes out on top. A quick look at what verified purchasers mention in their reviews on Amazon and KitchenAid.com shows a pattern of excellent performance and longevity.
Alternative Options
By now, you may be open to purchasing a KitchenAid mixer, but if the price is still holding you back, consider these alternatives:
Cuisinart 5.5-Quart Stand Mixer (view on Amazon): This is the next best thing to a KitchenAid mixer and at a lower price. It carries the trusted name of Cuisinart, boasts excellent reviews, and has 12-speed mixing capability. Check out my in-depth comparison of KitchenAid vs. Cuisinart stand mixers or Cuisinart mixer review to learn more.
Cuisinart Stand Mixer Review
Hamilton Beach Electric Stand Mixer (view on Amazon): Hamilton Beach is the best budget option. It comes with a handled bowl, splash guard, and a comparable accessory package, including a dough hook, flat beater, and whisk.
Nurxiovo 3 in 1 Stand Mixer (view on Amazon): This is an affordable option heavy on smart design features. It features multiple functions straight out of the box, such as grinding meat and extracting juice.
Learn more about other high-quality yet less expensive options, check out my guide to the best KitchenAid mixer alternatives.
In this guide, I share much more information about these three options, and provide six other alternatives worth considering. I also explain how you can save money on KitchenAid mixers by purchasing a Certified Refurbished model.
Final Verdict: Is Kitchenaid Worth the High Price?
Now that you know all the important details, the question is:
Is Kitchenaid worth the high price?
Julia Child thought so. The renowned chef never officially endorsed the brand but often used it heavily on her cooking show, "The French Chef," which is now displayed in the Smithsonian.
But are they worth it to you?
The major benefits are clear: excellent reputation, 100+-year history, proven durability, superior performance, and undeniable versatility.
But there are a few downsides to consider, too: they're expensive, come with a short warranty, and are heavy and bulky.
In my opinion, KitchenAid Mixers are absolutely worth it, especially if you love to bake. They can last decades or longer and do so much more than mixing cookie dough.
If you're an occasional baker on a tight budget, you can certainly get by fine with another, cheaper mixer. But keep in mind that you'll eventually have to replace it when it breaks down (few are as long-lasting as KitchenAid).
I've laid out the pros, cons, and key facts, and now it's time to make up your mind. If it's worth it to you, take action and get the best model for your lifestyle.