I know. Normally I'm the king of organization and I post all my trip reports in the order in which I flew them. However, things were kind of busy last summer and I sort of fell behind on my writing schedule a bit. Ok, I will admit that I was feeling slightly lazy as well, but I was mostly busy. I promise. Anyway, this post represents the Avianca review I should've written four months ago.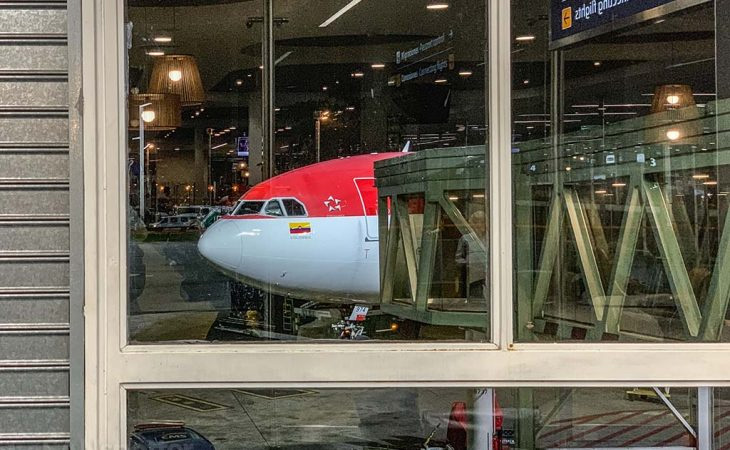 FYI, I'm going to do things slight differently this time. As an experiment, I'm going to use the script from the video as the base for this written review. Then I'll mix pictures into it as I normally do. I'm getting the sense that nobody reads the entire article anyway, and it's the pics (and captions) that tell the story. So…why waste time writing an entire article when I already wrote the script for the video months ago? Slowly but surely, I'm learning to work smarter (not harder)…
AV088
Buenos Aires, Argentina (EZE) – Bogota, Colombia (BOG)
Tuesday, June 11, 2019
Aircraft: A330-243
Registration: N974AV
Duration: 5 hours 46 minutes
Seat: 12D (economy class)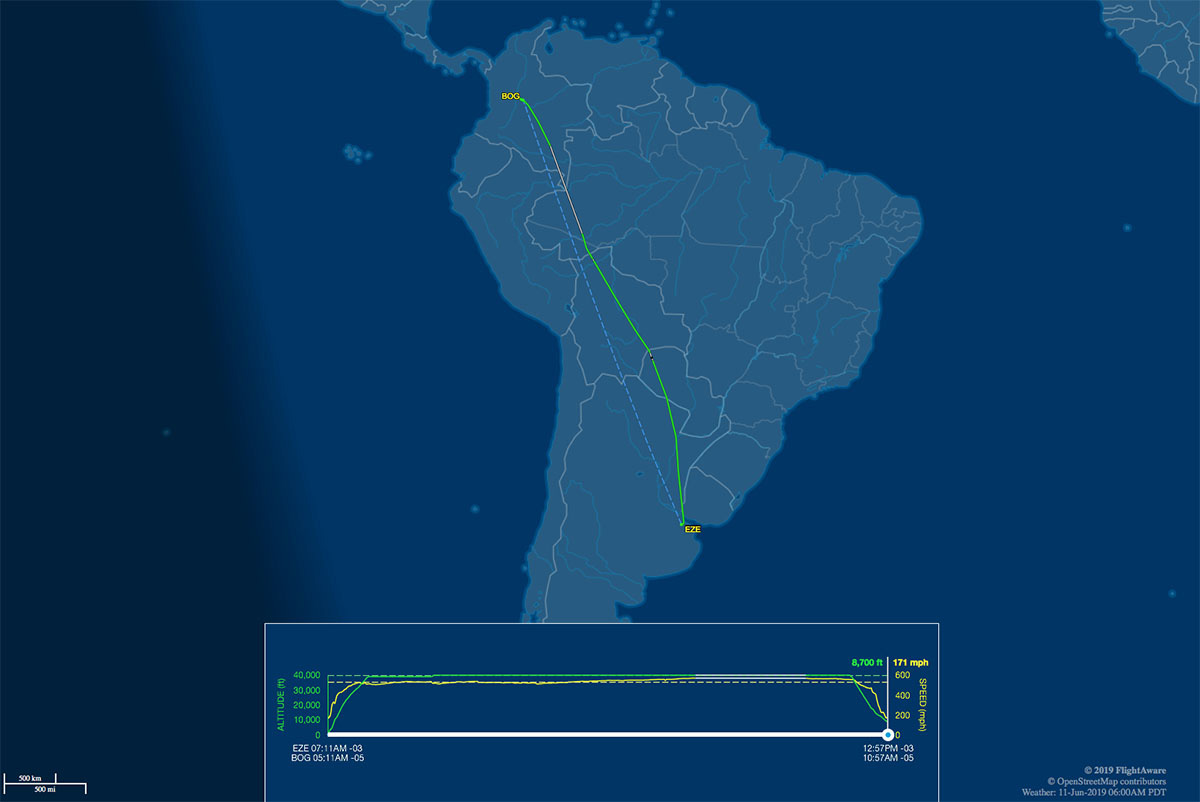 Arriving at EZE for my first ever Avianca review
I made it to the airport with plenty of time to spare before my 5 and a half hour flight up to Bogota on an Avianca A330, and I was feeling pretty good about it. I was a little sleepy still, but…otherwise good.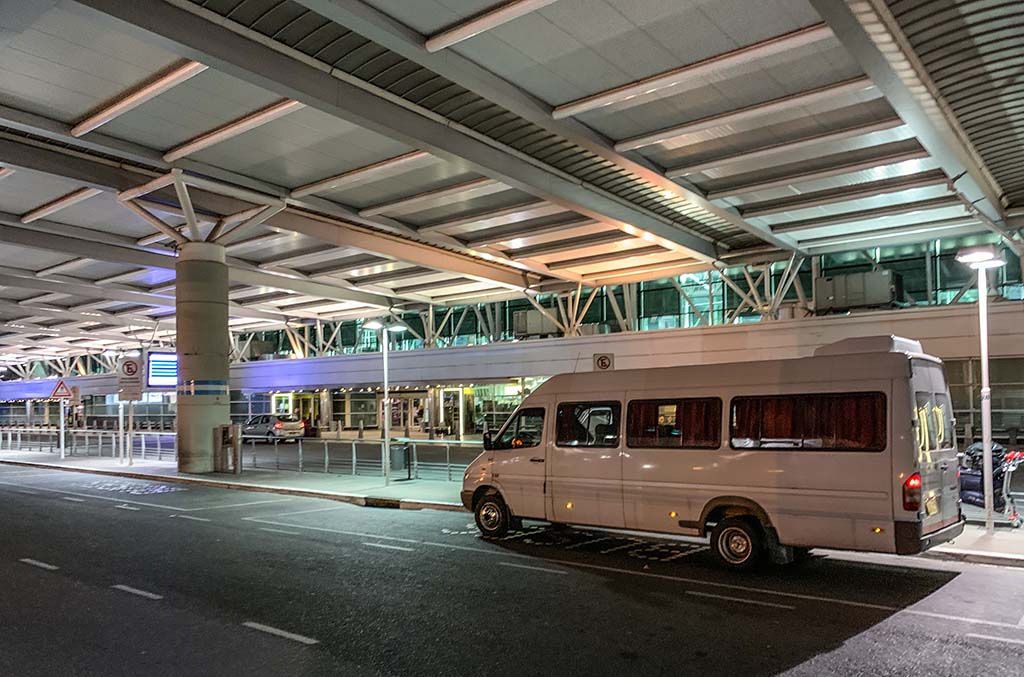 Pre-5am drop offs at the airport (in a country in which I can't speak the language) are sketchy. This could've been the completely wrong airport and I never would've known.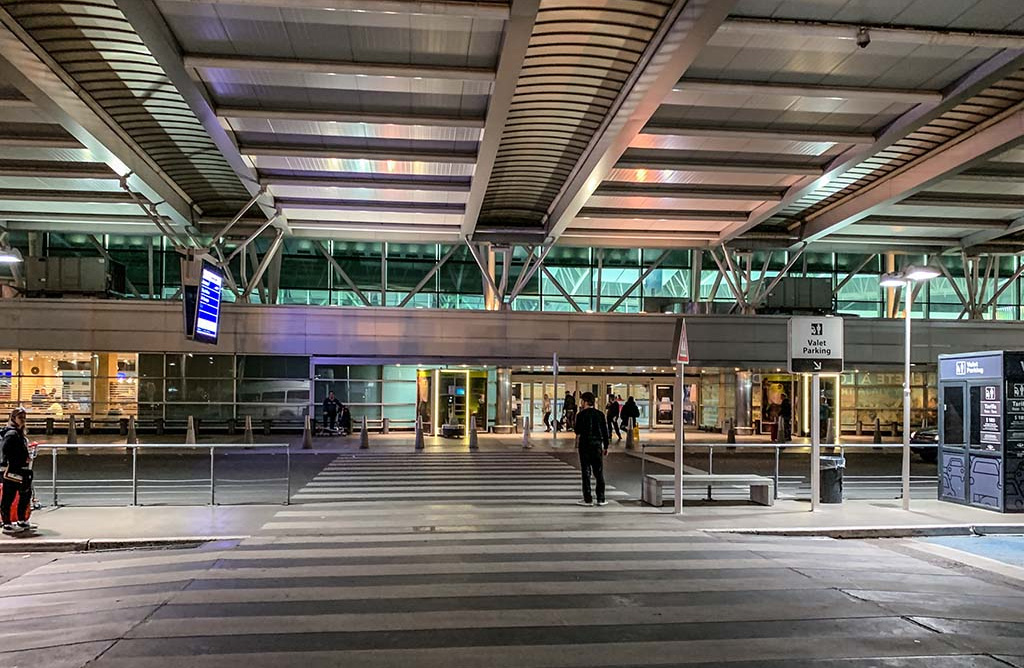 It looks friendly enough though. Guess I'll go in and see what happens…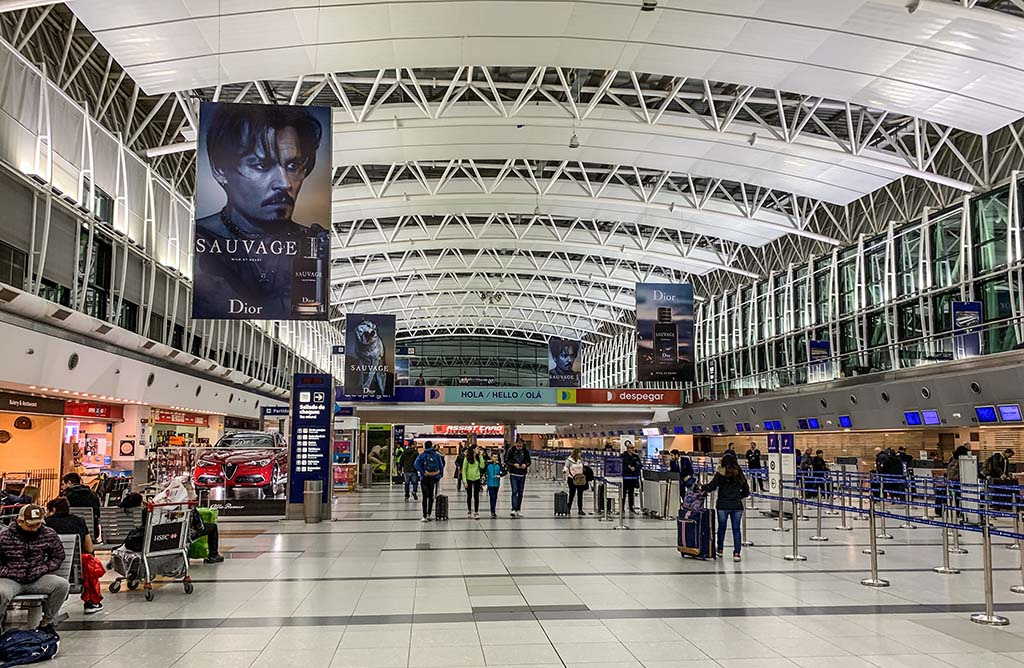 Inside the ticketing hall…in what I believe to be Ministro Pistarini International Airport (EZE).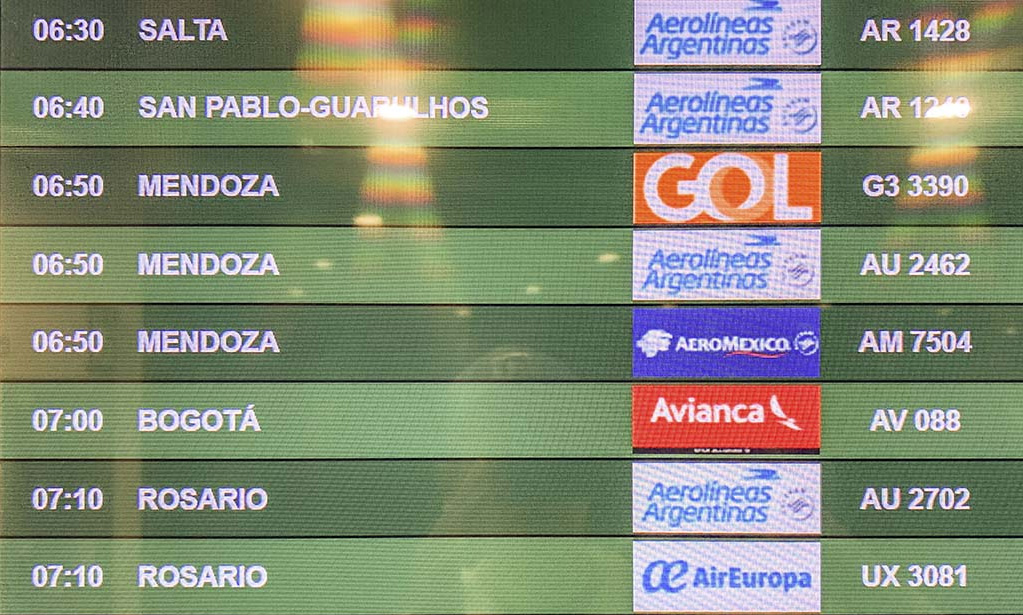 Whew! Looks like I am indeed in the correct place. Avianca 088 to Bogota showing an on time departure!
The usual pre flight stuff
Terminal A here in Buenos Aries isn't all that interesting if I'm being honest. It's certainly nice…but it's very basic with limited views to the outside. Oh – and to the cashier of the Havana Coffee shop located adjacent to gate 5 who rang up my breakfast that morning: you are the meanest cashier I've ever met. Just sayin'.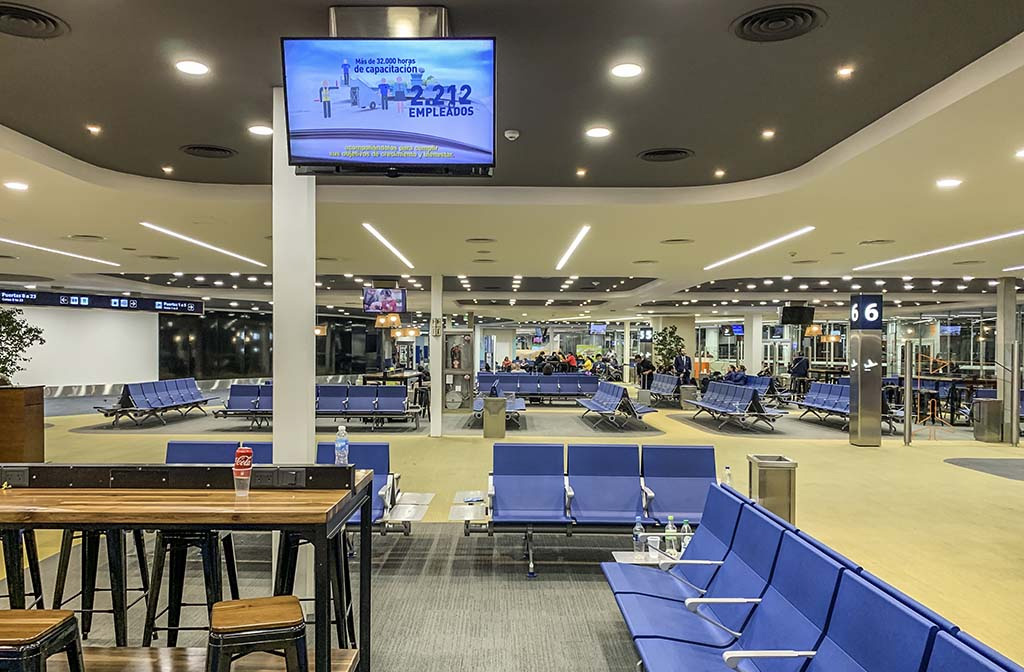 I'm not totally up to snuff with EZE, but I was somewhat underwhelmed by terminal A. It's relatively small and cramped considering how much international traffic runs in and out of here on a daily basis.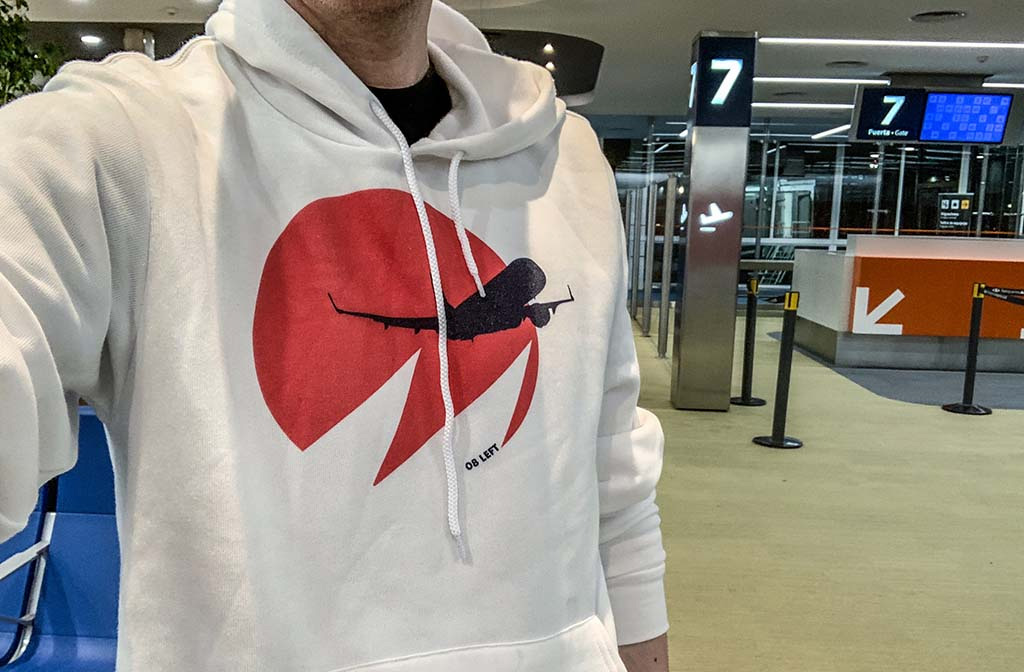 Since it's so bland in here, I might as well show you a close up of this cool new AvGeek hoodie I got from 08left. And yes, that's an affiliate link by the way, and I will get a small commission if you use that link to buy one of your own. A great way to support the SANspotter brand actually, so…thanks!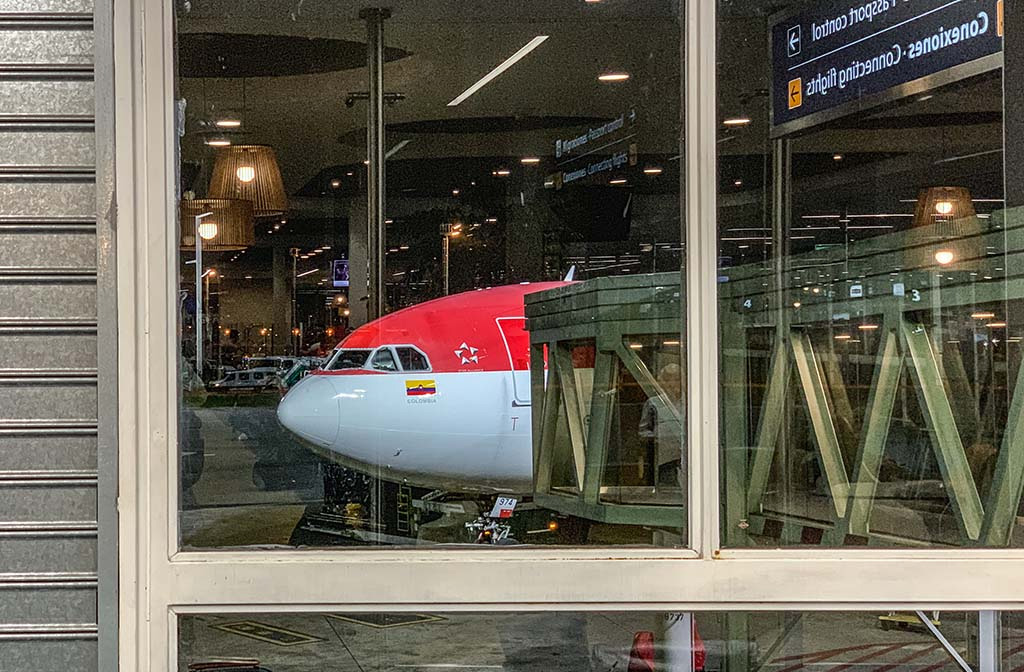 The old livery on the plane flying me up to Bogota this morning is one of my favorites for sure (and I'm glad it was the one that ended up in this Avianca review), but unfortunately the pic above was the best view of it could get from inside the terminal. Oh well. I was still too flustered about my encounter the meanest cashier lady on planet earth 10 minutes ago to really care.
The old livery on the plane flying me up to Bogota this morning is one of my favorites for sure (and I'm glad it was the one that ended up in this Avianca review), but unfortunately the pic above was the best view of it could get from inside the terminal. Oh well. I was still too flustered about my encounter the meanest cashier lady on planet earth 10 minutes ago to really care.
The boarding process
Just as it was for the boarding process for my Latam flight from Santiago to Buenos Aires two days ago, exactly nobody rushed the gate until it was their turn to do so. It was freaking awesome.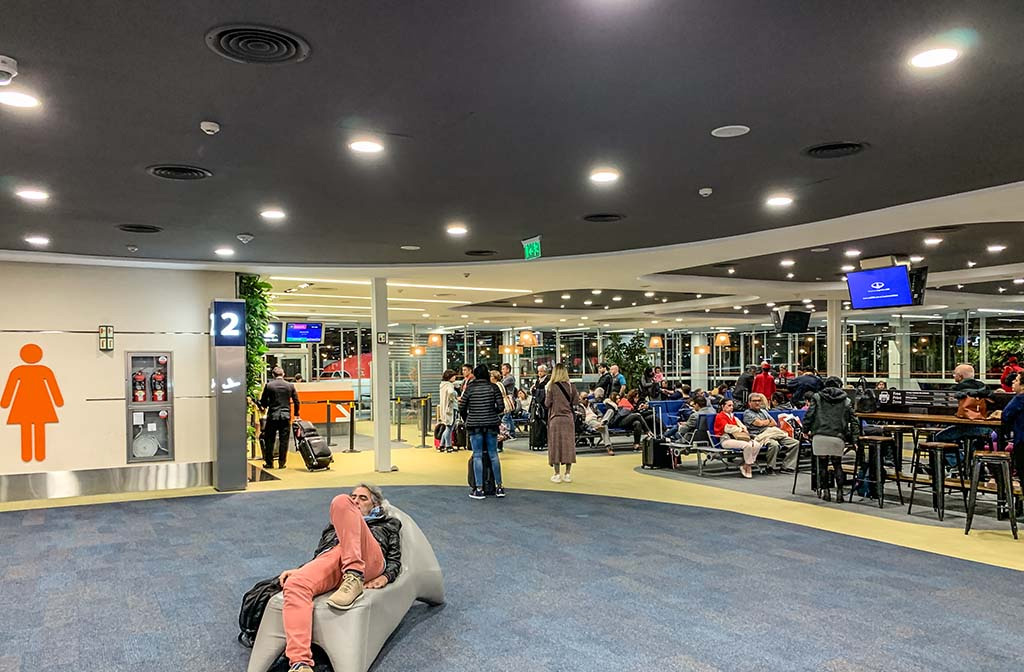 I can only dream of being this chill right before a flight.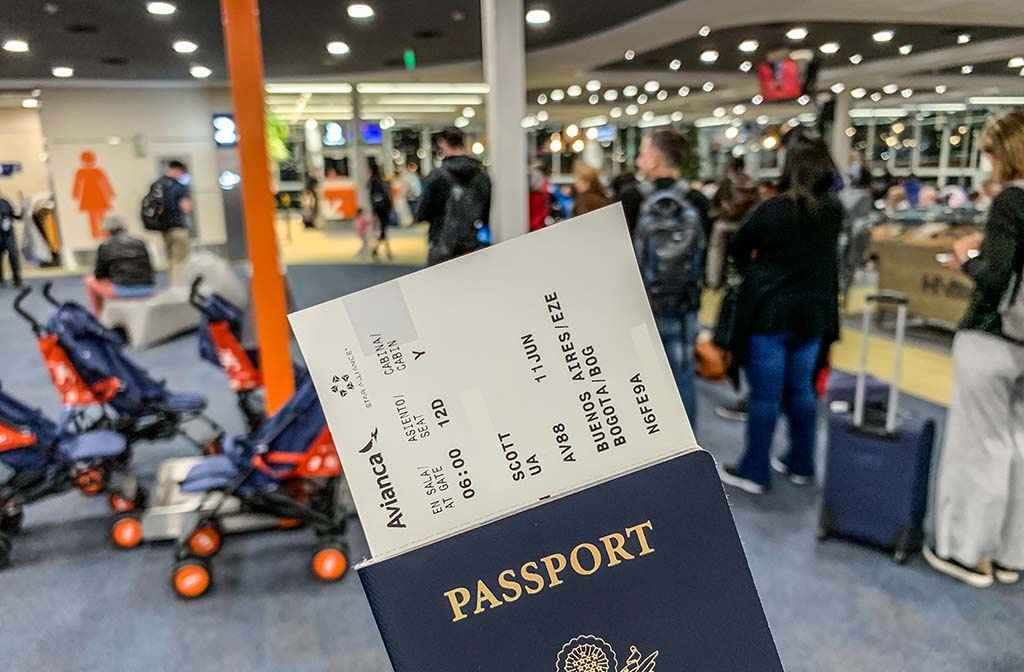 Spot the gringo!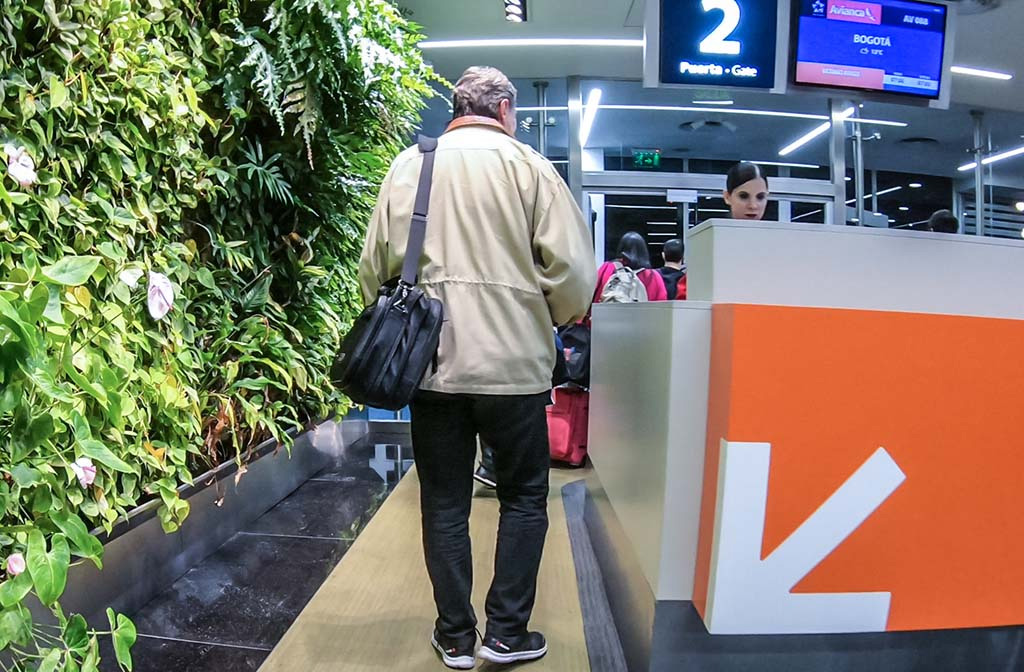 Here we go. At 6am, that arrow was more helpful than you could possibly know.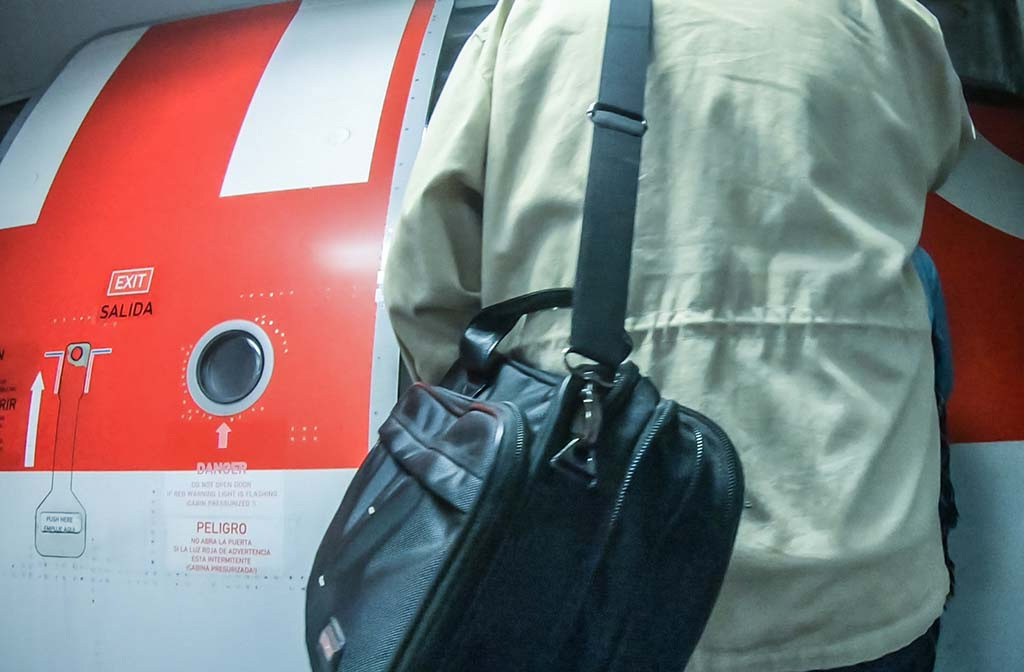 Apparently I was too sleepy to notice that this is actually a picture of a random dude and not an Avianca A330 boarding door.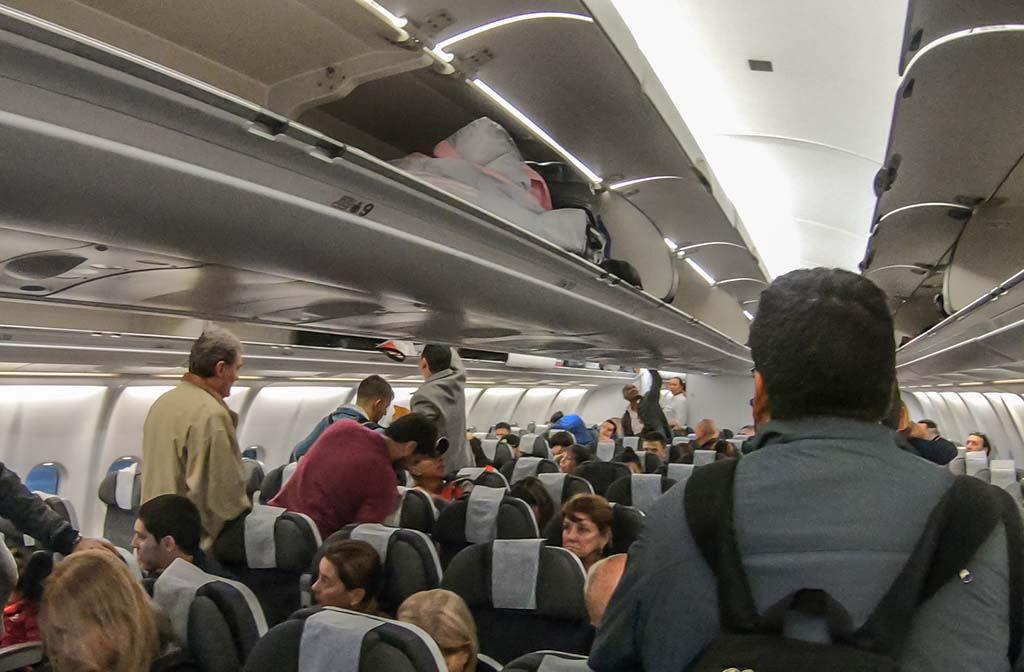 That's more like it. This A330-200 cabin pic is much more appropriate for a legitimate Avianca review.
Avianca A330-200 economy class is configured in a typical 2-4-2 layout. I had an aisle seat in the center section for today's flight up to Bogota, which as you will soon see, was chosen for a *very* specific reason.
Is there not a better feeling in the world than knowing that you're just minutes away from flying thousands of miles away from the meanest Havana Coffee shop person you've ever met? I've never been more ready to fly in my life.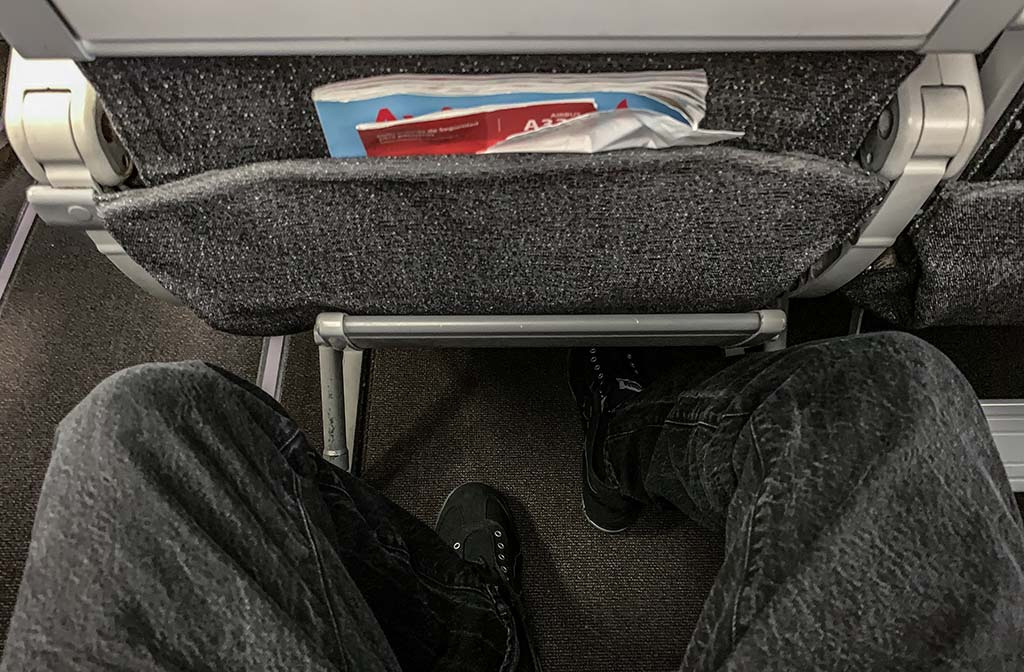 Leg room on this A330-200 is pretty good actually. I was too tired to care (or even notice) at the time, but looking at this pic now is a pretty good reminder of how comfortable this was.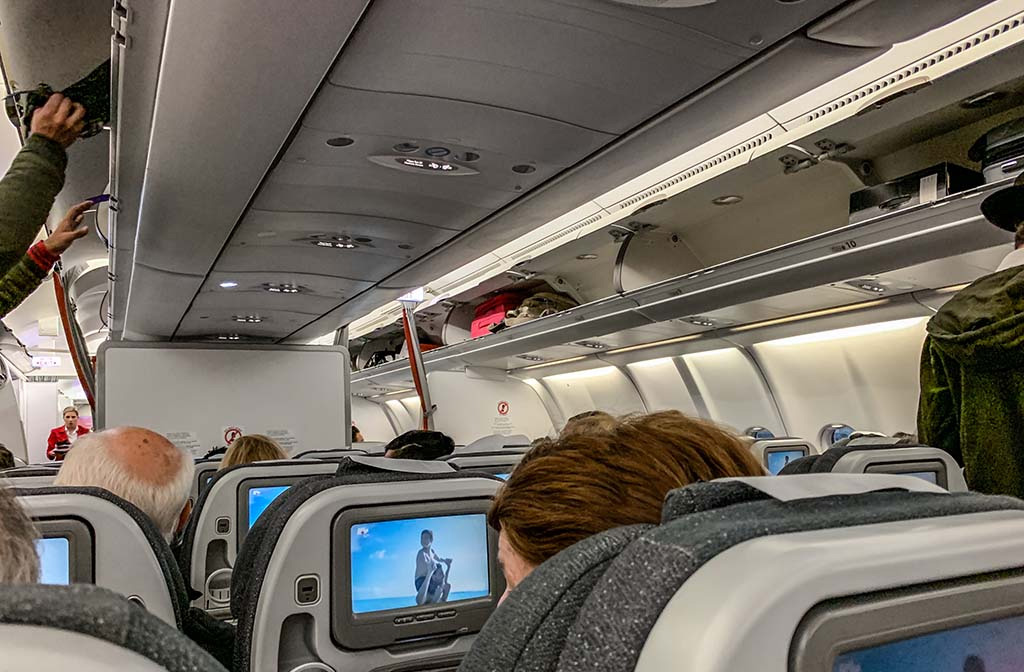 A brief look around the cabin revealed a shocking lack of the color red. Sichuan Airlines (and even Hainan Airlines) could teach Avianca a thing or two about red aircraft interiors!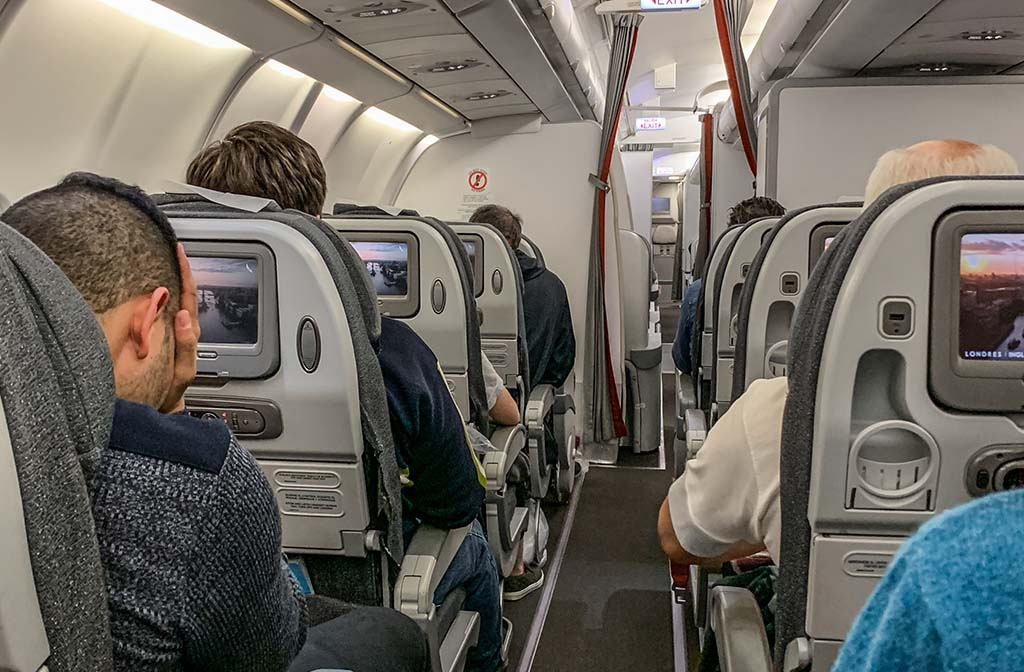 Seems as if the guy on the left wanted to see more red in this Avianca review as well.
I may not have any wing footage in this Avianca review to show you, but I can promise you that I'm feeling like a king here in seat 12D all by my lonesome self.
Wanna know who else likes moving maps? My Patrons, of course! All of the guys listed below love airlines and travel just as much as I do, so I'd highly recommend checking out their content:
What is the breakfast service like in Avianca economy class?
I guess the nice thing about suffering through one traumatic breakfast experience so far this morning meant that I was ready for anything at this point. Clumpy eggs? over cooked potatoes? grumpy flight attendants? bring it.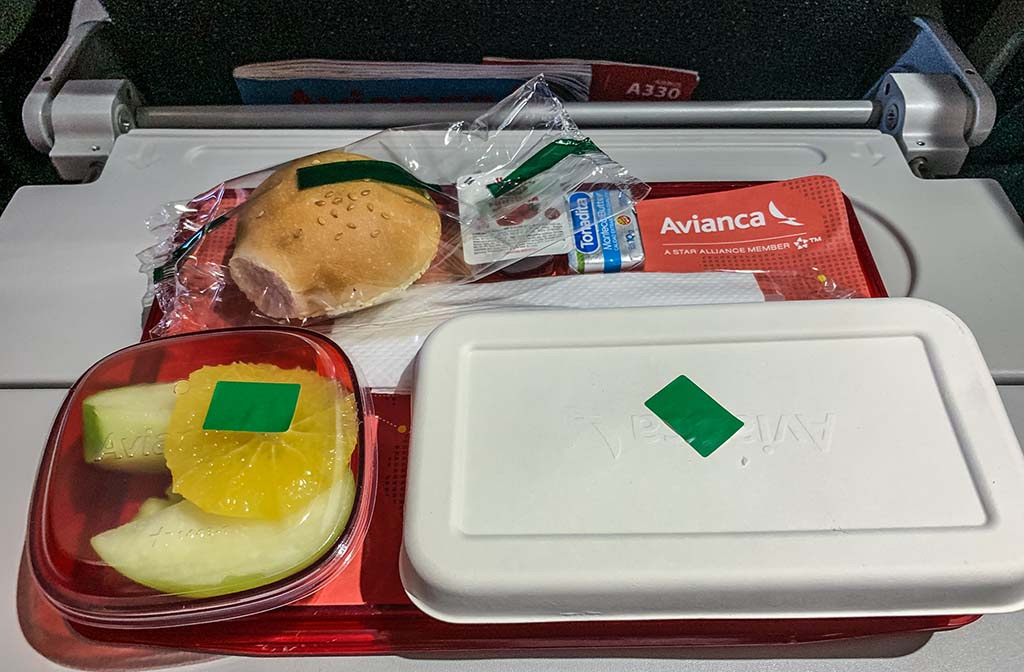 I wonder what the green sticker means? I didn't care – I would've eaten it even if there was a big red X on it.
Should I be worried that I've never once heard anyone say amazing things about the food in any other Avianca review I've ever seen? Maybe not, considering that I've never heard of anyone ending up in the hospital from eating the stuff either.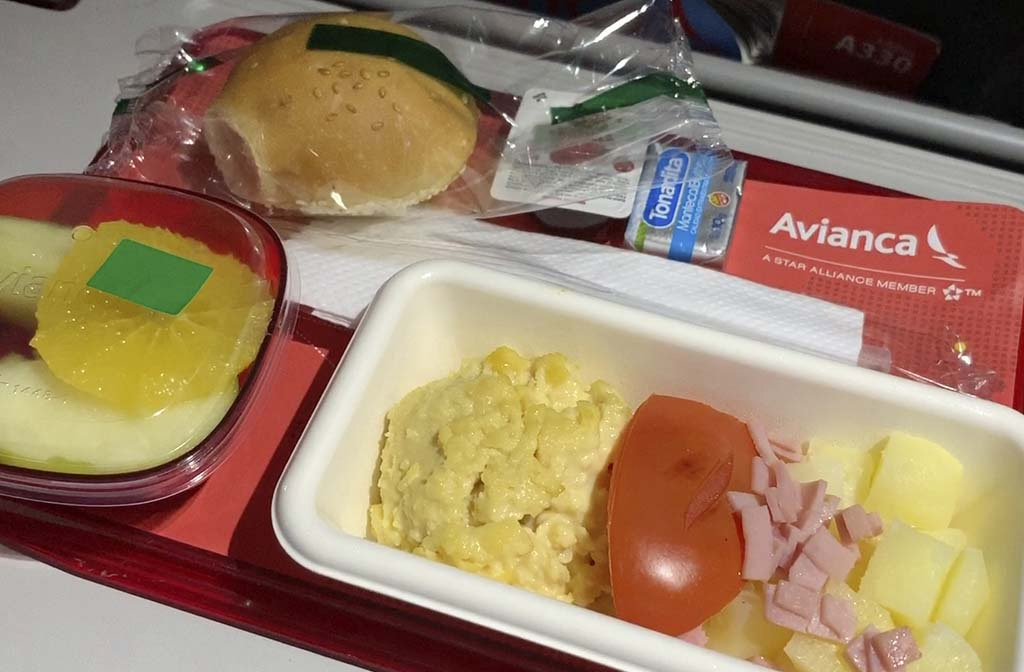 Looks like we've got potatoes which resemble pineapple, and….a sprinkling of ham for flavor.
Despite being one of the blandest looking plate of eggs I've ever had the pleasure of sitting in front of, it was surprisingly decent. Although, I'm guessing that the fact that it wasn't served with a heaping pile of attitude as well had a lot to do with it. If I had to rate this meal, I'd say: 3 and half stars out of 5.
After breakfast (and before settling down to catch on some sleep), I made a quick trip to the loo. One of these days I'm going to experience an economy class lavatory that impresses me. Today wasn't that day.
However, this particular visit to the loo was kind of neat because we were 7 miles above the Amazon rainforest, and…I used the loo 7 miles above the Amazon rainforest. If anything, I'd like to think that I'm in a relatively smallish group of people who can say that they've *actually* done that.
Relaxing (and trying to sleep) in Avianca economy class
There's a little over an hour to go at this point, and…I'm not exactly sure what I was hoping for by checking my watch every 5 minutes. Other than massive progress of course.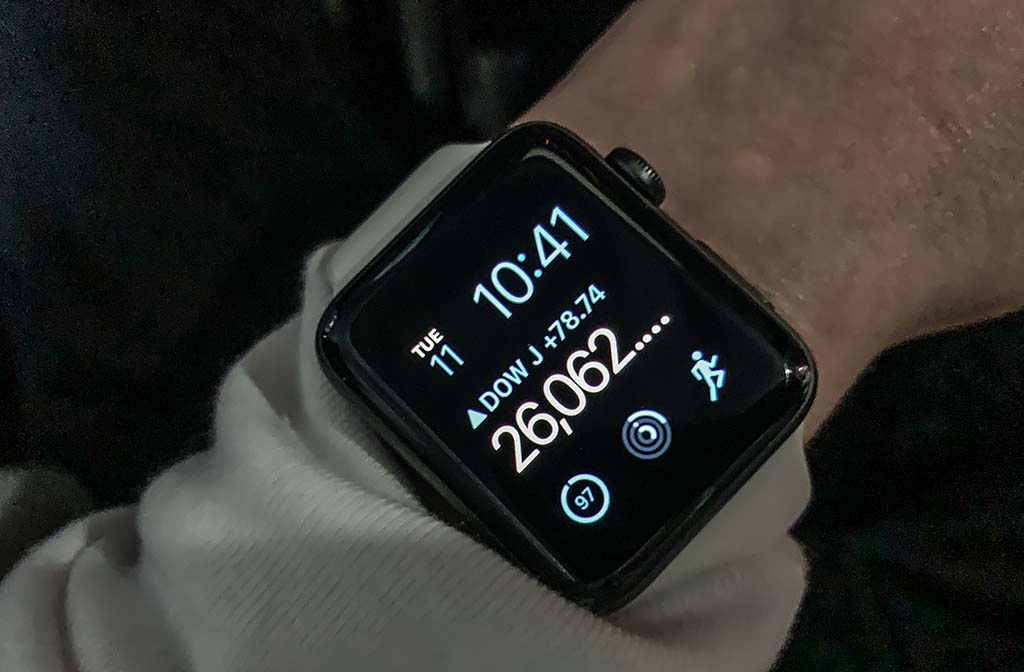 How many other airline reviewers can tell you where the DOW was at at any point on any flight they review? I like to be informed.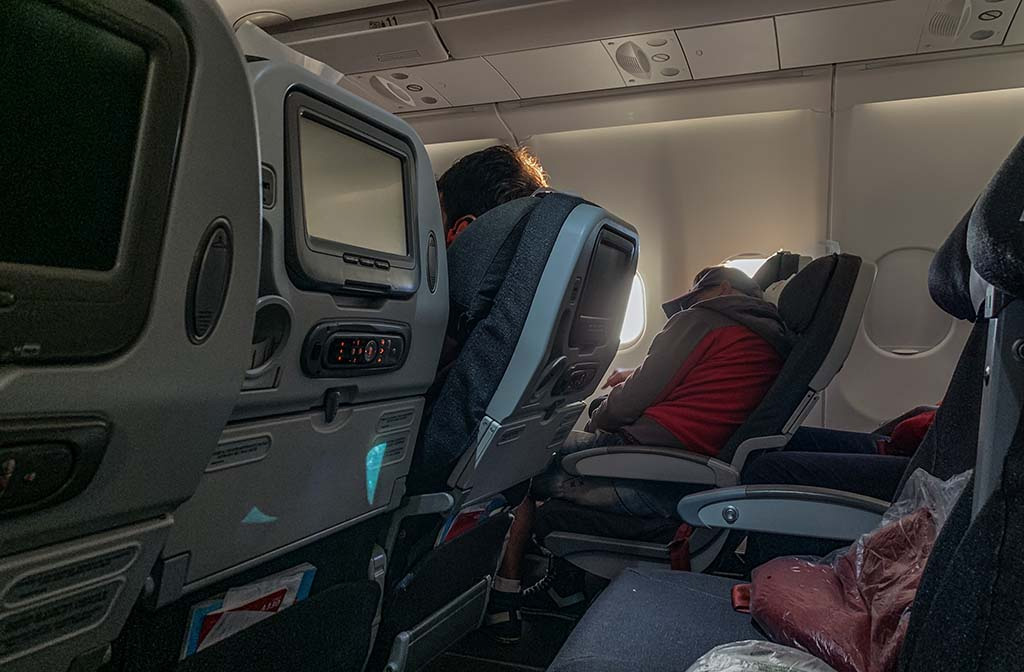 At least I don't have a loud seatmate snoring in my ear. Things are pretty comfortable here in row 12!
Making time go by even slower was watching our pixel-by-pixel progress on the moving map. Are we there yet?
Final thoughts about my first ever Avianca experience
So that pretty much wraps up my first ever Avianca review! My entire experience was ok I guess, with mediocre food, a decent seat, and most importantly…a cabin crew a million times more friendly than a certain Havana Coffee employee back at EZE.
If I'm being honest, up until this point, the first thing I thought of when hearing someone say "Avianca" was the crash of flight 52 way back in 1990. For some reason or another, that incident really stuck with me and I've never been able to shake it.
Thankfully, being able to experience Avianca for myself absolutely helped to reset my thoughts and my mind doesn't immediately got to such dark places anymore. How so? Well, it's been four months since this flight, and I hadn't even thought of that incident until writing about it just now. For a negative Nancy such as myself, that's huge.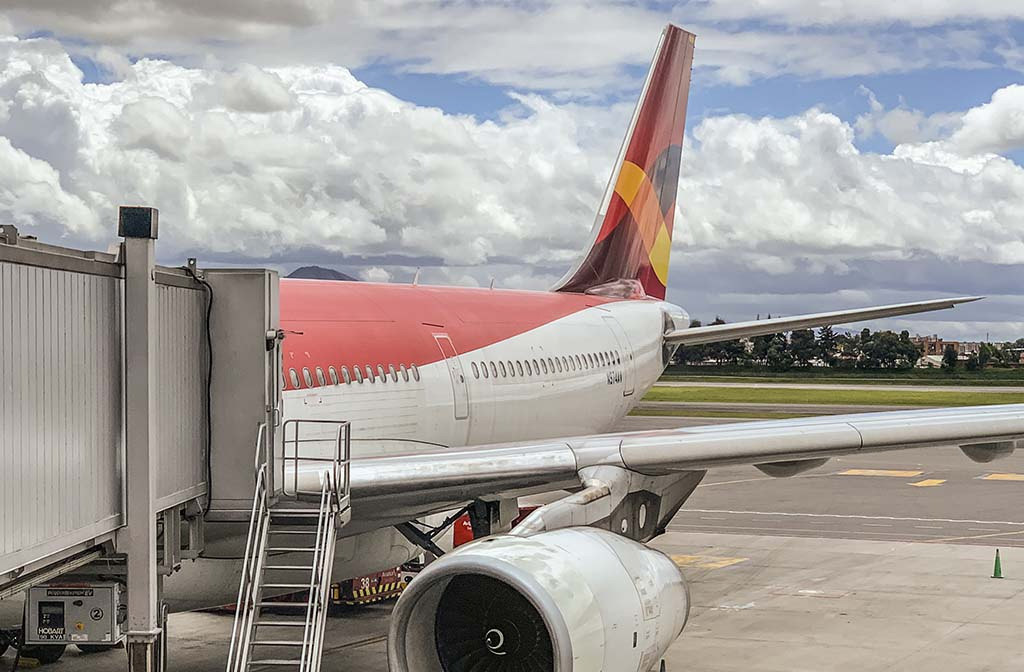 One last look at N974AV as I walk away. A fine A330 she was!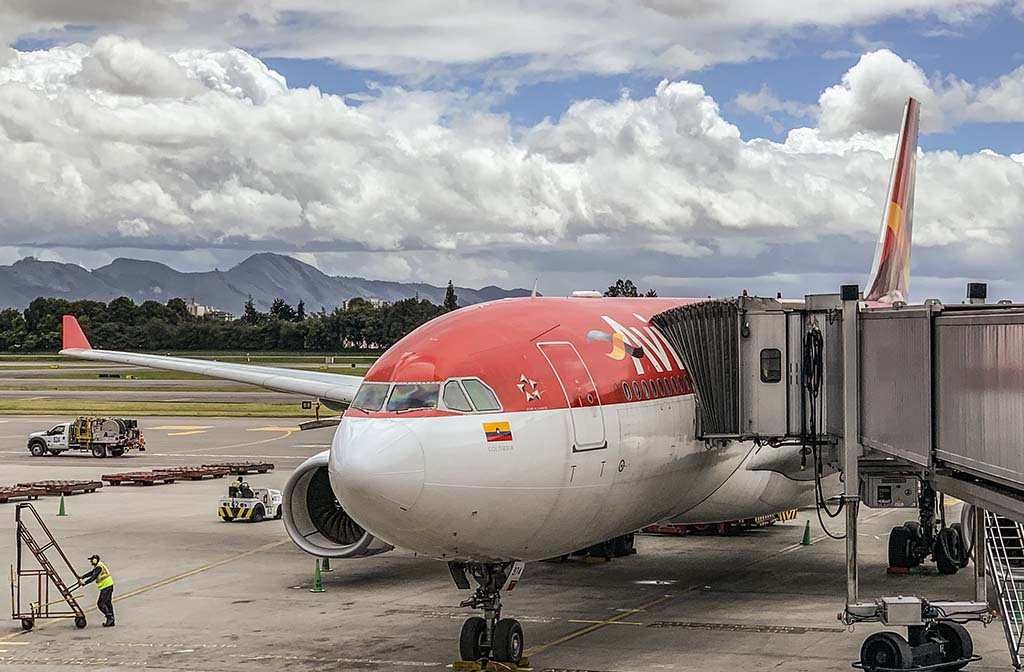 By the way, having an empty seat next to me on this flight made all the difference, and…if you're curious how I've been able to make that happen so many times over the past several years, I recently wrote an entire article about it that I recommend reading. It's stuffed full of good tips, tips, and techniques that'll make *any* introverted Flyer weak in the knees with excitement.