Often times, one of the toughest parts about deciding to start a side hustle is the torment of delayed gratification.
It doesn't matter if you're blogging for income, building an online business, or learning a new freelancing skill; the path to earning an income from your effort can take months or years to come to fruition.
I mean, it took me 6 months before I was regularly making more than a hundred bucks from This Online World. However, while this slow path of progression is normal for many money making ideas, sometimes, you just need fast cash.
One savvy side hustler named Allan recently shared a story on Reddit about how he made more than $200 in a single weekend by working through the Handy, an online platform that connects homeowners with local handymen and cleaners.
If you're looking for a new side hustle idea that allows you to make money right out of the gate and to maintain a flexible schedule, working as a Handy Professional might be the perfect fit.
Time to break down the Handy app in greater detail and to then hear from Allan on how makes money through furniture assembly and other tasks.
What Is Handy?
Handy is an app that offers house cleaning and handyman services to homeowners who are willing to pay for the extra help.
Founded in 2012, the gig-based app has witnessed explosive growth. Handy was recently acquired for an undisclosed amount, but has an evaluation of more than $360 million dollars.
Additionally, Handy has connected tens of thousands of home cleaners and handymen to clients across dozens of cities.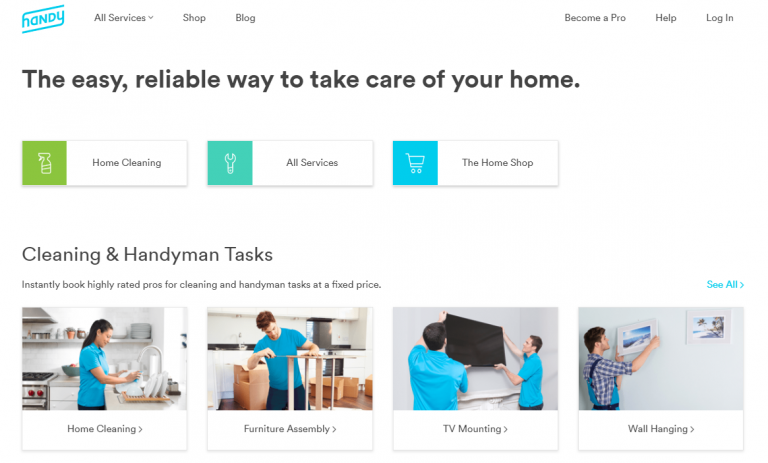 Considering the busy lives people live and how much the average person hates tasks like cleaning or furniture assembly, it makes sense that the Uber of homecare services has seen such rapid growth.
Outside of cleaning and furniture assembly work, Handy also offers other popular services, including:
Electrical work.
Moving assistance.
Home renovation work.
And many other sub categories of contracting (there's even tree removal and pest control work available!)
Working With Handy Pro – Requirements
Handy Pro is the contractor side of the Handy app, and this is how you can start a lucrative side hustle by helping homeowners with their needs.
In terms of qualifications, Handy Pro requirements state that you must:
Have paid experience in cleaning or handy work.
Be authorized to work in the country you are applying to work in.
Possess excellent customer service skills.
That's legitimately it.
Handy isn't an employer, but rather a network for independent contractors to connect to homeowners, so there isn't much red tape to worry about.
In terms of locations, Handy is currently available in dozens of major U.S. cities and select cities in Canada and the U.K. You can browse all available Handy locations to see if you can make money in your city.
How Much does Handy Pay?
On their homepage, Handy states that you can earn up to $22/hour/job as a cleaner or $45/hour/job as a handyman.
Apparently, top professionals on the platform also earn more than $1,000 per week.

The type of job you do impacts your rate, and if you're incredibly slow your hourly rate will obviously be worse. However, this side hustle definitely pays more than your average beermoney job.
Now, time to hear from Allan about how to make money as a Handy professional.
About Allan
I am currently an Electrical Apprentice, and have been training as such for 8 months now. Prior to working with Handy Pro, I had no experience whatsoever in any kind of labor.
However, I have 10+ years of pure customer service.
When I decided to jump into becoming an electrician, I happened to start at a time when my local Union was not accepting applications.
I had to apply far and wide for any electrical business that was willing to hire someone completely new to the scene…I'm sure I don't have to describe how difficult that interviewing process was.
Anyway, that drove down my bargaining power with employers, and I had to accept a pay rate that just wasn't cutting it for a 28 year old living in the city.
I desperately needed to supplement my income, but I wanted to stay in line with my career path.
I waited a few months to gain a little hands-on experience, and once I felt comfortable that I had learned the foundations, I began searching online for some easy side work that didn't require me to have an electrician's license.
My search led to me places like Thumbtack and TaskRabbit, and eventually to Handy.
How Much Money Can You Make With Handy Pro
Of the jobs I have completed so far, one was to help someone move a bunch of furniture around their house.
Another was to replace an old ceiling fan in a foyer, and my remaining jobs were furniture assembly jobs. In total, I made $222 in my first weekend for completing some pretty easy work.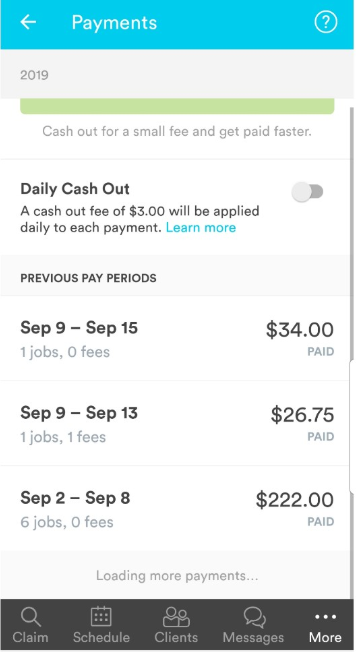 The furniture assembly is really easy.
Once you've done a few pieces from IKEA, you'll be very familiar with Handy's Wayfair furniture. Wayfair also ships flat-box, making it easy for people to follow assembly instructions, and they include the necessary hardware to secure everything together.
I became faster at assembly as I completed Handy gigs, and many tasks are similar because they use the same type of fastenings, regardless of the type of furniture.
The ceiling fan replacement did require electrical knowledge, so that type of job would require prior experience because shocks can be quite nasty.
FINDING EXTRA WORK
While I was chatting with the client who needed furniture moved around their house, I found out she had unfinished electrical work as well.
She hired me to take care of that for her, and that entire exchange actually led to a few other referrals for different tasks as well.
Another client I had assembled a dining set for liked my attitude while I was working. After he found out I had construction experience, he offered me a part-time position filling in the gaps wherever he needed. While this isn't electrical work, I can help him out from time to time for some extra cash.
Overall Impression Of Handy
Working for Handy turned out to be much more profitable than I had expected.
Granted, I didn't go into this side hustle expecting to make thousands in extra income every month, but I was expecting around $40-$60 a week. As you can see from my screenshot, what was supposed to be an uneventful weekend actually turned into an additional $222!
Pros & Cons
So far, I like pretty much every aspect of working for Handy. I haven't run into any technical issues as of yet, so no complaints on that front.
The main change they could make would be to improve the descriptions they require from Handy customers.
Job descriptions are completely at the customer's discretion, and there have been a few jobs I wanted to claim but was unable to due to the lack of information available.
You're only connected to a client to chat after your job claim has been accepted, and there are also penalties for cancelling a gig. Plus, the closer you are to the actual job, the higher the penalty.
Do You Recommend Handy For Other Side Hustlers?
I would highly recommend using Handy if you don't mind working with your hands for an hour or two at a time.
These jobs don't take a lot of skill either, just the ability to follow instructions correctly.
Let me put it like this: can you correctly follow a cooking recipe and create a finished product that people enjoy? If so, you can work for Handy.
I've introduced the app to my brother who is currently in college and looking for ways to make side money. Depending on your area, there is a wide range of jobs you can claim to get started.
Even something as simple as organizing stuff into boxes to make someone's move easier can pay decently. Plus, if you're actually experienced in a trade, I would say Handy is a must…the potential for future referrals and the power of word of mouth is immense.
Tips For Contractors
If you don't have any experience with this kind of work, find something that you KNOW you've done before and jump right in.
If you've mowed a lawn before, help with yard work. If you've successfully assembled a flat-box furniture piece before, go ahead and accept something straightforward like a sleeper sofa or bed frame.
I was nervous at the beginning, and it actually took me 2 weeks of browsing before I had the courage to take the dive. But, this sort of work can snowballs easily.
I'd also suggest leaving your information with clients if you do other kind of labor work as well. Or, at the very least, have a friendly chat with the client and let the fact that you know other trades slide into conversation.
The majority of people I met seem to have at least one thing they want changed in their home, but they never get around to researching it or hiring someone to help them…that is, until you came along!
Other Apps Like Handy
If you like the idea of making money as a Handy Pro, some Handy alternatives you can look into include:
TaskRabbit.
Tidy (for cleaners)
Jobble.
Takl.
Wonolo (for on-demand, same-day gigs. Checkout our Wonolo review for more details).
It's unlikley that these Handy Pro alternatives will replace your day job, but hey, they have the potential to put a serious dent in any bills or your monthly expenses!
If you want even more side hustle ideas, checkout our post on the best apps that pay you to drive.
Is Handy Worth It?
At the end of the day, Handy is a great side hustle idea if you have some spare time and are, well, a pretty handy individual.
You aren't garaunteed to find work, but your hourly rate can get pretty high as we've seen with Allan's earnings.
Handy Pro is a legit side hustle and there's plenty of payment proof online as well, not just Allan's screenshots.
Ultimately, this idea isn't for everyone, but it's definitely a viable startegy to boost your monthly income.
Final Thoughts
I'd like to thank Allan for taking the time to share his experience with working with Handy.
I cover the gig economy quite frequently on This Online World because I think it offers an immense amount of opportunity for side hustlers, and Allan's story is a testament to that fact.
What could have been an ordinary weekend turned into over $200 of extra income…that's pretty significant.
If you're on the hunt for some real money, go out there and provide a valuable service to the market. There will always be jobs people are willing to outsource, and you can make significant money if you know where to look.
I hope you have enjoyed this Handy review and insight from Allan.
If you want to support Allan and start your own profitable side hustle, consider becoming a Handy Professional through Allan's link to help him out.